Los Angeles will be home to George Lucas' $1-billion museum
For months, "Star Wars" creator George Lucas held the art world in suspense: Would he put his $1-billion Museum of Narrative Art in Los Angeles or San Francisco?
On Tuesday came the answer.
Lucas' personal collection of fine and popular art, including ephemera related to his "Star Wars" franchise, will fill a futuristic-looking new museum planned for L.A.'s Exposition Park, which beat out a competing design for Treasure Island in San Francisco Bay. The rivalry had pitted the two cities in the competition not only for Lucas' collection and the tourism it will bring, but also for the thousands of jobs that backers said the project will create.
Lucas has said he will fund the project to the tune of about $1 billion, including building costs, his art and an endowment of at least $400 million.
The Lucas Museum will further expand the art museum landscape in greater L.A., which has become a global hot spot for art production. The Broad museum opened in late 2015 in downtown L.A., across the street from the Museum of Contemporary Art. The museum-scale Hauser Wirth & Schimmel gallery opened in L.A.'s Arts District less than a year ago, and the former Santa Monica Museum of Art will reopen in the Arts District this fall, renamed the Institute of Contemporary Art Los Angeles. The Marciano Art Foundation, the contemporary art museum from Guess co-founders Paul and Maurice Marciano, is aiming to open in Koreatown this spring. Meanwhile, the non-collecting Main Museum made a soft debut in downtown's Old Bank District in October.
"It feels like this incredible gift has come home. I always thought Los Angeles was the natural place to spread the vision of George Lucas and Mellody Hobson, to make art and creativity accessible and inspirational to the next generation," Mayor Eric Garcetti said of the filmmaker and his wife. "It's a natural place to have this museum in the creative capital of the world and in the geographic center of the city. It's a banner day for L.A."
Garcetti said the 275,000-square-foot museum will lead to tens of thousands of jobs in construction, and he estimated the number of permanent jobs created by the museum at more than a thousand — "and that's a lowball estimate."
"People will visit from around the world to see the original Darth Vader mask and Norman Rockwell paintings," he said.
Entertainment and cultural leaders including Los Angeles County Museum of Art Director Michael Govan, Academy Museum of Motion Pictures leader Kerry Brougher and DreamWorks Animation Chief Executive Jeffrey Katzenberg gathered before the L.A. County Board of Supervisors in November to show their support for Lucas' project.
"This is a real triumph for the city of L.A., and this will be a transformative opportunity for L.A.," Katzenberg said Tuesday after learning of Lucas' decision. "First and foremost for our residents, who are going to have an outstanding cultural, iconic new force here — the force will be with us — and I think for tourism, and for the continued, extraordinary transformation of downtown Los Angeles, and for Exposition Park and the other museums it will be joining."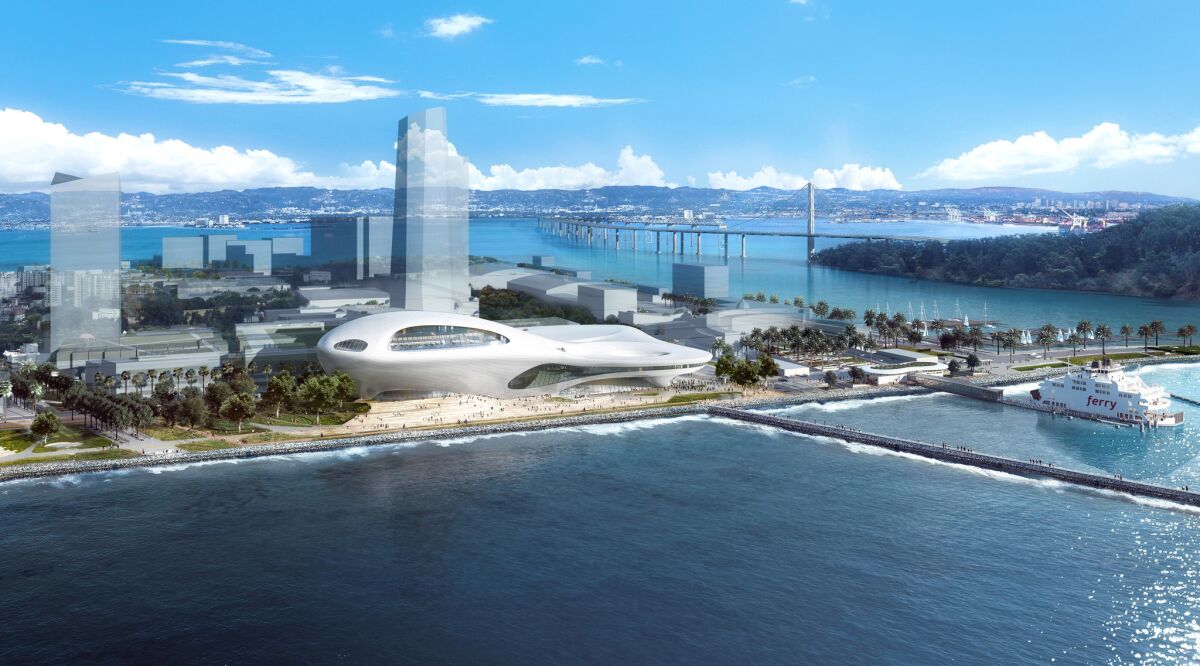 Lucas, 72, has spent years trying to erect a museum for his art collection, which consists of about 10,000 paintings and illustrations including works by Rockwell, N.C. Wyeth and R. Crumb, along with Hollywood memorabilia from films such as "Star Wars" and "The Ten Commandments." In 2009 he set his sights near his home turf in San Francisco but faced community opposition from the city's Presidio Trust about building in the historic park. Lucas then aimed for Chicago, Hobson's hometown, but encountered resistance from Friends of the Parks about a downtown site along Lake Michigan.
The newest proposals, both featuring designs by Chinese architect Ma Yansong, were aesthetically similar but seemingly opposite in other respects. One was a remote, four-acre site on a breezy island in the middle of San Francisco Bay, beautiful but accessible only by bridge and ferry; the other was a seven-acre location in public transit-friendly, museum-heavy Exposition Park near Lucas' alma mater, USC.
Lucas declined to comment for this article, but the museum board's announcement said he chose L.A. largely because Exposition Park positions the museum to "have the greatest impact on the broader community, fulfilling our goal of inspiring, engaging and educating a broad and diverse visitorship."
Exposition Park could become the Central Park of Los Angeles, Garcetti said, adding that Lucas has expressed interest in helping to guide a master plan for the swiftly evolving area, already home to the California Science Center, Natural History Museum of Los Angeles County and the California African American Museum. Plans for the new museum, which will rise along Vermont Avenue on land now covered by parking lots, will include underground parking.
"We have a new football stadium being built, the Coliseum being redone with more than $200 million in upgrades, and the science center is building a whole new building to permanently house the space shuttle and its rockets," Garcetti said, also noting the proximity to the Expo light rail line and bus lines. The Lucas Museum, he said, "will be the jewel in the crown."
The museum board called Exposition Park "a magnet for the region and accessible from all parts of the city." It also cited the location "surrounded by more than 100 elementary and high schools, one of the country's leading universities as well as three other world-class museums."
"There's an understanding of L.A.'s growing cultural influence and growing and diverse audiences for museums here," LACMA's Govan said Tuesday. "We ended 2016 with over 1.5 million visitors." He said the Lucas Museum will present visual culture from a different point of view, one that "makes so much sense in a city known equally for art and for film."
Philanthropist and Broad museum founder Eli Broad called the Lucas Museum "one of the most important cultural and tourist additions to our city in the last 25 years."
"I spoke to both George Lucas and Mellody personally about our great success at the Broad," the philanthropist said. "We've had over 1 million visitors since we opened in 2015, and I'd expect the attendance at the Lucas Museum will be equal or even succeed that."
Art historian Don Bacigalupi, formerly president and executive director of the Crystal Bridges Museum of American Art in Bentonville, Ark., will serve as founding president of the Lucas Museum. He and Lucas still face the possibility of the kind of community scrutiny the project encountered in San Francisco and Chicago, but officials remain optimistic. Groundbreaking is planned before year's end, a spokesman said, with the opening targeted for 2021.
"We have exciting work ahead," Bacigalupi said.
Follow me on Twitter: @debvankin
ALSO
George Lucas' museum designs for L.A. and S.F.: A first look at competing plans
Editorial: George Lucas should pick Los Angeles for his new and unconventional museum
---
UPDATES:
5:58 p.m.: This article was updated with details about the groundbreaking and target opening.
5:09 p.m.: This article was updated with comments about museum plans and more context about Los Angeles' art museums.
4:06 p.m.: This article was updated with additional reactions to the museum announcement.
Get our L.A. Goes Out newsletter, with the week's best events, to help you explore and experience our city.
You may occasionally receive promotional content from the Los Angeles Times.