Principal ballerina Stella Abrera, a South Pasadena native, returns to SoCal as one of ABT's finest
For American Ballet Theatre dancer and South Pasadena native Stella Abrera, it has been quite a year — one that started with her unexpected and emotional promotion to principal, the company's top rank, in August. An admired and distinctive company veteran noted for her buoyant jumps, lush phrasing, versatility and dramatic commitment, Abrera had invested 14 years as a soloist when the elevation to principal came through.
In the ensuing months, she created a role in a new Mark Morris work for ABT. During the company's recent eight-week season at the Metropolitan Opera House in New York, she debuted in major roles, culminating in last week's performance honoring her 20th anniversary as a member of ABT — an occasion that also saw her debut as Aurora in "The Sleeping Beauty," a touchstone ballerina role.
Now Abrera, 37, is returning to Southern California as ABT performs at a benefit Thursday at the Music Center in Los Angeles, followed by a program of works by noted choreographer Alexei Ratmansky on Friday through Sunday.
At this point in my career, to be doing so many debuts is unusual. But I'm meeting the challenges head-on.
Stella Abrera
Abrera, the first Filipino American ballerina to make principal at ABT, found her way from South Pasadena to New York in part by way of Sydney, Australia. She is the youngest of five children in a family that moved often because her father's work as a civil engineer took them all over the world. The family had a home in South Pasadena but was living in Manila at the time Abrera was born.
"Because I'm the youngest, I missed out on some really cool cities — Jakarta and So Paulo," she joked during an interview at the Met, six days before her anniversary evening late last month. The family returned to California soon after her birth, and at age 5, she attended her first ballet class. The training continued when the family moved to San Diego and then to Sydney, where Abrera spent formative years studying under the rigorous Royal Academy of Dance syllabus, which puts students through a series of adjudications and exams.
Ross Stretton, an Australian former ABT principal dancer and later assistant artistic director with the company, was on the panel adjudicating one of Abrera's advanced exams when she was 16. He was so impressed that he arranged an ABT audition.
"I was over the moon," Abrera recalled. "The audition went well; they offered me an apprentice position in the main company." So she packed up and moved again — this time for her own job. Were her parents sad? "They knew I was kind of unstoppable," she said.
From the start, Abrera proved adept at more contemporary works in ABT's repertory, while she began to earn small featured roles in the 19th-century classics.
"I really tried to make a statement about who I was in those contemporary roles, because there's a little more freedom," she said, citing Paul Taylor's lyrical "Airs" as a favorite. In 1999, New York Times dance critic Anna Kisselgoff praised her performance in that work, noting that Abrera "gave each shape a gorgeous fullness."
For her early development in the classical ballets, she credits the late Georgina Parkinson, a former Royal Ballet principal who became ABT's ballet mistress.
"She took me under her wing," Abrera said. "I was so fortunate to have her guidance and nurturing. Georgina really helped me to fine-tune things — helped me become a ballerina."
You have to wait your turn.
Stella Abrera
In 2001, Abrera was named a soloist, marking the major move out of the corps de ballet and the potential to become a principal. Abrera focused on her expanding repertory challenges, taking a long-range view of what lay ahead.
"I don't think there's any young dancer who doesn't have dreams of rocketing up to the top," she said. "Anyone joining a company is initially learning the ropes and getting a feel for how it all works. If you're thoughtful, you understand where you stand in the company — what you need to do to pay your dues, and what you have to do to get further. You also understand that there's luck and timing involved, and how competitive it all is. You have to wait your turn."
Just as lead roles started coming Abrera's way, she suffered a complex back injury that kept her offstage for 18 months. This was soon after she had danced the title role of Cinderella and been told she would be learning the iconic role of Giselle.
Throughout the long and difficult period when she couldn't dance, Abrera said her dedication never wavered, even as she slowly made her way back. When she finally did make her debut as Giselle last year, "there was some neat poetic justice for me personally. I really put all of my soul into that one."
She works closely on her demanding roles with Irina Kolpakova, a former Mariinsky ballerina and longtime member of ABT's artistic staff.
"There are no words to describe how wonderful and generous she is with her wisdom, and all the experience she can impart on all the ballerinas," said Abrera, who made a point of pulling Kolpakova out of the wings during her celebratory curtain calls after last week's "Sleeping Beauty."
This season, Abrera added major roles to her repertory: the willful, spirited Lise in Frederick Ashton's "La Fille Mal Gardée"; the Queen of Shemakhan, the elusive temptress in Ratmansky's new "The Golden Cockerel"; and the Maiden in his fantastical 2012 "Firebird."
She will perform that last role twice — as well as one she created in his "Symphony #9" — when ABT comes to the Dorothy Chandler Pavilion this week. As ABT's artist in residence since 2009, Ratmansky has been steadily enriching the company's repertory with bold new works and — thanks to his probing curiosity about ballet history — well-researched productions of older ballets.
"Alexei has made such a huge impact on our company," said Abrera, who has created roles in several of his works. "Working with him has been phenomenal. I had never worked with anyone who is so detail-oriented. He pushes everyone beyond a point where they think they can go — and then they go there. But getting to that point is arduous."
She described her "Firebird" role as wonderful to perform, "because you can really dive into the character. The technical demands and the character are really interwoven. Each step tells the audience who the character is."
Busy and healthy, and reaching new levels of artistry, Abrera is clearly enjoying this latest phase.
"At this point in my career, to be doing so many debuts is unusual," she said. "But I'm meeting the challenges head-on. Why not? Whatever is in my future, I'm expecting it to be fulfilling, because I'm so open and so ready to have these experiences — and happy to be there."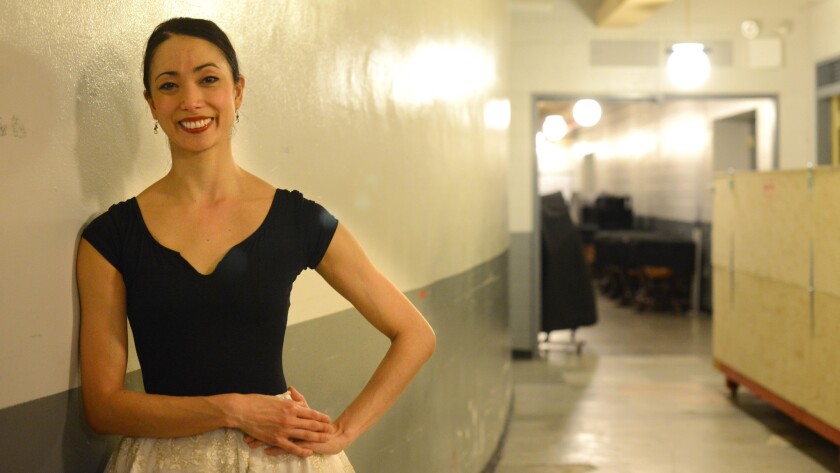 ------------
American Ballet Theatre
Where: Dorothy Chandler Pavilion, 135 N. Grand Ave., L.A.
When: Thursday benefit performance of "Firebird" is sold out. Limited seating available for regular performances at 7:30 p.m. Friday and Saturday and 2 p.m. Sunday.
Tickets: $34 and up (subject to change)
Info: (213) 972-0711, www.musiccenter.org/abt
Follow The Times' arts team @culturemonster.
---
The complete guide to home viewing
Get Screen Gab for weekly recommendations, analysis, interviews and irreverent discussion of the TV and streaming movies everyone's talking about.
You may occasionally receive promotional content from the Los Angeles Times.