'First Glimpse' peers into UC Irvine's treasure trove of California art, the 'largest collection of art that no one has ever seen'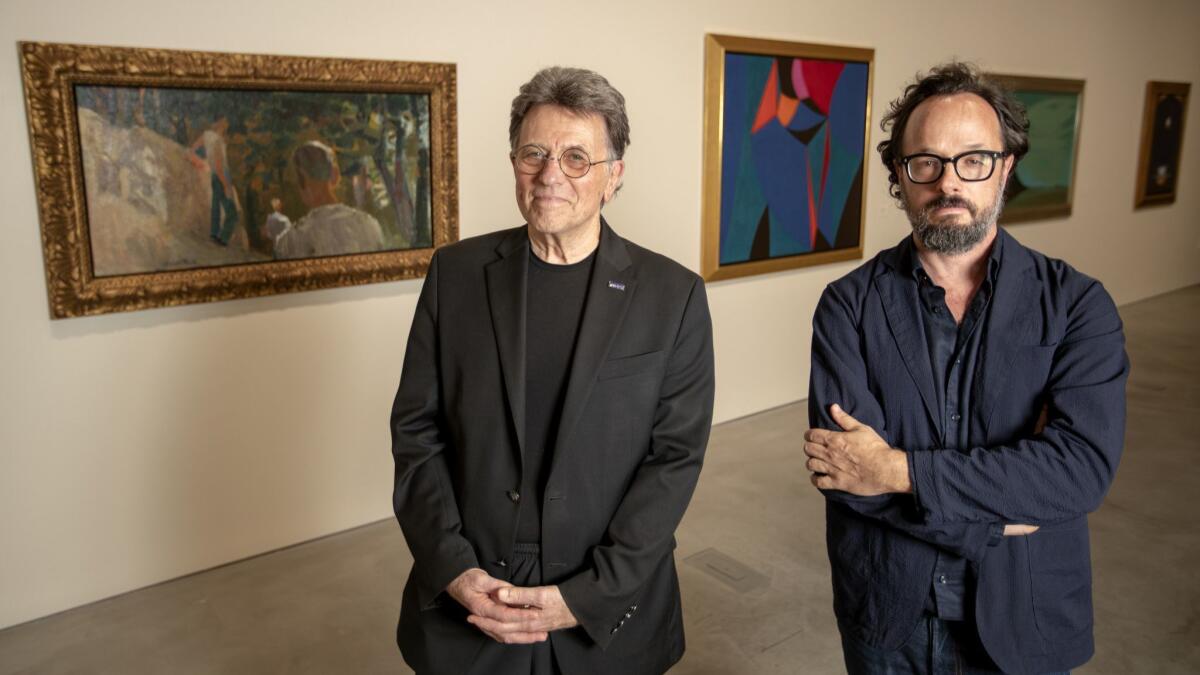 In the spring of 2012, Orange County developer Gerald Buck attended a seminar at Laguna Art Museum. Discussion topics that day included the Getty Foundation's 2011-12 "Pacific Standard Time" (PST) art initiative, involving more than 100 Southland museums and galleries, focusing on the Southern California postwar art scene. As the audience joined in the dialogue, the self-effacing Buck remarked that he had toured dozens of PST exhibitions during the previous six months.
Few attendees at the seminar that Sunday afternoon knew that Buck had been quietly amassing what later came to be known as the Gerald E. Buck Collection, considered by art curators and dealers as the most comprehensive private collection of modern California art ever assembled.
The irony of Buck's presence that day is that many of his 3,200 paintings, sculptures and works on paper — mostly hidden from view from the public for decades — almost mirrored in scope, styles and genres the artworks exhibited in the Pacific Standard Time exhibitions. Still Buck, who believed in the importance of displaying fine art, had loaned a few of his prized pieces to PST shows that year. Among these were pieces by Carlos Almaraz, Ed Bereal's mixed-media "American Beauty" (1965) and Gordon Wagner's assemblage piece, "The Mexican Night Clerk" (1960-65).
Other postwar art, still hidden in Buck's Los Angeles storage facility, included pieces by luminaries Peter Alexander, Larry Bell, Richard Diebenkorn, George Hermes, Ed Kienholz, David Park, Ed Ruscha, Wayne Thiebaud, James Turrell, DeWain Valentine and many others.
Fifty pieces by these and other California artists will soon be on view at UC Irvine's Claire Trevor School of the Arts, in "First Glimpse: Introducing the Buck Collection at the UCI Institute and Museum for California Art." An accompanying catalog discusses the significance of Buck's works, and explains how 20th century California artists were instrumental in launching several art movements including Assemblage, Bay Area Figurative, California Funk, Chicano art, Hard-edge painting as well as Light and Space.
We have the largest collection of art that no one has ever seen.
— Stephen Barker
Christina Buck, who administered her father's art collection, was privileged to witness its evolution. "When I went away to college," she says, "I would come home and my father would show us the latest addition to his collection. We had paintings hung everywhere. Art in all forms was truly fulfilling for him." 
Why had Buck — who created his fortune by developing suburban communities — hidden his extraordinary collection for decades? This question soon became a discussion topic among UC Irvine's art department faculty, and it still is; as in the fall of 2014, a year after Buck and his wife Bente passed away, the UCI art department was bequeathed the entire Buck collection of artworks, catalogs and notebooks.
"One morning, I received a phone call from a Los Angeles lawyer telling me that our university would be receiving the Buck collection," says Stephen Barker, UCI's art department dean. That same week, Barker was informed that UCI would also inherit 1,200 19th and 20th century paintings, sculptures and works on paper from the nearby Irvine Museum, founded by heiress Joan Irvine Smith in 1993. Nearly stunned by this windfall, Barker's mantra became: "We have the largest collection of art that no one has ever seen."
"The combination of collections we are offering is unparalleled," Barker says.
After ruminating on how the university would manage and display the collections, Barker proposed creating the Institute and Museum for California Art, a venue that would combine a museum and institute for the study of art, in conjunction with the university's offering of advanced degrees in museum studies and art conservation. UCI Chancellor Howard Gillman soon approved the formation of IMCA , which was a part of architect William Pereira's original 1962 campus vision. "Many museums have study centers, and many institutes possess art, but our project has a three-part structure: exhibiting art, studying art and engaging with the university," Barker, who is also the executive director of IMCA, says.
Along with Buck's extensive art collection, UCI inherited his private 3,000-square-foot art gallery in a former post office in downtown Laguna Beach. Bedecked with furnishings and rugs, similar to those in Buck's nearby Emerald Bay home, the gallery featured 80 pieces of 20th century California artworks with 150 more stored on-site. In November 2017, the facility was opened to members of the press, revealing several dozen art pieces. Twenty-two of these works are now on display in the UCI "First Glimpse" exhibition; the remaining 28 works came from Buck's Los Angeles storage facility.
Among the artworks from the Laguna space, now in the UCI galleries are many from notable artists, including Peter Alexander's "Thrasher," a night-time hilltop view of Los Angeles; Richard Diebenkorn's "Albuquerque," an abstract painting in Southwestern colors; Viola Frey's imposing ceramic "Woman in Blue and Yellow II"; and Helen Pashgian's luminous epoxy resin sculpture "Blue Secret." Other works from the L.A. storage facility, now in the UCI exhibition, are Ed Kienholz's "The Fish Track," an assemblage evoking a shrine and featuring a boot as its centerpiece; and Peter Voulkos' massive, abstract ceramic sculpture, "Mimbres."
But the current UCI exhibition is merely the first of three phases in IMCA's evolution, Barker explains. The second phase, expected to open in early 2019, will also include selections from the Irvine Museum collection, and will be installed in a 15,000 square foot space on the UCI campus. Phase three, to occur in about four years, will be the construction of the 100,000-square-foot IMCA building, which will include 45,000 square feet of gallery space. As Barker explains, large amounts of funds need to be raised before that building can be designed, let alone built. In the meantime, UCI will soon embark on an international search for a chief curator to oversee the IMCA collection.
The art collections that Gerald Buck began amassing three decades ago — and that the Irvine Museum began displaying 25 years ago — are morphing into an extensive compendium of California art. When asked to compare IMCA with museums around the state, Barker explains that the recently closed Pasadena Museum of California Art had large exhibitions, but no collection. Sacramento's Crocker Art Museum, owning a large collection of California art, also exhibits art from around the world. And Laguna Art Museum, while specializing in California art, has a much smaller collection than IMCA's.
With nearly 5,000 California-made art pieces as a foundation, UCI's institute will engage in interdisciplinary studies about the art of our state, and about how it relates to the larger story of American art.
And Barker is enthusiastic, stating that IMCA will simply have "the best collection of California art to be seen anywhere."
"First Glimpse: Introducing The Buck Collection" at
 the UCI Institute and Museum for California Art
When: Sept. 29, 2018-Jan. 5, 2019, Tues.-Sat., 12:00-6:00 p.m., Thursdays until 8:00 p.m. Opening reception: Sept. 29, 2-5 p.m.
Where: Contemporary Arts Center Gallery & University Art Gallery, 712 Arts Plaza, Claire Trevor School of the Arts, Irvine
Info: imca.uci.edu/firstglimpse/

Get our L.A. Goes Out newsletter, with the week's best events, to help you explore and experience our city.
You may occasionally receive promotional content from the Los Angeles Times.