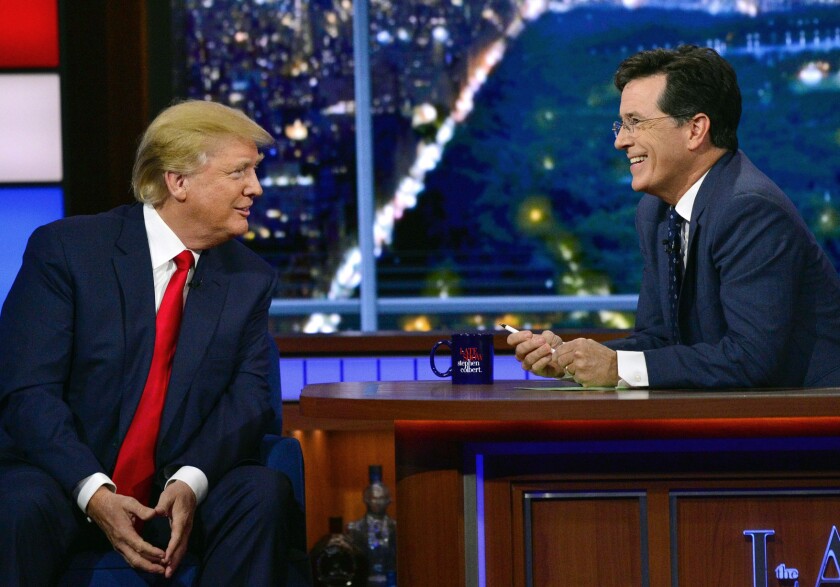 CBS is looking to bring some morning glory to Stephen Colbert's struggling late-night show.
Christ Licht, the executive producer of "CBS This Morning," was named Wednesday as the new show runner for "The Late Show With Stephen Colbert."
The move is aimed at giving Colbert more time to focus on performing because he has been heavily involved in the production of the show since its launch, according to executives at the network who were not authorized to comment publicly on the matter.
CBS executives have been looking at ways to give Colbert, who succeeded "Late Show" founding host David Letterman in September 2015, more production support. At the same time, Licht wanted a new opportunity at the network after spending five years turning around "CBS This Morning." After the two met and decided they could work together, a deal was made.
Though profitable for CBS, Colbert's "Late Show" has not generated the buzz that "The Colbert Report" did on Comedy Central, especially in an election year. Meanwhile, James Corden, the TV unknown who took over "The Late, Late Show" that follows Colbert on CBS, has become a viral video sensation with his "Carpool Karaoke" routines.
"Colbert has proven to be less viral than his Comedy Central days and hasn't created a niche segment as of yet," said Billie Gold, vice president and director of programming research for ad agency Dentsu.
"The Tonight Show's" Jimmy "Fallon has a plethora of them including his lip-sync battles, Corden has karaoke in cars. I think Colbert was trying to blend the political nature of his Comedy Central character and be more serious than the variety-show laden 'Tonight Show' and the wise-cracking frat house humor of Kimmel and late-night viewers haven't taken to it in mass."
Letterman's high salary and legacy costs built up over 22 years had made the 11:30 p.m. time period break-even at best for the network in its final years. By starting fresh with Colbert and getting ownership of the show, CBS is now profitable in the hour, especially since advertising demand for all of late night is strong.

And the program has shown a slight ratings improvement compared to last season — averaging 2.9 million viewers and a 0.6 rating among viewers in the 18 to 49 age group that advertisers covet most.
Despite heavy promotion, however, "Late Show" still trails NBC's "The Tonight Show starring Jimmy Fallon," which has averaged 3.8 million viewers and a 0.9 in the demographic, and is often neck-and-neck for second place with ABC's "Jimmy Kimmel Live." "Late Show" also failed to get a boost from a special airing after the Super Bowl, which exposed Colbert to 21 million viewers. Although its audience is younger than Letterman's, Colbert's "Late Show" has the highest median age in network late night at 58.6.
Licht is an addition to the "Late Show" staff. Tom Purcell and Meredith Bennett, Colbert's longtime Comedy Central colleagues who serve as "Late Show" executive producers, will now report to Licht.
He joined CBS from MSNBC in 2011, and helped relaunch the network's morning news program with co-anchors Charlie Rose, Gayle King and Norah O'Donnell. The revamped show, which brought a newsier and more conversational tone, is delivering its best morning ratings for CBS in 22 years. For months there had been talk in the TV news industry that Licht was looking for a new challenge.
Licht has no experience running a late-night comedy program. But Colbert has tended to do more interviews with politicians and newsmakers than his competition.
Robert Morton, longtime executive producer for Letterman's shows on NBC and CBS, believes Licht should help get Colbert's show on track.
"I respect the fact that they found someone that understands the rhythm and the deadline and the lifestyle that is involved in putting on a nightly television show — that makes a lot of sense," said Morton, who was a producer on ABC's "Good Morning America" before moving into late night. "It's about looking at a week and saying, 'I can't have a 60-year-old performer with a 60-year-old politician two nights in a row' because that's not the audience we're speaking to."
Morton believes Colbert, who has a firm three-year commitment at CBS, will benefit from having a strong producer.
"He's got everything that it takes to be a great talk show host," Morton said. "He's got the humor. He's got the attitude. He's got a great curiosity. But they are not serving up a good show for him. He's on an island by himself."
Ryan Kadro, who was Licht's second-in-command at "CBS This Morning," will take over as executive producer.
In addition to being the show runner for Colbert, Licht will get a new corporate role as executive vice president of special programming, consulting on various forms of content for divisions across the company.
stephen.battaglio@latimes.com
---