Hollywood hairstylists, makeup artists shine spotlight on their craft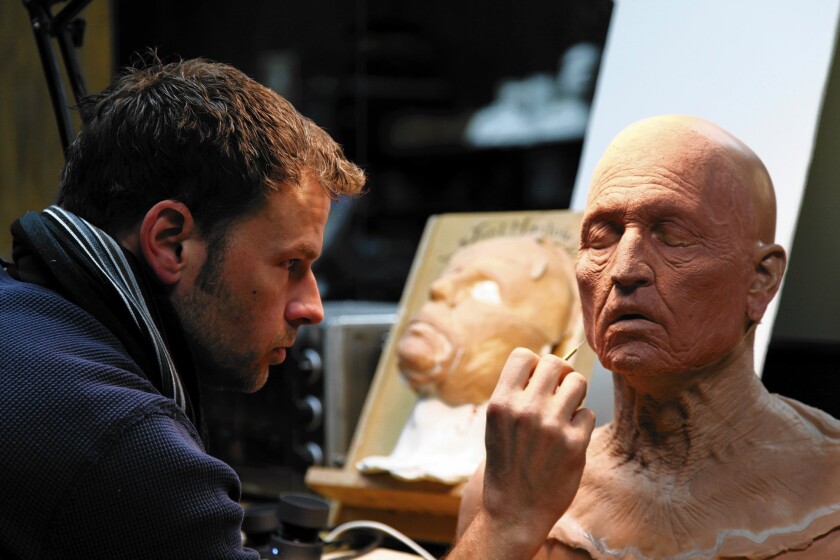 To help transform Matthew McConaughey into a man dying of AIDS, Robin Mathews used grits to simulate a flaky rash in "Dallas Buyers Club."
For a pivotal comb-over scene in "American Hustle," Kathrine Gordon shaved and thinned part of Christian Bale's bushy mane, leaving a patch of hair known as "the island."
And to create the poisonous-fog-induced blisters that break out on Jennifer Lawrence's character in "The Hunger Games: Catching Fire," Ve Neill and her team spent several hours fashioning the boils out of a membrane-thin silicone — in the middle of a Hawaiian jungle.
ON LOCATION: Where the cameras roll
The three artists and their colleagues will be feted Saturday night at a dinner and awards show their guild is throwing for its members for the first time in a decade.
Long accustomed to working behind the scenes to make the stars shine, these artisans are increasingly eager to cast a spotlight on their craft, which remains as relevant today as it was nearly a century ago, when Lon Chaney (the "man of a thousand faces") transformed himself into terrifying monsters and tormented characters.
"The timing was right," said Susan Cabral-Ebert, president of the 1,880-member Make-up Artists and Hair Stylists Guild. "People have been asking to bring our awards show back for 10 years now. We're trying to increase our stature again to make producers sit up and take notice of what we do."
Improvisation is as much a part of their art as the craft itself.
PHOTOS: Biggest box office flops of 2013
With a makeup budget of just $250 for "Dallas Buyers Club," Mathews didn't have the time or funds to buy prosthetics to transform McConaughey and Jared Leto into men dying of AIDS. Filmed in Louisiana, the independently produced movie from Focus Features had a budget of only $4.5 million.
So Mathews relied almost entirely on paint and powder, highlighting and contouring bones, tendons and veins on their faces and bodies to make them look emaciated. She lined up pictures of skulls and skeletons in her trailer so she could draw in the facial bones of the men, who each lost about 40 pounds for their roles.
To help create the look of a patchy red skin rash known as seborrheic dermatitis, Mathews pressed grains of cornmeal and grits onto McConaughey's skin. She got the cooking supplies from her mother — because, she said, "we didn't have the money to buy the grits."
PHOTOS: Celebrities by The Times
Not even she was sure it would work.
"I was having trouble getting over the fact that here is this amazing actor who has lost all this weight to play a role of a lifetime and I'm going to throw grits on his face," Mathews said.
For veteran hairstylist Gordon, the challenge in "American Hustle" was making the naturally hirsute Bale look like a con man hiding his bald patch with an elaborate comb-over.
"How are we going to achieve a comb-over on a guy with a full head of hair?" Gordon asked herself.
After two days of research and testing on wigs, Gordon settled on a look she said was modeled on Playboy founder Hugh Hefner. She even proposed a back story of a man so obsessed with his hair he would glue a piece of fake hair onto his bald spot, then cover it up with his remaining hair, and hold the whole construction in place with copious amounts of hair spray.
"It had to be organic looking and it had to not look like a hairstylist did it," Gordon said. "Christian loved the idea that this guy was into his hair."
At the other end of the spectrum is the big-budget "The Lone Ranger." Although the Disney movie misfired at the box office, it has garnered an Oscar nomination for its makeup work, led by Joel Harlow.
Harlow supervised a team of as many as 20 makeup artists who worked on miners, Chinese railroad workers, Comanche warriors, soldiers and Johnny Depp's Tonto.
To be transformed from a young renegade into a frail old man, the actor had to sit for up to eight hours as Harlow and his team applied 17 prosthetic pieces over his chest, arms, hands and face.
Spending so much time together, makeup artists and actors share a close bond, often working together on multiple films and sharing ideas.
PHOTOS: Box office top 10 of 2013
Harlow worked closely with Depp on creating Tonto's signature look — which included wearing a sacred crow on his head. The two had previously collaborated on the first "Pirates of the Caribbean" film, as well as "Dark Shadows," the upcoming "Mortdecai" and other titles.
"It's a unique relationship," said Harlow, who will present Depp with a distinguished artisan award Saturday night. "Typically, you're the first person they see in the morning, and if the environment is not one of ease and creativity and friendship, then it's going to set the tone for the entire day. It's like waking up on the wrong side of the bed."
Although they welcome the annual academy recognition, makeup artists and hairstylists say their work is often given short shrift in Hollywood. Among other things, there is only one Oscar category for makeup artists and hairstylists.
To help redress that, on Saturday the guild — Local 706 of the International Alliance of Theatrical Stage Employees — will host its first awards ceremony since 2004, handing out statuettes in 14 categories for the best work in film, television and commercials.
VIRTUAL TOUR: Hollywood's Walk of Fame
"Unfortunately, with the Oscars, a lot of really beautiful work goes unrecognized," said Neill, an Academy Award-winning makeup artist. "This way we get to see and hear about a lot of new artists in our field."
The guild had suspended the show because it was too costly to produce. But new support from sponsors — cosmetic and hairstyling companies — made it possible to revive the event, which is to be held on the Paramount Pictures lot in Hollywood.
The show is important, Cabral-Ebert said, because many new filmmakers don't appreciate makeup artists' craft and expect them to work more for less pay. Because fewer big-budget movies are filmed in the area now, L.A.-based makeup artists earn almost half what they did a decade ago, an average of $50,000 to $70,000 annually, Cabral-Ebert said.
But nationwide, makeup artists and hairstylists have been helped by the proliferation of new outlets, such as reality shows and cable TV series such as "The Walking Dead," which is among the nominees for the guild awards.
Despite the growing use of computer-generated imagery, many filmmakers prefer physical makeup — fashioned from foam, clay, paint and silicone — because it typically looks more real. The advent of high-definition cameras, projectors and televisions, however, means makeup artists must work harder to conceal unwanted blemishes.
"You can't be lazy because it will show," Cabral-Ebert said. "You have to be very, very good at your craft."
---
From the Emmys to the Oscars.
Get our revamped Envelope newsletter for exclusive awards season coverage, behind-the-scenes insights and columnist Glenn Whipp's commentary.
You may occasionally receive promotional content from the Los Angeles Times.