U.S. steps up scrutiny of movie distribution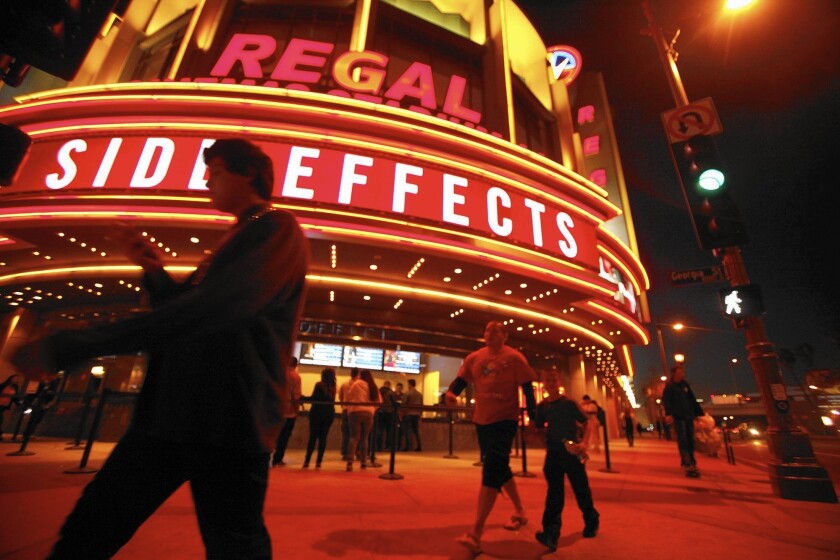 At a time when the box office is booming, the business practices of the nation's largest theater chains are coming under growing scrutiny by the federal government.
The Department of Justice recently ordered Regal Entertainment Group, AMC Entertainment Holdings Inc. and Cinemark Holdings Inc. to supply documents as part of a widening investigation into whether the largest theater chains violated federal antitrust laws, three people familiar with the investigation said.
The government is examining allegations from independent theater owners across the country that the big chains are using their market clout to block smaller rivals from receiving first-run movies.
The issuance of civil investigative demands, or administrative subpoenas, signals a significant escalation in the Justice Department probe, which launched several months ago but has accelerated in recent weeks.
The department also has assembled a task force of attorneys and economists to examine a business practice known as clearances, license agreements in which theaters obtain permission from studios to exclusively show first-run movies in their theaters within certain zones, thereby blocking nearby rivals from playing the same movie at the same time.
Task force members already interviewed executives from at least three independent theaters in Florida, Texas and Kansas, people with knowledge of the probe said. This week they are expected to meet with executives with Cobb Theatres, a Birmingham, Ala.-based chain with 20 theaters.
The investigation is being closely watched in the exhibition industry and in Hollywood because it could force changes in how major motion pictures are distributed and lead to costly fines for the big chains.
"This is the sort of thing that antitrust is particularly worried about," said Mark Lemley, a professor at Stanford Law School and an expert on antitrust law. "Do we have a few dominant players entering into deals that make it harder for independent companies to establish themselves and gain ground?"
Industry insiders expect the government's investigation will last at least six months to a year.
Although violations of the Sherman Antitrust Act are subject to criminal penalties, the Justice Department would more likely file a civil lawsuit against theaters that could be resolved through a consent decree. Such a decree could include fines and possibly an injunction that would bar use of blanket clearances.
The government investigation could also open the door to more antitrust lawsuits, in which plaintiffs can receive treble damages.
AMC, Cinemark and Regal declined to comment. But theater and some studio executives have previously defended the use of clearances, contending they provide an efficient way for studios to allocate movies and protect competing theaters from diluting their grosses by having too many film runs in a given area.
"One has to remember that film clearances, they've existed for many years and we believe they have because they are beneficial to the studios, they are beneficial to exhibition and they are beneficial to consumers," Regal Entertainment Chief Executive Amy Miles said in a recent conference call with analysts.
The use of clearances developed after a landmark Supreme Court decision in 1948 that required studios to divest their ownership in movie theaters. Clearances were initially seen as a way to guarantee that small, independent theaters would gain access to first-run films, allowing the industry to grow rapidly.
But as the industry has increasingly consolidated — about half of all theater screens are owned by three companies — tensions between large chains and independent theater chains have heightened. Because they control so many screens, big chains have more leverage with studios in terms of where and when movies play across their circuits.
In 2006, the owners of the Palme d'Or, a seven-screen specialty theater in Palm Desert, sued Texas-based Cinemark, the nation's third-largest chain.
Flagship Theatres, whose owners include "Breaking Bad" star Bryan Cranston, alleged that Cinemark, which operates a cinema in nearby Rancho Mirage, was "circuit dealing" by threatening to retaliate against movie studios that booked films in the Palme d'Or. The case is pending.
In court filings, Cinemark has argued that its business practices are lawful and that the company did not have sufficient strength in the Coachella Valley market to stifle competition.
Another legal dispute erupted last year when Cobb Theatres sued AMC in U.S. District Court in Georgia. Cobb, which operates 20 theaters, accused AMC of using its "monopoly power" to block some first-run movies from being screened at upscale cinema and dining complex in Brookhaven, a suburb of Atlanta. The suit alleges that AMC convinced studios to give two nearby AMC theaters in Buckhead preferential treatment.
AMC denied the allegations and moved to dismiss the case. A federal judge in March allowed it to proceed.
The chain has been especially aggressive in enforcing clearances in the three years since China's Dalian Wanda Group acquired AMC for $2.6 billion.
AMC sought clearances for a dozen theaters, including cinemas in Harlem and La Jolla, that it viewed as "predatory competitors," according to an internal memo obtained by The Times.
The Leawood, Kan., chain has been investing heavily in upgrading its theaters with new amenities as well as opening cinemas that offer premium food and beverage service. The expansion has put it at odds with new independent theaters that also are targeting affluent customers with luxury services.
Among them is Look Cinemas in Dallas, Texas.
Veteran industry executive Tom Stephenson and his partners invested $20 million to open a luxury 11-screen theater in May 2013 in an affluent suburb of Dallas at which patrons can order food and drinks in plush recliners.
But Stephenson says Look Cinemas, which was included in AMC's list of "predatory competitors," has been starved of blockbuster movies such as "Avengers: Age of Ultron."
In a recent letter to studio executives, he complained that AMC was using clearances to steer business to an AMC venue that opened last fall.
"What AMC has done is say, 'I can use this to help take production away from smaller theaters,'" Stephenson said."They're using it as a weapon."
IPic Entertainment, a Boca Raton, Fla.-based chain that operates 11 luxury theaters — including locations in Pasadena and Westwood — also has contacted the Justice Department. IPic alleges that Regal and AMC have used the threat of clearances to thwart competition.
Hamid Hashemi, CEO of IPic, said he was in negotiations with a developer to open a theater in a suburb of Dallas last summer when he learned that AMC had sent a letter to studio distribution executives saying the proposed IPic theater would be in "substantial competition" with a smaller AMC multiplex two miles away that didn't have similar services. In the letter, AMC asked studios to approve clearances in "that particular film licensing zone."
On the same day, Hashemi said studio distribution executives told him they had received a similar clearance request from Regal involving a separate 500-seat theater under construction in Houston.
"Clearances are legal, but the use of clearances as a threat to preempt competition, that's another story," Hashemi said.
Rudyard Coltman opened a state-of-the-art $25-million multiplex in Overland Park, Kan., last May. The Cinetopia-18 includes a restaurant, extra-wide seats where patrons can order food and drinks, and a 75-foot-wide Imax screen. But Coltman says AMC, which operates a theater less than two miles away, is using its buying power to keep premium large format films like "Fast & Furious 7" and "Avengers" away from Cinetopia. As a result, he said, business is 50% below projections.
"All year long we've been denied the majority of these pictures," Coltman said. "We've gotten killed by clearances."
AMC Chief Executive Gerry Lopez defended his company's use of clearances.
"The fact of the matter is we are playing by rules that have been long established," Lopez told The Times last month. "There are 600-plus exhibitors in this country. There are three or four exhibitors who are irritated by it. My guess is they have made some bad business calls."
---
From the Emmys to the Oscars.
Get our revamped Envelope newsletter for exclusive awards season coverage, behind-the-scenes insights and columnist Glenn Whipp's commentary.
You may occasionally receive promotional content from the Los Angeles Times.