Fox offer for Time Warner could bring out rival suitors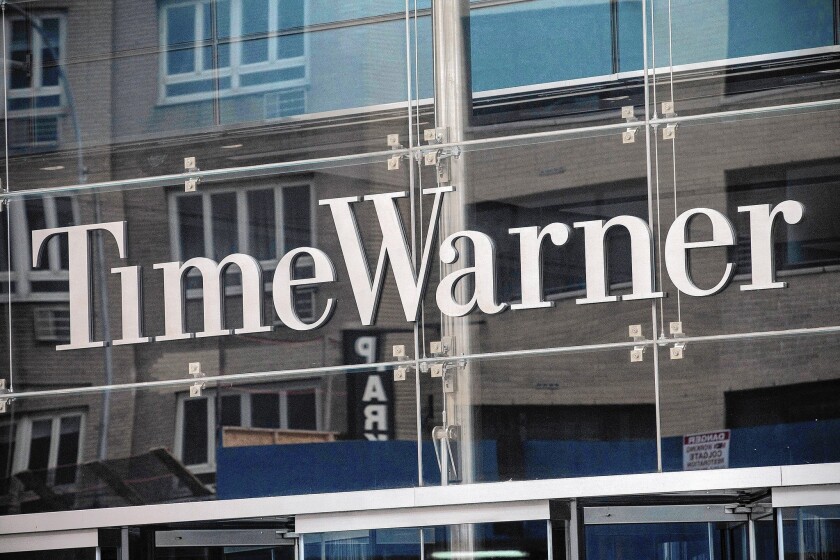 Is there a white knight for Time Warner?
Time Warner Inc. has made it clear that it does not want to sell itself to Rupert Murdoch's 21st Century Fox, rejecting the mogul's $80-billion offer. Still, analysts and industry insiders expect another bid from Fox that could top $90 billion.
Mobilizing its defense, Time Warner board members Monday amended the company's bylaws to make it more difficult for Murdoch to mount a hostile takeover. Board members unanimously agreed to prevent dissident shareholders from convening a special meeting to try to install board members who are more inclined to accept a deal.
Instead, the next meeting of shareholders will be in July 2015 — providing the company time to make its case that Chief Executive Jeff Bewkes has the best strategy for running Time Warner.
The move also buys time for other bidders to jump into the fray.
Now the question is whether anyone else will make a run at the entertainment giant whose assets include the Warner Bros. movie and television studios, premium channel HBO and cable channels TNT, TBS, CNN and Cartoon Network.
"We believe that other potential suitors will sniff around," Moody Investors Service Senior Vice President Neil Begley said in a report Monday. A Time Warner executive, who was not authorized to speak publicly, agreed: "These things have the tendency of bringing out other bidders."
No friendly suitors have appeared yet. But that hasn't stopped investors, analysts and others from drafting a wish list that includes Walt Disney Co., Google Inc., Apple Inc., Amazon.com Inc. and Verizon Communications Inc.
"This is more entertaining than some of the stuff these people put on TV," said Janney Capital Markets analyst Tony Wible, who was the first to predict Fox's play for Time Warner.
For Disney, owning Time Warner would cement its status as the world's leading entertainment company. For Silicon Valley companies, a deal would make them instant players in the content business. For Verizon, access to Time Warner could boost its pay-TV and broadband platforms.
Not everyone is convinced that a rival bid will emerge.
"This is 21st Century Fox's to win," said analyst Michael Nathanson of the Moffett/Nathanson research firm. He expects Fox to increase its offer to $100 a share if that is what it takes to get a deal done. Fox's first offer was $85 a share.
Time Warner shares closed up for a fourth straight day Monday, rising 13 cents to $87.36 — a 23% increase from last week when Fox's approach became public.
There also is speculation that Time Warner could make a defensive acquisition to keep Fox at bay. Merging with CBS Corp. would effectively stop Fox in its tracks. Government regulations prevent one company from owning two major broadcast networks, and Fox already owns Fox Broadcasting.
Time Warner also could pursue deals to up the ante on Murdoch, including buying cable programming giant Discovery Communications. However, that move would only raise the price that Murdoch would have to pay; it would not create a regulatory roadblock the way that a CBS purchase would.
Another scenario, bolstered by Monday's action by Time Warner's board, is for the company to successfully block Murdoch's advances.
"Time Warner shareholders could give Bewkes and his management team the benefit of the doubt," said Christopher Marangi, a portfolio manager for GAMCO Investors, which holds shares in Fox and Time Warner. "They have been good stewards of capital, and there is potential for their stock to grow."
Here is a look at some of the potential suitors for Time Warner and whether getting into the game makes sense for them.
Disney
Pros: Could add Cartoon Network to its already strong kids channels, Disney Channel and Disney XD. CNN would give it a strong cable news presence. Time Warner's TNT and TBS reach broad audiences that Disney's cable channels don't, and they would provide some sports rights that would complement ESPN. Marvel and DC Comics together would equal action hero domination.
Cons: HBO is a cash cow, but its programming ("Game of Thrones," "Girls") might be too risque for family-friendly Disney. The Burbank company has shown little interest in owning broad entertainment networks such as Time Warner's TNT, TBS and TruTV.
Big take-away: The consensus is that while there are obvious synergies, it goes against Disney Chief Executive Bob Iger's strategy for growing the company, which has been through acquisitions of powerful singular brands such as Pixar and Marvel. "Never," analyst Nathanson said. "Bob's strategy has been to target specialized content."
Google
Pros: Would give the search engine giant an entry into Hollywood. The company has already shown an appetite by buying YouTube and launching high-speed Internet service Google Fiber and the Google Play platform. Google could use Time Warner content to build online platforms, which would enhance its already powerful advertising engine.
"If [Google co-founder] Larry Page ever wants to get into the content business, then this is probably the best opportunity that he will have in his lifetime," Marangi of GAMCO Investors said.
Moody's analyst Begley said a reason that Google might wade in is because it has been "stymied by the lack of control of intellectual property. If the tech giant wants to get in the content business, this may be one of their last big opportunities," he said.
Cons: Time Warner's core cable businesses are dependent on the traditional television ecosystem remaining strong, and Google could undermine that. Making content is not in Google's wheelhouse. If it does want in, there are cheaper assets to buy.
Big take-away: "Could be AOL–Time Warner 2.0," Janney Capital's Wible warned.
Apple
Pros: Owning Time Warner would not only give Apple content for its iTunes and Apple TV platforms, it would also give it more leverage in negotiating with other studios that provide content to iTunes. Might further push Apple into developing a television strategy beyond Apple TV.
Cons: Apple's focus is on its popular devices, and it is unclear how owning the content would boost that.
Big take-away: "This is a very limited universe for tech companies such as Google and Apple to shop, and Time Warner is the leader in TV production, a consistent leader in film production, and has the largest film and TV library, which makes it a perfect target," Begley said. "But Apple has been focused on its devices."
Amazon
Pros: Amazon has been aggressively pushing into the delivery of content, making deals with CBS, Viacom Inc. and top producers, including Steven Soderbergh. The company opened Amazon Studios to invite creators to bring their projects.
Cons: Amazon seems more focused on its business of selling products, recently launching its Fire phone to compete with Apple and Samsung.
Big take-away: "Amazon is using content as a driver for its Prime subscription business," said Blair Westlake, former head of Microsoft Corp.'s media and entertainment practice. "But you don't need to own a content company to get access to content. You can write a big check and not take on the risk of running a production company. Making TV shows and movies requires a big roll of the dice, and most of those projects fail."
Verizon
Pros: Could borrow a page from Comcast and marry its distribution (Verizon's FiOS video service has 6 million subscribers nationwide) with top-notch content. It would immediately make Verizon a player in Hollywood, and give its high-speed Internet customers more reasons to stream video. It would also give Verizon an opportunity to directly offer movies and TV shows to its customers.
Cons: No real synergies and is far beyond Verizon's current business model. The phone giant isn't a big enough player to make owning a content giant worthwhile. Verizon this year bought European phone company Vodafone Group's interest in Verizon Wireless, a transaction valued at $130 billion.
Big take-away: "I have a hard time imagining Rupert wouldn't outspend Verizon," Janney Capital's Wible said.
---
From the Oscars to the Emmys.
Get the Envelope newsletter for exclusive awards season coverage, behind-the-scenes stories from the Envelope podcast and columnist Glenn Whipp's must-read analysis.
You may occasionally receive promotional content from the Los Angeles Times.