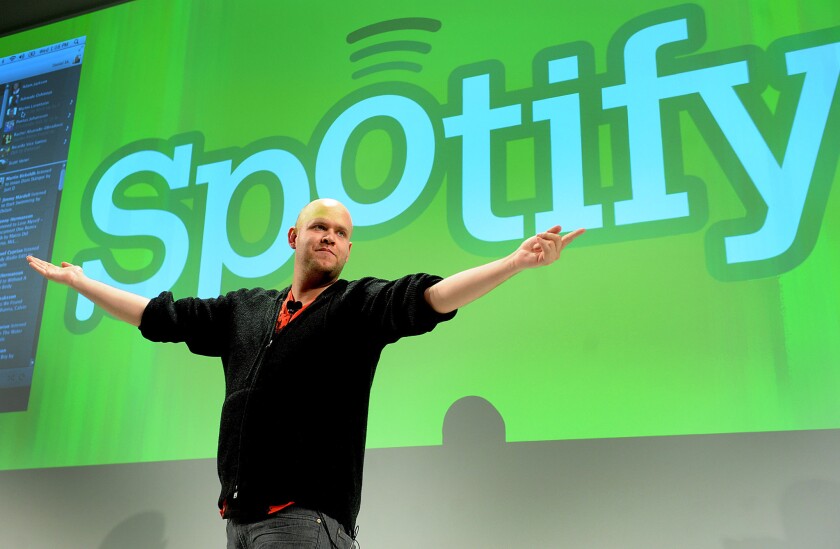 Spotify, the Swedish streaming music service, is buying The Echo Nest, a data company that has analyzed more than 35 million songs.
With the acquisition, Spotify will improve the ways users discover new music, the company said Thursday.
The move comes as Spotify, founded in 2008, faces increasing competition from rivals such as the heavily promoted Beats Music, launched in January by headphone company Beats Electronics.
INTERACTIVE: Discover songs of L.A.
"We are hyper focused on creating the best user experience and it starts with building the best music intelligence platform on the planet," Daniel Ek, Spotify's chief executive, said in a statement.
"With The Echo Nest joining Spotify, we will make a big leap forward in our quest to play you the best music possible."
Financial details of the transaction were not disclosed.
The purchase of Somerville, Mass.-based Echo Nest will also make it easier for third-party developers to build applications for Spotify, which completed a funding round of about $250 million in November.
ON LOCATION: Where the cameras roll
The Echo Nest's data and technology have been used by companies such as MTV and Clear Channel's iHeartRadio, and on-demand digital music services including Spotify and Rdio have used it to support their radio-like features.
The Echo Nest will keep its Somerville headquarters and continue to operate out of its San Francisco office, the company said.
Earlier this week, Beats Music announced that it will acquire Topspin Media, a maker of software that helps musical artists sell and promote their music and merchandise to fans online.
ALSO:
Disney-Dish Network pact may alter TV viewing habits
TV ratings: 'Voice' scores, 'Blacklist' and 'Almost Human' fall
Mysterious death of Elisa Lam inspires Sony Pictures film project
Twitter: @rfaughnder
MORE
ON LOCATION: People and places behind what's onscreen

PHOTOS: Biggest box office flops of 2013

PHOTOS: Celebrity production companies
---