An "old dinosaur" continued to fall, a group of women got real, an attorney asked for forgiveness, a movie star sued his attorney, stars raised money and a pop star explained his year off. Here's all that news and more from this week in entertainment.
The Harvey Weinstein scandal can't stop, won't stop
A little more than two weeks into the Harvey Weinstein sexual harassment scandal, he has resigned from the board of his company and the flow of women alleging they had been "Harveyed" — a too-light term when some allegations are as serious as rape — has continued at a steady pace. In solidarity, women everywhere said #MeToo. Lupita Nyong'o alleged the disgraced producer told her that if she wanted to be an actress, she "had to be willing to do this sort of thing." Quentin Tarantino wished he had done more. And Heather Kerr, who gave up acting after an alleged encounter with an unzipped Weinstein in 1989, sobbed at a press conference Friday after explaining why she thought no one would believe her. "I was nobody. Why would they?" Read full coverage of the story as it unfolds.
Elle Women in Hollywood gala turns into a serious party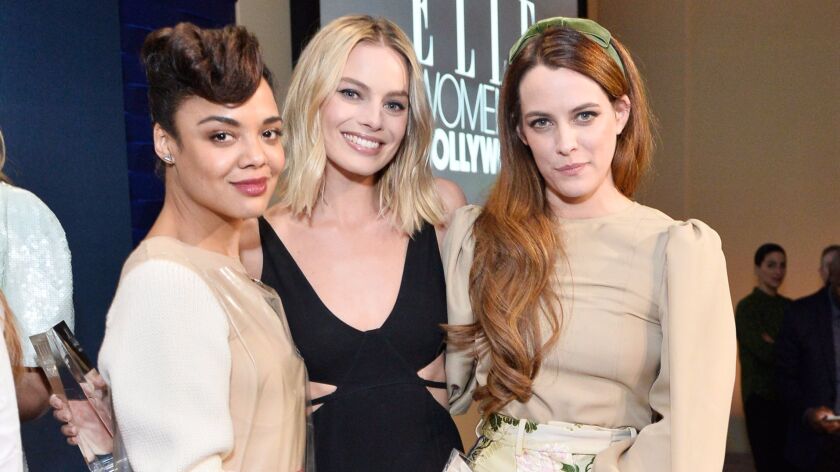 There seemed to be no escaping echoes of the Weinstein scandal, even at the Elle Women in Hollywood event on Monday. Jennifer Lawrence talked about a female producer putting her in a nude lineup with thinner women and telling her to use the pictures as weight-loss inspiration. Reese Witherspoon talked about being sexually assaulted by a director when she was 16. And that was only the tip of the iceberg when it came to stories of inappropriate behavior that were shared during what is usually a party honoring the achievements of the fairer sex.
Wait — what about Lisa Bloom?
Attorney Lisa Bloom — daughter of Gloria Allred, who's representing some of the women speaking out against Harvey Weinstein, including Heather Kerr — leapt off the disgraced producer's runaway train after advising him for only a few days, saying she didn't know the extent of what he's alleged to have done. But how does she come back from what even she calls a "colossal mistake"? "[S]o many people have said that they really looked up to me as this champion for women … and it's hurtful to them," she told The Times. "I'm sorry." Alas, her mom hasn't quite accepted the apology.
Johnny Depp adds ex-lawyer to his list of alleged pirates
Depp, who in January hit his former business managers with a $25-million lawsuit alleging negligence, breach of fiduciary duty and more over the course of 17 years, fired off a similar barrage of complaints against lawyer Jacob Bloom in a lawsuit filed Tuesday. The "Pirates of the Caribbean" star accused his former counsel of legal malpractice, breach of fiduciary duty, unjust enrichment and more, all in connection to a situation the Management Group, in a cross-complaint, blamed on what it called the Depp's "voracious spending." Alas, counting how many islands a movie star owns is much easier than determining whether said star has being properly taken care of by the professionals being paid to do so.
One Voice and some changing voices help Puerto Rico
Jennifer Lopez, Alex Rodriguez and Marc Anthony's combined efforts to raise money for hurricane-ravaged Puerto Rico — which manifested as the "One Voice: Somos Live!" telethon last weekend — generated $35 million in aid. Celebrity puberty, which the week before had pulled in $1 million for the island with an assist from Lin-Manuel Miranda and a #PuberMe hashtag, didn't stand a chance against performances from Demi Lovato, Maroon 5, Ricky Martin, Maxwell, Mary J. Blige and more, including former spouses J.Lo and Anthony). Though it wasn't really a contest, Puerto Rico won.
Ed Sheeran tells the truth about that year off
Sudden fame hit the English pop star hard, he revealed this week, explaining that's why he spent a year out of the spotlight. As in, he was partying hard. Partying too hard. Partying to the point where friends took him aside and told him to calm it down. More recently, a sudden fall hit Sheeran hard: He had to postpone the Asian leg of his tour after injuring his arm in a bicycle accident.
Domestic Goods — and Bads: "Veep" star Julia Louis-Dreyfus finished her second round of chemo in her battle against breast cancer … Singer Joe Jonas and actress Sophie Turner are getting married. … Michael Fassbender and Alicia Vikander had a destination wedding. … The third child of Prince William and Catherine, Duchess of Cambridge, has an April due date. … "Facts of Life" star Mindy Cohn is also battling breast cancer. … Billy Joel, 68, has another baby on the way with wife Alexis Roderick.
RIP: Danielle Darrieux, beloved French actress whose career spanned eight decades, died at 100. … Gord Downie, beloved singer for Canadian rock band the Tragically Hip, died at 53. … Mychael Knight, "Project Runway" contestant and fashion designer, died at 39. … John Dunsworth, actor known for "Trailer Park Boys," died at 71. … Roy Dotrice, Tony-winning actor known for his role in "Amadeus," died at 94. … Richard Wilbur, who twice won the Pulitzer Prize for his poetry, died at 96.
New Trailers:
Bonus Links: Hear an alternate version of Bob Dylan's "Every Grain of Sand" from "Bootleg Series, Vol. 13." … With Pacific Standard Time, Getty finally climbs down from hilltop oasis it built 20 years ago. … Looks as if politics has horror-fied Hollywood.
Did You Hear …? runs Saturday in Entertainment at latimes.com.
cdz@latimes.com
Twitter @TheCDZ
---