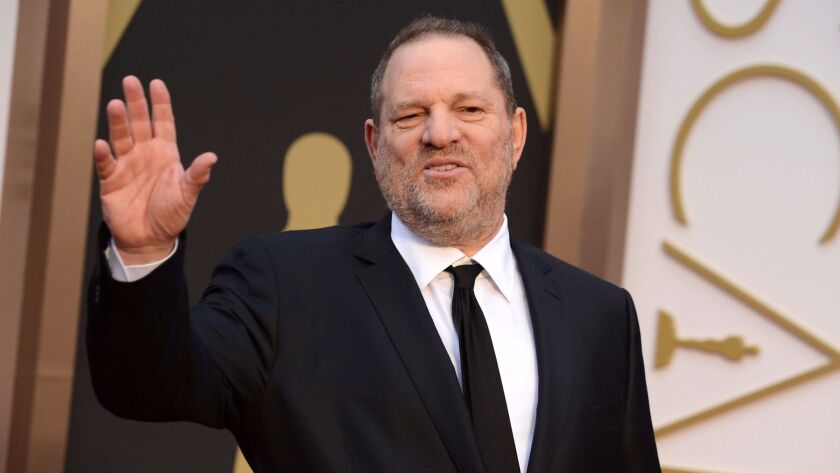 Harvey Weinstein resigned from the board of directors of Weinstein Co. on Tuesday as the disgraced mogul faced continued allegations that he sexually assaulted and harassed women over two decades.
Canadian actress Larissa Gomes on Tuesday added her voice to the chorus of women bringing allegations against Harvey Weinstein. Gomes recounted to The Times an incident that she said occurred in a hotel 17 years ago when she was a young actress working in Toronto on the Miramax-produced teen flick "Get Over It."
She said Weinstein asked her to bare her chest and tried to kiss her on the lips while name-dropping famous actresses and dangling career opportunities.
"I was so incredibly discouraged and disillusioned," she said. "I didn't know if I wanted to be a part of the industry anymore if this is what it was. This was definitely … something I'd never forget."
A representative of Weinstein did not respond to a request for comment on Gomes' assertion. She joins about 40 women who have alleged that they were sexually harassed or assaulted by Weinstein in a scandal that recently came to light in reports in the New York Times and the New Yorker.
Last week, the Weinstein Co. board fired Weinstein from his role as co-chairman of the influential company behind such acclaimed movies as "Django Unchained" and "The King's Speech." Police in New York and London are investigating some of the claims against the producer.
The board Tuesday formally ratified its decision to terminate Weinstein's employment with the company, a spokesman said. The move comes as business partners have moved to distance themselves from the once-vaunted studio. Amazon cut ties with the company over two projects, including one from "Mad Men" creator Matthew Weiner that is currently in production.
Weinstein Co. also faces enormous potential liabilities over the alleged conduct of its co-founder, as well as a possible lawsuit from Weinstein over his firing.
Patricia Glaser, the attorney who is representing Harvey Weinstein, is arguing that her client was improperly dismissed, alleging board members were aware of some of the settlements he had reached with accusers when they re-upped his contract with the company in 2015.
Weinstein, who has reportedly been at a rehabilitation center in Arizona, called into the meeting, which was held in the Manhattan law offices of the firm conducting a probe into Weinstein's conduct. The meeting was also attended by his brother, co-founder Bob Weinstein, one of three remaining board members.
Since the New York Times and the New Yorker reported on the sex allegations against Harvey Weinstein, five board members have resigned from the board: Tim Sarnoff, Paul Tudor Jones, Dirk Ziff, Marc Lasry and Richard Koenigsberg.
The question of how much the board and other Weinstein Co. executives knew of Weinstein's alleged behavior is likely to loom large as leaders hash out the details of their former boss' departure from the company.
Harvey Weinstein still owns about 23% of the company. Getting him to relinquish his shares will be a complex legal process that could take days to untangle, people close to the board said.
The remaining board members have been at odds over the film and TV studio's future. On Monday, board member Tarak Ben Ammar announced that the company was exploring a total or partial sale to private equity firm Colony Capital, headed by Tom Barrack. Colony also agreed to provide a cash infusion to stabilize the business.
But Bob Weinstein said in a statement Friday that Weinstein Co. wasn't for sale. He has been pressing to keep the studio going, but under a new name.
In a recent interview with the Hollywood Reporter, Bob Weinstein said he was unaware of "the type of predator that [Harvey] was" and was "disgusted by my brother's actions."
On Tuesday, Bob Weinstein found himself the target of a harassment allegation.
Amanda Segel, an executive producer of the cable series "The Mist," told the trade publication Variety that he repeatedly made unwanted romantic overtures to her and that her lawyer notified company leaders, including David Glasser, the president and chief operating officer. "The Mist" was cancelled last month after one season.
Bob Weinstein denied the allegations to Variety. His attorney Bert Fields said Tuesday the article was "riddled with false and misleading assertions" and that "there is no way in the world that Bob Weinstein is guilty of sexual harassment."
A number of prominent actresses have accused Harvey Weinstein of sexual harassment, including Ashley Judd, Angelina Jolie and Gwyneth Paltrow. Lena Headey, star of HBO's "Game of Thrones," in a series of tweets Tuesday morning became the latest actress to allege that Harvey Weinstein had sexually harassed her.
Gomes, the actress in "Get Over It," was 21 when, she said, Weinstein approached her in Toronto and asked for her opinion about the production, mentioning multiple films his company shoots in Canada each year.
"I had literally just began acting … and here I was meeting the most powerful producer of the time," she wrote in an account emailed to The Times this week. "It was intoxicating, it was validating."
Gomes, who has since appeared in the film "Saw VI" and television shows "Supernatural" and "La Femme Nikita," said Weinstein asked her for her personal number through an assistant, then set up a breakfast meeting at his hotel in Toronto. The first meeting was professional, after which he asked to meet again in his hotel room, this time in the early evening, Gomes said.
After plopping down a stack of scripts in front of her that he said he wanted her to read, Weinstein went into his bedroom and asked her to come in, she recounted.
Weinstein was on his bed, saying he had a headache, she said. He asked her to lie down with him and asked her to take her shirt off so he could see her breasts, Gomes said. She left the room, and he followed in a bathrobe and started massaging her shoulders and neck despite her saying she didn't want him to do so, Gomes said.
"He would not stop. He just kept pushing his hands close to my chest forcefully until I finally was able to get up and away from him," she wrote.
Weinstein told her, "You know, Gwyneth Paltrow and Ashley Judd were exactly where you are at one point. Look at them now," Gomes recounted.
Follow me on Twitter @vicjkim
Times Staff Writer Ryan Faughnder contributed to this report
---
UPDATES:
7:35 p.m.: This article was updated with additional details, including allegations by Canadian actress Larissa Gomes.
This article was originally published at 11:15 a.m.
---