Commentary: Thanks to Michelle Obama and other celebs, infertility is no longer a dirty word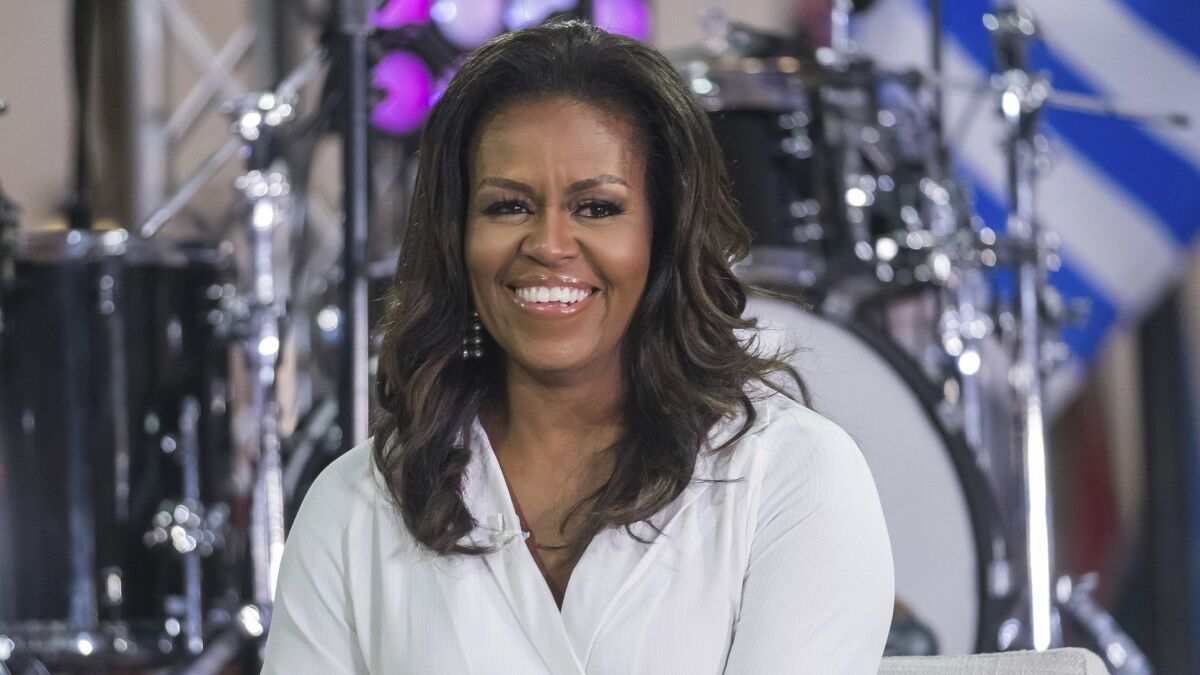 It's difficult to describe what it feels like to sit in a waiting room surrounded by other people unable to conceive. You've done the research. You know that not all of you will end your respective journeys with a baby.
That information alone is enough to leave you guarded. It's like the "Hunger Games," but instead of fighting for life, the powers that be also clean out your bank account.
Sometimes a woman will enter with a child and the mood of the entire room shifts. Maybe she's struggling with secondary infertility or maybe she's just making a victory lap, but now the room has gone full "Handmaid's Tale" as everyone quietly eyes the very miracle they've yearned for.
There are a lot of pop-culture references above because, for the most part, that's how I can best relate my own experiences with infertility to people unfamiliar with it. The treatment processes are invasive and embarrassing, and the struggle itself is shameful in a society where procreation is a given and my body refuses to cooperate.
But thanks to some high-profile figures, infertility is becoming a more common, if not easier, topic of conversation.
On Friday, in an interview on "Good Morning America" to promote the release of her upcoming memoir, former First Lady Michelle Obama told cohost Robin Roberts about her fertility struggles when trying to conceive her daughters Sasha and Malia.
"I felt like I failed because I didn't know how common miscarriages were because we don't talk about them," Obama said of a failed pregnancy she experienced more than 20 years ago. "We sit in our own pain, thinking that somehow we're broken."
She also said that her reproductive issues left her feeling "lost and alone," isolated because polite conversation doesn't allow for such unpleasantries and revealed that both of her children were the product of in-vitro fertilization.
Obama joins a growing chorus of celebrities who are sparking a national conversation about women's reproductive health.
Chrissy Teigen, model and resident queen of Twitter, isn't shy about discussing everything in her life, but in particular she has been transparent with her and husband John Legend's experiences with infertility and IVF.
"The first round I did of IVF, when it didn't work, I remember thinking, 'Oh, I was on my feet too much, and that's why.' You just look for anything to blame, especially yourself," Teigen told The Cut in an April interview. "I think hearing stories is just really important. You realize there's no right way to do it, or right way to react.
"When you go through IVF, it does feel like, 'Oh, it's not fair I have to do all this,' " Teigen continued. "Still, it's a complete miracle when it works. There are so many people that still struggle, even with access to IVF."
Teigen raised a great point. That even with all the assistance in the world, IVF isn't a magic wand for some.
"Bring It On" actress Gabrielle Union and NBA star Dwyane Wade just welcomed their daughter to the world earlier this week via surrogate, after the couple suffered years of failed IVF treatments.
"I have had eight or nine miscarriages," Union wrote in her 2017 memoir, "We're Going to Need More Wine." "For three years, my body has been a prisoner of trying to get pregnant — I've either been about to go into an IVF cycle, in the middle of an IVF cycle, or coming out of an IVF cycle."
It took moving that process to a surrogate's body for Union and Wade to find IVF success.
Celebrity culture is increasingly flush with conversations about assisted pregnancy options. Even Kim Kardashian and Kanye West opted for a surrogate for the birth of their third child, daughter Chicago West.
And it's a credit to every person who chooses to open up about their painful journey toward parenthood. After a lifetime spent worrying about accidentally getting knocked up, the realization that having a baby will not only take effort, but turn you into a walking science experiment is a trip.
A trip that you feel like you're experiencing alone.
But as more women, famous or not, come forward to share their battles with infertility, it becomes easier to look around the doctor's waiting room and see not rivals in some great baby gold rush, but fellow warriors, all embroiled in the same battle. And suddenly, the fight seems a little bit easier.
Get our L.A. Goes Out newsletter, with the week's best events, to help you explore and experience our city.
You may occasionally receive promotional content from the Los Angeles Times.