Indie Focus: Final push to Oscars, plus 'Red Sparrow,' 'Oh Lucy!' and 'Mohawk'
Hello! I'm Mark Olsen. Welcome to another edition of your regular field guide to a world of Only Good Movies.
This edition of the newsletter is coming out on the morning of the Academy Awards. Every year, it seems the buildup to the ceremony will never end, and yet it is still a surprise when the day is actually here.
Kenneth Turan wrote about why the Oscars still matter, saying, "One reason to pay attention, not to be too reductive about it, is that if the Oscars truly were passé, no one would take the time to worry if they still mattered. The fact that the question is asked is partial confirmation of significance. … Paradoxically, for reasons both long term and immediate, the Oscar feels especially of interest and significant this of all years."
From the other side of the coin, Jeffrey Fleishman declared that they are fast losing their relevance, noting, "The Oscars live in a tricky no-man's land between the real and the imagined. They aspire to be topical but are careful — some would say timid — in what they choose as a cause and how they offend, especially amid our nation's acrimony and divisions. … That leaves them a few steps — and a degree of courage — behind the times to which they are speaking."
Tre'vell Anderson and Jen Yamato took note of the Oscars and diversity a year after the best picture win by "Moonlight." As Yamato stated, "As much as everyone in Hollywood likes to deflect responsibility for putting words into action, the Oscars and the film industry share a symbiotic relationship; one cannot make significant progress against history unless the other moves forward, too."
Amy Kaufman was at a news event held by representatives of the Time's Up movement, who declared they would not be making the same kind of presence on the red carpet at the Oscars as they did at the Golden Globes.
"We are not an awards show protest group," explained filmmaker Ava DuVernay. "So we stand down this time."
Josh Rottenberg spoke to Glenn Weiss, who was the director of last year's unpredictable broadcast and will be returning again this year. Rottenberg also took a behind-the-scenes look at the production team's response to last year's big unexpected moment.
I interviewed Nick Kroll and John Mulaney, who returned this year as hosts of the Spirit Awards. Both declared themselves fans of award shows as an odd ritual of show business, or as Kroll put it, "a super interesting, bizarre paradox of an experience."
And a group of critics and reporters here at The Times wrote about which of the best picture winners they cannot live without, as well as which movie that did not win best picture but should have taken home the honor.
We had a really fun screening event and Q&A this past week for the film "Thoroughbreds" with writer-director Cory Finley and actresses Olivia Cooke and Anya Taylor-Joy. Later in the month, we will have an event with "Gemini," one of my favorite films of the year, that we'll have details about soon. For info and updates on future events, go to events.latimes.com.
'Red Sparrow'
There's something exciting when a movie wildly splits opinion, and it seems the new "Red Sparrow," directed by Francis Lawrence, is doing just that. In the film, Jennifer Lawrence plays Dominika Egorova, a Russian ballerina pressed into service as a spy after suffering an injury. The cast of the unexpectedly downbeat thriller includes Joel Edgerton, Matthias Schoenaerts, Jeremy Irons and Charlotte Rampling with a scene-stealing turn by Mary-Louise Parker.
In his review for The Times, Kenneth Turan wrote, "Simultaneously effective and uninspired, 'Red Sparrow' is successful in fits and starts. A perfectly serviceable spy thriller, it inevitably leaves behind the feeling that a better film was possible than the one that made it to the screen."
The Times' Josh Rottenberg spoke to Jennifer Lawrence, who seemed ready for the response to the movie when she said, "At the end of the day, we're the movie industry — we're going to have sex, we're going to have violence. … If you focus so hard on making something that's politically correct, the art will suffer. Art is subjective. Some people are going to hate it, some people are going to love it."
For the New York Times, Manohla Dargis countered, "That may not be everyone's idea of progress, but it's both appealing and crucial that 'Red Sparrow' doesn't soft sell Dominika. There's an attractive, recognizable toughness to her as well as a febrile intensity born from need and circumstances, including the existential reality of being a woman in a man's world."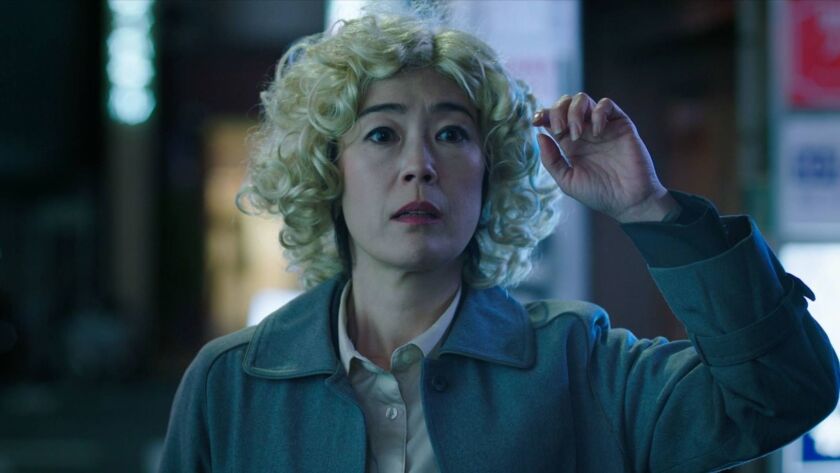 'Oh Lucy!'
The first feature written and directed by Japanese filmmaker Atsuko Hirayanagi, "Oh Lucy!" is the story of a lonely Tokyo office worker who follows an oddball English tutor (Josh Harnett) to California. Actress Shinobu Terajima was nominated for a Spirit Award for her lead performance, and Hirayanagi was nominated for best first feature.
As Justin Chang wrote for The Times, "Within the confines of this cross-cultural shaggy-dog tale, Hirayanagi locates both a sharp vein of absurdist comedy and a bitter, melancholy undertow. She also has a deft enough touch to make one mode almost indistinguishable from the other."
For the Wrap, Inkoo Kang said the movie breathes new life into the mid-life crisis story, noting, "The trans-Pacific drama 'Oh Lucy!' proves that a shift in perspective — from a generic white dude to a spiky Japanese woman — can go a long way in restoring interest and intrigue to a genre that's long been watered down by its writers and directors."
'Mohawk'
For anyone looking to really get away from Academy-friendly prestige movies, there is "Mohawk." A historical horror hybrid from writer-director Ted Geoghegan and co-writer Grady Hendrix, the film follows two Native American warriors (Justin Rain, Kaniehtiio Horn) and an Englishman (Eamon Farren) who find themselves alternately hunters and the hunted against a band of American militia.
In his review for The Times, Noel Murray said, "Geoghegan and Hendrix keep the storytelling punchy, developing their characters through multiple scenes of angry men and women chasing each other. 'Mohawk' is a gripping and despairing action picture, about how we can't seem to stop trying to destroy those we distrust — including ourselves."
Email me if you have questions, comments or suggestions, and follow me on Twitter @IndieFocus
---
The complete guide to home viewing
Get Screen Gab for weekly recommendations, analysis, interviews and irreverent discussion of the TV and streaming movies everyone's talking about.
You may occasionally receive promotional content from the Los Angeles Times.