Why #TimesUp will 'stand down' at the Oscars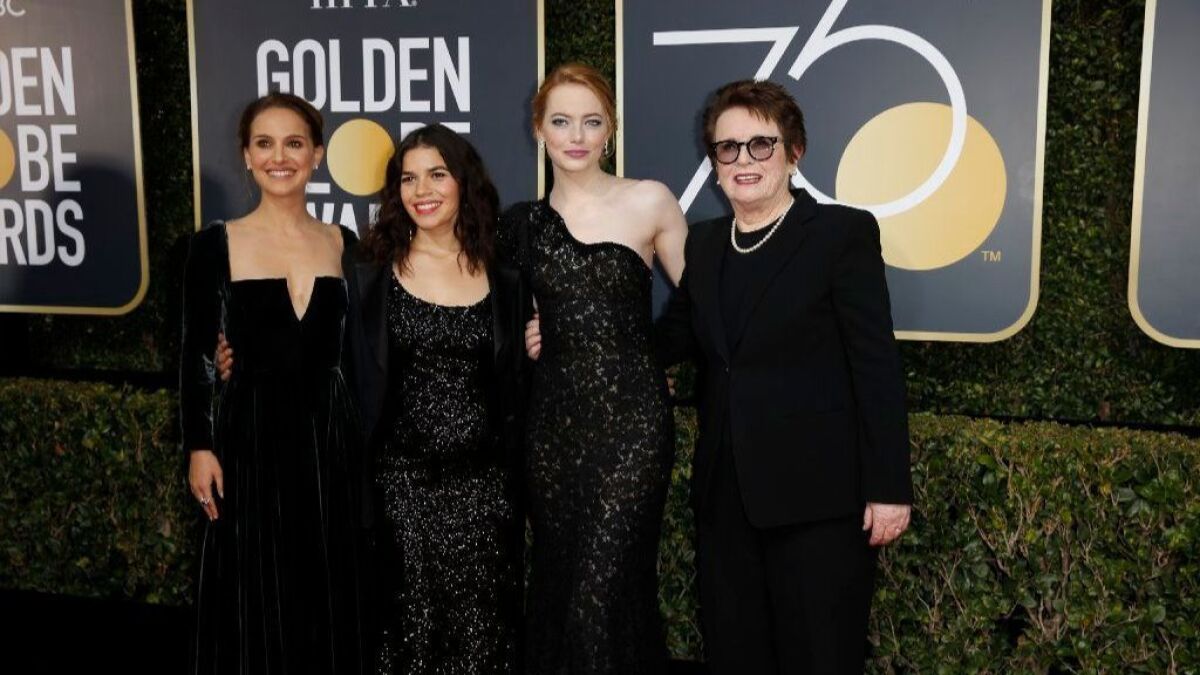 The women behind Time's Up first made their mission clear to the world at an awards show — wearing black to the Golden Globes on Jan. 7 in solidarity with victims of sexual harassment and assault. But the leaders of the organization say they have made a conscious choice to "stand down" at this weekend's Academy Awards.
"We are not an awards show protest group," explained filmmaker Ava DuVernay. "So we stand down this time."
Just days before the Oscars, the "Wrinkle in Time" director and a handful of other Time's Up members — Shonda Rhimes, Laura Dern, Tessa Thompson, Bad Robot co-CEO Katie McGrath and attorney Tina Tchen — met with about a dozen members of the media on Thursday to discuss what the group has accomplished in its first 60 days.
The meeting, held at the West Hollywood office of publicity firm Sunshine Sachs, lasted roughly an hour as representatives discussed everything from the Time's Up Legal Defense Fund (which has amassed $21 million in donations) to recent allegations of sexual misconduct against Ryan Seacrest.
Yes, the red carpet host was a topic of conversation, with a reporter from Variety — the outlet that published an extensive interview with Seacrest's accuser earlier this week — asking whether Time's Up members would talk to Seacrest at the Oscars. (Seacrest, who will be on the carpet representing E! News, has strenuously denied all charges made by his former stylist.)
"God, I'd hate for this whole thing to become a sound bite about Ryan Seacrest, I really would," DuVernay said, shaking her head. "It's up to the individuals that are going to be there to do what they're gonna do. There's not an official Time's Up act about this. … We support people who are bearing witness to what has happened to them, but the bottom line is if you're on the carpet, you make your individual decision about it."
Anyway, insisted "Grey's Anatomy" creator Rhimes, the red carpet doesn't have a whole lot to do with Time's Up.
"It's really important that you know that Time's Up is not about the red carpet," the showrunner told the room. "And those women you saw on the red carpet representing Time's Up [at the Globes] are now off the red carpet working their butts off being activists."
"I think there's really something about the narrative of Time's Up that was really important," agreed DuVernay, "that this not be just capturing the awards show spotlight. It'll happen again, but not this time."
DuVernay also noted the organization had worked with the Academy of Motion Picture Arts and Sciences and "carved out a moment" during the Oscars. (Other recent awards shows, including January's NAACP Image awards and February's British Academy of Film and Television awards, also referenced Time's Up from their stages.) The women declined to give further details, though Dern joked, "There might be a song."
In a separate interview with The Times, Oscars producer Jennifer Todd said, "We're very supportive of Time's Up and their efforts to create safety and equality in the workplace. We've crafted a way to talk about it in a moment in the show. Most of the show will be focused on the 90th anniversary."
McGrath, meanwhile, admitted that it was "tempting" to stage another massive moment at the telecast — which attracted nearly 33 million eyeballs on ABC last year. "A really on-the-nose presence might feel satisfying, but we're not sure how much it's translating," she continued. "And we want to make sure that as we move forward, we're being as strategic and thoughtful and authentic in our activations and in our rollout. Again, [we've been around] 60 days — we don't need to fit everything into it. It's more important to do it right."
"We're also well aware of how much attention people are able to command at certain times," agreed Rhimes. "It feels like some of these amazing women have a superpower. And we like to deploy that superpower usefully in an intelligent way and not just because we can."
Everything else in this town is built on the idea of you with your nose pressed on some glass. This just doesn't work that way.
— Shonda Rhimes on Time's Up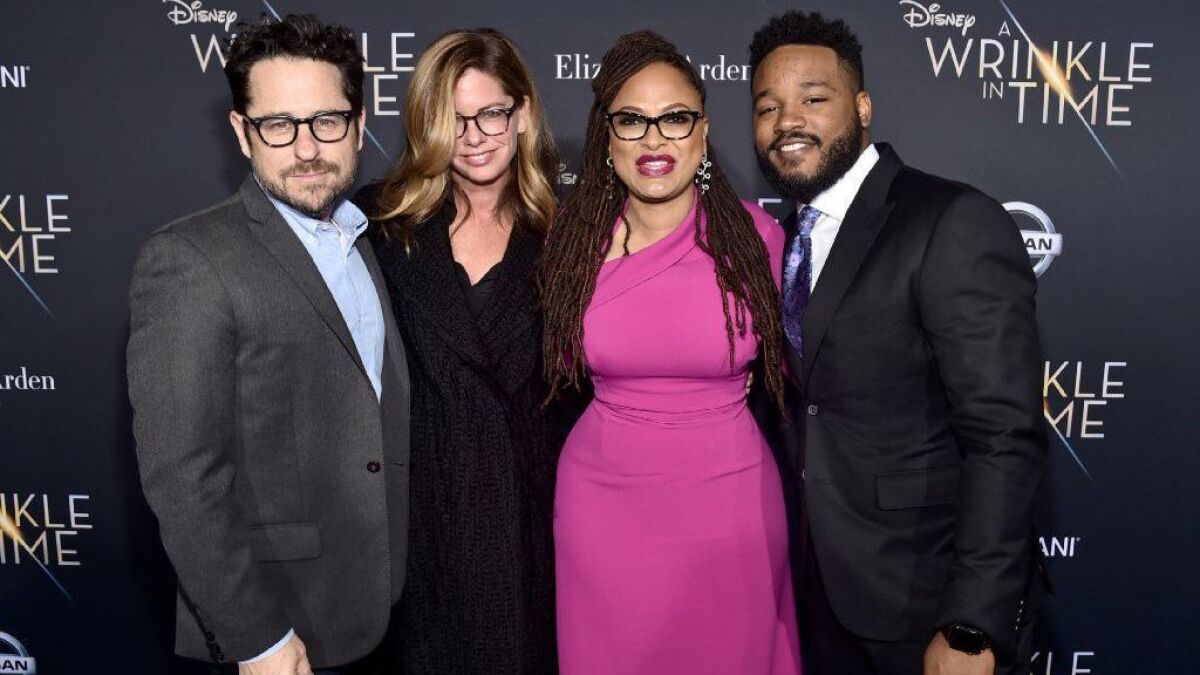 The gathering with the press on Thursday, Rhimes said, was meant to emulate an actual Time's Up meeting. Once a month, between 200 and 400 women from the organization converge — typically at a home of one of the members — though sub-committees gather on a weekly basis. And while the group may seem exclusive — A-listers like Reese Witherspoon, Natalie Portman and Jennifer Lawrence are active participants — DuVernay wants to make it clear that anyone is welcome.
"I'll say this: As a student of grass-roots movements and a person who's been an activist since I was a 16-year-old in Compton, no one ever knocked on my door and said 'If you care about this, come do it.' You step up and you do it," the director said. "It's not hard to find. It's on the website. Especially if you're in this industry. There's no invitation. I do hear that some people are like 'You haven't invited me,' but the spirit of activism and a grass-roots movement is not an invitation-based thing."
"Hollywood is a place that breeds a feeling of exclusion for females, and this is very counter to that," added Rhimes. "I think that for a lot of people, there is this feeling of 'it must being something that you're invited to' because everything else in this town is built on the idea of you with your nose pressed on some glass. This just doesn't work that way."
Rhimes explained that she typically begins Time's Up meetings by reminding the group of its mission: "To make lasting change to prevent harassment and abuses in our places of work" and to "speak with one voice" despite coming from different backgrounds.
Then, Rhimes continued, she often gives the members an update on the Legal Defense Fund. Tchen, an attorney who is also Michelle Obama's former chief of staff, has been spearheading the fund. Via speakerphone, Tchen shared that over 1,700 requests for legal assistance have come through the fund — 100 of which came in on the night of the Golden Globes. So far, Tchen said, 1,250 callers have been connected with lawyers via the National Women's Law Center.
But it remains to be seen how the $21 million raised will be allocated to these individuals. Roughly 500 attorneys have agreed to offer pro-bono initial consultations with those who contact Time's Up, but if further guidance or representation is needed, attorneys will need to apply for funding through the NWLC. And while Rhimes called Time's Up a "global" organization — noting that folks from Kenya, South Korea, Pakistan and Kuwait have contacted the group — the legal fund will only serve those in America due to varying international employment laws.
And don't expect to hear Time's Up blasting the names of those whom they receive complaints about.
"The very first meeting, people said, 'Are we gonna make the list of the dudes?'" McGrath recalled. "And we said, 'That's not what we're here to do. We've just gotta work on solutions. … We're not a judge and jury.' We are gonna stay focused on creating policies and structures that help promote environments that will prevent more people from needing to come out with their own horror stories."
Follow me on Twitter @AmyKinLA
---
UPDATES:
1:45 p.m. March 2: This article was updated with additional details from the Time's Up press event and a quote from the Oscars producer.
This article was originally published at 8:05 p.m. March 1.
---
Get our L.A. Goes Out newsletter, with the week's best events, to help you explore and experience our city.
You may occasionally receive promotional content from the Los Angeles Times.