Q&A: Oscars director Glenn Weiss on 'Moonlight,' the envelope snafu and Jimmy Kimmel's return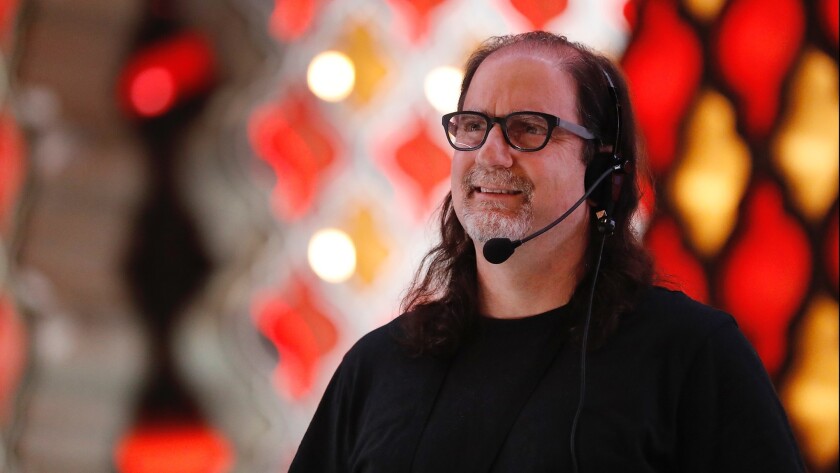 Glenn Weiss has had a long and illustrious history directing live television, picking up 13 Emmy Awards for his work on everything from the Oscars to the Tony Awards to the Emmys themselves. But, for all his experience making decisions on the fly for an audience of millions, he'd never dealt with a curve ball with as sharp a break as the climactic snafu that ended last year's Academy Awards — in which "La La Land" was erroneously named best picture over the actual winner, "Moonlight."
In recognition of his steady handling of last year's Oscars, including navigating the show through that unforeseen blunder, Weiss earned his latest Emmy and his sixth Directors Guild Award. At Sunday night's 90th Academy Awards, he will be back at the helm in his production truck behind the Dolby Theatre, calling the shots for the third time as the telecast's director.
Days before the show, Weiss spoke with The Times about the pressures of directing the Oscars, what really happened behind the scenes during that epic bungle and what we can look forward to at this year's show.
How did you first get the job of directing the Academy Awards? You'd done a lot of other live TV events, but was the Oscars something you had always hoped to do?
Absolutely, it's definitely a show I aspired to do for a long time. The opening, so to speak, is not an annual opening. People have sat in it for long runs in the past. So when the opening does come up, you hope you're in contention, and three years ago it finally came to fruition.
How does it compare with other awards shows you've directed, whether it's the Emmys or the Tony Awards? Is there an extra level of pressure?
I'm not sure if I would use the word "pressure" because I don't consider it more pressure. We're a little bit more detail-oriented — not that you're not on other shows. The difference between doing this show and other shows, very honestly, is not the mechanics of the job, it's not the functions that you do every day — it's more the microscope the show is under. It's scrutinized. It's watched all over the world. Just looking at the red carpet and how many outlets are here and the attention it gets, it's something that is focused on and paid attention to both within the industry and outside of it.
For a lot of people, critiquing the Oscars has become a kind of national blood sport. People love to complain about everything from the running time to the musical numbers to particular speeches. How do you deal with all the Monday-morning quarterbacking?
I think you do it by creating such a surprising ending that everybody has to throw out the reviews that they wrote the day before. That got attention, right? [laughs]
No, honestly, you want people to watch it and like it and be entertained and all that stuff. You hope that the reviews will come out well, but you can't control that, so you can't get knocked down by that either.
I really want to create a fun, moving experience that people can feel invested in. Whether it's by how I'm shooting it — bringing cameras a little closer with wide angle lenses instead of from further back — just something to help people feel more engaged, more in the room. Little subtle touches that I hope most people don't understand that I'm doing [and] they just appreciate the show.
Last year, you all thought you were bringing the show in for a smooth landing and then suddenly things went off the rails. What was your first indication that something was wrong?
Gary Natoli, the key stage manager, says in my ear, "I think we announced the wrong winner." It's just not something you want to hear on a headset ever — but particularly at the end of this worldwide broadcast that is so under a microscope.
What sticks out to me is — from that moment forward — throwing out any scripts, throwing out any plans and [thinking], "Let's make sure whatever happens here we're very honestly showing." At the end of the day, I didn't want the story to be: Something bad happened and they covered it up. It was really important to me: This happened; I can't undo what happened. But what I can do is make sure that whatever is going on out there, I'm being very transparent about.
That's a momentary decision on my part. You're not yelling "cut" and calling for a meeting and sitting down with the producers and the academy and the network and saying, "Guys, what do you want to do?" You're just in the moment and you have to use your gut and go forward, and hopefully you're doing the right thing.
You're in the world of live television. Mishaps happen. And when things happen and your stage manager has to go out on stage, reflexively, instinctually, you go wide, you cut away, you do what you can not to show it. A lot of times, things are going to happen that you guys don't know about and never will, and we fix it and we keep going forward. In this case, it had to play the opposite way. I don't care that suddenly there's a guy in a headset on stage, I don't care that suddenly the accountants are on stage. What we need to do is make sure that we're not accused of covering anything up. That was tantamount in my head at that point.
That shot of "La La Land" producer Jordan Horowitz holding up the correct card showing "Moonlight" as the winner instantly launched a thousand Internet memes.
Yeah, I've been joking about the fact that I've spent a whole career staging breathtaking, beautiful moments on television, and the shot that I'll be remembered for is a guy holding a card. That will go to the grave with me, unfortunately.
But I have to thank Jordan. Not only did he handle this so graciously — and I'm not sure everybody would have had in this situation — but if you play back the clip, he wound up grabbing the card and holding it up, beating us to the punch. It's what we wanted to do, and the fact that he did it gave us the opportunity to get that shot.
When this whole thing transpired, the one thing I did was assign one camera to just cover that card: "If anyone holds it, I want to get a shot of it." I was obsessed with trying to make that part of the story, because that was the clearest thing that we could show to prove who won. So when the opportunity came, with a little help from Jordan, it was right on the money as far as I was concerned.
It was surprising to me the next day when I started reading all the reviews and write-ups that that one shot was so mentioned and then later memed, as you said. That was the unexpected thing: It was me doing my job, and it took on a life of its own.
I think 'Moonlight' will be remembered. I don't wish this on anyone, but the upside for them, at least, is there's notoriety in some way.

Academy Awards director Glenn Weiss
What was the mood like in the production truck afterwards? Where I was watching in the newsroom, the general feeling was: "Did that really happen?"
"Did that really happen?" is a great description of the mode. But the next couple of moments were allowing the "Moonlight" people to get their due, Jimmy [Kimmel] saying goodnight, us getting through our whole credit scene. Then there were a bunch of us regrouping onstage, having a powwow to basically try to understand what happened.
At that point, we didn't know that it was a wrong envelope. We were like, "Why did [Faye Dunaway] say that?" We didn't know that she had a card that said that. The moments after the show were a lot of people getting together trying to fact-find. But yes, the overall vibe was a little bit numbing, like, "Wow, we just did an insanely beautiful show — and then that happened." The taste in your mouth is just that and not everything that happened before that.
On the upside, for folks who like "Moonlight," when people come up to me at parties and ask the question, the first thing I say to them is, "Can you tell me right now, without taking out your phone, who won best picture three years ago?" And nobody can name it. I think "Moonlight" will be remembered. I don't wish this on anyone but the upside for them at least is there's notoriety in some way.
It's safe to say that was a once-in-a-lifetime freak event. What are the more normal mistakes and glitches that you worry about as the director of the Oscars?
Suffice it to say, in a business that's very dependent on electronics and computer-driven things, you do what you can to backstop everything. There's redundant power, there's double miking. There's safeguards you put into place, but there are things that could happen.
Our aim and our goal in live TV is to be able to work around it so that you guys at home would have no perception of it ever happening, whether it's power going out on a monitor, a mic fail, a light cue not being where it should be. Sometimes, it's literally stuff that we have to cut away from for a moment and you're not aware of it, and sometimes it's things that you can't help but see.
But the beauty and the fun of what we do for a living is being able to plan, have a script to follow but being flexible enough to recover from something or go around something when it's not right. You just have to be on your toes.
In other words, you couldn't have the show directed by a computer.
No, let's not let that happen! [laughs] Although I'm sure someone out there is trying to do that and save some money somewhere.
Looking ahead to Sunday's show, without giving too much away, what can we expect?
I think it's going to be a really great night to celebrate film. It's the 90th, and we've got some moments throughout the show where we're going to reflect that. Jimmy has come back stronger than ever. I think a lot of the material we've been dealing with so far is really fun and clever. I think he really understands the role in hosting something like this and does it very well. And at the end of the day, we really hope to entertain and make people remember why they love movies. And I think we have a good flow of a show to do that.
Obviously the show will take place against the backdrop of the Time's Up movement and the sexual harassment scandals of recent months. Will that be incorporated into the show in some way?
At the end of the day, we can't control what someone at a microphone is going to say. But our focus is to celebrate 90 years of a great industry, and there is so much to work with with that. We want to keep it positive and stay on that message.
Well, thanks for doing this.
I hope next year you'll want to interview me just to say, "Hey, that was a nice show," instead of "Hey, let's talk about what happened." [laughs]
Please consider subscribing today to support stories like this one. Get full access to our signature journalism for just 99 cents for the first four weeks. Already a subscriber? Your support makes our work possible. Thank you.
---
The complete guide to home viewing
Get Screen Gab for weekly recommendations, analysis, interviews and irreverent discussion of the TV and streaming movies everyone's talking about.
You may occasionally receive promotional content from the Los Angeles Times.