Golden Globes: Jared Leto, Daniel Bruhl get supporting actor nods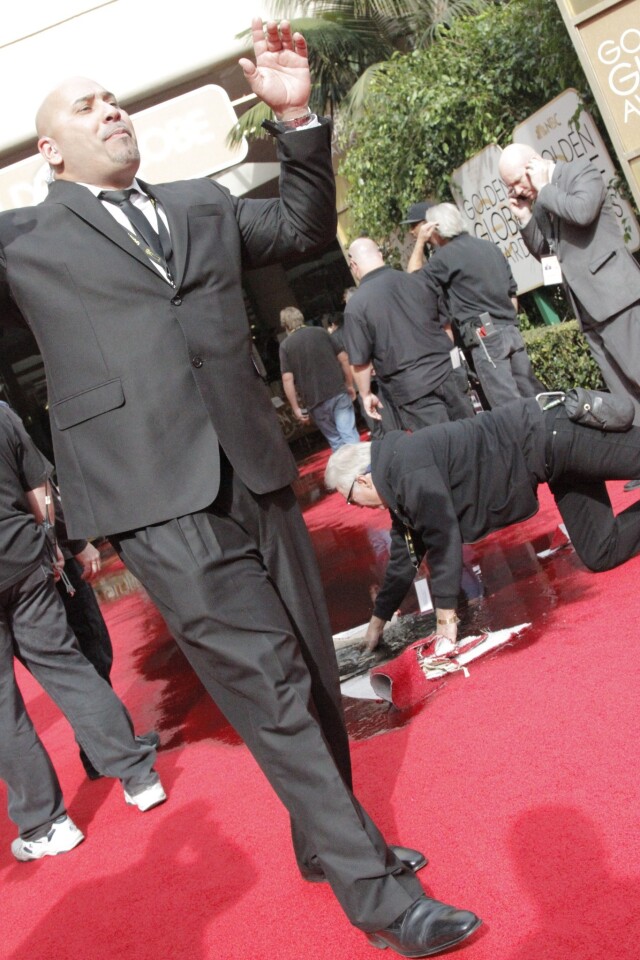 By Patrick Kevin Day, Los Angeles Times
Initial reports stated that a sewage pipe had burst near the Beverly Hilton, flooding the red carpet. But the actual problem was a sprinkler malfunction, depositing a much cleaner form of water under the feet of Hollywood's most hoity-toity. Still, in the ulta-controlled, ultra-pampered world of awards shows, even a minor malfunction such as this merited extensive discussion in the media. At least the weather remained pleasant.
(Jason H. Neubert / Los Angeles Times)
Matthew McConaughey apparently did not walk the red carpet for 25 minutes after arriving at the Globes. Instead, he signed autographs and posed for "selfies." And for that, the E! anchors Ross Mathews and Kelly Osbourne spoke of the "Dallas Buyers Club" actor as though he'd arrived with a limo full of orphans and the cure for cancer in his back pocket. Standing on the red carpet, apparently, does not help give anyone a healthy sense of perspective.
(Wally Skalij / Los Angeles Times)
"Mad Men" star Elisabeth Moss was asked to do E!'s famous (infamous?) mani-cam, and she finally became the first star to fulfill America's collective dream of giving the E! audience the finger in extreme close-up. Lucky for the cable channel, a quick-thinking director cut away at the last moment. Still, we all know what she did. And for that, a nation is grateful.
(Jordan Strauss / Invision / AP)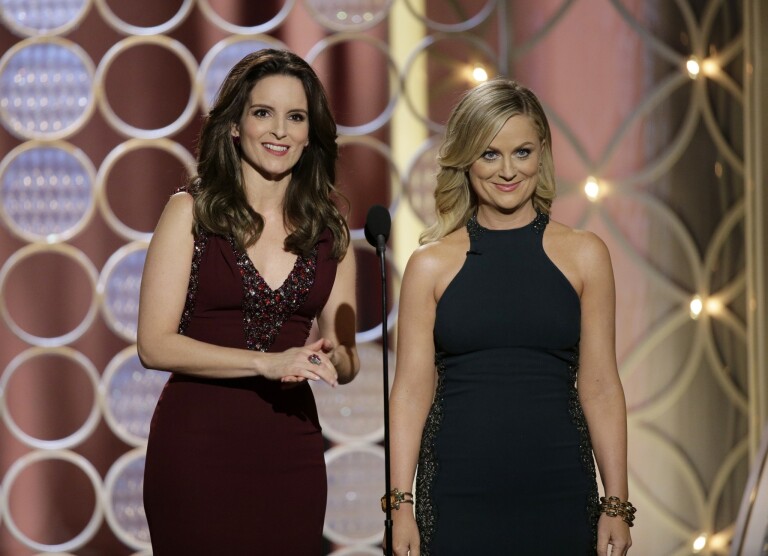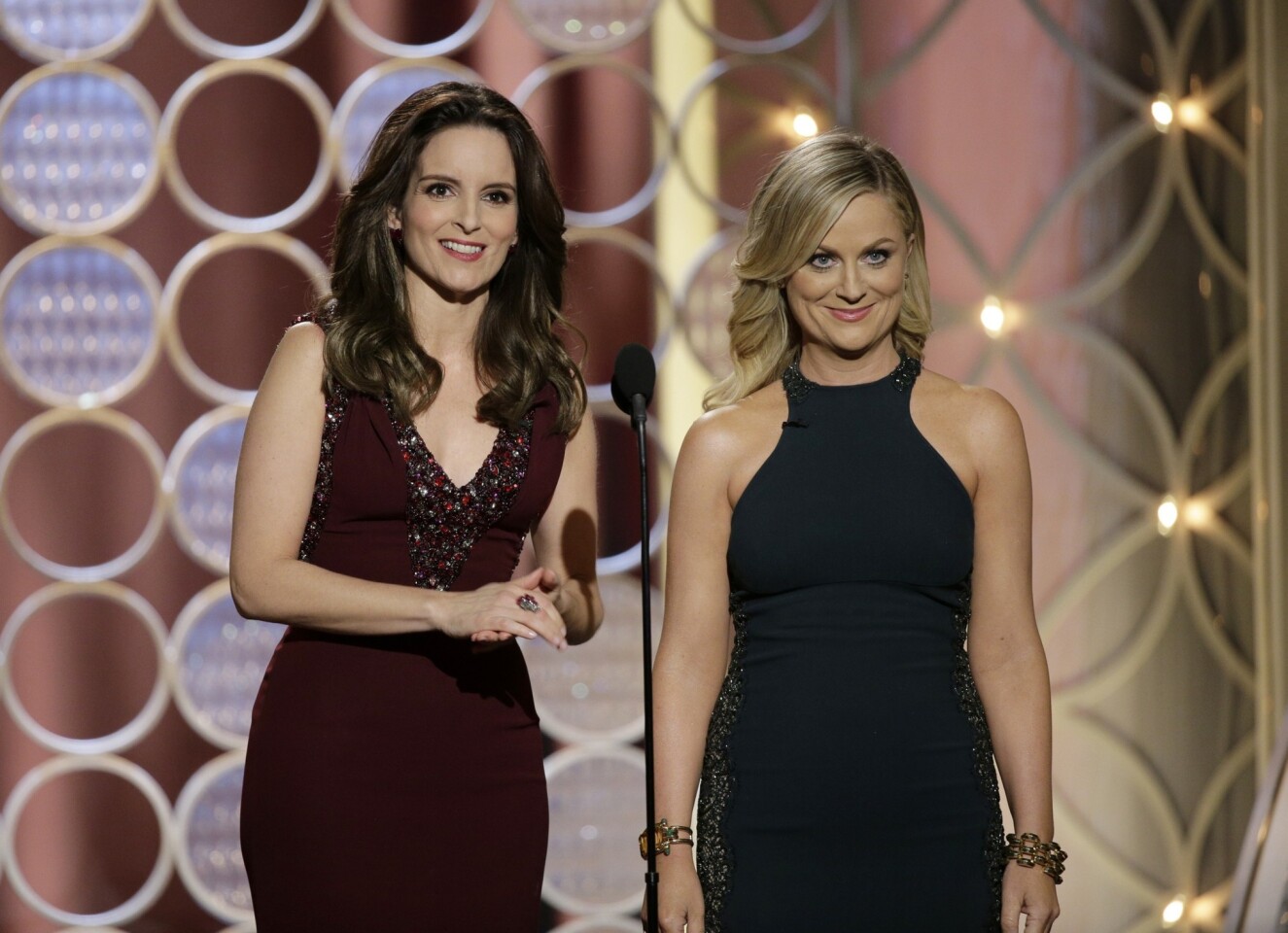 Tina Fey and Amy Poehler reunited to cohost the Golden Globes again this year, and they didn't disappoint. Perhaps no other joke went over in the room as huge as Fey's dig at George Clooney's dating habits when discussing "Gravity:" "George Clooney would rather float into space and die than spend one more minute with a woman his own age." Runner-up was their comment about Woody Allen getting the Cecil B. DeMille Award so soon after Martin Scorsese had won it, causing them to speculate if it was supposed to always go to the tiniest man with the biggest glasses.
(Paul Drinkwater / Associated Press)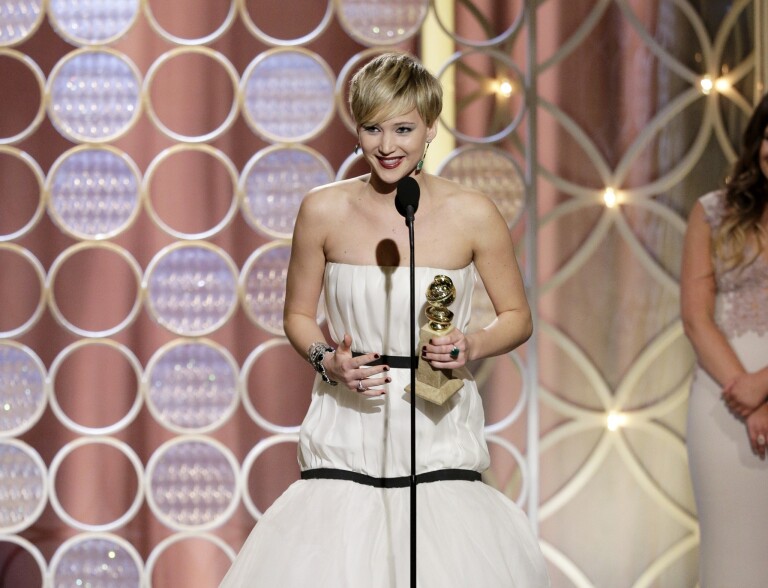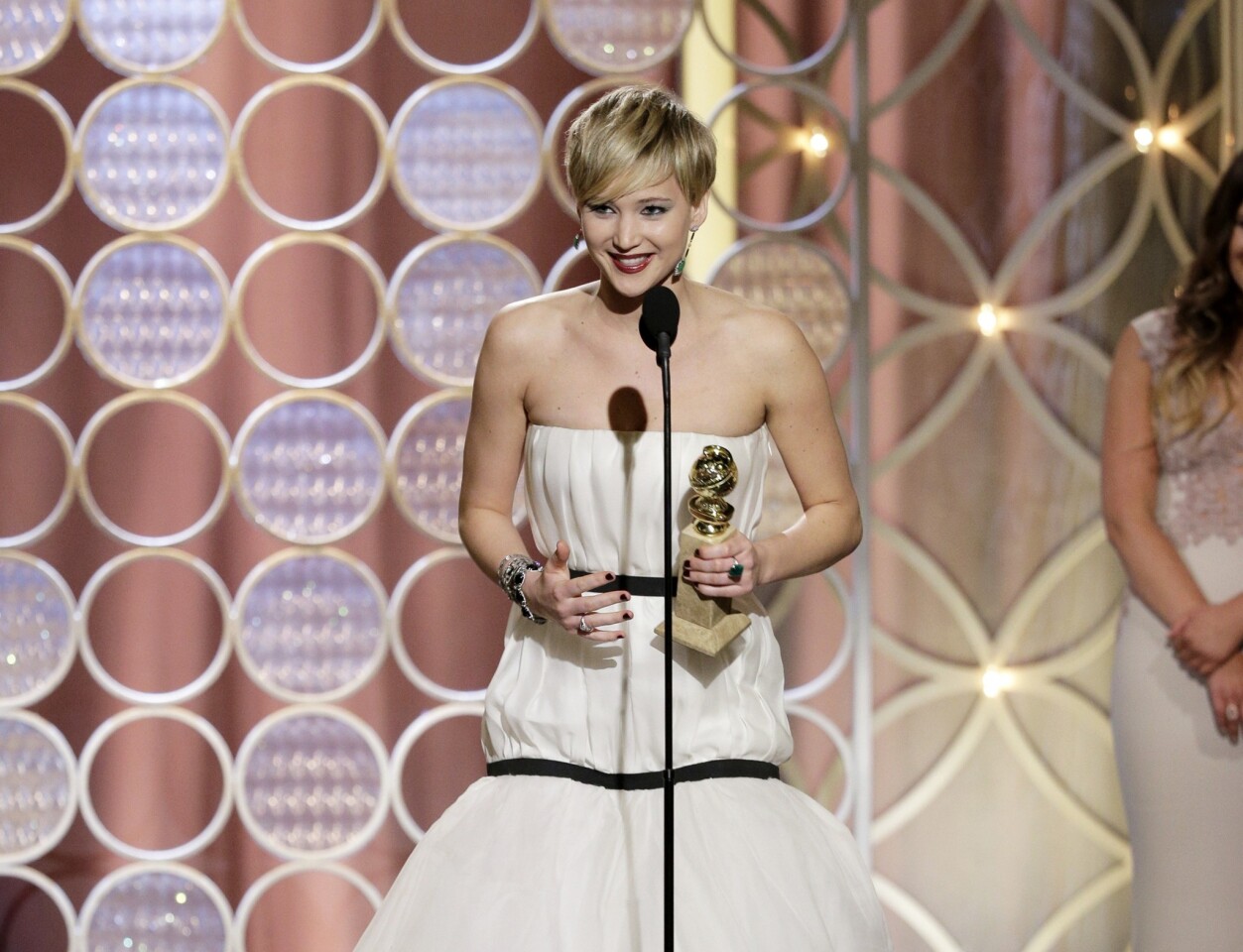 Jennifer Lawrence has proven herself to be a lovable goofball in the endless promotional tour for "American Hustle" and "Hunger Games: Catching Fire." And yes, her trip on the stairs at the Oscars further endeared her to viewers. But let's be honest, after you've won an Oscar, getting a Golden Globe is no reason to get nervous. So there's really no reason Lawrence should have been giving a speech from the Taylor Swift-Sarah Jessica Parker playbook when she accepted for supporting actress. Come the next awards show, Lawrence better be a little more jaded or that massive reservoir of goodwill toward her may start to dry up.
(Paul Drinkwater / Associated Press)
It only took two awards, but Jacqueline Bisset clearly gave the speech of the night with her long, rambling, occasionally PG-13 acceptance of the award for supporting actress in a role for television for the Starz series "Dancing on the Edge." First there was the seemingly endless walk from Bisset's seat somewhere in the darkest recesses of the International Ballroom, then there was the dramatic pause as she apparently gathered herself. And let's not forget the occasional swearing, the battle against the music that attempted to usher her off the stage and finally her mother's advice to her: "Go to hell and don't come back."
(Lawrence K. Ho / Los Angeles Times)
We're sure Aaron Paul loved it when his "Breaking Bad" character's signature line, "Magnets, bitch!" became a catchphrase. But now that the show is over, he's probably trying to make sure his career flourishes with diverse new roles. Unfortunately, Hollywood really is like high school, and his old friends just won't let that old thing go. Latest exhibit, "Breaking Bad" boss Vince Gilligan demanding Paul say, "Yeah, bitch!" on stage to celebrate the show's win for best drama. If he isn't careful, he'll find himself a decade from now opening a Wal-Mart in Terre Haute, Ind., with the words, "Bargains, bitch!"
(Paul Drinkwater / NBC)
Some nominees must climb the stairs from the audience to accept their Golden Globes. U2 descends from the heavens. The Irish rockers came down to our mortal plane to accept the award for original song, "Ordinary Love" from the Nelson Mandela biopic "Mandela: The Long Walk to Freedom," and connect themselves to the recently departed South African leader's struggles in whatever way they could.
(Lawrence K. Ho / Los Angeles Times)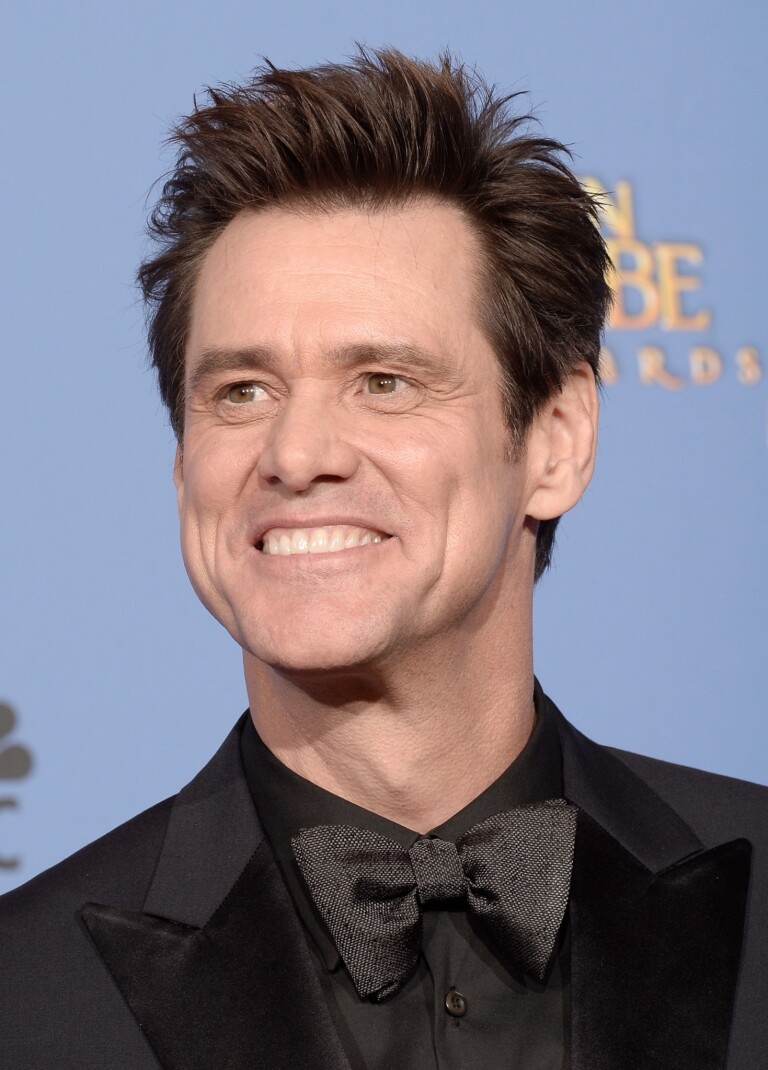 Actor Shia LaBeouf's recent scandals were spared any jokes from Fey and Poehler in the show opening, but presenter Jim Carrey wouldn't let LaBeouf off the hook that easily. While introducing the nominated film "American Hustle," Carrey said, "Dying is easy. Comedy is hard. I think it was Shia LaBeouf who said that. So young, so wise."
(Kevin Winter / Getty Images)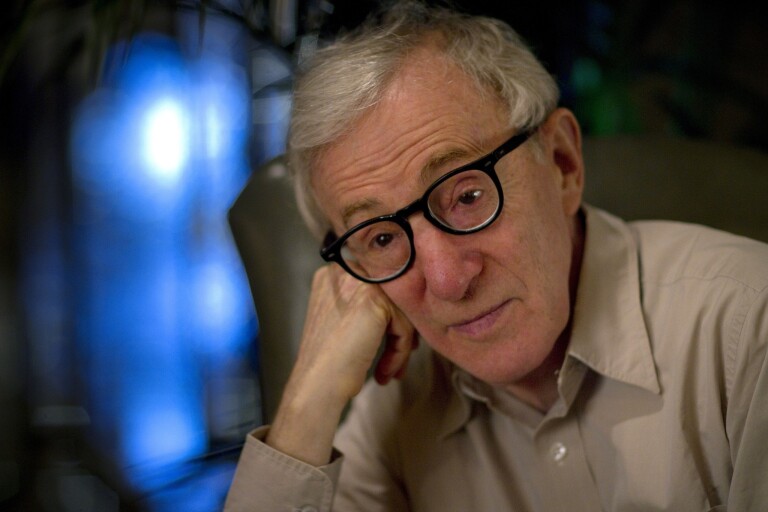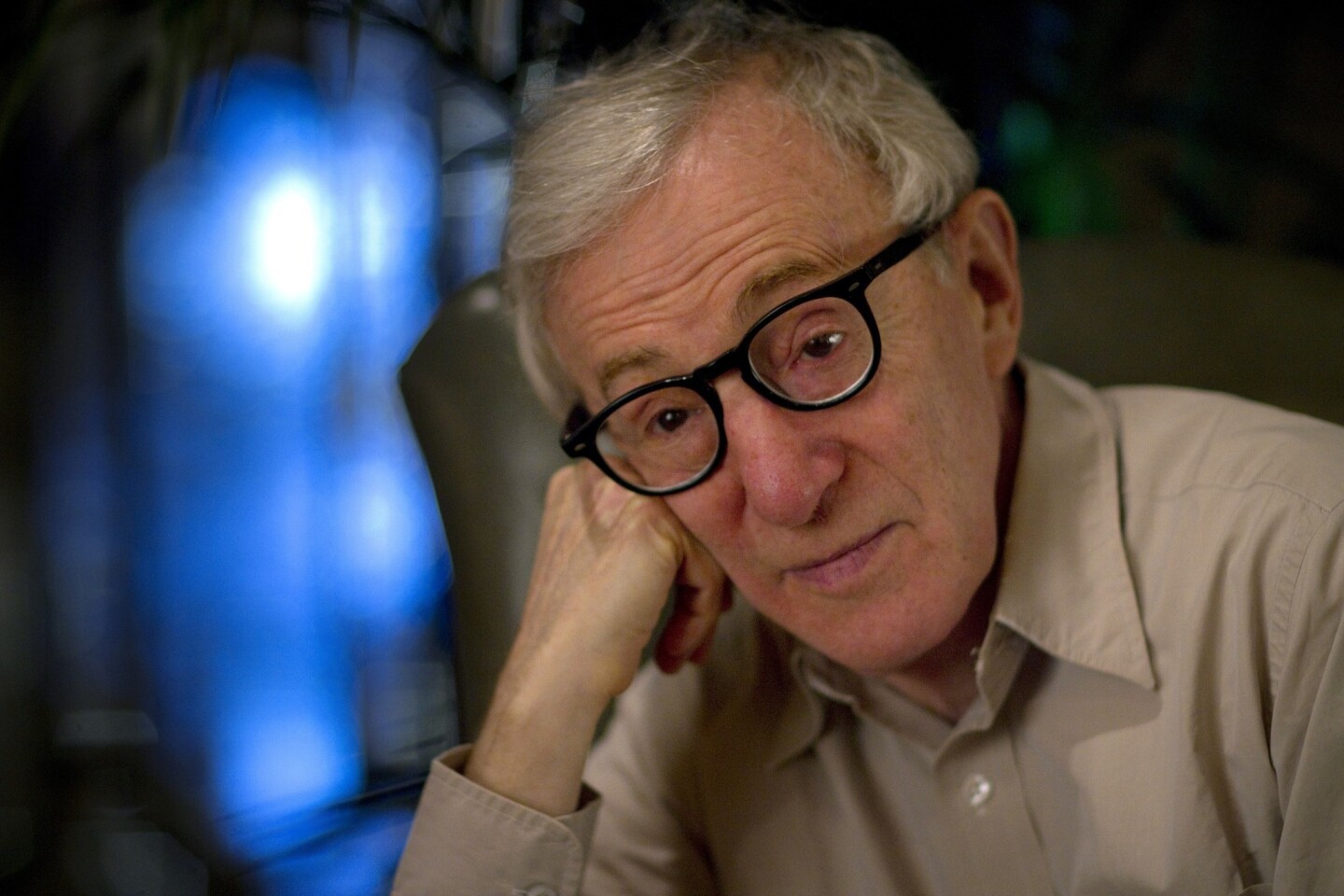 While many, many people live-tweeted the Golden Globes, perhaps the most biting comment of anyone came from Mia Farrow, ex-partner of Cecil B. DeMille Award recipient Woody Allen, who was giving minute-by-minute commentary right up until the moment Allen's tribute began. Then she tweeted, "Time to grab some icecream & switch over to #GIRLS. Nite all." But if you thought her comments were tough, check out Ronan Farrow's tweet from later in the evening: "Missed the Woody Allen tribute - did they put the part where a woman publicly confirmed he molested her at age 7 before or after Annie Hall?" Allen's adopted daughter, Dylan, recently discussed the alleged encounter with Vanity Fair. Allen has denied the allegations of sexual abuse.
(Liz O. Baylen / Los Angeles Times)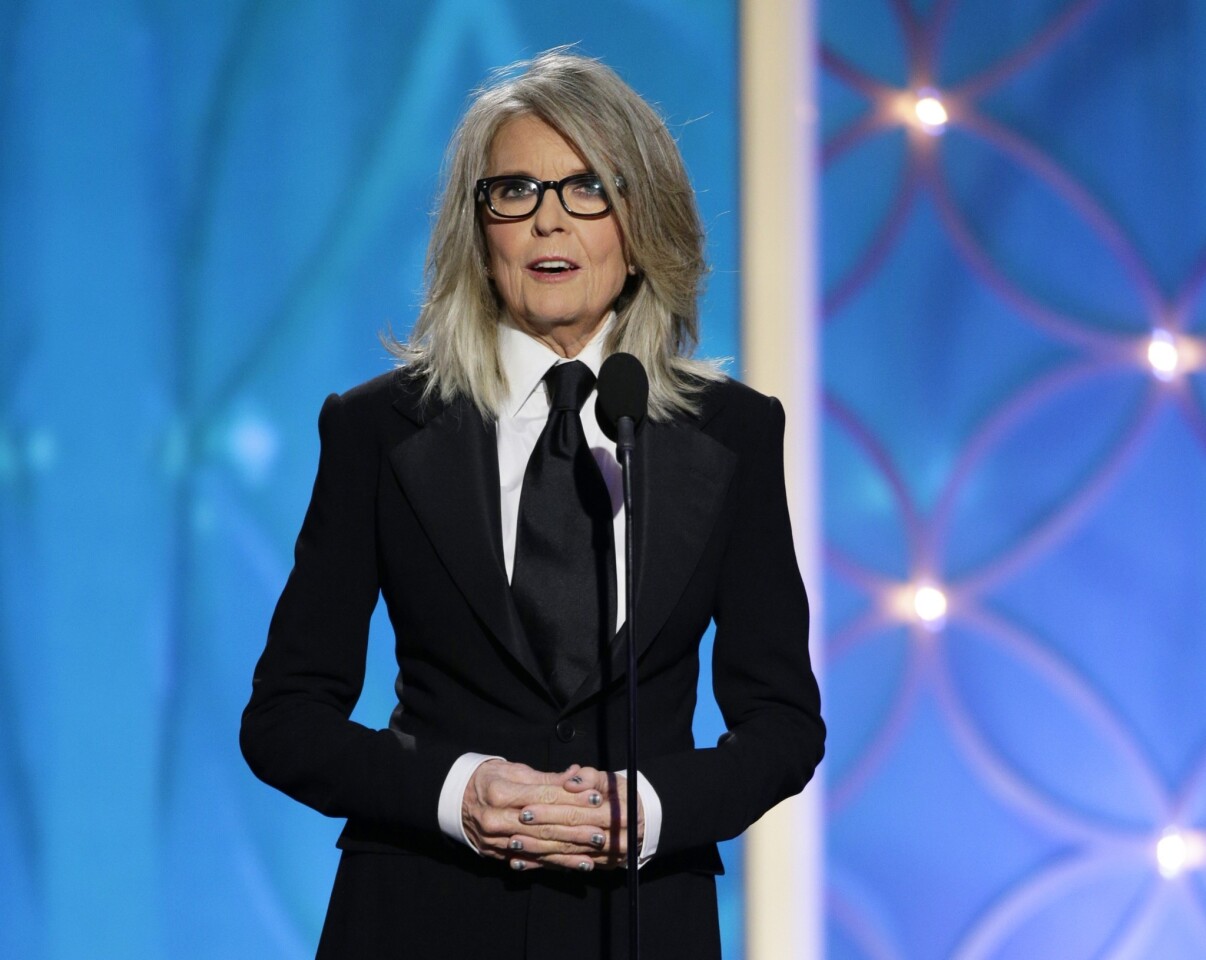 Meanwhile, Allen's longtime friend Diane Keaton came out to accept the award for the absent Allen and in the process, give the evening's second-strangest acceptance speech, which included a haunting, child-like performance of the song "Make New Friends."
(Paul Drinkwater / Associated Press)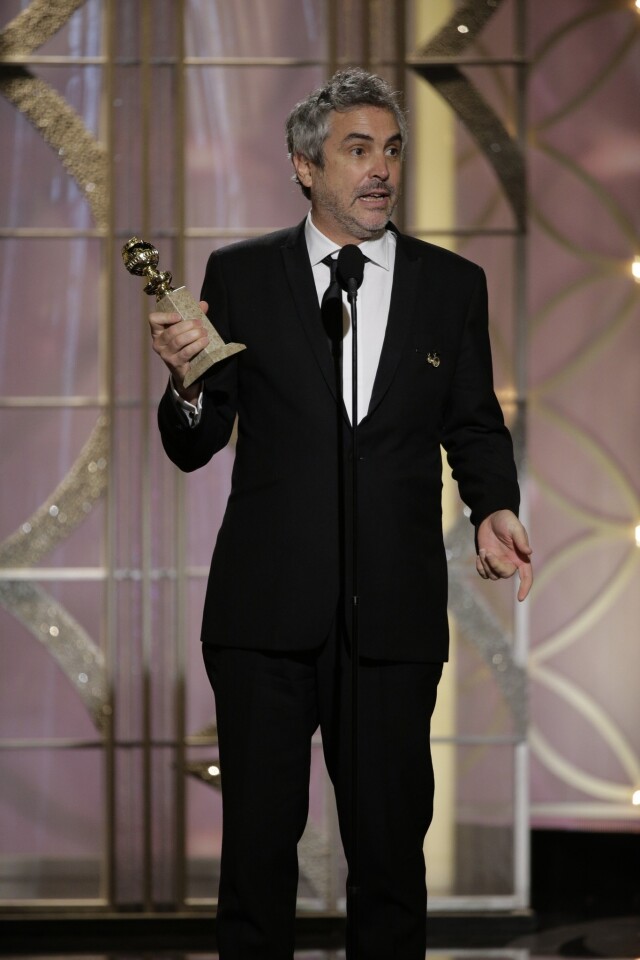 Alfonso Cuaron accepted the award for best director for "Gravity" and told the audience how he told star Sandra Bullock, "Thank you for not quitting when I said Sandra, I'm going to give you herpes when I meant an earpiece."
(Getty Images)
Leonardo DiCaprio may have made the best mispronunciation of the night by calling the British film "Philomena" the much more jazzy "Philomania." While some may not have been interested in seeing a low-key story of a woman seeking her long-lost son, crowds may turn out in droves for the story of a British woman seeking her long-lost son and going nuts at the same time.
(Lawrence K. Ho / Los Angeles Times)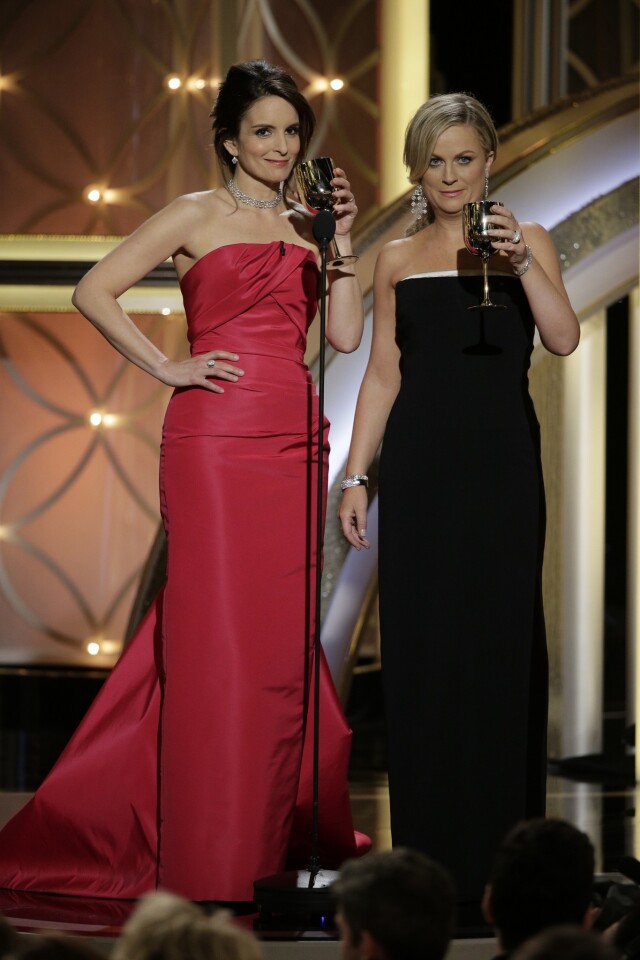 Late in the evening, Fey and Poehler could totally take it easy, but then they came out with intros likes this: "Like a super model's vagina, let's give a warm welcome to Leonardo DiCaprio." How about we start the campaign to get these ladies to host again next year?
(Paul Drinkwater / NBC)
Stars rarely do impressions of themselves during awards show acceptance speeches, but there was Matthew McConaughey up there winning lead actor in a motion picture telling the crowd, "All right, all right, all right."
(Lawrence K. Ho / Los Angeles Times)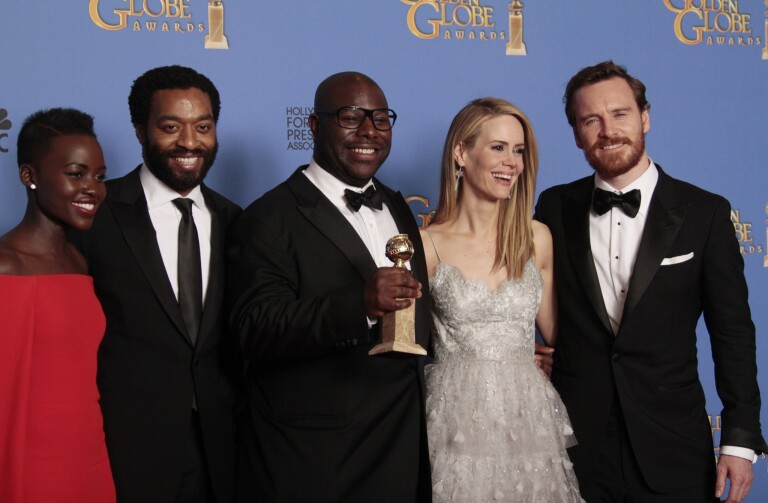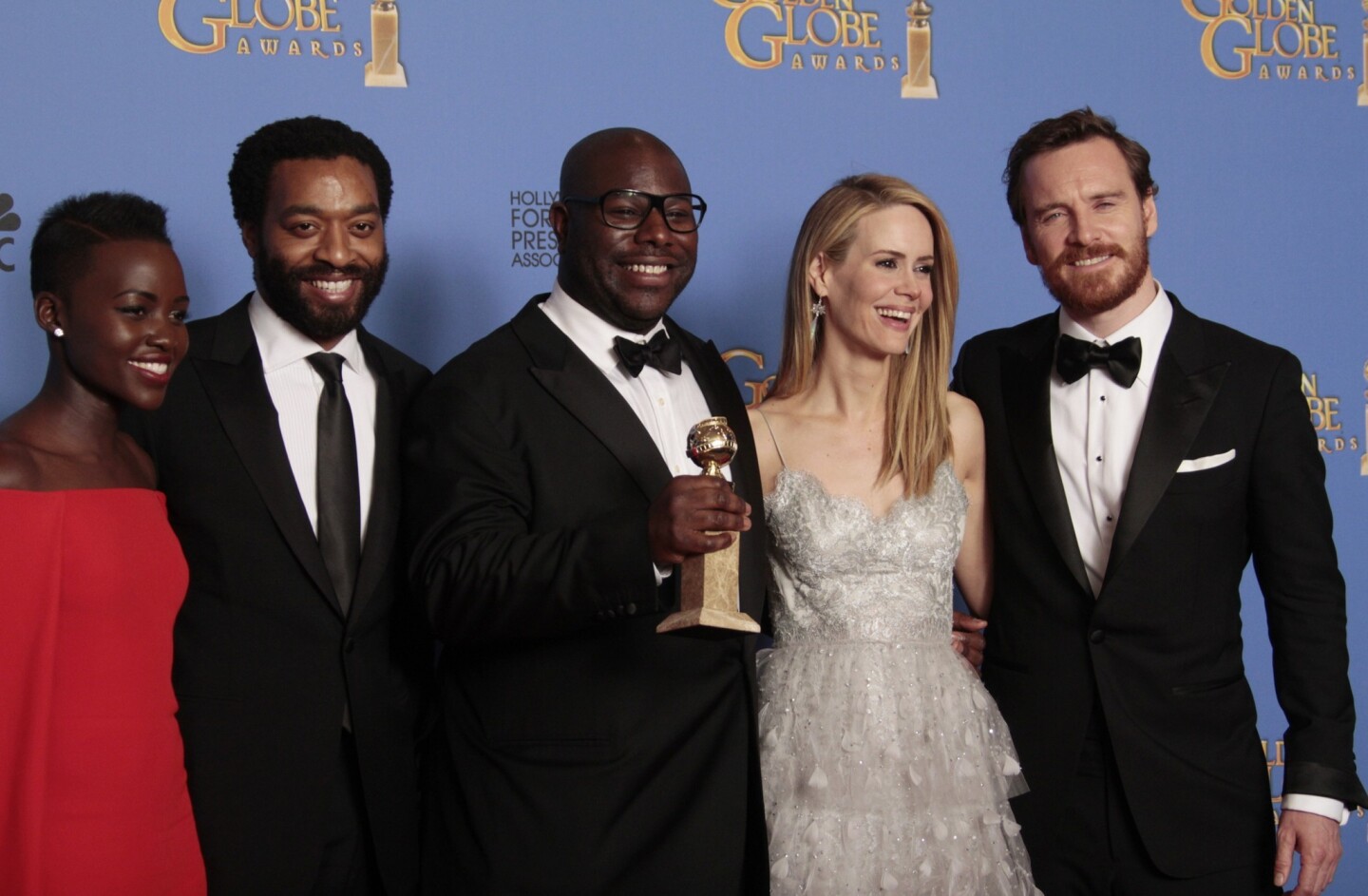 The powerful, hard-hitting "12 Years a Slave" was widely regarded as one of the year's best movies, but as the evening wore on, the film kept losing awards to others. By the time the night's final award was about to be handed out, the cast and crew of this slavery drama had all but given up hope. But then the final surprise of the night came when Johnny Depp read their name and the group, led by director Steve McQueen, came to the stage, understandably relieved and energized.
(Lawrence K. Ho / Los Angeles Times)
Fact-based dramas dominated the Golden Globes nominations for supporting actor, claiming all five slots with Jared Leto for "Dallas Buyers Club," Daniel Bruhl for "Rush," Barkhad Abdi for "Captain Phillips," Michael Fassbender for "12 Years a Slave" and Bradley Cooper for "American Hustle."
Leto was nominated for his turn as the sharp-witted transgender woman Rayon in "Dallas Buyers Club," Jean-Marc Vallee's biographical drama about AIDS patient and activist Ron Woodroof (played by Matthew McConaughey). Rayon, a composite character, was Leto's first role in years and saw him undergo a dramatic physical transformation, losing more than 30 pounds.
Reached from his rock band's tour bus between Chicago and St. Louis, Leto said, "It was a complete physical transformation; it was a complete internal transformation as well. The role of a lifetime. I'm really proud to be able to have brought this beautiful creature to life."
PHOTOS: Golden Globe 2014 top nominees
To lose the weight, Leto said he basically "just stopped eating" and added, "It changes the way you talk, the way you walk, the way you think, the way that you move, the way people treat you. So it's a great asset."
The Globe nomination is Leto's first.
Bruhl was nominated for his role as the relentless Formula One race car driver Niki Lauda in the Ron Howard-directed sports drama "Rush," which depicts Lauda's rivalry with British driver James Hunt (Chris Hemsworth).
Speaking from Italy, where he's shooting a film with Michael Winterbottom, Bruhl said he was "jumping around the streets of Siena" after learning of his nomination. "I think the people think I'm crazy, but I'm so, so delighted."
Of playing the battle-scarred F1 champ Lauda, Bruhl said, "I didn't have any experiences in my life which come even close to what he has gone through. I had to get his accent right, his body language, and I was just hoping to have a good relationship with him because I really wanted to know so much and learn from him … He's a very competitive guy, as you have to be when you're a Formula One race driver, so I think he will be very happy for these nominations."
The Globe nomination is the first for the Spanish-born German actor.
LIST: Golden Globe nominations 2014
First-time actor Abdi was recognized for his portrayal of the Somali pirate Muse in Paul Greengrass' fact-based thriller "Captain Phillips," about the 2009 hijacking of the cargo ship Maersk Alabama. It's been a mind-boggling journey for the 27-year-old actor, who was born in Somalia, moved to Yemen at age 7 and came to the U.S. at age 14, where he learned English from Jay Z songs and "Seinfeld" episodes. When Greengrass cast him, he was driving a limousine in Minneapolis.
Reached from that city by phone, Abdi described his nomination as "unbelievable." Of playing Muse, who comes off not as a one-dimensional villain but as a man who does desperate things in a desperate situation, Abdi said, "At times you need empathy, to try to be in the character's shoes … I would try to put my mind on that as best I can and try to be the character."
Fassbender was nominated for his role as the vicious plantation owner Edwin Epps in Steve McQueen's historical drama "12 Years a Slave," based on the autobiography of Solomon Northup. Fassbender was previously nominated for a Golden Globe for another film with McQueen, the 2011 drama "Shame."
A day after being overlooked by the Screen Actors Guild Awards, Cooper landed a Globe nomination for his role as the manic federal agent Richie DiMaso in David O. Russell's con film "American Hustle," which is loosely based on the FBI's Abscam sting targeting political corruption in the 1970s. Cooper was nominated for a Globe last year for his role in Russell's previous film, "Silver Linings Playbook."
FULL COVERAGE: Golden Globe nominations 2014
Supporting performances passed over for this year's Globes include George Clooney in "Gravity," Jonah Hill in "The Wolf of Wall Street," Tom Hanks in "Saving Mr. Banks" and the late James Gandolfin in "Enough Said."
The Golden Globe Awards will be presented Jan. 12.
ALSO:
PHOTOS: SAG Awards 2014 top nominees
VIDEO: Highlights from the Envelope Screening Series
PHOTOS: SAG Awards nominations snubs and surprises
---
Inside the business of entertainment
The Wide Shot brings you news, analysis and insights on everything from streaming wars to production — and what it all means for the future.
You may occasionally receive promotional content from the Los Angeles Times.