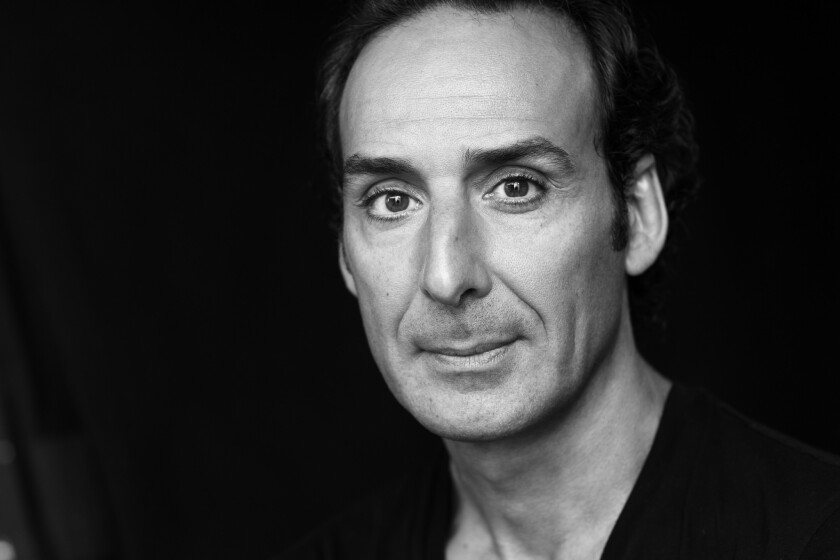 The prolific French composer Alexandre Desplat has vied for Oscar gold against some imposing names over the course of his career, including John Williams, A.R. Rahman, Thomas Newman and Danny Elfman. This year he faces a formidable new rival: himself.
With his work on "The Imitation Game" and "The Grand Budapest Hotel," Desplat garnered his seventh and eighth Academy Award nominations for original score Thursday morning.
"Getting a nomination is such a surprise, an anomaly," Desplat, 53, said on the phone from Los Angeles. "Getting two, it's almost embarrassing! I immediately thought of my wonderful directors, who I have to share with, Wes Anderson and Morten [Tyldum], because without their beautiful films I wouldn't be there."
Oscars 2015: List | Top nominees | Reactions | Snubs/surprises | Live updates | Full coverage
Also nominated for score this year are Hans Zimmer for "Interstellar," Gary Yershon for "Mr. Turner" and Johann Johannsson for "The Theory of Everything."
Desplat's twofer puts him in good historical company too, he acknowledged: "The composers who were my idols, and are still my idols, like Bernard Herrmann, Alex North and John Williams, they also had several times double nominations. I've been looking up at these composers since I was 15 or 16, so I'm just trying to catch up with them."
"The Grand Budapest Hotel," a caper set in and around a posh hotel in the fictional Alpine nation of Zubrowka, represents Desplat's third collaboration with Anderson, while the Alan Turing drama "The Imitation Game" marked the composer's first time working with Tyldum.
"Wes, we had done 'Fantastic Mr. Fox' and 'Moonrise Kingdom' together, so there was already a kind of layer of tone," Desplat said, "which I think 'Grand Budapest' opened to a larger scale."
Anderson, he said, "came with this idea that we should use instruments from this vague, vast area [of Eastern Europe]. So we started putting a little band together with balalaikas, cimbaloms, zithers, and it became a very special sound that only belongs, I think, to 'The Grand Budapest Hotel.'"
Desplat had never met Tyldum before "The Imitation Game," and he only had three weeks to score the film. "Morten had to trust me, and that was really brave because filmmakers take two years to make a film," he said.
To convey the fast, twirling mind of Turing, Desplat employed computerized piano, with the orchestra filling out the emotion and suspense of the story.
Desplat now finds himself with two shots to win his first Oscar. So how does he like his chances?
"Well, I hope I could have had five!" he joked. Then sounding a more serious note, he added, "What happens, happens. It's such a fantastic moment that I don't want to think about the next step. This is the step, to be in this incredible selection."
Follow @ogettell for movie news
---