California Sounds: New L.A.-area music from Dominique Pruitt, Tim Presley's White Fence, Lost in Stars and the Samps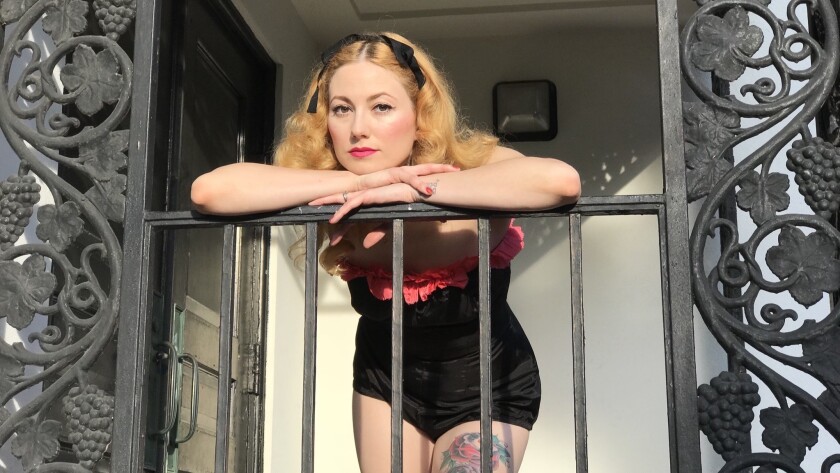 Dominique Pruitt, "High in the Valley" (self-released). Whether or not you've actually enjoyed the wicked weed somewhere within the titular region, the Los Angeles singer Pruitt points to a perennial pastime in her new song. "I'm getting high in the Valley but I'm low on hope," she sings as spaghetti-western inspired rhythms, intricately designed, act as propellant.
Describing life "on the other side of the Hollywood sign," Pruitt bemoans "this drag of a city" without specifying further; she could be indicting viable candidates including Sherman Oaks, Van Nuys or Reseda when she compares herself to "a penny at the bottom of a dried-up well."
Pruitt's got music in her bones. Her dad's the veteran musician and engineer Larry Brown, whose wild career includes drumming for surf rock band Davie Allan and the Arrows, writing soundtrack music for Roger Corman-directed films including "The Wild Angels" and composing music for "The Amazing Race."
Pruitt cites John Waters' camp classic "Cry Baby" as a formative inspiration, and also references singers including Wanda Jackson and Nancy Sinatra when describing her aesthetic. That's apparent on "High in the Valley," her first new song since shelving a finished LP a few years back after label issues. The song serves as a reminder that, while the Valley has its challenges, it's not all that far from Bakersfield and its twang.
Tim Presley's White Fence, "Lorelei" (Drag City). The first song from the psych-rock guitarist and bandleader's forthcoming album, "I Have to Feed Larry's Hawk" (Jan. 25), finds him opening small, with a little drum machine beat. Like a trail of sparks that leads to a Roman candle eruption, though, "Lorelei" soon fires high and wide.
Presley's a prolific guy. In addition to his band White Fence, he's also one half of the duo Drinks, founded the '00s band Darker My Love and toured and recorded with British post-punk stalwarts the Fall. He's also a stickler for sound whose work has a signature feel that seems both ancient and modern. As if rubbing dirt from a long-buried bracelet, Presley makes songs sparkle despite the grime.
Lost in Stars, "Fabula" (Dark Sky Covenant). Dylan Willoughby, who makes music as Lost in Stars, composes cavernous, oft-ominous electronic tracks in an Arts District space. Whether in his own work or on tracks he's produced with vocalist Kid Moxie, the artist prefers some grit in his frequencies, a certain staticky menace that suggests the soundtrack work of John Carpenter or the robotic urgency of late-'80s acid house.
The first single, "Don't Ya," features Kid Moxie, who sings "Can you save me" as if through a web of circuitry. Willoughby, also a poet whose most recent limited edition book, "Le Festival des Murmures," is currently on sale at Hauser & Wirth gallery, cites the work of the 12th-century mystic and composer Hildegard of Bingen as a guiding light on "Fabula." That makes a certain amount of sense: Played in a cathedral, this music would likely generate a bounty of overtones. Played through headphones, it rushes in to create its own kind of sanctuary.
The Samps, "Breakfast" (Gloriette). The first new music from the Samps in eight years is worth the wait, if at times utterly (wonderfully) baffling. Built by Cole M. Greif-Neill, whose Grammy-winning work with artists including Beck, Ariel Pink, Nite Jewel (to whom Greif-Neill is married), Anderson .Paak and dozens more has been an essential part of the city sound for the past decade, the Samps are a trio that also includes rap archivist 12manrambo and metal percussionist and ambient composer Harland Burkhart.
Issued on Nite Jewel's Gloriette imprint, "Breakfast" is an apt title, as it jumps from sweet to savory, from sleepy to caffeinated with little regard for expectations. Synth-beats collide with wild guitar solos, random voices jump in to offer break-time asides. Simple funk bass lines generate crazy momentum. "Spice Ship" has the feel of free-jazz, with arrhythmic percussion seeming less a foundation than a random mess of asymmetrical patterns. "Hit n Run" opens with post-disco-style enthusiasm that recalls downtown New York bands Liquid Liquid and ESG.
For tips, records, snapshots and stories on Los Angeles music culture, follow Randall Roberts on Twitter and Instagram: @liledit. Email: randall.roberts@latimes.com.
---
From the Emmys to the Oscars.
Get our revamped Envelope newsletter, sent twice a week, for exclusive awards season coverage, behind-the-scenes insights and columnist Glenn Whipp's commentary.
You may occasionally receive promotional content from the Los Angeles Times.