California Sounds: Ty Dolla Sign teams with Jeremih, P.T. Anderson shoots Haim, Acetone's new chapter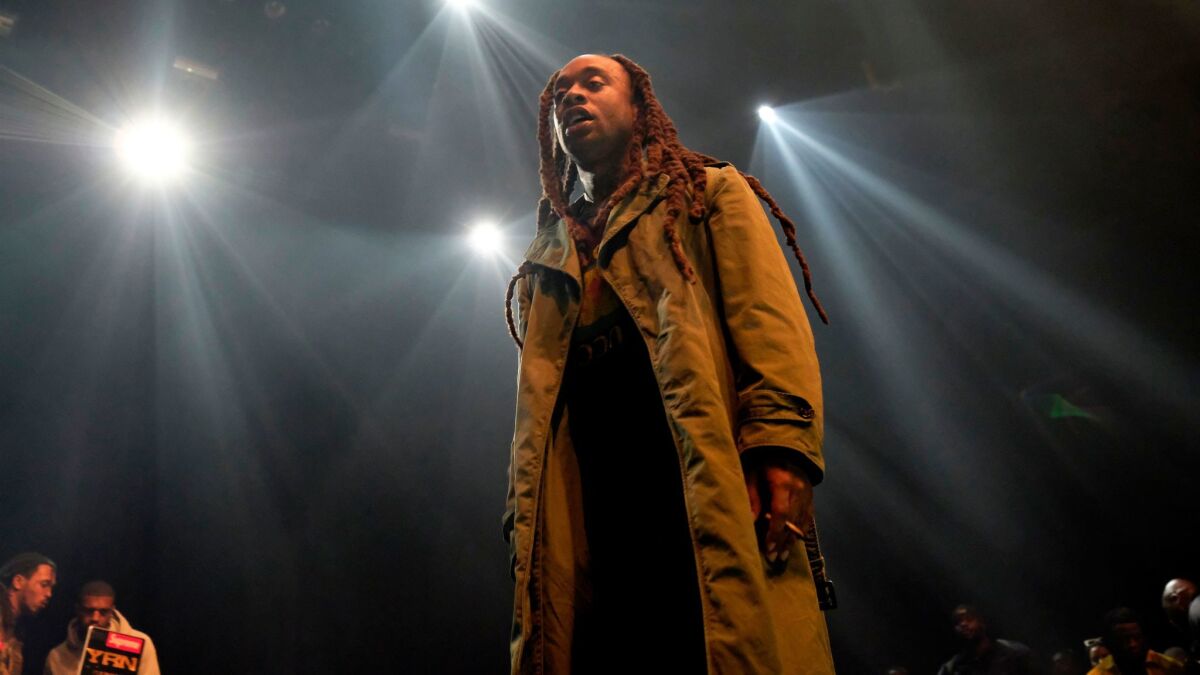 Ty Dolla Sign feat. Jeremih, "Dawsin's Breek" (Warner Bros.). The newest track from the Compton R&B singer's eagerly anticipated third installment of the "Beach House" series is themed as a kind of victory lap, but not in a rub-it-in-your-face way.
Rather, the magnetic crooner born Ty Griffin Jr., who has risen to become both a go-to hip-hop collaborator and R&B heartthrob, harnesses a beat crafted by hit-maker Mike Will Made It to make a joyous ode to fresh success.
It arrives on the heels of an early September teaser, "So Am I," which features a reggae-inspired Skrillex beat and a cameo by Damian Marley. (Listen to it here, but be warned that the clip contains some casual cussing.)
As the singer opens "Dawsin's Breek," it's immediately like you're with him whipping out of a Ferrari dealership as he brags about his new ride: "I got a brand new coupe/ I got a brand new 'Rari," he sings before moving on to celebrate — what else? — his new boo.
Great, another woman-as-car metaphor, right? Kinda. But like Rush's "Red Barchetta," Prince's "Little Red Corvette" and the Big Tymers' "Get Your Roll On" before him, Ty celebrates his new wheels with an affection bordering on sexual. It's fitting that he's teaming with Chicago seducer Jeremih, who can melt butter with his emotive tone.
"Beach House 3" comes out on Oct. 27. On a recent episode of Zane Lowe's Beats 1 radio show, Ty Dolla Sign teased a forthcoming single from the record: a new collaboration with fellow Compton star YG.
Haim, "Valentine" (Columbia). After tackling topics such as Scientology, the early days of the oil business, gambling, Thomas Pynchon, porn and the entertainment world, director Paul Thomas Anderson recently took a breather to shoot a short performance piece with Los Angeles sister act Haim.
Set in a recording studio during different sessions with producer Ariel Rechtshaid, the 15-minute film "Valentine" spotlights Haim sisters Este, Danielle and Alana not as pop stars but as accomplished musicians at work.
As they perform three relationship songs from their recent album "Something to Tell You" -- "Right Now," "Nothing's Wrong" and the title track -- Anderson captures them maneuvering around the studio adding parts and working as a unit toward the songs' greater good.
Needless to say, Anderson's done this before, having shot musicians including Joanna Newsom, Aimee Mann, Fiona Apple, Radiohead and others.
Such affection for the art of musical creation is obvious across "Valentine."
Acetone, 1992-2001 (Light in the Attic). "Los Angeles is a place composed of infinite intersections full of nothing remarkable," read the liner notes to this long-disbanded group's new retrospective, "1992-2001."
Describing "corners you move through while going elsewhere" as "minutely distinctive combination[s] of concrete, peeling hand-drawn signage, lonely storefronts, and buildings painted and repainted in so many coats of nameless color," the intro, penned by writer Sam Sweet, celebrates a lesser-known Highland Park-based guitar band, Acetone.
Originally signed to indie labels Vernon Yard and Vapor, Acetone came up in the early '90s Highland Park way before the area was a musical hotbed, but the trio drew little national attention. Its understated guitar music was barely in vogue, smothered by the Superfuzz and Bigmuff distortion pedals that begat grunge. It disbanded in 2001 after bassist Richie Lee committed suicide.
Like kindred spirits Codeine, Low and Red House Painters, Acetone answered hard rock's screaming volume with whispers. The band — Lee, Mark Lightcap (guitar, vocals) and Steve Hadley (drums) — understood that the best way to silence a noisy crowd was to whisper something important.
"How Sweet I Roamed," for example, upends a raucous folk song by New York band the Fugs (and lyrics adapted from a poem by William Blake), turning a former mess into a tidy, soft-spoken musical observation. The instrumental "Pico" opens with a closely miked electric guitar line that casually becomes intertwined with a second one. Shakers and a softly tapped snare drum dot out a beat.
The new reissue was compiled by stalwart imprint Light in the Attic, and arrives as a companion to Sweet's loving biography of the band, "Hadley Lee Lightcap," which he describes as a nonfiction novel. Though Acetone wouldn't seem a likely band for such a treatment, the project makes a solid case for a historical update.
For tips, records, snapshots and stories on Los Angeles music culture, follow Randall Roberts on Twitter and Instagram: @liledit. Email: randall.roberts@latimes.com.
Get our L.A. Goes Out newsletter, with the week's best events, to help you explore and experience our city.
You may occasionally receive promotional content from the Los Angeles Times.