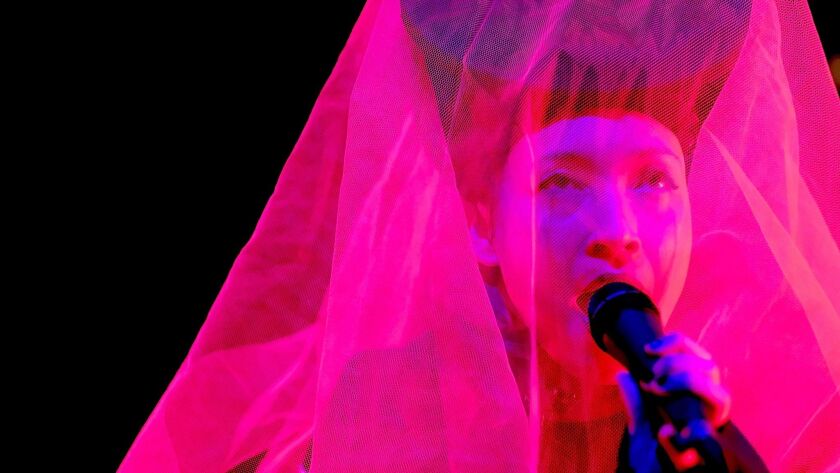 Here's our weekly look at must-hear music from Times staffers. This week's picks include the latest from indie electronic act Little Dragon, budding R&B artist Sabrina Claudio, crooner Charlie Puth and country superstar Brad Paisley.
Little Dragon, "Season High" (Loma Vista)
Pop music historians looking for a contemporary record that captures the so-called "sound of now" would be advised to time-capsule "Season High." The fifth album by the Swedish avant-pop group since its 2007 debut merges synthetic R&B, modern textures and of-the-moment dance music. The result finds the quartet at its most magnetic and adventurous.
This is Little Dragon's first record since its 2014 album, "Nabuma Rubberband," earned a dance/electronic album Grammy nomination, and the group feels newly energized and eager to draw in the masses.
Led by vocalist Yukimi Nagano, a striking presence who recently performed at Coachella with an over-sized hot-pink veil over her face, the group is restless in its quest for unheard tones and textures.
The down-tempo track "Don't Cry" floats as if infused with helium. "The Pop Life" opens like an R&B ballad before moving into a driving double-time rhythm. The beat during "Should I" wobbles with a weird time signature. Best, the group's so versatile that each track contains odd moments of distinction. — Randall Roberts
Sabrina Claudio, "Confidently Lost" (SC Entertainment)
Sabrina Claudio is a master of seduction, and her debut EP, "Confidently Lost," is steeped in it. The Miami-born, Los Angeles-based singer joins a growing surge of young acts churning out projects wholly inspired by the sweet, frothy R&B of the '90s and today's more experimental takes of the genre.
"Confidently Lost" basks in Claudio's silky voice, which is ethereal and moody without ever overpowering. Claudio is about mood creation.
And her EP offers a hypnotic listen. She muses on lust, longing and love over songs that fuse minimal R&B, dark jazz and Bossa Nova rhythms informed by her half-Cuban, half-Puerto Rican heritage. It's quite enough to get lost in, which is the point, given its title. — Gerrick D. Kennedy
Charlie Puth, "Attention" (Atlantic)
This baby-faced pop crooner happily played up the puppy-dog vibe on "Nine Track Mind," his 2016 debut, which followed earlier production and songwriting work for Jason Derulo and Wiz Khalifa.
And Puth still sounds as dewy as can be in the slick lead single from his upcoming sophomore disc; at one point, he even stops the track so you can hear his breath catch in his throat. Lyrically, though, "Attention" tries to serve notice that lil' Charlie will no longer stand for being played with by his favorite heartbreaker: "You been running 'round throwing that dirt all on my name / 'Cause you knew that I'd call you up." You can bet her strategy paid off. — Mikael Wood
Brad Paisley, "Love and War" (Arista Nashville).
West Virginia singer, songwriter and guitarist Brad Paisley has proven himself a wizard at striking a canny balance among earnestness, whimsy, social awareness and party-hearty celebration.
With "Love and War" he's conjured another 16 tracks that skillfully traverse those lines, moving from vulnerability in the love song "Meaning Again" to the Internet-centric frivolity in "Selfie#TheInternetIsForever." There's also the politically acute title track about the (mis)treatment of U.S. veterans and a savvy dual use of the word "can" as noun and verb in "One Beer Can."
"Love and War" also is the basis of what's being dubbed "the first ever country music visual album," one that will be screened for free April 27 at the Regal L.A. Live Theater. — Randy Lewis
---