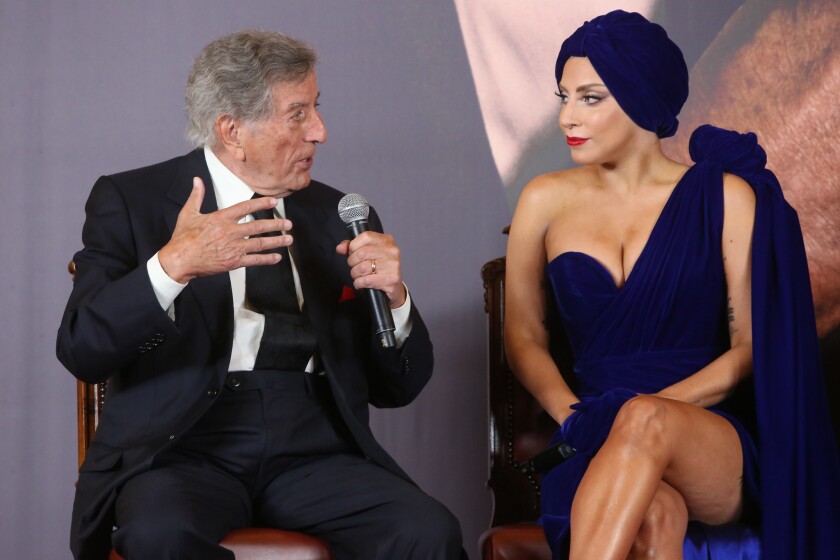 Pop odd couple Tony Bennett and Lady Gaga have taken the Great American Songbook back to the top of the pop charts with their duet album "Cheek to Cheek." The week's top album also means Bennett bests his own record as the oldest artist to reach the No. 1 spot on the Billboard 200 Albums chart.
Three years ago, Bennett claimed that crown at 85 with his "Duets II" collection, and now has upped the ante to age 88 for his collaboration with Gaga, a 28-year-old artist young enough to be his great-granddaughter.
The good news/bad news aspect of "Cheek to Cheek's" sales, which totaled 130,521: That's a strong showing for Bennett, though short of the 179,000 that "Duets II" sold three years ago. But the numbers represent a deep slide for Gaga, whose 2011 album "Born This Way" came out of the gate with 1.1 million copies in its first week, then quickly fell to the lower reaches of the Billboard 200.
Reviews of "Cheek to Cheek" have gone both ways. Reviewing for the Los Angeles Times, Mikael Wood awarded it just one star on The Times' four-star scale and labeled it "unbearable," while the Boston Globe's James Reed praised it, saying "[Gaga] and Bennett bring out the best in each other."
Rolling Stone split the difference, giving it three stars out of five and concluding that "Gaga has real chemistry with Bennett … on breezily swinging tunes like Cole Porter's 'Anything Goes,'" then adds that "she sometimes blasts away at these songs rather than relaxing into them."
The album pulled a collective 64 on Metacritic.com's aggregate review meter out of a possible 100 points, based on 11 reviews.
The latest from country star Kenny Chesney came in No. 2 behind Bennett and Gaga, with less than 1,000 copies difference, posting 129,670 in its first week.
Last week's No. 1 album by another veteran pop singer -- Barbra Streisand's "Partners" -- fell only to No. 3 on a relatively modest second-week decline of 35% to 127,368 copies.
Jennifer Hudson's long-incubating new album, "Jhud," barely squeaked into the Top 10, entering at No. 10 on first-week sales of 23,939 copies.
Follow @RandyLewis2 on Twitter for pop music coverage.
---