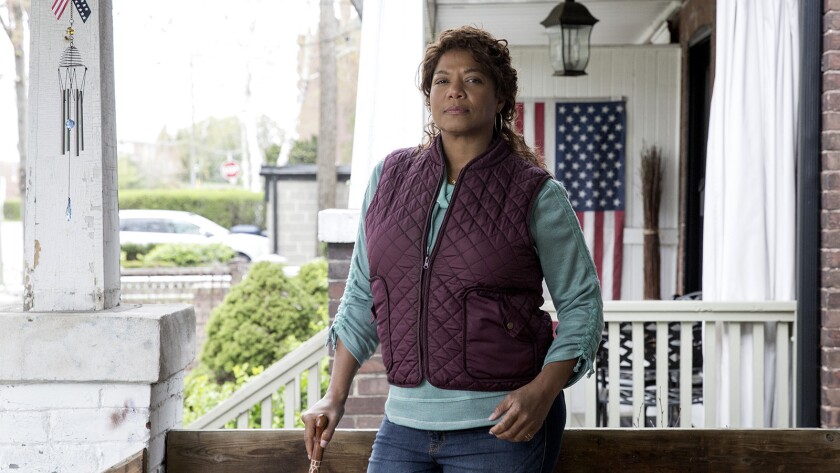 SERIES
NCIS: Los Angeles The team launches a citywide hunt for evidence after a Navy machinist with high security clearance is murdered. Bar Paly guest stars with series regulars Chris O'Donnell, LL Cool J and Linda Hunt. 8 p.m. CBS
Dirk Gently's Holistic Detective Agency While they're investigating the 40-year-old case of two corpses, Dirk (Samuel Barnett) and his companions are joined by Bart (Fiona Dourif), sending the investigation in a new direction that involves Suzie Boreton (Amanda Walsh). Elijah Wood and Hannah Marks also star. 9 p.m. BBC America
The Graham Norton Show Jane Fonda, Nicole Kidman, Colin Farrell, Bryan Cranston and Matt Lucas are guests, and Niall Horan performs. 10 p.m. BBC America
MOVIES
Leprechaun AMC launches a Halloween weekend marathon of this popular low-budget horror film franchise with this 2014 entry. 3 p.m.
Marry Me at Christmas The owner of a bridal boutique (Rachel Skarsten) jumps at the chance to plan a lavish Christmas wedding but is distracted by bride's handsome brother (Trevor Donovan), a movie star who's not in town to fall in love. Emily Tennant also stars. 8 p.m. Hallmark
Split A sequel to writer-director M. Night Shyamalan's 2000 drama "Unbreakable," this 2016 psychological horror film stars James McAvoy as a man suffering from dissociative identity disorder who kidnaps three teenage girls and imprisons them underground, where they undergo a harrowing ordeal. Anya Taylor-Joy, Betty Buckley, Haley Lu Richardson and Jessica Sula also star. 8 p.m. HBO
Flint Three women (Betsy Brandt, Marin Ireland and Jill Scott) living in the small town of Flint, Mich., join forces after discovering that the drinking water is contaminated, resulting in a slew of devastating medical problems for their families. This new fact-based TV drama is executive produced by Queen Latifah, who also stars. 8 p.m. Lifetime
Black Sabbath: The End of the End Dick Carruthers' 2017 music documentary vividly captures the final performance of the Grammy-winning band in Birmingham, England, hometown of members Ozzy Osbourne, Tony Iommi and Geezer Butler.9 p.m. Showtime
WEEKEND TALK
SATURDAY
Good Morning America (N) 7 a.m. KABC
SUNDAY
Good Morning America (N) 6 a.m. KABC
State of the Union With Jake Tapper Russia investigation: Sen. Angus King (I-Maine). Politics: Gov. Chris Christie (R-N.J.). Panel: Jennifer Granholm; former Sen. Rick Santorum (R-Pa.); author Charlie Sykes ("How the Right Lost Its Mind"); Nina Turner. (N) 6 and 9 a.m. CNN
CBS News Sunday Morning Miley Cyrus; Michael J. Fox; John Carpenter. (N) 6:30 a.m. KCBS
Fox News Sunday With Chris Wallace Gov. John Kasich (R-Ohio); Rep. Trey Gowdy (R-S.C.). Miles Teller and writer/director Jason Hall ("Thank You for Your Service"). Panel: Michael Needham; Jane Harman; Ari Fleischer; Mo Elleithee. (N) 7 a.m. KTTV; 11 a.m., 7 and 11 p.m. FNC
Fareed Zakaria GPS Targeted by Putin: William Browder, Hermitage Capital. Proposed tax cuts: Former Treasury Secretary Larry Summers. Proposed tax cuts: Kevin Hassett. Understanding genius: Author Walter Isaacson ("Leonardo da Vinci"). (N) 7 and 10 a.m. CNN
Face the Nation Sen. Bob Corker (R-Tenn.); Sen. Susan Collins (R-Maine); Gov. Chris Christie (R-N.J.). Reinterpretation of the "Battle Hymn of the Republic" Bandleader Jon Batiste: ("The Late Show With Stephen Colbert"). Panel: Ben Domenech, the Federalist; Ruth Marcus, the Washington Post; David Nakamura, the Washington Post; Julie Pace, the Associated Press. (N) 8 a.m. KCBS
Meet the Press Sen. Rob Portman (R-Ohio). Sen. Claire McCaskill (D-Mo.). The opiod epidemic: Huntington, W.V., Fire Chief Jan Rader. Panel: Al Cardenas; Eliana Johnson, Politico; Chris Matthews; Amy Walter, the Cook Political Report. (N) 8 a.m. KNBC; 3 p.m. MSNBC
This Week With George Stephanopoulos (N) 8 a.m. KABC
Reliable Sources President Trump's alternative reality: Carl Bernstein; Bruce Bartlett. The media's coverage of sexual harassment in its own industry: Oliver Darcy; Jessica Valenti, US Guardian. Covering Capitol Hill: Jake Sherman, Politico; Manu Raju; "60 Minutes" and President Trump: Jeff Fager, ("60 Minutes"). (N) 8 a.m. CNN
MediaBuzz Disputes between President Donald Trump, Sen. Jeff Flake (R-Ariz.) and Sen. Bob Corker (R-Tenn.): Joe Trippi; Emily Jashinsky, Washington Examiner; Anna Palmer, Politico; Marc Lotter; Ed Henry; Francesca Chambers, DailyMail.com. (N) 8 a.m. and Midnight FNC
60 Minutes North Korea's nuclear capabilities; the blockade of Quatar; a man saves Jews during World War II. (N) 7 p.m. KCBS
SPORTS
College Football UCLA visits Washington, 12:30 p.m. ABC; USC visits Arizona State, 7:45 p.m. ESPN
2017 World Series The Dodgers visit the Astros in Game 4. 5 p.m. Fox
For today's sports on TV, see the Sports section.
Click here to download
TV listings for the week of Oct. 29 - Nov. 4, 2017 in PDF format
---