'The Daily Show's' Donald J. Trump Presidential Twitter Library coming to Los Angeles on Friday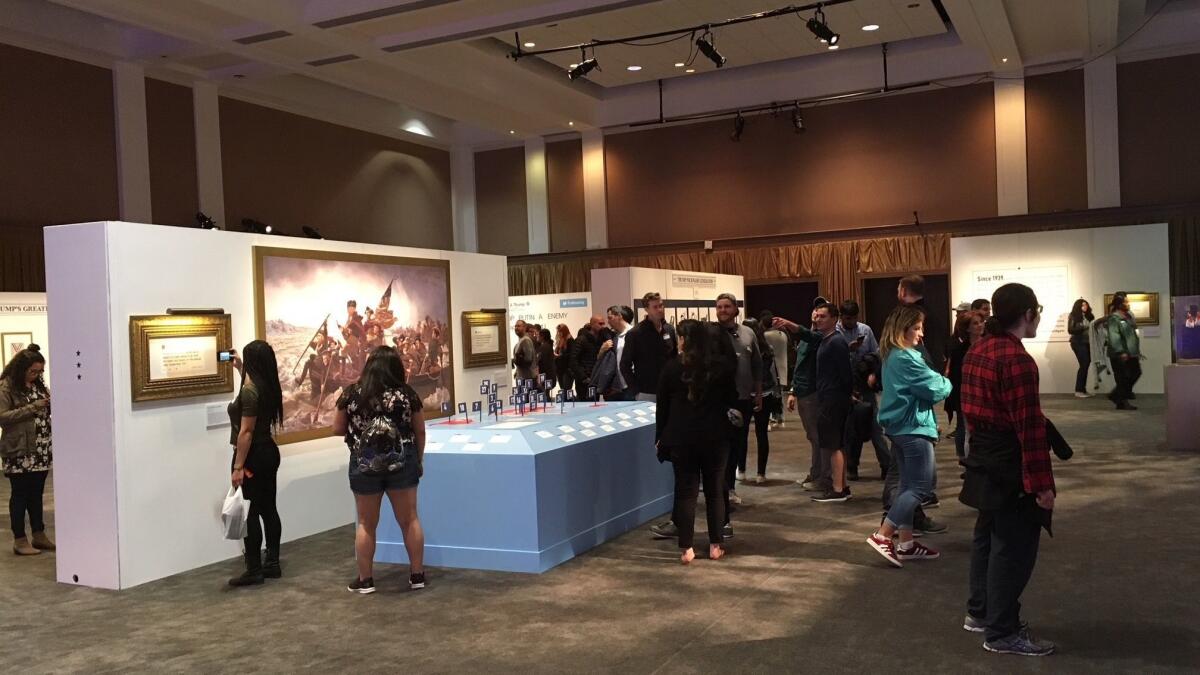 As the first president to issue policy directives, retorts to criticism and just about whatever crosses his mind via Twitter, Donald Trump's social-media feed is in many ways as close a snapshot of his thinking as we're likely to get.
It's an idea that in part led Comedy Central's "The Daily Show With Trevor Noah" to create the Donald J. Trump Presidential Twitter Library, a satirical cross between a museum and presidential library that debuted in New York City for three days last year. The museum has lived on with a book version planned for July and pop-up stops in Chicago as well as last weekend's Clusterfest in San Francisco. Now, it's coming to Southern California.
The library will pop up for two consecutive weekends starting Friday, June 8 through June 10 and June 15-17 in a former storefront at 631 N. Robertson Blvd. in West Hollywood. On opening day this week, the library will be open from noon until 10 p.m., and for the rest of the run the hours will be 10 a.m. to 10 p.m. Admission is free.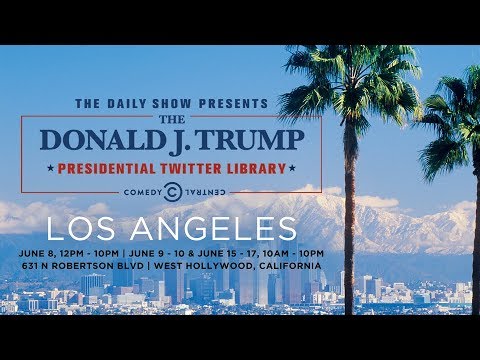 "I've always said I think the best person on Twitter is Chrissy Teigen, and then a close second is Donald Trump," Noah told The Times between appearances at Clusterfest Friday. "I think he used Twitter in many ways to become president of the United States. That's why the Twitter library is so magical for me."
"He's been so prolific over so many years and has written so many things that you can't possibly hold them all in your head," "Daily Show" executive producer Steve Bodow told The Times in 2017. "And you go, 'Oh, yeah, these things were all written by the guy who is president of the United States,' which is a simple declarative statement, but also astonishing."
In the tradition of previous "Daily Show" endeavors outside TV such as "America (The Book)," the Twitter library succeeds for its commitment to the concept. Ornate gilded frames wrap around a selection of significant 140-character missives from Trump the president and private citizen.
Many feature deadpan, gallery-styled explanations on nearby cards, while others are grouped under headings such as "Sad! A Retrospective" and "Trump's Greatest Battles," which features recordings from past presidential targets such as Seth Meyers, Stephen King and Kathy Griffin.
In response to a 2014 tweet calling the name of the show "black-ish" as "racism at the highest level," series creator Kenya Barris says the accusation from Trump made him feel "on the right side of history."
Other continuing attractions include a magnetic make-your-own-tweet board, a "Commander in Tweet" replica of the Oval Office where attendees can sit on a golden toilet, and a glossy black memorial to tweets that were "deleted but not forgotten."
Given the nature of Twitter (and, frankly, the president), the museum has expanded to allow for new material since its 2017 debut, such as the triptych of Trump's "very stable genius" tweets posted in January and, special to Los Angeles, a collection of his thoughts about the Emmys.
"I remember the first time I walked into the space. It was like walking into an FBI profile of a killer," Noah said with a smile. "You know, where they break someone's personality down? You can understand Donald Trump completely just from his tweets."
While a deep dive into the Trump psyche may sound like an intense endeavor for some, the creators of the library have — much like "The Daily Show" itself — aimed to give equal time to darkness and light.
"You will remember to laugh, and you will remember to be outraged and you will remember to be disgusted — I hope, at times or disappointed," Noah said. "It isn't overwhelming.
"If anything think of it like this," Noah continued. "We found a way to take a really spicy dish and intersperse moments of ice to just cool your palate."
See the most-read stories in Entertainment this hour »
Follow me over here @chrisbarton.
ALSO:
The Daily Show' honors the tweeter in chief with the Donald J. Trump Presidential Twitter Library
Jon Stewart defends Samantha Bee in return to stand-up at San Francisco's Clusterfest
The Trump era may have raised the stakes, but Clusterfest (and comedy) goes on
Get our L.A. Goes Out newsletter, with the week's best events, to help you explore and experience our city.
You may occasionally receive promotional content from the Los Angeles Times.