Appreciation: June Foray: From Rocky the flying squirrel to Cindy Lou who, she was a master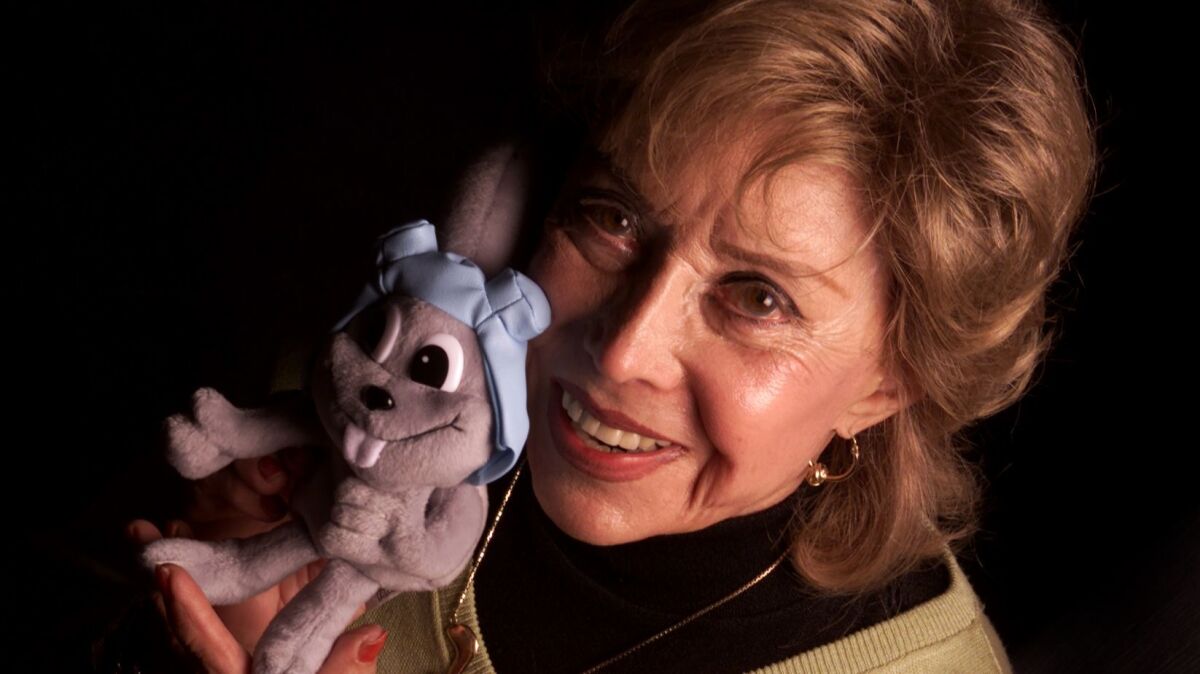 Television Critic
June Foray died Wednesday, just shy of her 100th birthday, taking with her Rocket J. Squirrel, Natasha Fatale, Nell Fenwick, Tweety's Granny and two different characters called Witch Hazel. She was their voice, and if a voice may be a light, the world is darker now.
Although Foray appeared in person on screen now and again — a petite, pretty woman, Rocky-sized — it was her gift, and her gift to us, to be heard and not seen. On radio, records and TV, in movies and video games, her career encompassed the full range of 20th and 21st century entertainment mediums. On top of that, she was the original voice of Mattel's Chatty Cathy and of the "Twilight Zone's" dark variation, Talky Tina.
Born in 1917, with the First World War in progress and American women still unable to vote, Foray grew up in a time when sound was experiment, innovation. The first decade of her life coincided with the birth and infancy of commercial radio, in which she began working while still in her teens. She turned 10 the year the movies learned to talk.
It was an age made for listening. It's often said that the stars of the movies' golden age had distinctive faces, but their sound was memorable as well. Bogart, Hepburn, Cagney, Dunne, Grant, Fields, Marx (Groucho, Chico, even Harpo with his horns and harp) are as easy to imagine in the ear as the mind's eye. Radio stars were no less recognizable for being disembodied.
Foray worked for Disney, Walter Lantz, Hanna-Barbera and Rankin/Bass; in later years, the-then industry legend popped up in "The Simpsons," "The Powerpuff Girls" and "The Marvelous Misadventures of Flapjack." She played straight roles in her time, but she was a comedian primarily.
Much of her work was ostensibly "for children." At the same time, she was the favored female performer of brainy talents like Stan Freberg (hear her as Queen Isabella and Betsy Ross on the album "Stan Freberg Presents the United States of America, Volume One"), producer Jay Ward (in various versions of "Rocky and Bullwinkle," in "George of the Jungle" and "Fractured Flickers") and animator Chuck Jones, who used her in Warner Bros. shorts but also as Cindy Lou Who in his "How the Grinch Stole Christmas" and as multiple characters in "The Phantom Tollbooth."
It is possible to be sure that I have heard Foray, whose credits all told run into the hundreds, and not recognized her. Yet just as screen stars are typically visible within the parts they play, great voice actors carry themselves from role to role – they are chameleons, but only up to a point. The actor stretches, dresses her sound appropriate to the part, the way a live-action actor will change her hair or wear a fake nose.
Screen credits were few; Foray, like most of her voice-work colleagues, was for most of her life anonymous to anyone but the fans. But even for those who can't place the names — Foray, Mel Blanc, Paul Frees, Frank Oz, Bea Benaderet, Daws Butler — the voices will be familiar.
What made her distinctive? There is a quality of youthfulness even in older characters, like Granny or Witch Hazel, a playfulness that cuts through the phlegm. She had range, literally, going low for Natasha, the semi-seductive Pottsylvanian spy, and high for Rocky, boy squirrel and skeptical hero. Witch Hazel, she said, she made "not evil at all."
Working into her 90s — she was awarded her first Emmy at 94, for "The Garfield Show" — she never sounded her age. The clock might have argued otherwise, but it was an argument Foray won, until the clock ran out.
Update: This story was updated to add the name Daws Butler, which had been inadvertently omitted from the list of voice artists above.
Follow Robert Lloyd on Twitter @LATimesTVLloyd
June Foray dies; voice actress behind Rocky the Flying Squirrel and scores of other characters
Stan Freberg: brainy, playful and a master of irony
Get our L.A. Goes Out newsletter, with the week's best events, to help you explore and experience our city.
You may occasionally receive promotional content from the Los Angeles Times.