Roseanne Barr apologizes, explains, jokes and so much more on 'Hannity'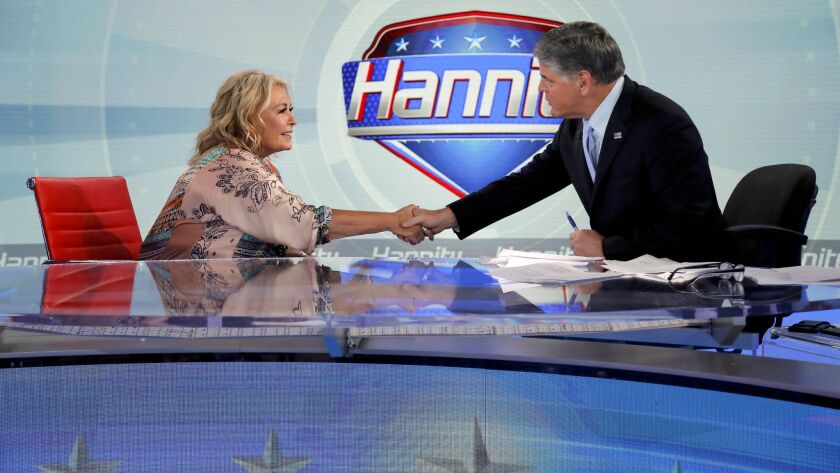 Television Critic
Roseanne Barr, the comedian, and Sean Hannity, the television host, both of whom have or have had shows named for them, sat down Thursday evening to have a talk. Hannity's self-named nightly Fox News show — that is, "Hannity" — was the venue.
That this was Barr's first "national television interview" since she was let go from the revived "Roseanne" in May — the series will go forward as the Barr-less "The Conners" — was moderately newsworthy in advance. But it is not the first time we have heard from her in the aftermath of a disastrous tweet comparing former Obama White House advisor Valerie Jarrett to a cross between a "Planet of the Apes" character and a member of the Muslim Brotherhood.
Barr has continued to express herself on Twitter, where she has 885,000 followers; in a 35-minute phone conversation with Rabbi Shmuley Boteach, recorded the day after the firing, posted as a SoundCloud podcast at the end of June, on which she expressed regret, blamed Ambien and tearfully tried to make it clear that she doesn't hate black people; and on her own, YouTube-based "The Roseanne Show."
There, in an introductory video, she welcomes viewers to "my own studio where I'm able to speak for myself to my fellow and sister Americans without the filter of the biased media," reiterates her statement that "I thought Valerie Jarrett was white," and lays her firing at the fact that "I voted for Donald Trump, and that is not allowed in Hollywood."
What was different Thursday is that "Hannity" has an audience of 3 million, where Barr's YouTube channel has a (still respectable) 53,000 subscribers, and the "Rabbi Shmuley" podcast a little more than 100,000 plays after a month, giving it measurable extra cultural weight.
Although Hannity told "Variety" beforehand that "nothing is off the table" in the Barr interview, one would not ordinarily have expected a penetrating interrogation, given the echo chamber that Fox News often presents, but a friendly platform. What's more, when it transpired toward the end of the interview, the two were already friends. And it was friendly certainly, though to be sure Hannity did press her a little here and there.
Though he promised, or warned delicate viewers against, controversy to come, in the end, it steered clear of hot topics, or at least ones that hadn't been worked over before. Much of it was a matter of Hannity trying different ways of asking if Barr understood why people were upset (he called her tweet "indefensible" in his introduction) and Barr repeating in different ways that she had been misunderstood; that she wasn't racist, thought Jarrett was white, and that she was for "the middle way" against the extremes on the left and right. She returned a few times to the question of "accountability where our tax money goes."
Mostly she wanted people to love one another. "I don't want to be one of the few," she said. "I want to be one of the many."
Hannity encouraged her to speak directly to Jarrett, or at least imagine what she would say.
Don't assume that you know what I meant because I think you don't know what I mean and I would like to make it clear to you what I did meant — mean.
Roseanne Barr
"Valerie, let's discuss this," Barr said to the camera. "Don't assume that you know what I meant because I think you don't know what I meant and I would like to make it clear to you what I did meant — mean."
But, she added of Jarrett, "She needs a new haircut."
"'People say that about me all the time," said the host.
The guest agreed, saying, "The part seems like it's in the middle too much."
They talked a little bit about her history with mental illness. ("You said once to Larry King that you suffer from multiple personality disorder," Hannity said. "I don't suffer from it anymore," Barr replied. "I enjoy it.")
More than once she described herself as a "creative genius": "I'm a creative genius and this is not a good feeling for an artist to be treated this way, and it's not a good feeling for a citizen either."
Hannity suggested she take her show on the road, maybe with Jarrett, to promote understanding. Without jumping on the idea, Barr hoped that "we could turn this into a really great teachable moment, where there's a lot of synthesis.… I'm tired of no solutions, Sean. That's why I like Trump, because I think he's a solution."
Barr finally said, "Sean, I've got to tell you one thing before you kick me out of here: I really appreciate you being such a good friend to me when I was hiding in my mom's basement."
"I remember."
"And I found cigarettes from when I was 13 and they were good smokin'"
The "Roseanne" edition of "Hannity" ended, leading to the show hosted by Laura Ingraham, who commented, "That was like dealing with some feral wild deal."
But it really wasn't.
Follow Robert Lloyd on Twitter @LATimesTVLloyd
---
From the Emmys to the Oscars.
Get our revamped Envelope newsletter, sent twice a week, for exclusive awards season coverage, behind-the-scenes insights and columnist Glenn Whipp's commentary.
You may occasionally receive promotional content from the Los Angeles Times.