TV Picks: 'Dobie Gillis,' 'Awesomes,' 'Casting By,' 'Broadchurch'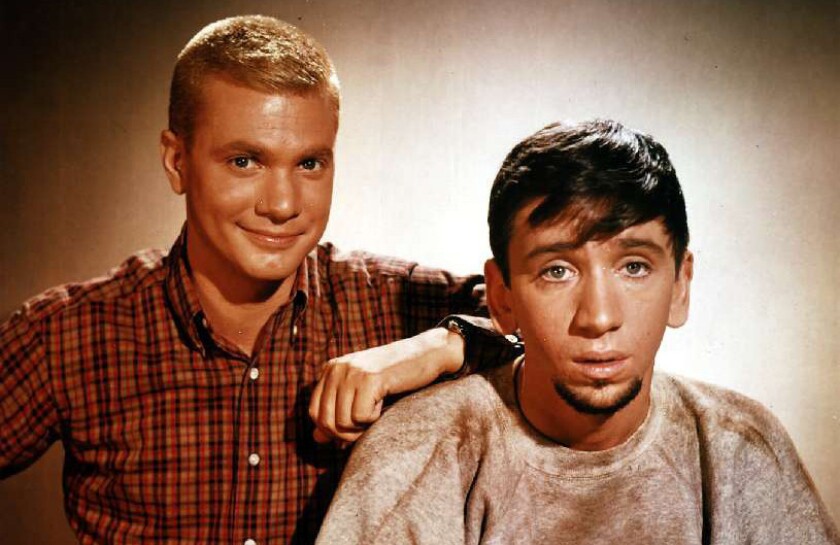 "The Many Loves of Dobie Gillis" (Shout Factory DVD). One of television's great comedies, collected completely: 20 discs, 147 episodes, immaculately transferred, compactly packaged. I mean to get around to speaking of its virtues at length in some future piece, but briefly: For all that we are living in a so-called Platinum Age of Television -- somebody said that once, and it seems to have stuck -- when personal expression is the order of the day, TV has 1) always been a writer's medium, expressive of individual vision, and 2) never lacked for talent. They may have had narrower lines and stricter rules to deal with in the olden Golden days, the envelopes may have not been the sort you could push very far -- as if that were a good in itself -- but works of pop genius, even crazy pop genius, are not exclusive to the post-"Sopranos" TV era. "The Many Loves of Dobie Gillis," the 1959-1963 CBS series in which Max Shulman adapted his short story collection of the same name -- a movie version, the 1953 "The Affairs of Dobie Gillis," with Bobby Van is less well remembered -- starred Dwayne Hickman as a perennially lovestruck high school (then a junior college) student. While the series nestled in the common settings of teenhood -- school, home, park, malt shop and the grocery store run by Dobie's parents, played by the alliteratively paired Frank Faylan and Florida Friebus (despairing and doting, respectively) -- it had a slightly surreal edge, and ran on highly musical dialog that mixed the archaically formal with contemporary (and invented) vernacular. Phrases like "not a smidgen of an iota of a chance" and "grapple me to your bosom" and "Unhand me, wench." The show is probably best known for Bob Denver's Maynard G. Krebs, America's sweet-tempered beatnik, but also featured, in its first year at least, Tuesday Weld as the money-minded Thalia Menninger and Warren Beatty as rich-kid Milton Armitage (replaced by Steve Franken's rich-kid Chatsworth Osborne, Jr.). Steadfast through the series was Sheila Kuehl (then Sheila James, later a California state legislator) as the smart and determined Zelda Gilroy, whom Maynard calls Small Girl and whose passion for Dobie is her great blind spot: "He's weak and bewildered and helpless; he needs me to guide his faltering feet." Some of these characters provided the model for the Scooby Gang, it has been acknowledged: Maynard for Shaggy, Zelda for Velma, Dobie for Fred, Thalia for Daphne.
"The Awesomes" (Hulu). The attack of the streaming networks continues, with two new Hulu series produced in-house: the animated superhero comedy "The Awesomes" and the semi-improvised Western comedy "Quick Draw." Both perform that half-twist, familiar from Adult Swim's "Venture Brothers" and Comedy Central's "NTSF:SD:SUV::" and FX's "Archer" and Joss Whedon's "Dr. Horrible's Sing-Along Blog," not to mention a pack of Mel Brooks films before them, in which heroes and villains are cast in an ordinary light, leading lives of banality, trivia and confusion. Starring and co-created by Seth Myers (with "Saturday Night Live"/"Jimmy Fallon" producer Michael Shoemaker), "The Awesomes" is a cartoon about a team of reject superheroes led by Myers' weak but smart Prock (for "professor doctor") in the wake of his famous superheroic father's leaving Earth to get some reading done. (It's "The Bad News Bears," formally, as so much is.) "Our bar is lower," teammate Muscle Man (Ike Barinholtz of "The Mindy Project") suggests as a motto. (His stopping for felafel on the way to a battle is a typical gag.) The marquee cast includes "SNL" personnel Taran Killam, Emily Spivey, Paula Pell, Kenan Thompson (as a hero who can embody his thoughts, but only in the form of his smothering mother) and Bill Hader as smooth, Montalbanesque supervillain Dr. Malocchio. As crush object Hotwire, Rashida Jones lights up the soundtrack, if such a synesthetic figure may be allowed; that Ann Perkins sweetness comes through. Given the talent, the jokes can be surprisingly creaky, but it's amiable enough. ("The Powerpuff Girls" was more radical.) It has an adult bent (bleeped expletives, sexual situations, a planet where everyone has breasts for eyes, some blood, a cute little lion-cub villain declaring "Silence, whore, or I will rip your throat from your gullet"). I suppose that's the point, but with a little surgery -- those aren't the best jokes in any case, and there aren't so many of them that the show would fall to pieces with their removal -- "The Awesomes" might be Fun for the Whole Family. And might be in any case, of course, depending on your family.
BUZZMETER: Emmy 2013 pundit's picks
"Casting By" (HBO, Monday). To someone who spends his life watching television -- professionally, friends, professionally -- it seems self-evident that casting is, if not, everything, then ... nah, it's everything. No idea, no matter how clever, no script, no matter how well written or directed, can flourish when the actors are wrong for the parts, or even not sufficiently right. The great casting directors can look into the future; they see before a film or pilot is made what everyone else will see afterward. Tom Donahue's zesty, clip-filled, star-studded documentary focuses on casting genius Marion Dougherty, whose career began in the beginnings of television, when it was a New York enterprise that looked to the theater, and took her eventually to Hollywood and executive positions at Paramount and Warner Brothers. She helped start the screen careers of James Dean, Robert Redford, Jack Lemmon, Robert Duvall, Glenn Close and Diane Lane; she suggested Jon Voight and Dustin Hoffman for "Midnight Cowboy," sent Gene Wilder in for Willy Wonka and matched Danny Glover with Mel Gibson in "Lethal Weapon." But it looks around in the process, especially to her Hollywood counterpart Lyn Stalmaster, the first casting director to get his own title card in an opening credit -- he was certainly the first casting director whose name I recognized the way I would a cinematographer or costume designer, though I also thought he was a she. (And this is, we learn, a professional dominated by women -- many trained by Dougherty.) Actors discuss their early failures and big breaks. It's also a story of changes in megacorporate Hollywood, with its desire for prettiness above all else. Taylor Hackford, then president of the Directors Guild, appears as the spoiler, who believes only directors should be called directors of anything at all, in movie credits, and that people who cast ("casting people") should not receive Oscars -- they don't -- because, because, because, because. Because he makes the decision. Other directors, including Woody Allen, Clint Eastwood, Martin Scorsese and George Roy Hill, with whom Dougherty worked repeatedly, prove less threatened by this well-established semantic convention.
"Broadchurch" (BBC America, Wednesdays). Premiering this week and already announced for an American remake. (This is the proverbial well enough that wants to be left alone.) A detective serial set on the dramatic Dorset coast, it stars David Tennant as a big-city cop in retreat from a previous public failure who winds up in the job Olivia Coleman had thought was hers. Immediately, there is a dead child at the bottom of a beachside cliff. There's much here that's standard for the genre: antagonistic partners learning to work together, ambitious journalists getting in their way, the dour mood that has become de rigueur for prestige crime series. And I have some thoughts about the ending we can discuss privately later. But the sense of place, quality of performance and natural dialog quash most qualms. (The seaside small town setting and richly pictured locals make it kind of a downbeat "Doc Martin.") Tennant, bearded and dark and seemingly thinner and pointier than ever, keeps memories of his beloved Tenth Doctor at bay; Coleman, who has a long history in British comedy (you can watch her now on Hulu as the sparky wife of Tom Hollander's "Rev"), is wonderful as a policewoman, wife, mother and mourner torn this way and that. Some other "Who" connections: Euros Lyn, who directed Tennant there, directs some episodes here, and Eleventh Doctor companion Arthur "Rory" Darvill appears as the local vicar -- suspicious, because that's just how it goes with vicars now. Plus another great performance from David Bradley (who'll play First Doctor William Hartnell in the upcoming docudrama "An Adventure in Space and Time"), as a man who keeps a shop, and (like everyone here) a secret.
PHOTOS: Real places, fake characters: TV's bars and eateries
CRITICS' PICKS: What to watch, where to go, what to eat
Violence in TV shows
---
Inside the business of entertainment
The Wide Shot brings you news, analysis and insights on everything from streaming wars to production — and what it all means for the future.
You may occasionally receive promotional content from the Los Angeles Times.