Paris Fashion Week: At Alexander McQueen, a return to wild romance
Alexander McQueen
(Zacharie Scheurer / Associated Press)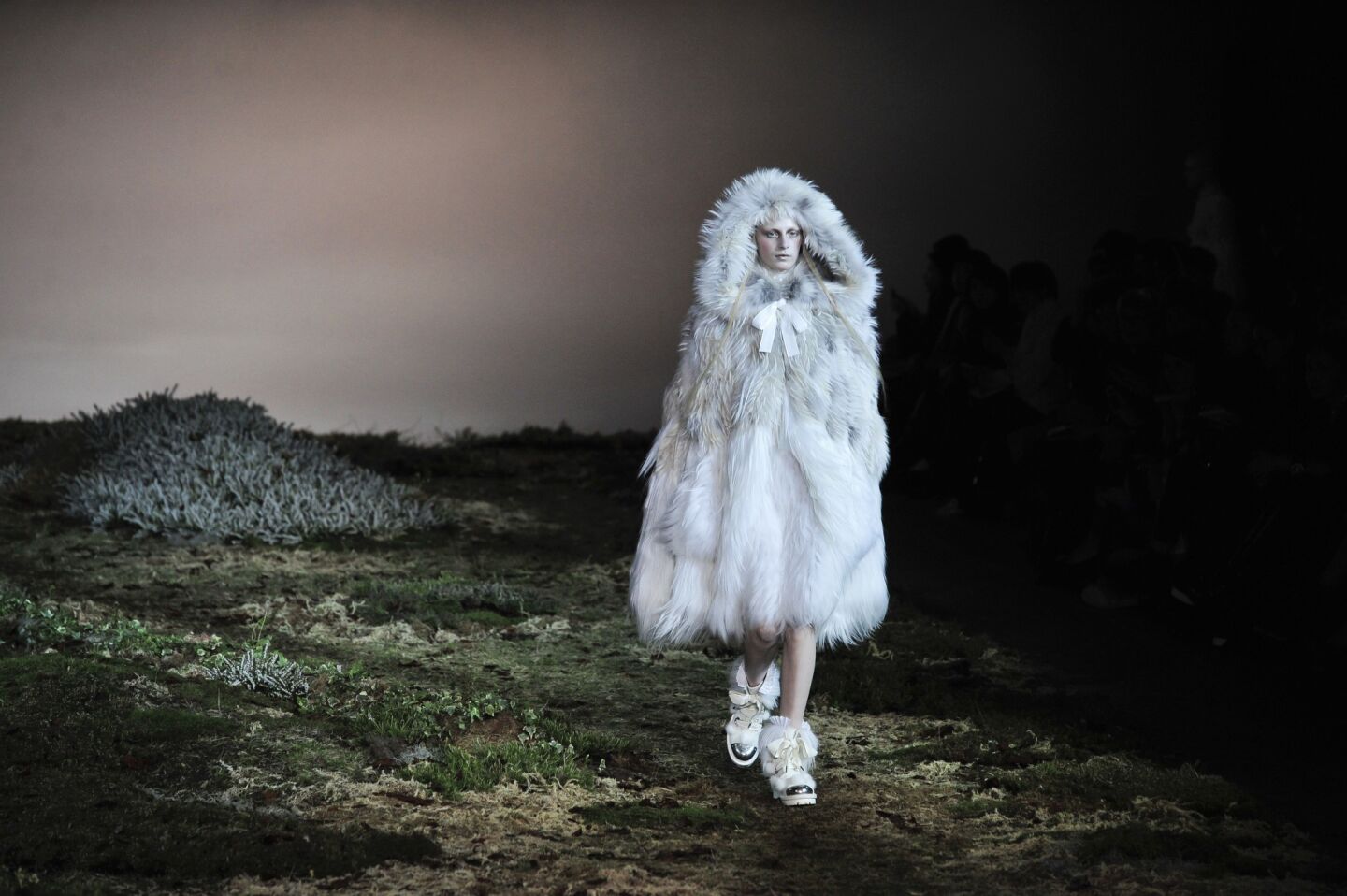 Alexander McQueen
(Zacharie Scheurer / Associated Press)
Alexander McQueen
(Francois Guillot / AFP/Getty Images)
Alexander McQueen
(Francois Guillot / AFP/Getty Images)
Alexander McQueen
(Francois Guillot / AFP/Getty Images)
Alexander McQueen
(Francois Guillot / AFP/Getty Images)
Alexander McQueen
(Francois Guillot / AFP/Getty Images)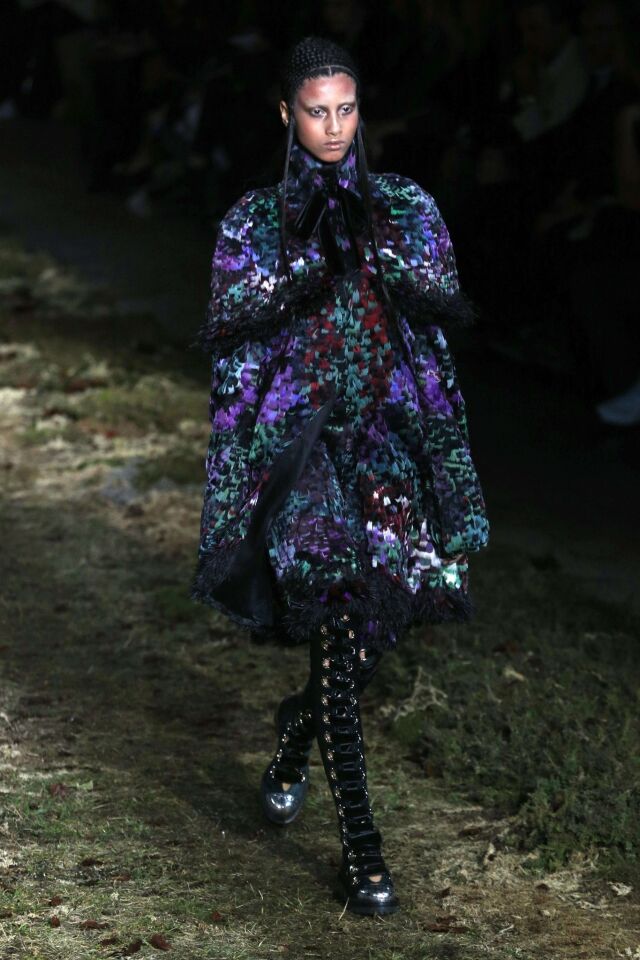 Alexander McQueen
(Francois Guillot / AFP/Getty Images)
Alexander McQueen
(Francois Guillot / AFP/Getty Images)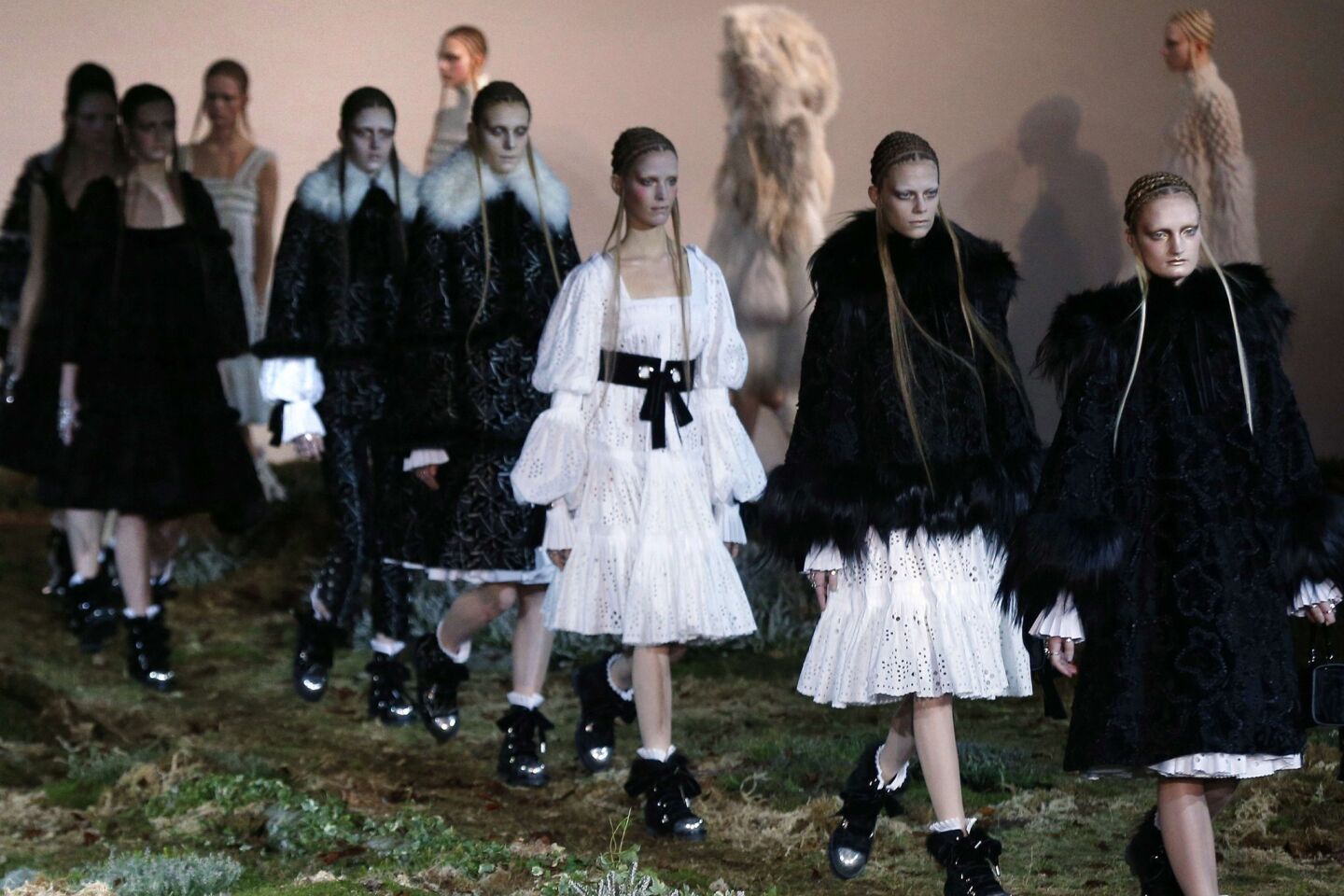 Alexander McQueen
(Francois Guillot / AFP/Getty Images)
PARIS -- The scent of damp moss in the air, models floating across the runway like fairy-tale heroines wandering the forest, filmy white gowns trailing behind them.
Designer Sarah Burton painted a wildly romantic picture at the Alexander McQueen show Tuesday night at Paris Fashion Week. And it was impossible not to fall under the spell.
According to the show notes, the inspiration for the collection was floral and nocturnal fauna, "Beauty and the Beast" and wild romance. You felt it from the first dresses in eyelets or silk chiffon that fell in soft tiers, worn with flat boots made for wandering. Ivy leaf velvet jacquard blouses with exaggerated white collars, paired with narrow cropped trousers, created a charmingly naive look. And supersized hooded fur coats finished with silk ribbons at the neck made the models look like mythical creatures, as did a downy soft dress decorated with tiny, hand-cut fur pom poms. There were gowns worthy of the red carpet, too, the best in deep forest green, covered in fraying organza and feathers.
Feathered "owl eye" makeup, silver acorn, ivy and oak leaf hand jewelry, and corn row hairstyles added to the storybook quality.
It was one of the best collections we've seen from the brand in some time — soft, spirited and organic, rather than stiff and engineered — more Burton than the label's late namesake designer McQueen. It seemed like a return to the vision that guided her design of Kate Middleton's extraordinary royal wedding dress, with all its traditional handiwork and pagan symbolism. A welcome homecoming.
ALSO:
At Givenchy, less street, more sophistication
Strolling the aisles of the Chanel supermarket
Saint Laurent collaborates with artist John Baldessari
---