Foie gras can go back on California menus, judge rules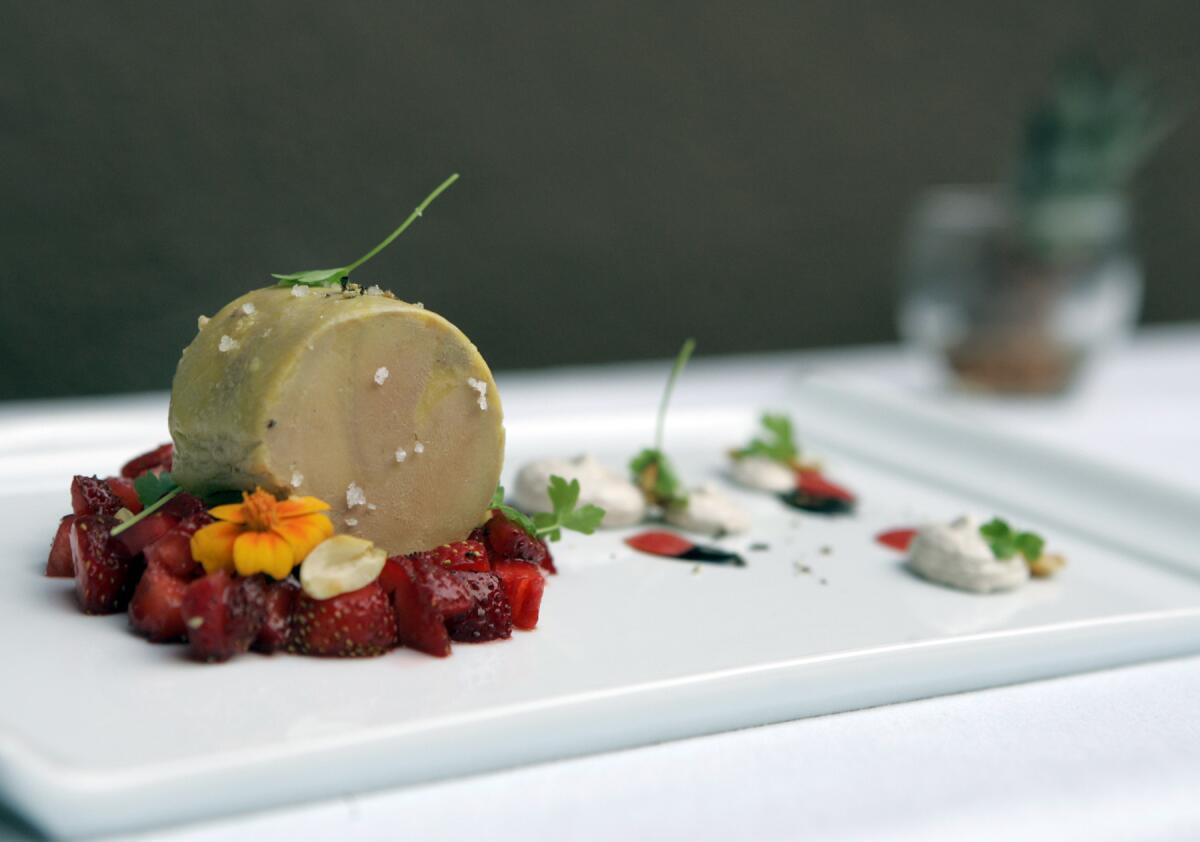 Foie gras can go back on the menu.
U.S. District Judge Stephen V. Wilson issued a ruling Wednesday overturning California's law banning the sale of the fatty goose liver.
"I've been jumping up and down for about 90 minutes," said Napa Valley chef Ken Frank, who was not a party to the suit, but has been active in the pro-foie-gras movement.
Foie gras was outlawed in California by a bill that passed the state Legislature in 2004 and went into effect in 2012.
The ban had been challenged by the Hot's Restaurant Group in California (which includes Hot's Cantina in Northridge, Four Daughters in Manhattan Beach and Hot's Kitchen in Hermosa Beach); Hudson Valley Foie Gras, a producer in New York; and a group of Canadian foie gras farmers called Association des Eleveurs de Canards et d'Oies du Quebec.
The judge ruled that the law was unconstitutional because it interferes with an existing federal law that regulates poultry products.
Last year, the courts rejected a different argument against the state ban -- that it improperly tried to regulate interstate commerce. But the new argument -- referred to by lawyers as "preemption" -- succeeded. The state could appeal Wilson's ruling, but, for now, foie gras devotees can celebrate.
"Foie gras is legal in California and will be on my menu tonight," said Frank, chef at La Toque restaurant. "I haven't been without foie gras a single day since the ban went into effect, but tonight is the first time I've been able to charge for it."
Frank had been sending diners complimentary servings of foie gras along with a glass of wine and a card explaining that "this is a gift and an act of political protest against a law we think is unwise."
"Tonight we're going to tear the cards up and have a hell of a party."
A coalition of animal rights groups, including the Animal Legal Defense Fund and the Humane Society, released a joint statement vowing to appeal. "The state clearly has the right to ban the sale of the products of animal cruelty, and we expect the 9th Circuit will uphold this law, as it did in the previous round of litigation. We are asking the California attorney general to file an immediate appeal."
Within hours of the ruling, chef Josiah Citrin at Melisse in Santa Monica had already sent an email to clients advising them that foie gras would be back on his menu as well. "I am very excited to have some culinary freedom back and be able to use one of my favorite products again," he told The Times.
Los Angeles chef Ludo Lefebvre of Trois Mec and Petit Trois, is also planning on adding it to his menu, though perhaps not as quickly.
"First and foremost I am very happy for my guests. I know the people of California have missed their foie," he told The Times. "Speaking as a French chef, it is an important ingredient and part of the legacy of French cooking, so I am thrilled to be able to add it to the menus of Petit Trois and Trois Mec."
"It has felt like a void for a couple of years, but I am an upstanding American citizen and did not want to break the law. I have already placed my order and as soon as I can get it, I will be putting seared foie gras on the menu at Trois Mec and a terrine on the menu at Petit Trois."
Chefs were burning up Twitter celebrating the ruling. "It feels a little like December of 1933," tweeted Providence chef Michael Cimarusti, referring to the end of Prohibition.
When asked whether foie gras would go on the menu at Animal, co-owner Jon Shook replied in a text: "Hell yea!! Friday night is the plan. All the product is coming in tomorrow and the foie will show up on Friday if everything goes right."
He added that diners could follow the the restaurant's Instagram feed @jonandvinnydelivery for details.
People for Ethical Treatment of Animals slammed the cheering in a statement from President Ingrid E. Newkirk: "Foie gras is French for 'fatty liver', and 'fathead' is the American word for the shameless chefs who actually need a law to make them stop serving the swollen, near-bursting organ of a cruelly force-fed bird.
"A line will be drawn in the sand outside any restaurant that goes back to serving this 'torture in a tin,'" it vows. "And whoever crosses that line identifies themselves with gluttony that cannot control itself even to the point of torturing animals."
Times staff writers David Lauter, David Pierson and Amy Scattergood contributed to this report.
Are you a food geek? Follow me on Twitter @russ_parsons1.
Get our L.A. Goes Out newsletter, with the week's best events, to help you explore and experience our city.
You may occasionally receive promotional content from the Los Angeles Times.