Scouting Report: At BatterFish, customizable fish 'n' chips is the way to go
Fish 'n' chips at Batterfish: fried battered cod with French fries and tartar sauce.
(Jo Stougaard)
There's battered bratwurst too.
(Jo Stougaard)
Customizable fish 'n' chips at BatterFish. Or you can have salad.
(Jo Stougaard)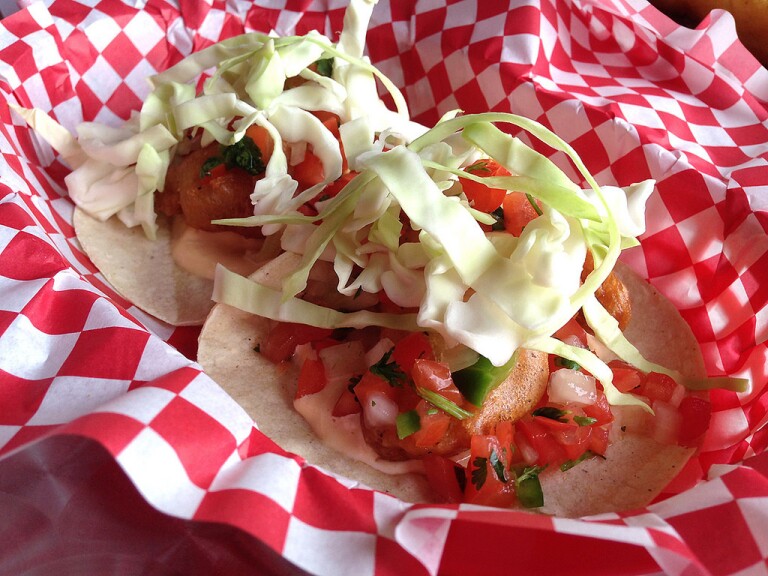 BatterFish's fish tacos with crema and salsa.
(Jo Stougaard)
Fish 'n' chips: catfish with chile batter.
(Jo Stougaard)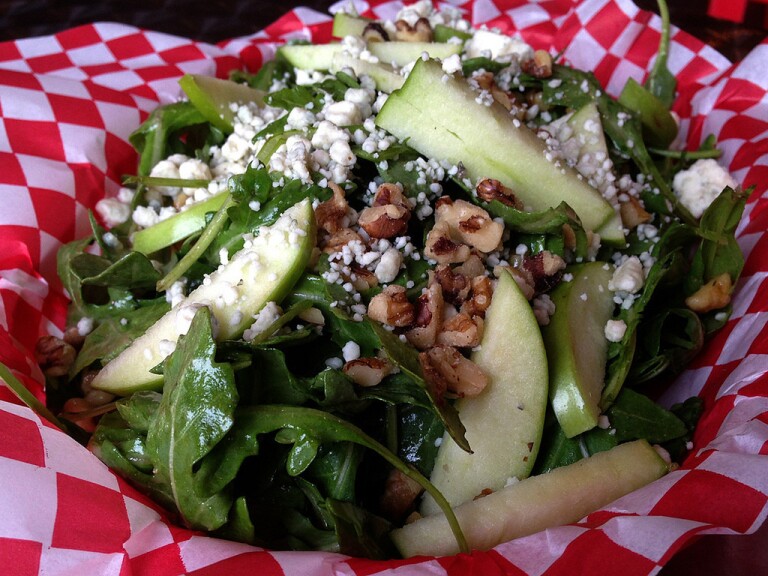 Arugula salad with green apples is a non-fish-'n'-chips option.
(Jo Stougaard)
Jason Killalee, chef-owner of BatterFish.
(Jo Stougaard)
The salmon fish 'n' chips with curry batter.
(Jo Stougaard)
The deep-fried Milky Way candy bar. Enough said.
(Jo Stougaard)
BatterFish bills itself as a modern fish 'n' chips shop.
(Jo Stougaard)
Name of restaurant: BatterFish, a modern fish 'n' chip shop in Encino
Chef: An actor originally from Ireland, chef-owner Jason Killalee has years of L.A. restaurant experience, including front-of-house duties at Bastide and Providence.
What dish represents the restaurant, and why? It's all about customization at BatterFish. Sure, you can go for the classic (well-executed) beer-battered cod and chips, but the menu options make for a fun, unique experience.
First, pick your fish (catfish, tilapia, cod or salmon). Next select a batter (chile, curry, lemon basil or garlic ginger). If you like it hot, go for the chile batter. It's not too spicy, just hot enough to warrant a dip through the house-made tartar sauce.
There are options for fries too. British "chips" are thick-cut Kennebec potatoes fried in beef fat. American-style fries are thinner and cooked in vegetable oil. And, yes there's a large bottle of malt vinegar on hand at the condiment/cutlery counter.
And it wouldn't be a true British chippy without a deep-fried candy bar. Instead of the usual Mars bar, BatterFish indulges with Milky Way and Snickers served with whipped cream.
Runner-up: There are some lighter options on the menu (this is L.A. after all) including grilled fish served with rice and vegetables, plus an arugula and apple salad that tastes surprisingly fresh for a fish 'n' chip shop.
Who's at the next table? A single woman waiting for a large takeout order and a young couple sharing lunch.
Appropriate for ... : Everyone.
Uh-oh ... : No beer (or wine) to help soak up all the deep-fried goodness.
Service: Friendly. They're trying hard to deliver an authentic chip shop experience.
What are you drinking? Diet Coke.
BatterFish, 16200 Ventura Blvd., Encino, www.batterfish.com. Closed Sundays. Free parking.
---
Get our weekly Tasting Notes newsletter for reviews, news and more.
You may occasionally receive promotional content from the Los Angeles Times.