Recipe: Wilted dandelion greens with bacon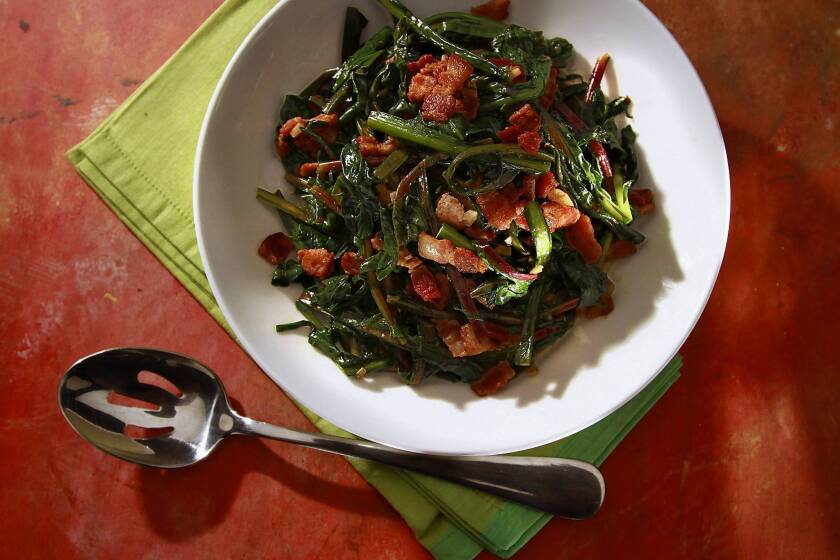 20 minutes. Serves 2 to 4.
1 tablespoon olive oil
3 slices applewood-smoked bacon, cut crosswise into ½-inch strips
3 cloves garlic, coarsely chopped
1 (1-pound) bunch dandelion greens, trimmed and torn into 3- to 4-inch strips
Salt and freshly ground black pepper
4 teaspoons sherry vinegar
1 1/2 to 2 tablespoons maple syrup
In a large sauté pan, heat the olive oil over medium heat. Add the bacon and cook, stirring occasionally, until the bacon is crisp and the fat is rendered. The last minute or so before the bacon is ready, stir in the garlic. Add the dandelion greens and remove from heat, stirring until the greens are wilted. Season with salt and several grinds of pepper, and stir in the vinegar and maple syrup. Taste and adjust the seasonings and flavorings if desired.
EACH SERVING
Calories 209
Protein 6 grams
Carbohydrates 17 grams
Fiber 4 grams
Fat 14 grams
Saturated fat 4 grams
Cholesterol 15 mg
Sugar 6 grams
Sodium 270 mg
---
Get our weekly Tasting Notes newsletter for reviews, news and more from critics Bill Addison and Patricia Escárcega.
You may occasionally receive promotional content from the Los Angeles Times.