Column: Repelled by tear gas and confusion, many migrants leave the caravan to return home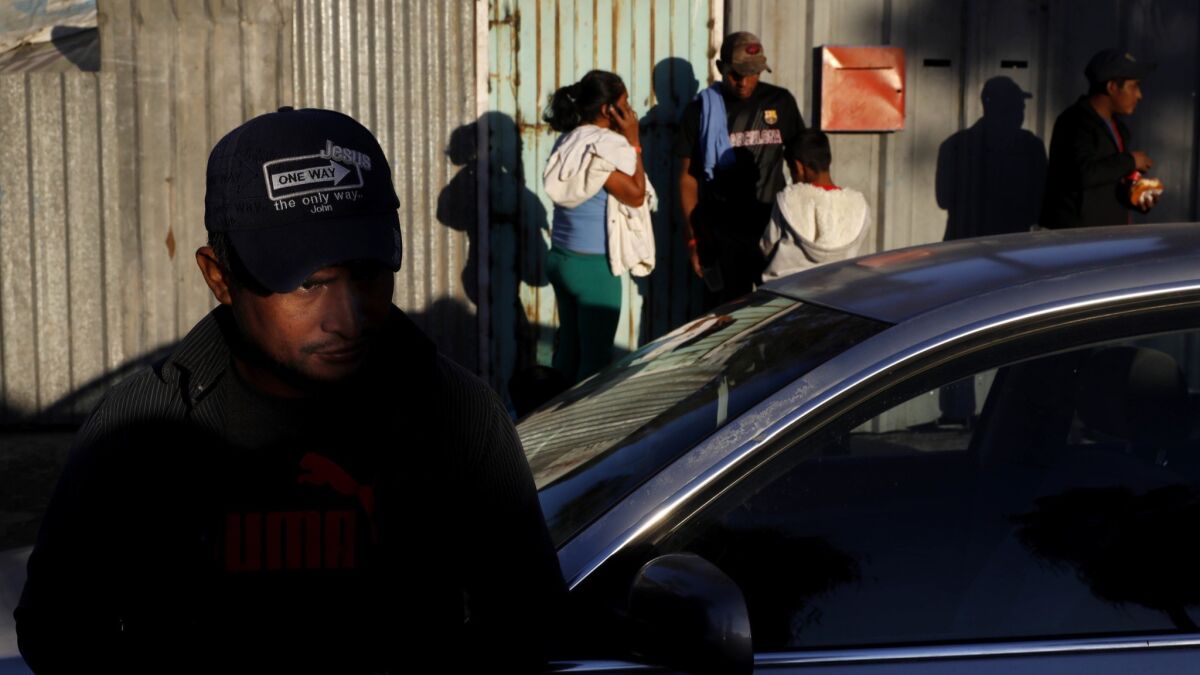 Reporting from Tijuana —
For hopeful migrants who traveled so many miles, the American border was supposed to be the beginning of a new life, not a return to the old one.
But the day after American authorities rained down tear gas on men, women and children who had tried to rush the border, the brutal reality hit home: America's fraying welcome mat has been replaced with coils of concertina wire.
For some migrants in the caravan, Sunday's spurt of violence, which seemed to have begun when a handful of migrants chucked rocks over the border fence, was too much. Hundreds, in resignation, decided Monday to take up the Mexican government's offer to return them to their Central American homelands.
"The situation has become very complicated, very bad, very difficult," said 27-year-old Irvin Javier Nolasco, who said he left Honduras to escape violent gangs and government corruption.
Nolasco, who had hoped to connect with relatives in Georgia, sat on a dusty sidewalk with a group of young men. He wore what looked like his Sunday best: a freshly laundered pink-and-blue plaid shirt, spotless jeans and black tennis shoes with a tiny Ferrari horse logo. His black hair was perfectly gelled, and a rosary of wood beads hung from his neck, a gift from someone in the sprawling shelter where he had spent the previous week. His belongings were crammed into a black plastic trash bag.
"You can't get a concrete answer, you can't trust anybody, it's very difficult to get asylum," said Nolasco, who was not among those who rushed the border fence on Sunday. "My family in Honduras are very worried."
To some, the end felt like failure.
"I wanted to find a better life," said 25-year-old Honduran Carlos Rivera, a construction worker who left home in mid-October. "I was very scared yesterday when they threw gas at us. We didn't expect anything like that. It was very dangerous."
::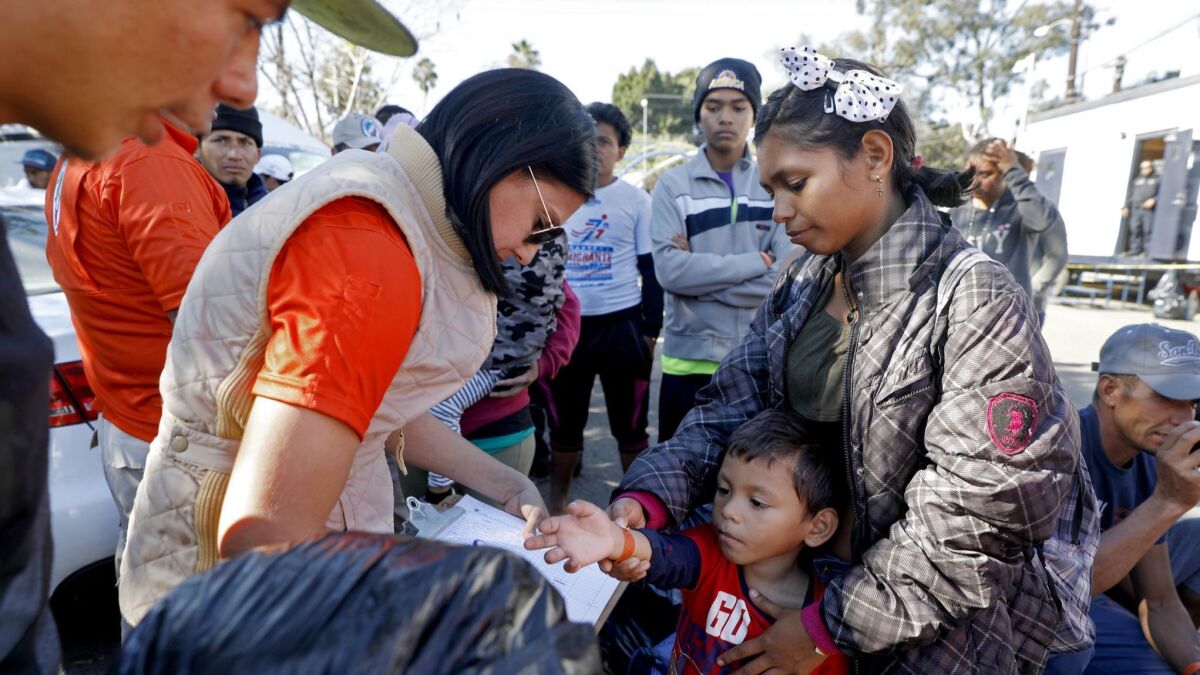 Inside the ad hoc shelter, which sprawls over a sports complex that includes a gymnasium and a baseball field called Little Padres, an estimated 2,750 people, including many families with children, are camping out. They are receiving food and medical attention, but there is really nothing to do but wait.
The problem is, the migrants don't know what they are waiting for. They want to cross the border and apply for asylum. But the Trump administration seems hellbent on changing American policy to keep them in Mexico while asylum claims are processed. No agreement has been struck with Mexico, which is inaugurating a new president on Saturday, and the lack of information is leading to a sense of desperation, which resulted in Sunday's chaos.
Security guards monitor the entrance to the complex, allowing in only migrants with orange wrist bands, aid workers and journalists, who are required to obtain a press credential from Tijuana City Hall and may only enter the shelter for one hour in the morning and 90 minutes in the afternoon.
Over the past week, as more migrants have arrived, open space in the complex has all but disappeared. Small tents crowd against each other in the dirt. Lean-tos have been MacGyvered from material as varied as garbage bags, blankets, branches, twigs and twine. To create privacy, some have even stretched tarps across rows of benches in the bleachers.
On the northern end of the baseball field, under the scoreboard, PVC-pipe showers have been erected in the open air, next to a long row of about 40 portable toilets, where the stench can be overwhelming. The ground is muddy around the showers, where men and boys soap up and rinse in their boxers and trunks. Women and girls have a little more privacy, thanks to some red plastic sheeting that has been nailed to a crude frame of two-by-fours.
Just feet away, on the other side of a fence, cars and trucks whiz by on Via Rapido, the highway that leads from the border crossing, along the concrete-lined Tijuana River, west to the beaches familiar to so many American tourists — Rosarito, Puerto Nuevo, Ensenada.
Next to the showers, a family washed its clothes on a wooden palette, scrubbing against the wood, then rinsing in a bucket. Clothes — wet and colorful, strung on lines — looked like Tibetan prayer flags.
This is a temporary and potentially unsanitary city of very tired-looking people, many with rattling coughs (especially children) and a swirling rumor mill that keeps everyone on edge.
If the rain predicted for Thursday arrives on schedule, this open-air community will become even more of a mess.
::
Outside the shelter, Mexican Marines served breakfast to a line of hundreds of migrants that stretched for two blocks. Many said they were shaken by Sunday's events, when a peaceful march from the shelter to the border turned into a melee.
"I had no intention of crossing," said Merlin Flores, a 32-year-old Honduran who is hoping to turn herself in to U.S. immigration authorities soon to request asylum.
Mexican government workers, in bright orange jackets, mingled among the migrants, offering advice. They work for Grupos Beta, a branch of Mexico's National Institute of Migration that is dedicated to protecting the human rights of migrants, regardless of immigration status. (They do not help migrants enter the United States.)
One staffer, who said he was not authorized to speak to the media, said he has told many of the migrants they have three choices now: Go home, and the Mexican government will arrange transportation. Get a job in Mexico. (A job center eight blocks from the shelter processed applications for migrants willing to work in maquiladoras.)
Or apply for asylum in the United States.
When I asked him how they are supposed to do that, he replied, "I am not sure. I hear there is a book."
The asylum process is shrouded in mystery and confusion. Some people put their names on a list in a book that is handed from one migrant to another, and hope that their numbers are called. Some don't trust the notebook.
What is much more efficient, as you might imagine, was the deportation process offered by Grupos Beta in Tijuana on Monday.
Nolasco was among the first group of migrants who volunteered to go home. In the Honduran city of San Pedro Sula, he will soon rejoin his wife and 18-month-old daughter. Around noon, his name was called by a woman with a clipboard. He clambered into a shiny white van. A pregnant woman got in. And a little boy with a new soccer ball.
As they drove away, I saw that someone had scrawled a single word in the dust on the van's side window: "Honduras."
Twitter: @AbcarianLAT
---