Mexico's next president thanks Trump for holding back on his 'offensive comments' about Mexicans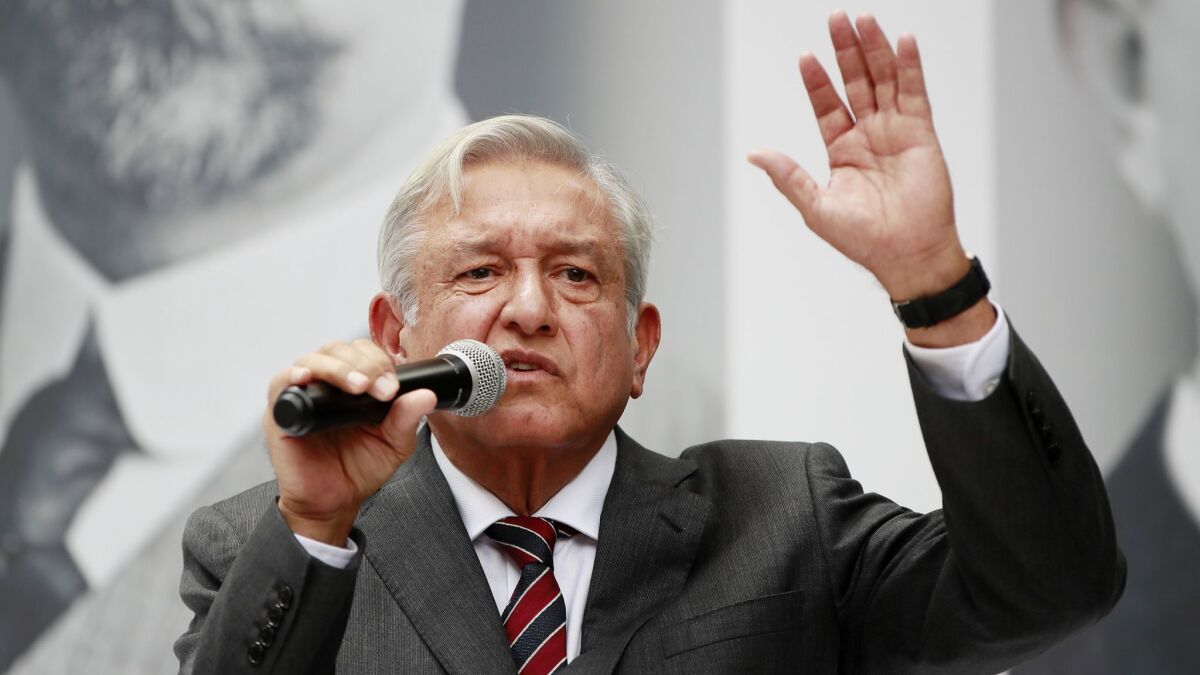 Reporting from Mexico City —
In an indication of how much U.S.-Mexico relations have deteriorated, a weeks-long pause in insults from President Trump apparently counts as progress.
"I appreciate the respect that President Trump has shown us," Mexico's president-elect, Andres Manuel Lopez Obrador, said Friday in a news conference. "I am also thankful that until now he has been very prudent in referring to Mexicans and has not made offensive comments. All of this I have to recognize and appreciate."
Lopez Obrador, who won the presidency in a landslide last month and is scheduled to take office in December, also said that progress was being made in the renegotiation of the North American Free Trade Agreement, the regional pact that Trump has repeatedly labelled a "disaster" for U.S. workers and industry.
Both countries have been trying to soothe the diplomatic discord that Trump began sowing even before he took office.
Mexico's outgoing president, Enrique Pena Nieto, twice canceled planned trips to Washington to meet Trump because of the U.S. president's demand that Mexico pay for his administration's planned wall on the U.S. side of the two nations' lengthy land border.
People here of all backgrounds and political outlooks remain outraged at Trump's characterization of Mexicans as criminals and rapists and his insistence that Mexico pay for the wall.
Many observers once predicted that Lopez Obrador's deeply nationalist stance and outspoken support for Mexican immigrants in the United States would put him on a collision course with Trump.
Now, thanks largely to Lopez Obrador's conciliatory tone, they are talking about a possible reset of U.S.-Mexico relations.
"We seek a very good relationship with the United States and with all the countries of the world," Lopez Obrador said on Friday. "We think we need a good neighborhood, to achieve a relationship of respect and cooperation for progress, and until now things are going well."
Trump telephoned Lopez Obrador to congratulate him the day after his victory in early July and subsequently called him "a terrific person." Both nations are talking "about doing something very dramatic, very positive, for both countries," Trump said last month.
Lopez Obrador, a leftist populist, has invited Trump to his inauguration.
And as Lopez Obrador noted Friday, there has been a noticeable absence of anti-Mexico comments and tweets from the U.S. president.
The most recent blow-up was in June, when Trump complained that Mexico has failed to act to stop U.S.-bound migrants and "is doing nothing for us except taking our money and sending us drugs."
In recent weeks, both Mexican and U.S. authorities have reaffirmed their desire to cooperate on a range of issues, including border security, drug trafficking and illicit immigration.
U.S. Secretary of State Michael R. Pompeo and other U.S. officials flew to Mexico in July and met with Lopez Obrador and his top advisors.
During the visit, Pompeo acknowledged that there had been "bumps in the road between our two countries," but said Trump was "determined to make the relationship between our peoples better and stronger."
Cecilia Sanchez of The Times' Mexico City bureau contributed to this report.
Twitter: @PmcdonnellLAT
---
Must-read stories from the L.A. Times
Get the day's top news with our Today's Headlines newsletter, sent every weekday morning.
You may occasionally receive promotional content from the Los Angeles Times.