Long Beach program prepares young adults with autism for jobs and self-sufficiency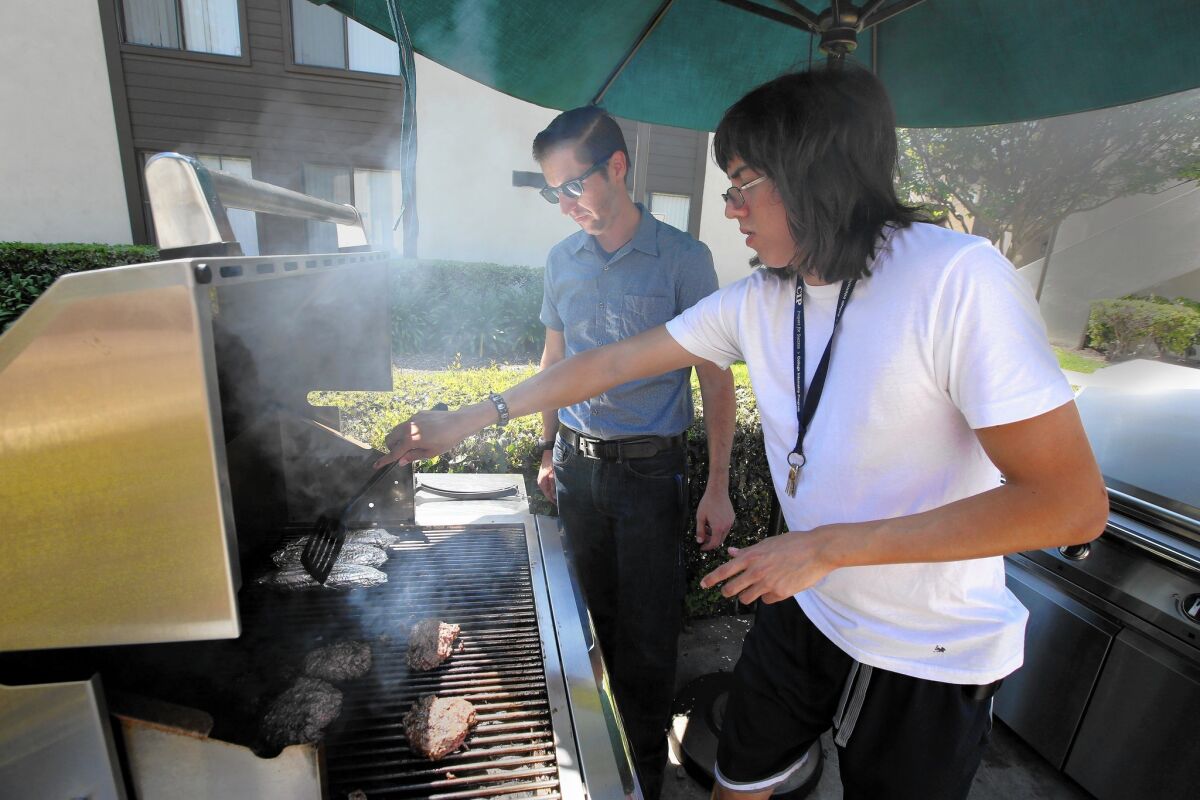 Alexander Ryan considers himself ambitious, and he's proud that he recently achieved a long-standing goal: landing a part-time job at T.J. Maxx and getting there on public transportation.
The 21-year-old from Encino credits his accomplishments, in part, to a program he became involved with soon after he was diagnosed, at age 17, with what was then known as Asperger's syndrome.
Called the College Internship Program, the nationwide effort was launched in 1984 to offer job training, social skills counseling and other services to help young adults with disabilities — including those on the autism spectrum — become as self-sufficient as possible.
The autism spectrum is a continuum of neurological disorders, including what used to be called Asperger's, that vary in severity but generally make it harder for people to communicate. About 1 in 68 children has been diagnosed as being on the spectrum, according to an estimate by the Centers for Disease Control and Prevention, and more than 83,000 Californians have some degree of autism.
The Long Beach program has taken on the specific challenge of helping young adults on the autism spectrum to prepare for the tough circumstances many face when they're no longer entitled to federally guaranteed services such as public school, behavioral therapy, speech therapy or special teacher's aides.
As soon as students with disabilities turn 22 or graduate high school, the federal education money for such services dries up. Although there is money for young adults with developmental disabilities, not everyone who needs it gets it, and people often have to wait. More than a quarter of adults on the autism spectrum don't receive any services, according to a national study Drexel University released in 2015.
In California, tax money trickles through regional centers — local hubs that help people with disabilities throughout their lives and sometimes fund programs such as the internship program that helped Ryan.
Join the conversation on Facebook >>
Long before Ryan learned that he was on the autism spectrum, he knew he was different. He attended a school in Sherman Oaks for students with disabilities. He always felt nervous, had trouble asking questions, and felt anxious saying "no."
The diagnosis, he said, changed his perspective. "It's actually more a gift instead of a curse," said Ryan, who has big blue eyes framed by glasses. "You get to see the world in a very different way."
Most of the 17 students in the Long Beach program that Ryan enrolled in live together in an apartment complex just off Pacific Coast Highway, where they learn to cook, manage their money, navigate the workplace and socialize. The ultimate goal is self-sufficiency. The program reports that 75% of its alumni are employed full or part time.
At T.J. Maxx, Ryan worked his way up from an internship and is now a sales associate, with duties such as stocking merchandise, unboxing clothing and helping customers. He aspires to be a storage representative for the company. One day, he might want to start a family, he says, but first, he has to figure out how strict a dad he should be. He also wants to learn how to drive.
Helping young adults with autism wrestle with questions of autonomy is a big part of what the Long Beach program does, Ryan and others said.
On a recent morning, a student sat with a teacher and read aloud a job description for a position at PetSmart.
"I'd be out on the floor most of the time," the student said.
"Do you feel comfortable doing that?" his teacher asked.
"Yes," he said. "I just need to learn about all the products."
Some lessons are less tangible.
Student Claire Bachman, 20, said she'd had a hard time at Agoura High School. She didn't feel close to people and didn't know how to talk in groups.
"I felt left out," she said, knitting her eyebrows between sentences as she held a squishy orange stress ball to soothe her nerves.
The Long Beach program, she said, taught her not only how to do laundry and get through classes at Long Beach City College but also how to relate to people.
"I try to forget about high school," she said. "I'm a different person now."
She knows about the stigmas associated with autism, and she can articulate precisely how she differs from many people her age: She twitches, her speech isn't perfect, she likes putting pressure on her knees, she said.
But she is learning how to work around her difficulties. "I really want to be a strong, independent woman," she said.
Twitter: @Joy_Resmovits
ALSO
Tens of thousands rally in Los Angeles to commemorate Armenian genocide
How California's U.S. Senate ballot could cause problems for the June 7 primary
Ex-L.A. City Atty. Trutanich failed to disclose witness ID while prosecuting a murder case, judge rules
The stories shaping California
Get up to speed with our Essential California newsletter, sent six days a week.
You may occasionally receive promotional content from the Los Angeles Times.