Where in Beverly Hills did Paul Manafort spend $500,000 on suits?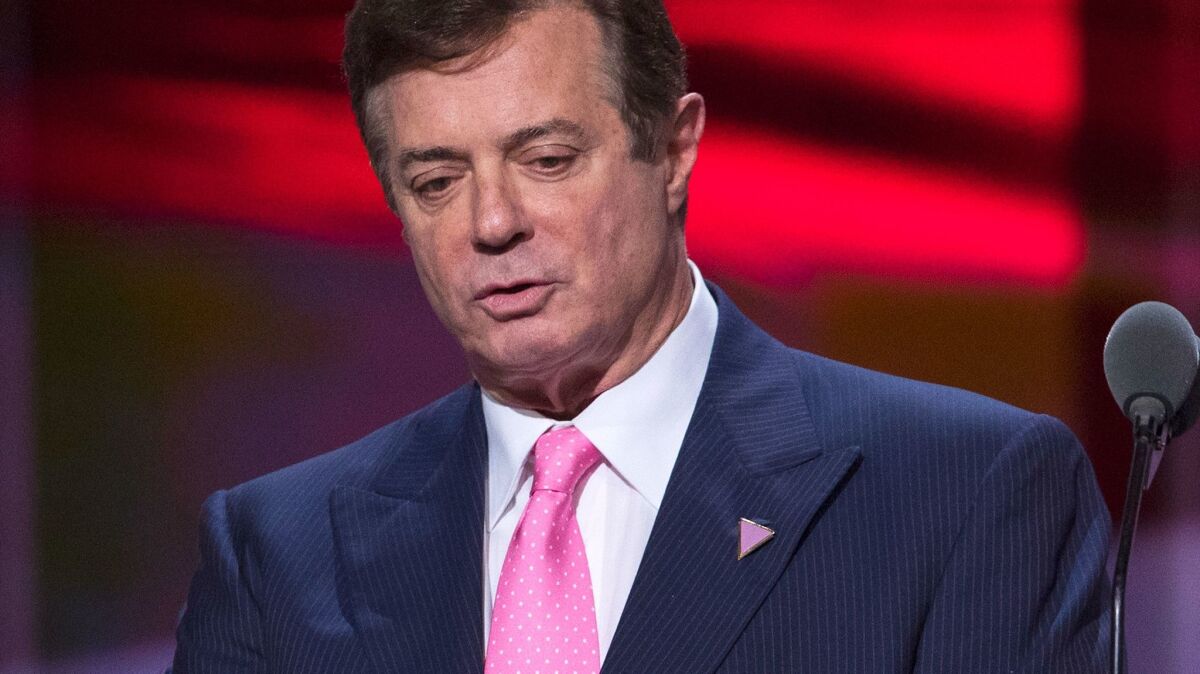 In Washington and around the world, the charges filed against President Trump's former campaign manager Paul Manafort on Monday stoked questions about Russian collusion and where the independent counsel's investigation would go next.
On Rodeo Drive in Beverly Hills, there was another question: Who sold Manafort more than $500,000 worth of clothing?
In a 31-page federal indictment filed in Washington, prosecutors alleged that the political consultant with Russian connections spent $12 million in untaxed income on a wealth of luxuries.
Among those items, prosecutors say, was $520,400 worth of clothes purchased from a Beverly Hills business identified only as "Vendor H." Manafort also spent $849,215 around the same time at an unnamed men's clothing store in New York, according to the indictment.

In Beverly Hills' ultra-luxury shopping district, it's easy to get sticker shock. Still, some merchants expressed disbelief that someone could spend that kind of money on clothes in a four-year period.
And despite Manafort's high name recognition, it was not exactly the endorsement anyone was looking for.
"To be honest, I stay away from politics," said Violet Pananyan, the owner of Antoine's Tailoring on North Beverly Drive, adding Manafort was not a client.
Clothier Battistoni was founded in Rome in 1946 and has had a presence in Beverly Hills for decades. Sales associate Rogier Bolleurs, wearing a gray pinstripe double-breasted suit, said an outfit there costs from $3,000 to $7,000. Its clientele is mostly older titans of industry, he said.
"If you are a fashionista, you need lots of money, because something new comes out every year," he said.
Across the street at Canali, the store manager, who declined to give her name, speculated Manafort may have shopped at "the big three." That's the nickname for the three department stores — Barneys, Saks Fifth Avenue and Neiman Marcus.
Those places carry a slew of different luxury brands, and also offer high-paying customers the ability to use a personal shopper.
As this reporter was leaving Canali, the sales associate tried to sell him a jacket but he demurred, saying it would've cost him about two months' rent.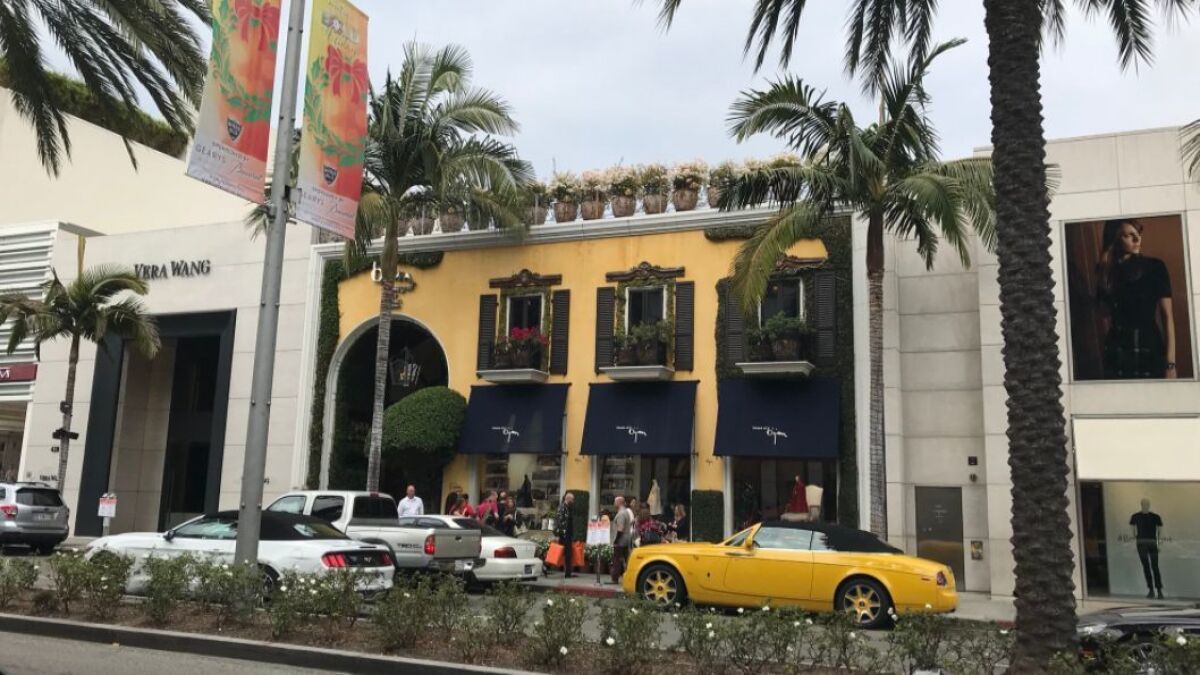 Isaia is an Italian brand founded in 1920 in Naples. An employee there speculated that Manafort shops at Bijan on Rodeo Drive.
Bijan has been called "the most expensive store in the world," where suits can go for $10,000, the employee said.
On Monday, a yellow Rolls-Royce convertible sat outside Bijan. In the window were photos and testimonials from former Presidents George H.W. Bush, Clinton and Obama.
A receptionist said to call the manager, who said: "I'm sorry, but I'm not able to help you."
A block down at Ermenegildo Zegna, there was another polite "no comment." The manager said the store does not provide customer information. The story was the same at Brioni.
According to one of Manafort's former business partners — and a well-known sartorialist — the defendant's tastes lean more toward the continental than Savile Row.
"He favored an Italian style of tailoring with higher armholes, which is more fitted in the body," said the self-described political dirty trickster Roger Stone.
Stone said that he didn't know where Manafort had shopped in recent years but that his former partner "had excellent taste when it came to suits and ties."
However, Stone said he questioned the quality of the tailoring.
"In my mind they never quite fit properly," Stone said. "The style of your suit needs to fit your physique."
When Stone and Manafort went into business together in 1980 with political consultant Charles Black Jr., Manafort was said to favor threads from Charvet Place Vendome, a high-priced Parisian tailor.
There had been hints that Manafort's fashion choices could be an element of the federal investigation. The New York Times reported that in July, when federal agents executed search warrants on the political consultant's Virginia home, they entered his closet and took pictures of the pricey suits.
Stone added that if he were ever to come under the microscope of investigators, and there are reports that he is, he doesn't worry his suits will cause him any trouble.
"I can't imagine what would be illegal about my suits," Stone said. "They don't violate the laws of good taste.... There's never an excuse for being poorly dressed."
Twitter: @boreskes
ALSO
Three of Trump's former top campaign aides face criminal charges in dramatic expansion of Mueller inquiry
Trump campaign chief led lavish lifestyle but hid tens of millions from taxman, prosecutors say
Indicted aide sought major role in Trump campaign, offered to broker Putin meeting
White House Chief of Staff John Kelly brushes aside Trump aide charges, wants investigation of Hillary Clinton
---
The stories shaping California
Get up to speed with our Essential California newsletter, sent six days a week.
You may occasionally receive promotional content from the Los Angeles Times.