'Just Say No' anti-drug campaign helped define Nancy Reagan's legacy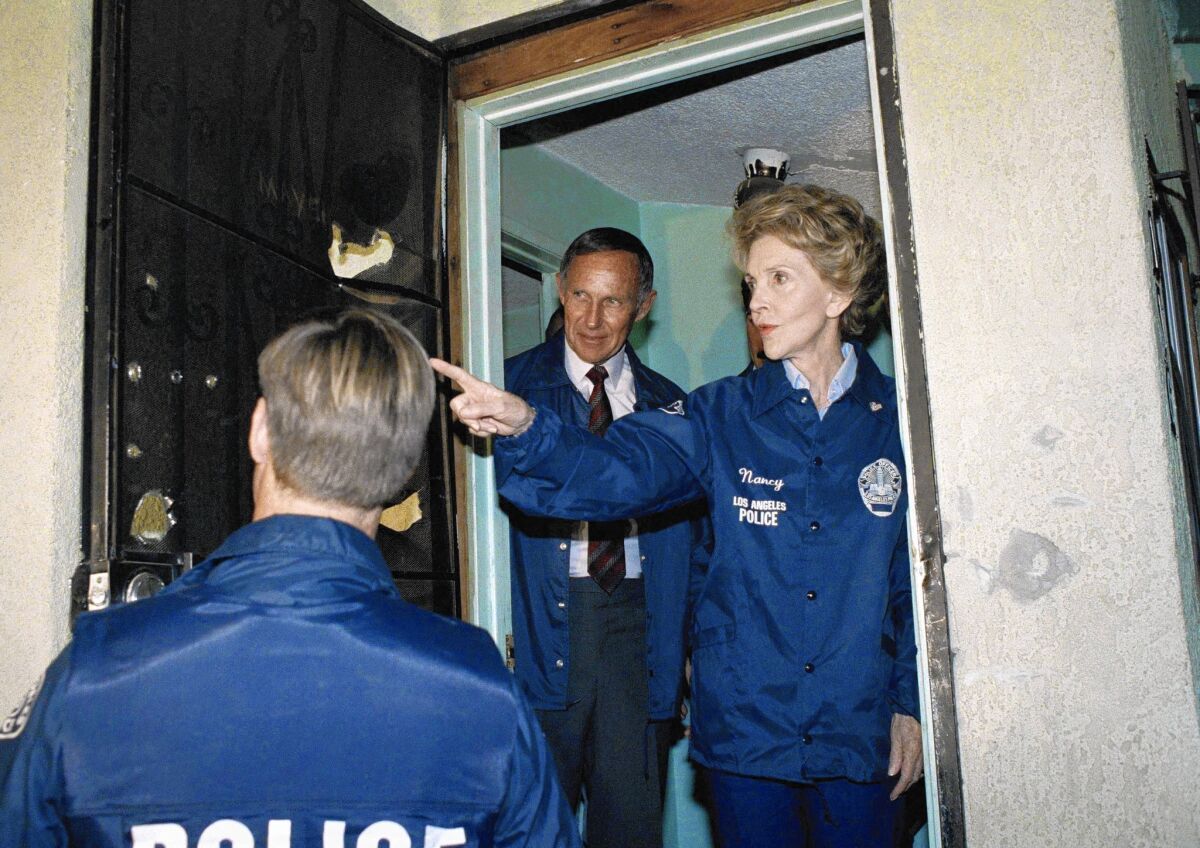 Drugs already had a strong grip in Compton High School when Maple Cornwell became assistant principal in 1983. Crack cocaine was just making its debut.
Educators had few tools to fight what would quickly turn into an epidemic.
Into this void came the voice of Nancy Reagan, with a message for children around the nation: "Just Say No."
The campaign against drugs became Reagan's most memorable achievement — lauded by some for showing the destruction addiction wrought, condemned by others who say it helped lead to mass incarceration and demonized black communities, and shrugged off by many who thought the message was naively simplistic and ineffectual.
"I don't think students really got the message," Cornwell said.
She said the pull of drugs was just too strong: "I think once drugs started to come in, it just took over students' mind-sets, it took over their goals."
From the early days of her husband's presidency, Nancy Reagan decided to focus on the anti-drug cause. She said she came up with the name of her campaign at a meeting with schoolchildren in Oakland, when a girl asked her, 'Mrs. Reagan, what do you do if somebody offers you drugs?'"
"Just say no," the first lady replied.
Schools around the country formed "Just Say No" clubs, in which students did community service and made pledges to not try drugs. The refrain became the mantra of the anti-drug movement and greatly raised Reagan's profile as first lady. She appeared on hit shows such as "Dynasty" and "Diff'rent Strokes" to deliver her message and made hundreds of appearances around the country.
"Without Nancy Reagan, there would not have been the public climate to support drug abuse prevention," said Ivy Cohen, president of the Just Say No Foundation from 1987 to 1997. "She galvanized attention to the issue."
In 1981, when President Reagan took office, more than 1.3 million people tried cocaine for the first time, according to estimates from the Office of National Drug Control Policy. In 1991, that number was down to below 500,000.
Join the conversation on Facebook >>
Dr. Herbert Kleber, director emeritus of the Columbia University Division on Substance Abuse, said tolerance of drugs in the 1960s and 1970s had led to vast abuse. Even among circles of professionals in staid suburbia, lines of cocaine were laid out at parties much as their parents had mixed highballs.
Kleber said Reagan's campaign probably helped change public opinion a notch, but many other factors did as well. The death of star college basketball player Len Bias of a cocaine overdose in 1986 shocked many people unaware of the stimulant's dangers. And the crack cocaine epidemic and the gang warfare that came with it ripped apart neighborhoods and revealed to America deeply destructive aspects of illegal drug use.
"My experience is 'Just Say No' wasn't terribly effective," Kleber said. "But it was better than not doing it."
In 1989, no longer first lady, Reagan came to Los Angeles to boost her image as an anti-drug crusader. With dozens of reporters in tow, she and Police Chief Daryl F. Gates watched as officers stormed a suspected "rock house" in South Los Angeles.
American actor and future president Ronald Reagan (1911 - 2004) sits with his wife, actress Nancy Reagan, as the par talk with fellow actor and future US Senator George Murphy (1902 - 1992) at the premiere of 'High Society,' July 1956. (Photo by Pictorial Parade/Getty Images)
(Pictorial Parade / Getty Images)
Nancy and Ronald Reagan, with running mate George H.W. Bush and his wife, Barbara, are cheered by delegates at the Republican National Convention in July 1980. "Reagan knew where he wanted to go, but she had a better sense of what he needed to do to get there," biographer Lou Cannon said of Nancy Reagan.
(Joe Kennedy / Los Angeles Times)
The Reagans attend a 1980 reception in their honor in Los Angeles with Los Angeles Times Publisher Otis Chandler and his mother, Dorothy.
(Lennox McClendon / Associated Press)
The Reagans prepare to return to Washington from Point Mugu Naval Air Station after a Memorial Day vacation in California in 1981.
(Joe Kennedy / Los Angeles Times)
The Reagans with music legend Ray Charles at a musical salute in Washington in March 1983.
(Ira Schwartz / Associated Press)
Nancy Reagan holds Chinese leader Deng Xiaoping's hand during a 1984 visit to Beijing. The first lady took an active role in advising President Reagan on policy matters.
(Scott Stewart / Associated Press)
The president and first lady visit the terra cotta soldiers archeological site during their 1984 China trip.
(Bob Daugherty / Associated Press)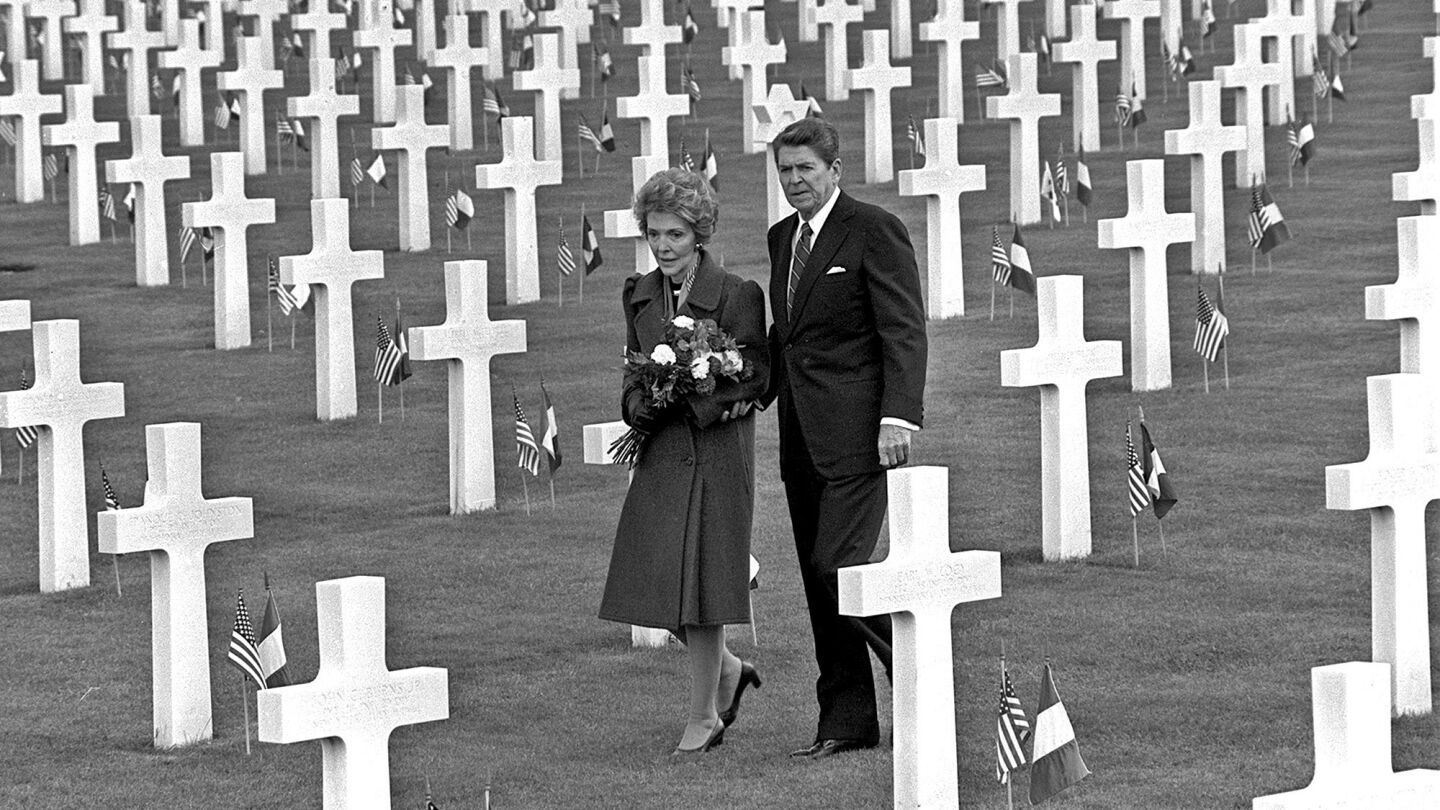 The Reagans walk through Normandy American Cemetery above Omaha Beach in northern France on June 6, 1984, the 40th anniversary of the D-day invasion.
(Bob Daugherty / Associated Press)
President Reagan and First Lady Nancy Reagan at a New Orleans luncheon in August 1988.
(Mike Sargent / AFP/Getty Images)
The former president and first lady arrive for the premiere of Andrew Lloyd Webber's "Sunset Boulevard" in Los Angeles in December 1993.
(Chris Martinez / Associated Press)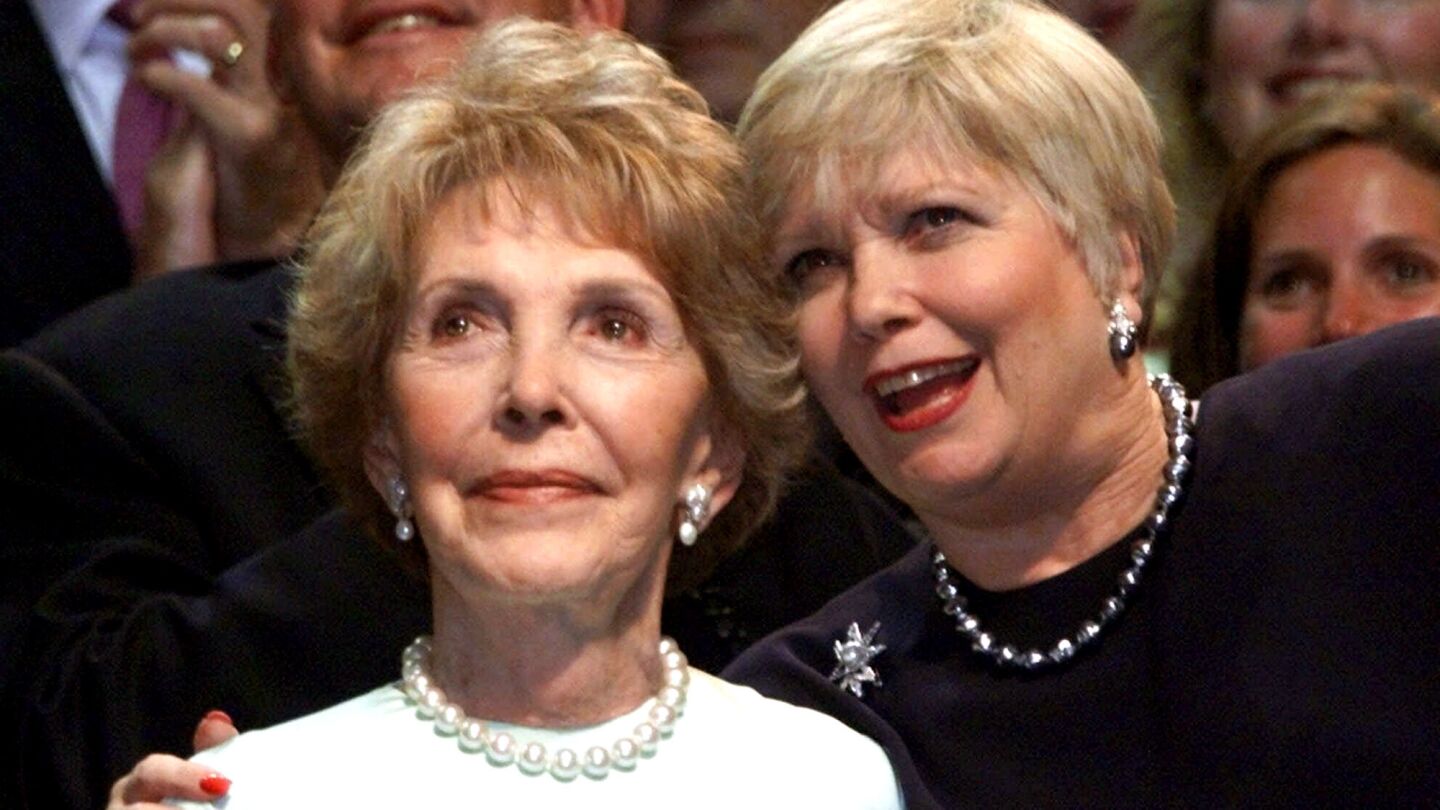 Nancy Reagan with stepdaughter Maureen at the 2000 Republican National Convention in Philadelphia, a year before Maureen's death from skin cancer.
(Hillery Garrison Smith / Associated Press)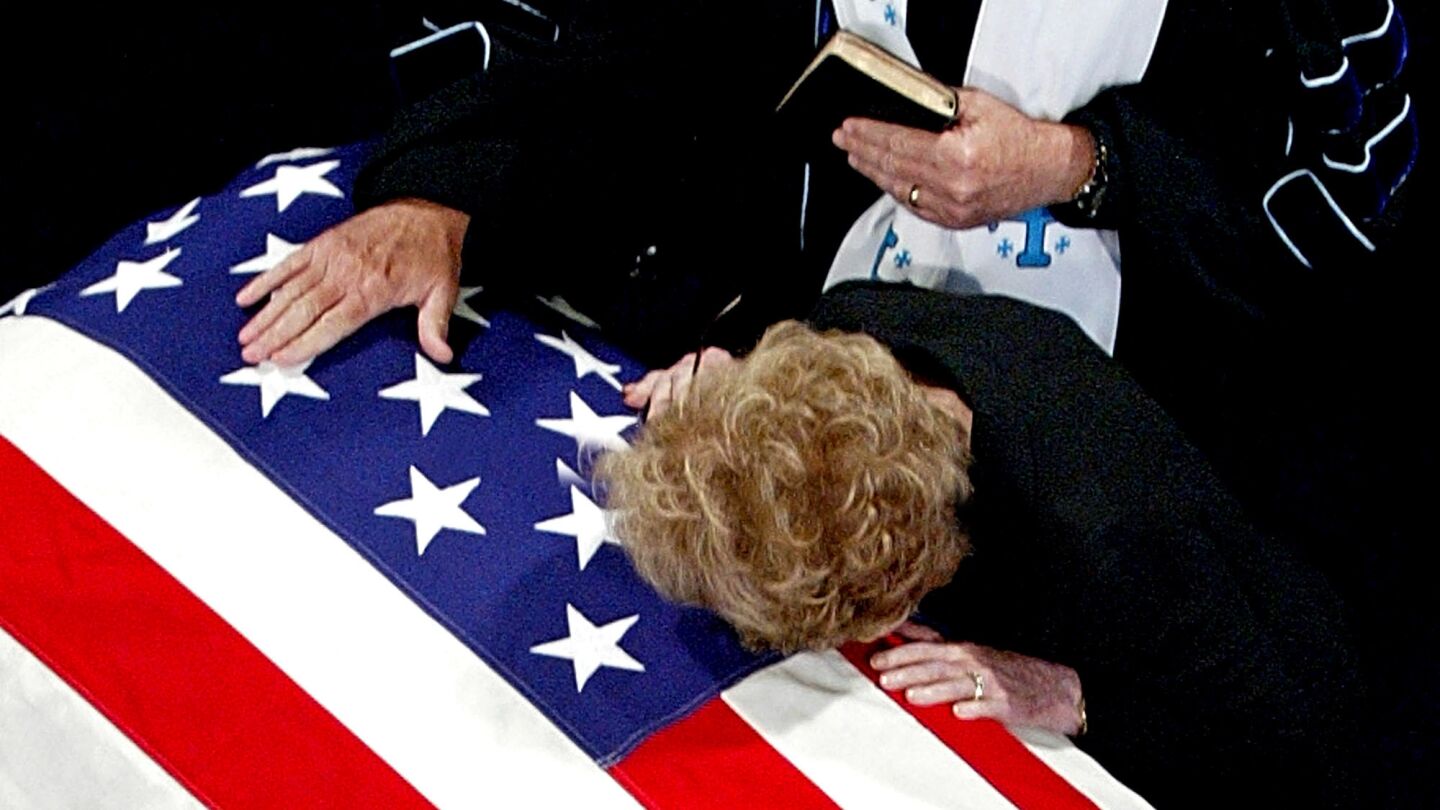 The former first lady lays her cheek on Ronald Reagan's casket after his death in 2004. His Alzheimer's diagnosis led her to become an advocate for stem cell research and hastened a reconciliation between her and her children.
(Bryan Chan / Los Angeles Times)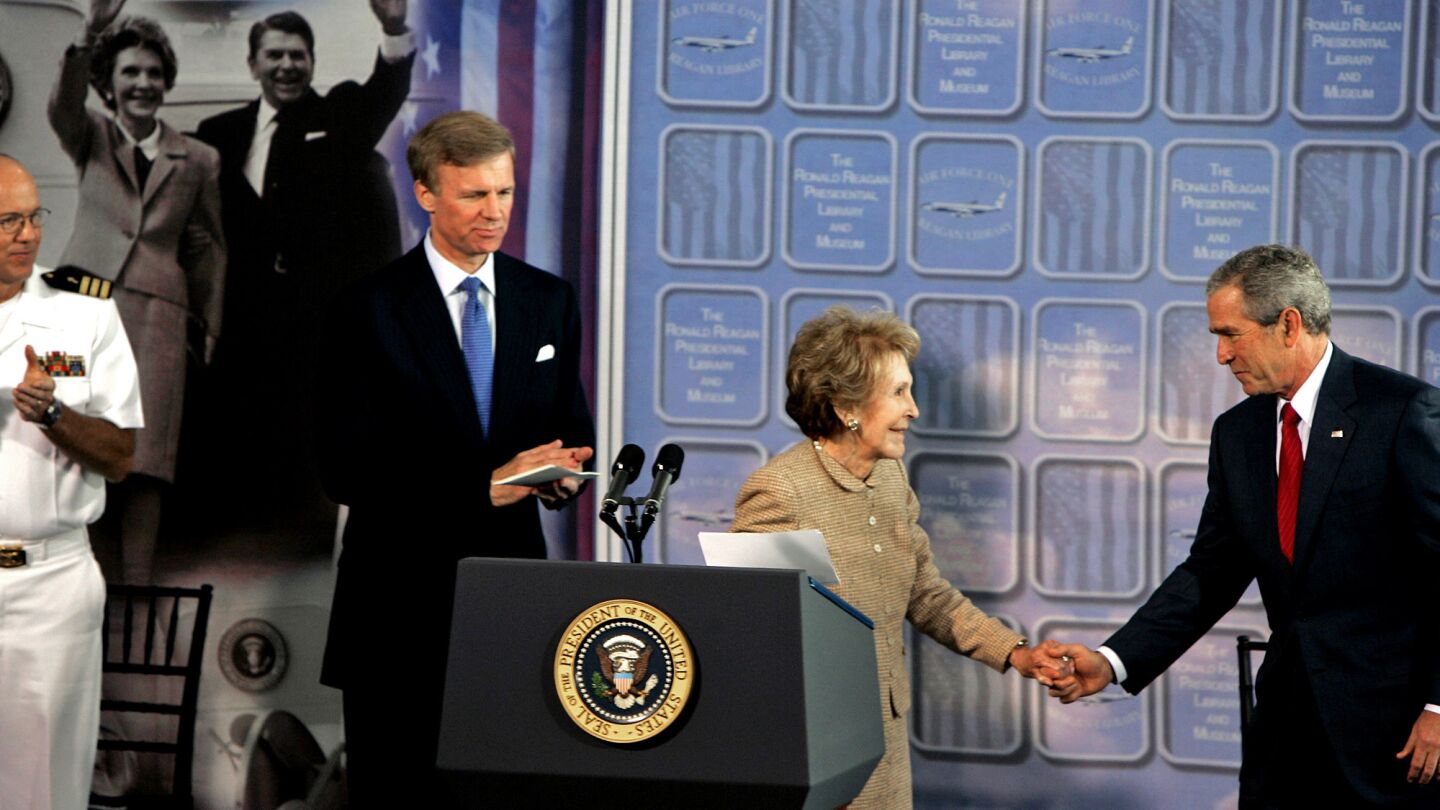 Nancy Reagan with President George W. Bush in 2005 at an Air Force One exhibit at the Ronald Reagan Presidential Library in Simi Valley.
(Brian van der Brug / Los Angeles Times)
Gov. Arnold Schwarzenegger and his wife, Maria Shriver, with Nancy Reagan at a ceremony commemorating the 40th anniversary of Ronald Reagan's first gubernatorial win.
(Anne Cusack / Los Angeles Times)
The First Lady's in front of the Red Dress display. First Lady Laura Bush and former First Lady Nancy Reagan participated in the Heart Truth Roundtable at the Reagan Library in Simi Valley on Wednesday, February 28, 2007. Later they visited students at Balboa Magnet School in Northridge who are part of a National Park Service program.
(Stephen Osman / Los Angeles Times)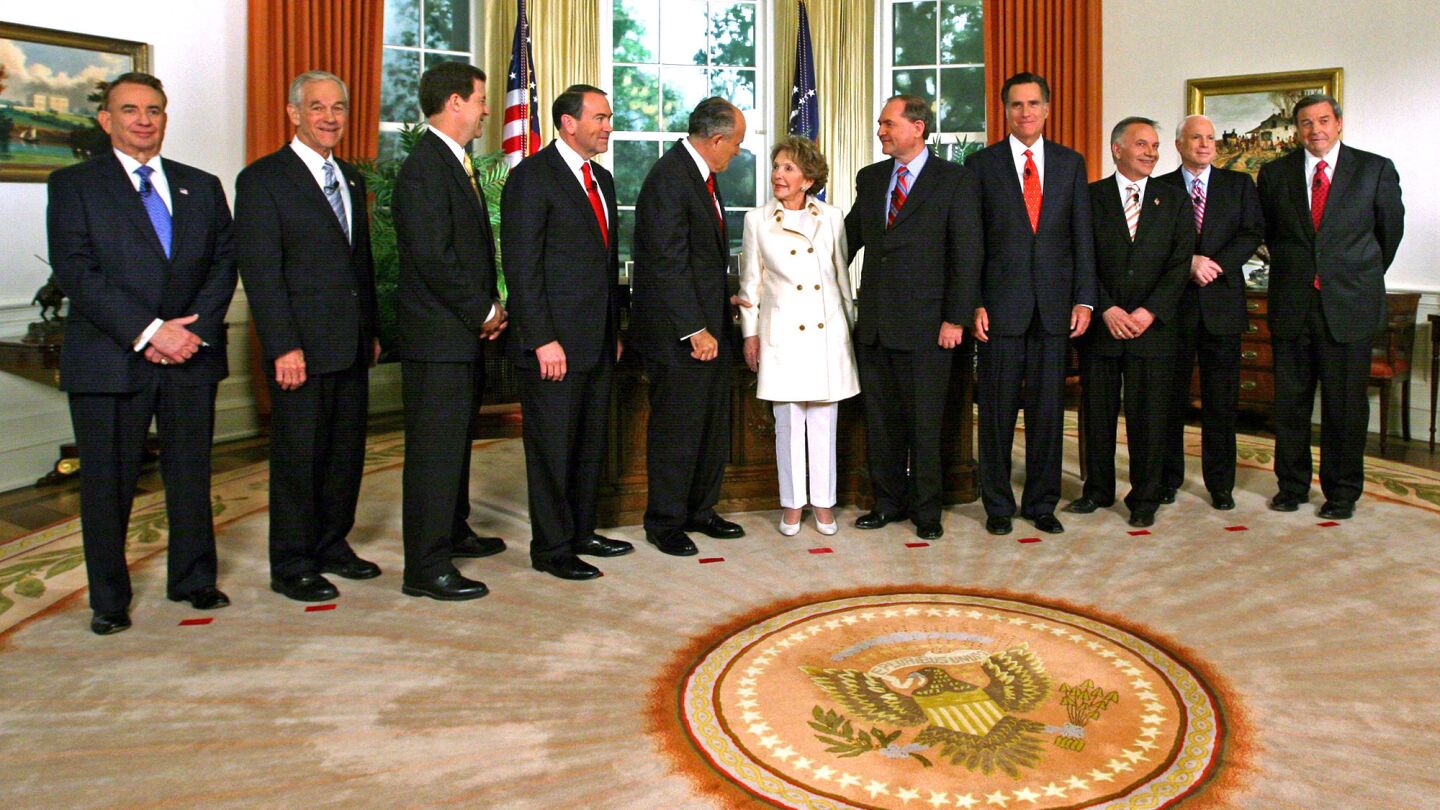 Nancy Reagan poses with the 2008 Republican presidential candidates after their May 2007 debate at the Reagan Presidential Library in Simi Valley.
(Robert A. Reeder / Associated Press)
Vice President Dick Cheney escorts the former first lady at a white-tie dinner for Britain's Queen Elizabeth II at the White House in May 2007.
(Pool / Getty Images)
In May 2007, Nancy Reagan holds a copy of the newly released "Reagan Diaries," which chronicles her husband's two terms in the White House.
(Stephen Osman / Los Angeles Times)
Nancy Reagan is joined by California Gov. Arnold Schwarzenegger and Assemblyman Martin Garrick (R-Carlsbad), left, at a signing ceremony for two bills honoring her late husband at the Reagan library in Simi Valley.
(Al Seib / Los Angeles Times)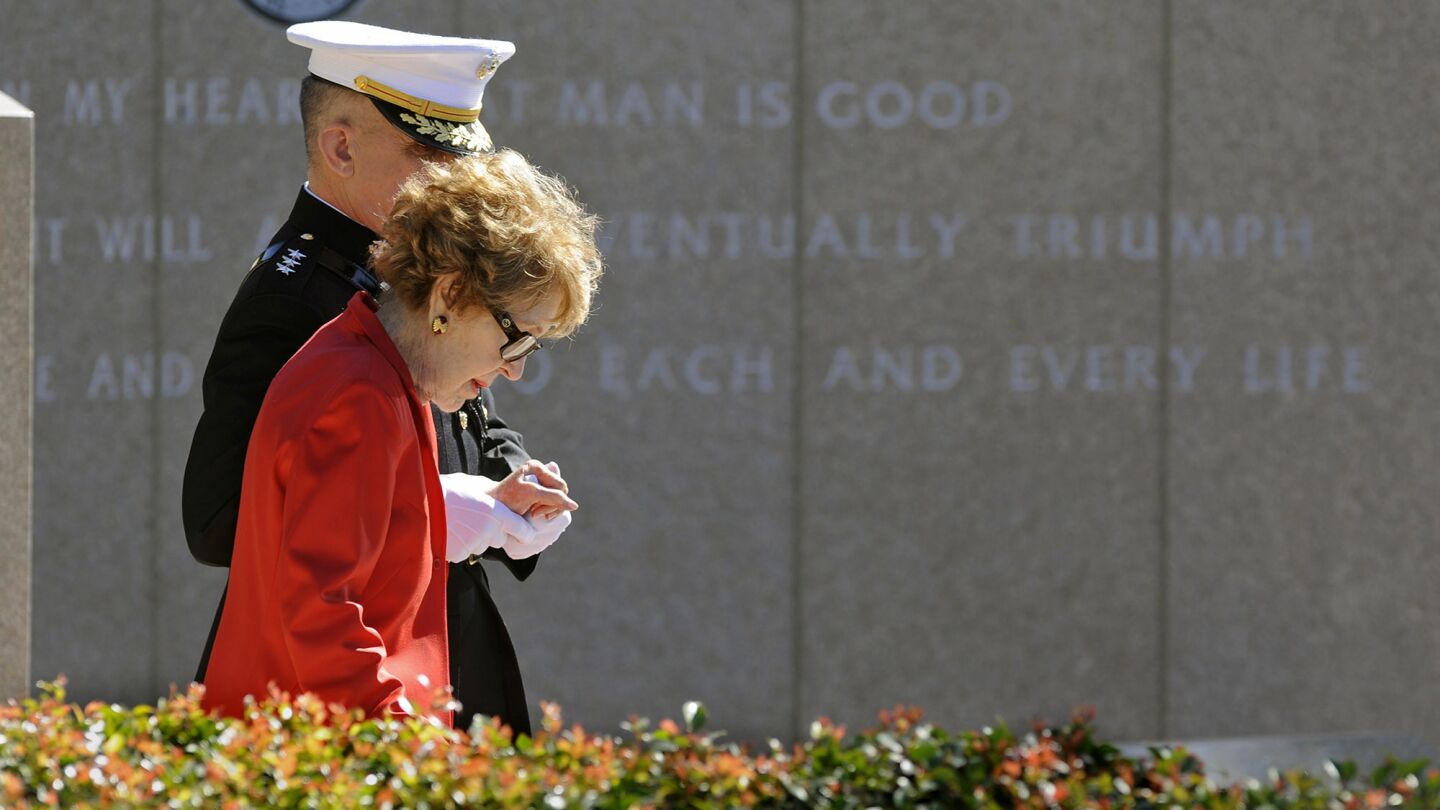 Nancy Reagan is helped by Marine Lt. Gen. George J. Flynn as she arrives for a wreath-laying ceremony at her husband's memorial at the Reagan Presidential Library in Simi Valley.
(Wally Skalij / Los Angeles Times)
Nancy Reagan after a GOP presidential debate at the Reagan Presidential Library.
(Paul Buck / EPA)
Police arrested 14 men and women on a variety of drug charges and allegedly confiscated about a gram of crack. Officers gave her a tour of the house before she retired to an air-conditioned RV, "freshened her makeup and then waded out among the cameras," according to a Times story.
"I saw people on the floor, rooms that were unfurnished … all very depressing," the former first lady reported.
Ethan Nadelmann, founder and executive director of the Drug Policy Alliance, a New York City group working to end the war on drugs, said "Just Say No" was part of an unrealistic goal of a "drug-free society" that led to mass incarceration in minority communities and beyond, "something we're only beginning to recover from now."
He said Reagan's message might have resonated with younger children, but not the adolescents who needed to understand the realities of drugs. "The 'Just Say No' campaign made about as much sense as a just-say-no campaign with respect to sex education," he said.
"Teachers, educators, the government, parents need to provide something other than an abstinence-only message for the majority of young people who do in fact end up trying, experimenting or using drugs before they turn 18."
In Compton, instead of "Just Say No" clubs, Cornwell and other teachers tried to combat drug use among students by connecting with them one-on-one, and starting clubs or activities that kept them busy after school. She said that the problem was serious, but that a minority of students were drug users.
Others say the message resonated. In Northridge, Napa Street Elementary School Principal Brenda Fernandez said the slogan became a regular and serious topic of conversation with her parents, and guided her as a child.
Now, Fernandez, 44, said it resonates with her students. Last week, her school teamed up with the Los Angeles Police Department's baseball team for a "Just Say No" program that expanded on Reagan's message, asking students to take pledges against drugs, gangs, crime and bullying.
Fernandez said not everyone will identify with the slogan but its simplicity allows educators to reinforce important topics with children.
"It was such a part of our culture that it's been one of those things that's ingrained in us," Fernandez said. "It's just one of those catch phrases that will be part of us for ages to come."
joe.mozingo@latimes.com | Twitter: @joemozingo
sonali.kohli@latimes.com | Twitter: @sonali_kohli
zahira.torres@latimes.com | Twitter: @zahiratorres
Times staff writer Howard Blume contributed to this report.
MORE ON NANCY REAGAN
Nancy Reagan dies in Los Angeles at 94: Former first lady was President Reagan's closest advisor
How Nancy Reagan, influential former first lady, is being remembered around the nation
From 'Diff'rent Strokes' to high fashion, Nancy Reagan was giant of 1980s
---
The stories shaping California
Get up to speed with our Essential California newsletter, sent six days a week.
You may occasionally receive promotional content from the Los Angeles Times.