'Just Say No' anti-drug campaign helped define Nancy Reagan's legacy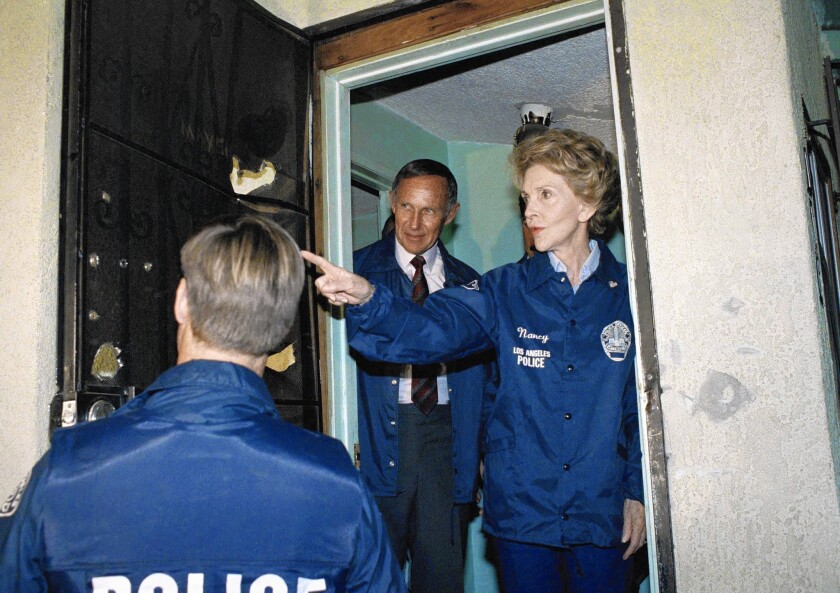 Drugs already had a strong grip in Compton High School when Maple Cornwell became assistant principal in 1983. Crack cocaine was just making its debut.
Educators had few tools to fight what would quickly turn into an epidemic.
Into this void came the voice of Nancy Reagan, with a message for children around the nation: "Just Say No."
The campaign against drugs became Reagan's most memorable achievement — lauded by some for showing the destruction addiction wrought, condemned by others who say it helped lead to mass incarceration and demonized black communities, and shrugged off by many who thought the message was naively simplistic and ineffectual.
"I don't think students really got the message," Cornwell said.
She said the pull of drugs was just too strong: "I think once drugs started to come in, it just took over students' mind-sets, it took over their goals."
From the early days of her husband's presidency, Nancy Reagan decided to focus on the anti-drug cause. She said she came up with the name of her campaign at a meeting with schoolchildren in Oakland, when a girl asked her, 'Mrs. Reagan, what do you do if somebody offers you drugs?'"
"Just say no," the first lady replied.
Schools around the country formed "Just Say No" clubs, in which students did community service and made pledges to not try drugs. The refrain became the mantra of the anti-drug movement and greatly raised Reagan's profile as first lady. She appeared on hit shows such as "Dynasty" and "Diff'rent Strokes" to deliver her message and made hundreds of appearances around the country.
"Without Nancy Reagan, there would not have been the public climate to support drug abuse prevention," said Ivy Cohen, president of the Just Say No Foundation from 1987 to 1997. "She galvanized attention to the issue."
In 1981, when President Reagan took office, more than 1.3 million people tried cocaine for the first time, according to estimates from the Office of National Drug Control Policy. In 1991, that number was down to below 500,000.
Join the conversation on Facebook >>
Dr. Herbert Kleber, director emeritus of the Columbia University Division on Substance Abuse, said tolerance of drugs in the 1960s and 1970s had led to vast abuse. Even among circles of professionals in staid suburbia, lines of cocaine were laid out at parties much as their parents had mixed highballs.
Kleber said Reagan's campaign probably helped change public opinion a notch, but many other factors did as well. The death of star college basketball player Len Bias of a cocaine overdose in 1986 shocked many people unaware of the stimulant's dangers. And the crack cocaine epidemic and the gang warfare that came with it ripped apart neighborhoods and revealed to America deeply destructive aspects of illegal drug use.
"My experience is 'Just Say No' wasn't terribly effective," Kleber said. "But it was better than not doing it."
In 1989, no longer first lady, Reagan came to Los Angeles to boost her image as an anti-drug crusader. With dozens of reporters in tow, she and Police Chief Daryl F. Gates watched as officers stormed a suspected "rock house" in South Los Angeles.
Nancy Reagan, then Nancy Davis, in a promotional photograph for MGM's "The Doctor and the Girl." Reagan, who discovered a passion for acting as a teenager, spent the first two years of her life as a backstage baby on tour with her mother, a stage performer.
(Metro Goldwyn Mayer)
Ronald Reagan and Nancy Davis apply for a marriage license in 1952. When she met the recently divorced actor, she wrote years later, "I don't know if it was exactly love at first sight, but it was pretty close."
(Los Angeles Times Library)
The Reagans cut their wedding cake on March 4, 1952. They were married at the Little Brown Church in Studio City, with actor William Holden and his wife, Ardis, the only people in attendance.
(Los Angeles Times)
American actor and future president Ronald Reagan (1911 - 2004) sits with his wife, actress Nancy Reagan, as the par talk with fellow actor and future US Senator George Murphy (1902 - 1992) at the premiere of 'High Society,' July 1956. (Photo by Pictorial Parade/Getty Images)
(Pictorial Parade / Getty Images)
The Reagans at the Brown Derby in 1958. In her memoir, "My Turn," the former first lady acknowledged that all of the couple's children had "felt at one time or another that Ronnie and I were so devoted to each other that there wasn't room for them in our affections, and that they were somehow left out. That was never our intention, and if they sometimes felt that way, I am truly sorry."
(Cobb Family)
Nancy and Ronald Reagan in front of the Hollywood Palladium for a meeting of the Screen Actors Guild in 1960. Ronald Reagan was SAG president at the time.
(Los Angeles Times)
Ronald and Nancy Reagan in the 1960s with son Ron and daughter Patti. Ronald Reagan also had a daughter, Maureen, and an adopted son, Michael, with his first wife, actress Jane Wyman. Nancy's relations with her children were difficult, especially with Patti and Michael, who wrote books that held back little in describing familial fractures.
(Todd Bigelow)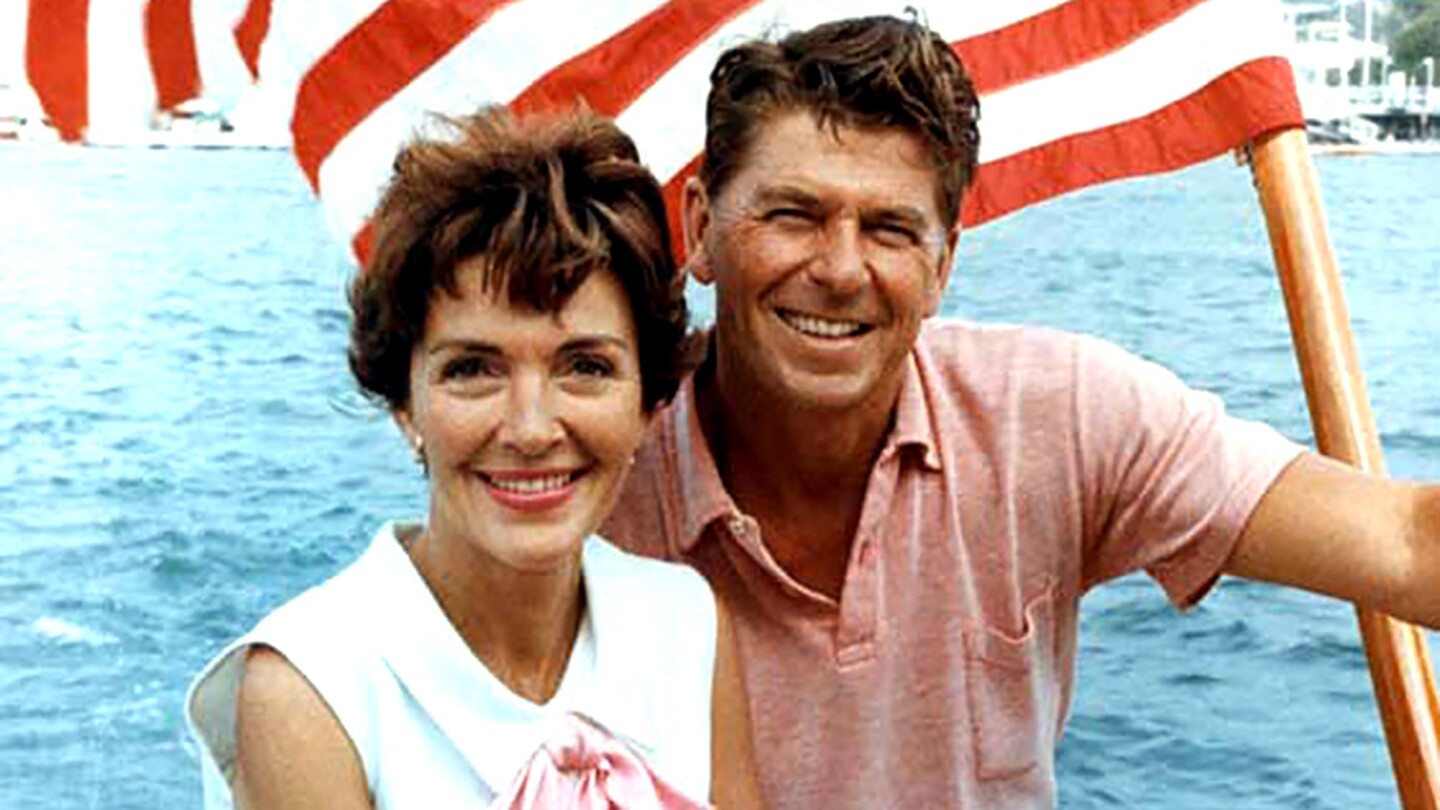 The Reagans aboard a boat in California in 1964. Three years later, he would become governor of the state, and a bruising political education would begin for her.
(American Vantage Media )
The Reagans acknowledge supporters at the Biltmore Hotel in Los Angeles after he was elected California governor in November 1966. When she later insisted that they move out of the dowdy governor's mansion in Sacramento, she was branded a snob.
(Ronald Reagan Library)
Nancy Reagan watches as Ronald Reagan takes the oath of office from California Supreme Court Justice Marshall F. McComb to become governor in 1967. In the center is the Rev. Wilbur W. Y. Choy. Nancy Reagan's look of wide-eyed adoration for her husband was sometimes derided, but she made no apologies. Almost from the day they met, she wrote, "Ronald Reagan has been the center of my life. I have been criticized for saying that, but it's true."
(UPI)
Nancy Reagan, from left, Pat Nixon, President Nixon and California Gov. Ronald Reagan walk across the field at the 1969 Rose Bowl game.
(UCLA)
Gov. Ronald Reagan and Nancy in 1971 in the backyard of their Sacramento home, the scene of her worst public relations disaster as first lady of California. An interview there with novelist and essayist Joan Didion led to a highly unflattering piece in the Saturday Evening Post.
(Associated Press)
Nancy Reagan rests on a flight to Salt Lake City during the 1976 presidential campaign. Ronald Reagan narrowly lost the Republican nomination to Gerald Ford.
(Associated Press)
Nancy and Ronald Reagan, with running mate George H.W. Bush and his wife, Barbara, are cheered by delegates at the Republican National Convention in July 1980. "Reagan knew where he wanted to go, but she had a better sense of what he needed to do to get there," biographer Lou Cannon said of Nancy Reagan.
(Joe Kennedy / Los Angeles Times)
The Reagans attend a 1980 reception in their honor in Los Angeles with Los Angeles Times Publisher Otis Chandler and his mother, Dorothy.
(Lennox McClendon / Associated Press)
Nancy Reagan watches as her husband is sworn in as president in January 1981. "What was most interesting and important about Nancy Reagan''s years as first lady was the prolonged national debate that took place over the proper role of a first lady," historian Lewis Gould wrote in a 1996 book.
(Associated Press)
President and Nancy Reagan wave from a limousine during his inaugural parade in Washington in 1981.
(PBS)
President Reagan cuts in on Frank Sinatra to dance with his wife at a White House gala in February 1981.
(Associated Press)
President Reagan dances with First Lady Nancy Reagan at the inaugural ball at the Smithsonian National Air and Space Museum in Washington.
(Associated Press)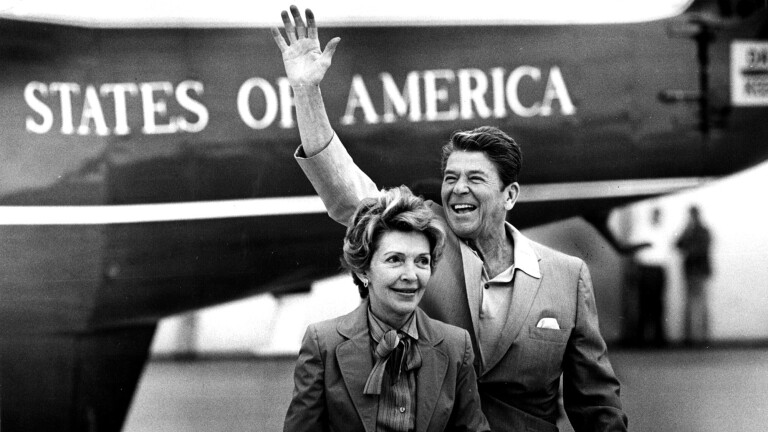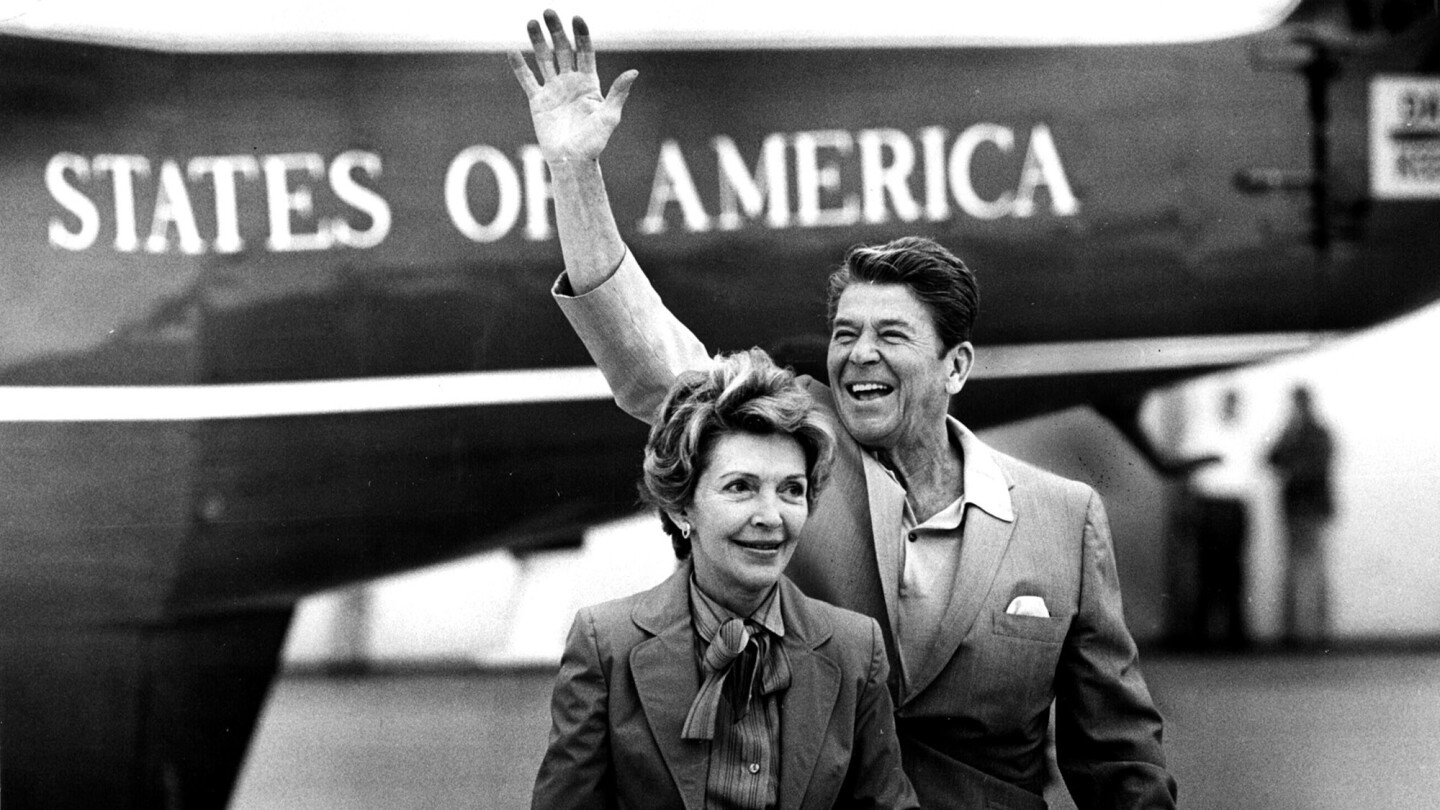 The Reagans prepare to return to Washington from Point Mugu Naval Air Station after a Memorial Day vacation in California in 1981.
(Joe Kennedy / Los Angeles Times)
The Reagans ride at their ranch in Santa Barbara in 1982. That year marked a turning point in the public's perception of her.
(Associated Press)
A state welcome for Egyptian President Hosni Mubarak is held in the East Room of the White House on Feb. 4, 1982. From second left are Secretary of State Alexander Haig; Barbara Bush; Mubarak's wife, Susan; Vice President George H.W. Bush; Nancy Reagan and Mubarak.
(Associated Press)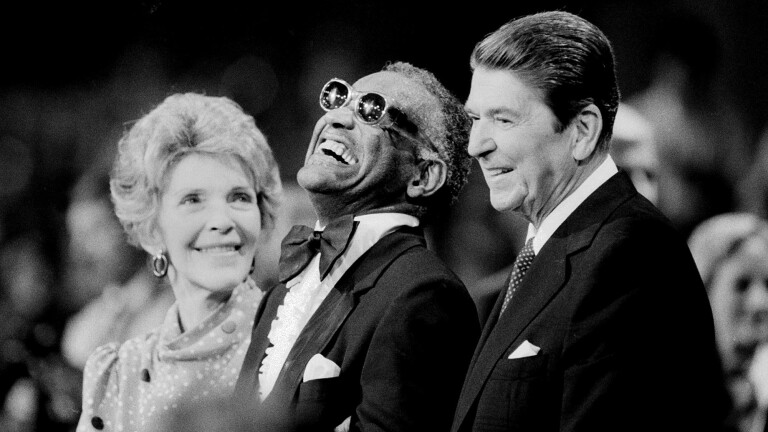 The Reagans with music legend Ray Charles at a musical salute in Washington in March 1983.
(Ira Schwartz / Associated Press)
Nancy Reagan holds Chinese leader Deng Xiaoping's hand during a 1984 visit to Beijing. The first lady took an active role in advising President Reagan on policy matters.
(Scott Stewart / Associated Press)
The president and first lady visit the terra cotta soldiers archeological site during their 1984 China trip.
(Bob Daugherty / Associated Press)
The Reagans walk through Normandy American Cemetery above Omaha Beach in northern France on June 6, 1984, the 40th anniversary of the D-day invasion.
(Bob Daugherty / Associated Press)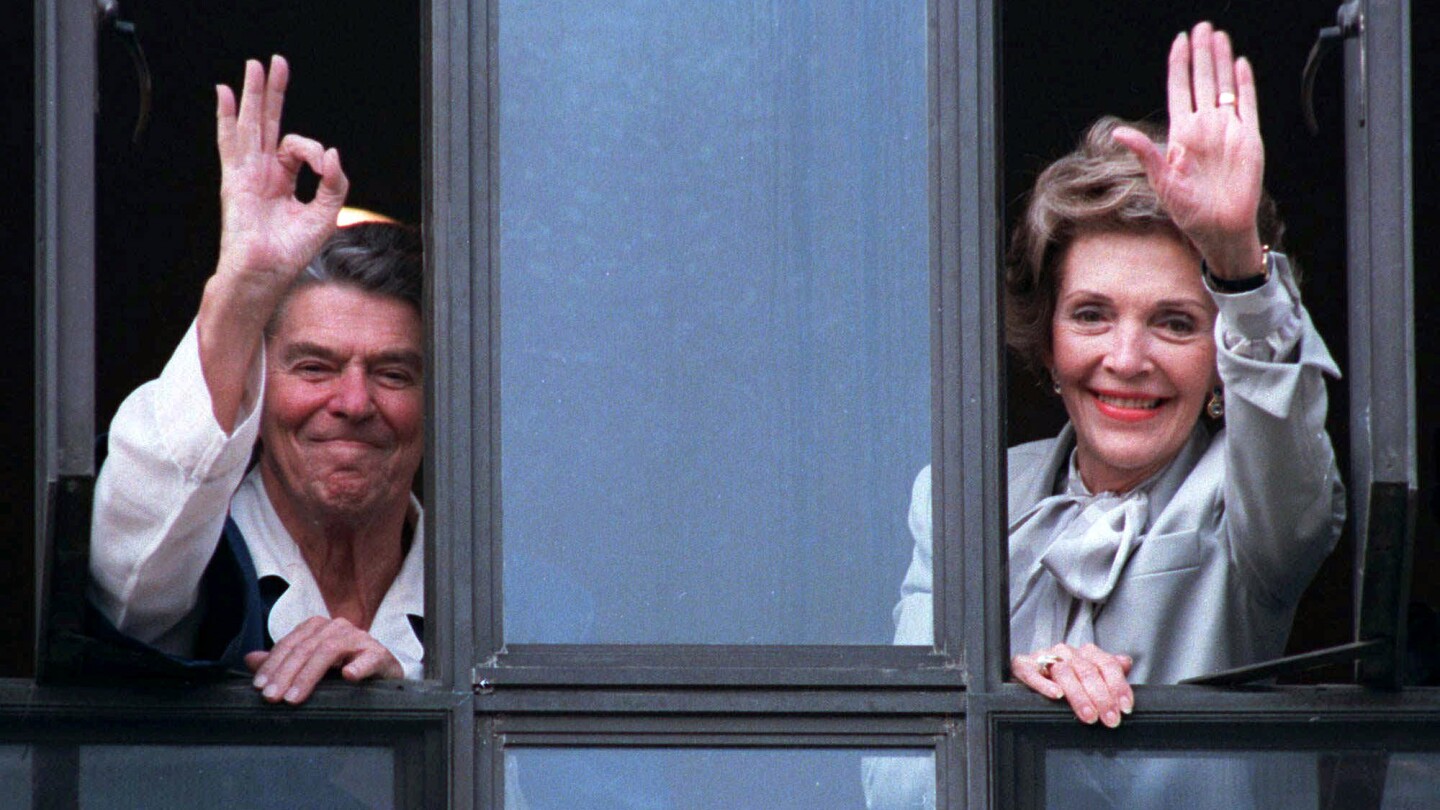 Ronald and Nancy Reagan wave from his hospital room at Bethesda Naval Medical Center in Maryland in July 1985 after he underwent surgery to remove polyps from his colon.
(Associated Press)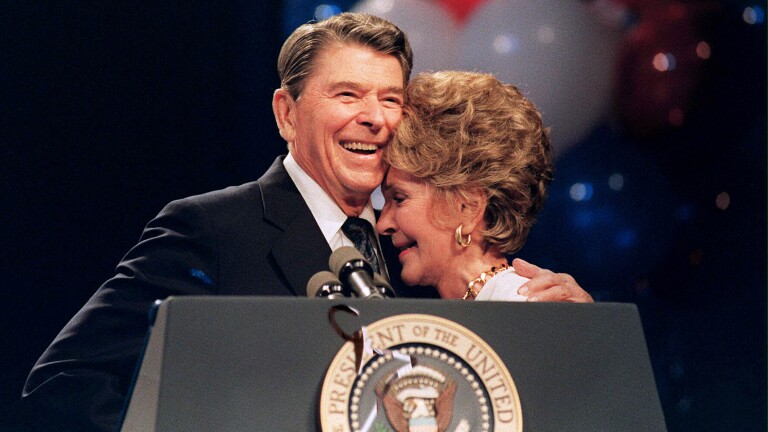 President Reagan and First Lady Nancy Reagan at a New Orleans luncheon in August 1988.
(Mike Sargent / AFP/Getty Images)
The former president and first lady arrive for the premiere of Andrew Lloyd Webber's "Sunset Boulevard" in Los Angeles in December 1993.
(Chris Martinez / Associated Press)
Nancy and Ronald Reagan on his 89th birthday on Feb. 6, 2000. She gained sympathy and esteem from many after she cloistered herself in their Bel-Air home and devoted herself to his care.
(Associated Press)
Nancy Reagan with stepdaughter Maureen at the 2000 Republican National Convention in Philadelphia, a year before Maureen's death from skin cancer.
(Hillery Garrison Smith / Associated Press)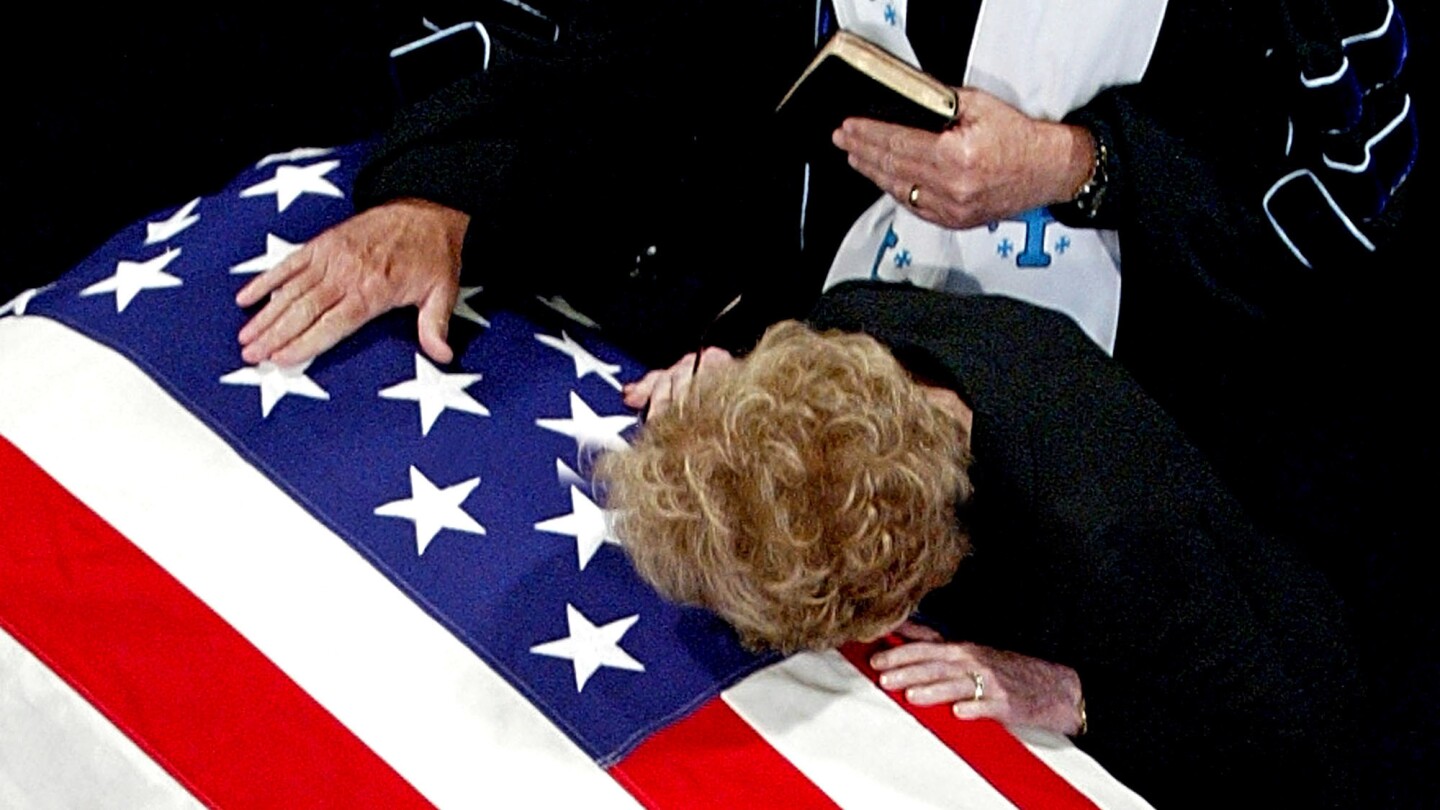 The former first lady lays her cheek on Ronald Reagan's casket after his death in 2004. His Alzheimer's diagnosis led her to become an advocate for stem cell research and hastened a reconciliation between her and her children.
(Bryan Chan / Los Angeles Times)
Nancy Reagan with President George W. Bush in 2005 at an Air Force One exhibit at the Ronald Reagan Presidential Library in Simi Valley.
(Brian van der Brug / Los Angeles Times)
Gov. Arnold Schwarzenegger and his wife, Maria Shriver, with Nancy Reagan at a ceremony commemorating the 40th anniversary of Ronald Reagan's first gubernatorial win.
(Anne Cusack / Los Angeles Times)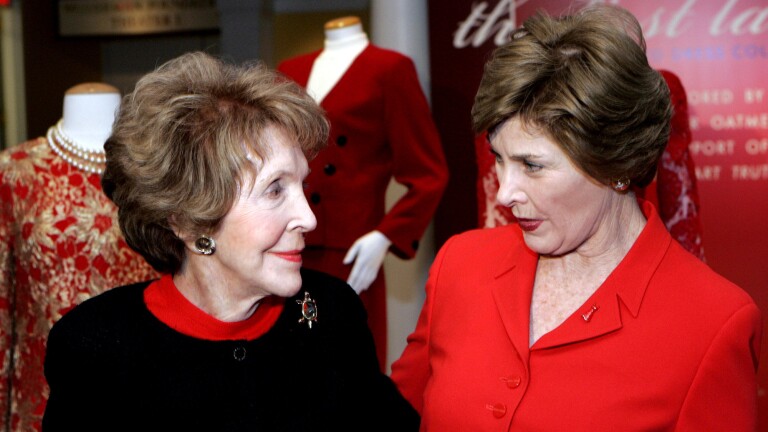 The First Lady's in front of the Red Dress display. First Lady Laura Bush and former First Lady Nancy Reagan participated in the Heart Truth Roundtable at the Reagan Library in Simi Valley on Wednesday, February 28, 2007. Later they visited students at Balboa Magnet School in Northridge who are part of a National Park Service program.
(Stephen Osman / Los Angeles Times)
Nancy Reagan poses with the 2008 Republican presidential candidates after their May 2007 debate at the Reagan Presidential Library in Simi Valley.
(Robert A. Reeder / Associated Press)
Vice President Dick Cheney escorts the former first lady at a white-tie dinner for Britain's Queen Elizabeth II at the White House in May 2007.
(Pool / Getty Images)
In May 2007, Nancy Reagan holds a copy of the newly released "Reagan Diaries," which chronicles her husband's two terms in the White House.
(Stephen Osman / Los Angeles Times)
Nancy Reagan is joined by California Gov. Arnold Schwarzenegger and Assemblyman Martin Garrick (R-Carlsbad), left, at a signing ceremony for two bills honoring her late husband at the Reagan library in Simi Valley.
(Al Seib / Los Angeles Times)
Nancy Reagan is helped by Marine Lt. Gen. George J. Flynn as she arrives for a wreath-laying ceremony at her husband's memorial at the Reagan Presidential Library in Simi Valley.
(Wally Skalij / Los Angeles Times)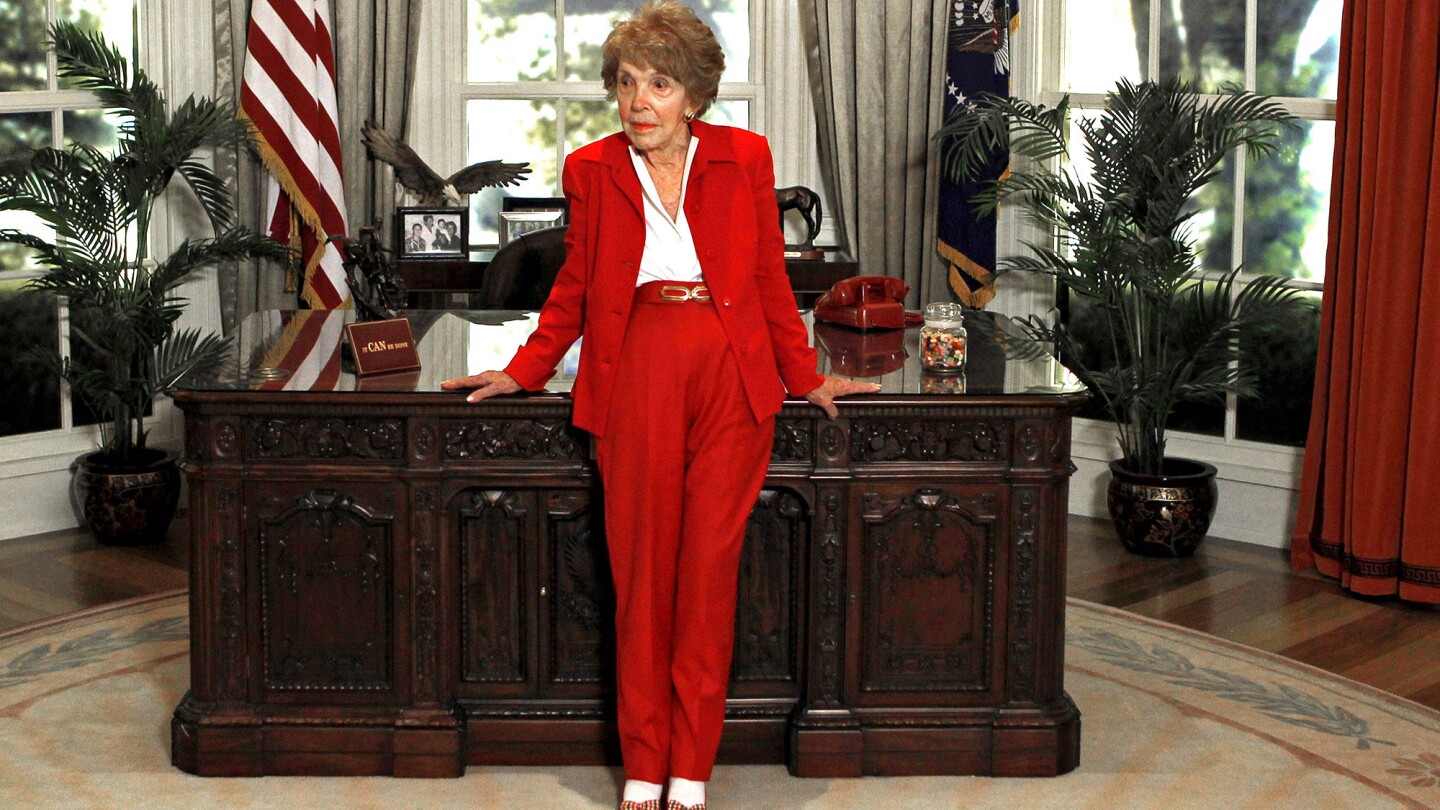 Nancy Reagan waits to take a photograph with GOP presidential candidates in a re-creation of the Oval Office at the Reagan Presidential Library.
(Chris Carlson / European Pressphoto Agency)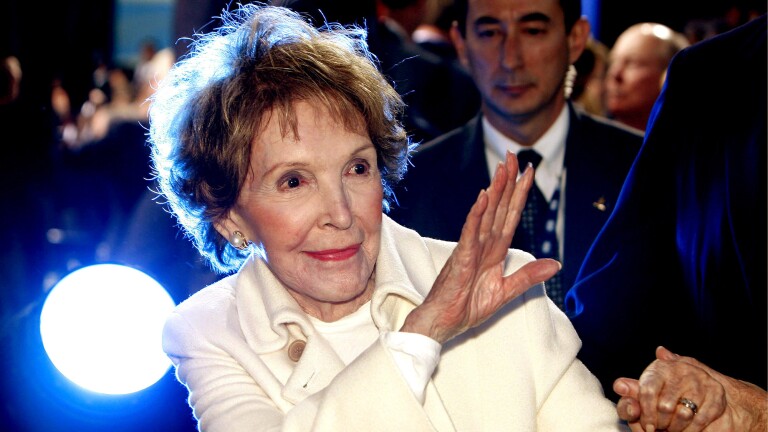 Nancy Reagan after a GOP presidential debate at the Reagan Presidential Library.
(Paul Buck / EPA)
Police arrested 14 men and women on a variety of drug charges and allegedly confiscated about a gram of crack. Officers gave her a tour of the house before she retired to an air-conditioned RV, "freshened her makeup and then waded out among the cameras," according to a Times story.
"I saw people on the floor, rooms that were unfurnished … all very depressing," the former first lady reported.
Ethan Nadelmann, founder and executive director of the Drug Policy Alliance, a New York City group working to end the war on drugs, said "Just Say No" was part of an unrealistic goal of a "drug-free society" that led to mass incarceration in minority communities and beyond, "something we're only beginning to recover from now."
He said Reagan's message might have resonated with younger children, but not the adolescents who needed to understand the realities of drugs. "The 'Just Say No' campaign made about as much sense as a just-say-no campaign with respect to sex education," he said.
"Teachers, educators, the government, parents need to provide something other than an abstinence-only message for the majority of young people who do in fact end up trying, experimenting or using drugs before they turn 18."
In Compton, instead of "Just Say No" clubs, Cornwell and other teachers tried to combat drug use among students by connecting with them one-on-one, and starting clubs or activities that kept them busy after school. She said that the problem was serious, but that a minority of students were drug users.
Others say the message resonated. In Northridge, Napa Street Elementary School Principal Brenda Fernandez said the slogan became a regular and serious topic of conversation with her parents, and guided her as a child.
Now, Fernandez, 44, said it resonates with her students. Last week, her school teamed up with the Los Angeles Police Department's baseball team for a "Just Say No" program that expanded on Reagan's message, asking students to take pledges against drugs, gangs, crime and bullying.
Fernandez said not everyone will identify with the slogan but its simplicity allows educators to reinforce important topics with children.
"It was such a part of our culture that it's been one of those things that's ingrained in us," Fernandez said. "It's just one of those catch phrases that will be part of us for ages to come."
joe.mozingo@latimes.com | Twitter: @joemozingo
sonali.kohli@latimes.com | Twitter: @sonali_kohli
zahira.torres@latimes.com | Twitter: @zahiratorres
Times staff writer Howard Blume contributed to this report.
MORE ON NANCY REAGAN
Nancy Reagan dies in Los Angeles at 94: Former first lady was President Reagan's closest advisor
How Nancy Reagan, influential former first lady, is being remembered around the nation
From 'Diff'rent Strokes' to high fashion, Nancy Reagan was giant of 1980s
---
The stories shaping California
Get up to speed with our Essential California newsletter, sent six days a week.
You may occasionally receive promotional content from the Los Angeles Times.