From 'Diff'rent Strokes' to high fashion, Nancy Reagan was giant of 1980s
From fashion to "Just Say No" to drugs, First Lady Nancy Reagan was one of the seminal figures of the 1980s.
Here is a retrospective of that period from the pages of The Times:
ANTI-DRUG CRUSADE
As first lady, Reagan was known for her crusade against drug abuse, especially by teenagers. She appeared on the NBC comedy "Diff'rent Stokes" and recorded public service announcements. In 1985, The Times reported on a gala event in Hollywood in which celebrities honored Reagan for her work:
Former First Lady Nancy Reagan remembered.
Actress Elizabeth Taylor, who said she had recognized her problem (of alcohol abuse) before it was too late, personally thanked Mrs. Reagan for her involvement in the campaign.
Besides the show and a video tribute to the First Lady, the evening marked the premiere of a new anti-drug music video, called "Stop the Madness," produced by the council.
Earlier in the day, Mrs. Reagan had videotaped two public service television announcements as part of her international campaign against teenage alcohol and drug abuse.
In one of the spots, taped at NBC's Burbank studios, Mrs. Reagan appears at a party with three teenagers in which two youths offer another teenager beer and marijuana. She advises them not to give in to peer pressures.
NEWSLETTER: Get essential California headlines delivered daily >>
"Taking drugs and drinking aren't things you should do just because some people say you should," says the First Lady. "If you just say no to drugs, alcohol and pills, you'll be saying yes to a whole lot more."
In a red plaid dress and with a green "Just Say No" button pinned to her red cardigan, Mrs. Reagan talked briefly with reporters after the taping.
"I think we're seeing the level of (drug abuse) awareness going up," she said. "It's a pressing problem. We're talking about losing the next generation."
FASHION
Reagan was also a fashion icon of the period, though her style got mixed reviews at the time. The Times explained her style in a 2011 story about a retrospective of her clothing at the Ronald Reagan Presidential Museum and Library in Simi Valley:
"She knew her style very well, and it was always simple and elegant," says designer James Galanos, who first met Reagan in 1949 at the Beverly Hills boutique Amelia Gray and went on to collaborate with her for two White House terms. "If I tried to experiment, I could tell from her expression that she was thinking, 'No, Jimmy.' "
See the most-read stories this hour >>
A recent peek at the exhibit at the museum near Simi Valley co-curated by exhibition designer Rush Jenkins feels like a stroll through history. The chronological layout, organized in chapters that range from "White House Beginnings" to "Public Servant and Spokeswoman," illustrates her roles and corresponding styles.
For the first presidential inauguration, Reagan — always a size 2 — wore a red Adolfo dress and coat bright enough to enrage a bull. During Cold War visits to the Soviet Union, she opted for muted, wool suits that reflected the stoicism of that country.
Certain pieces became staples. The Kelly green Galanos wool coat she first wore to the Iran hostage release ceremony in 1981 became the sartorial equivalent of eggnog, when she began modeling it every year at Christmastime.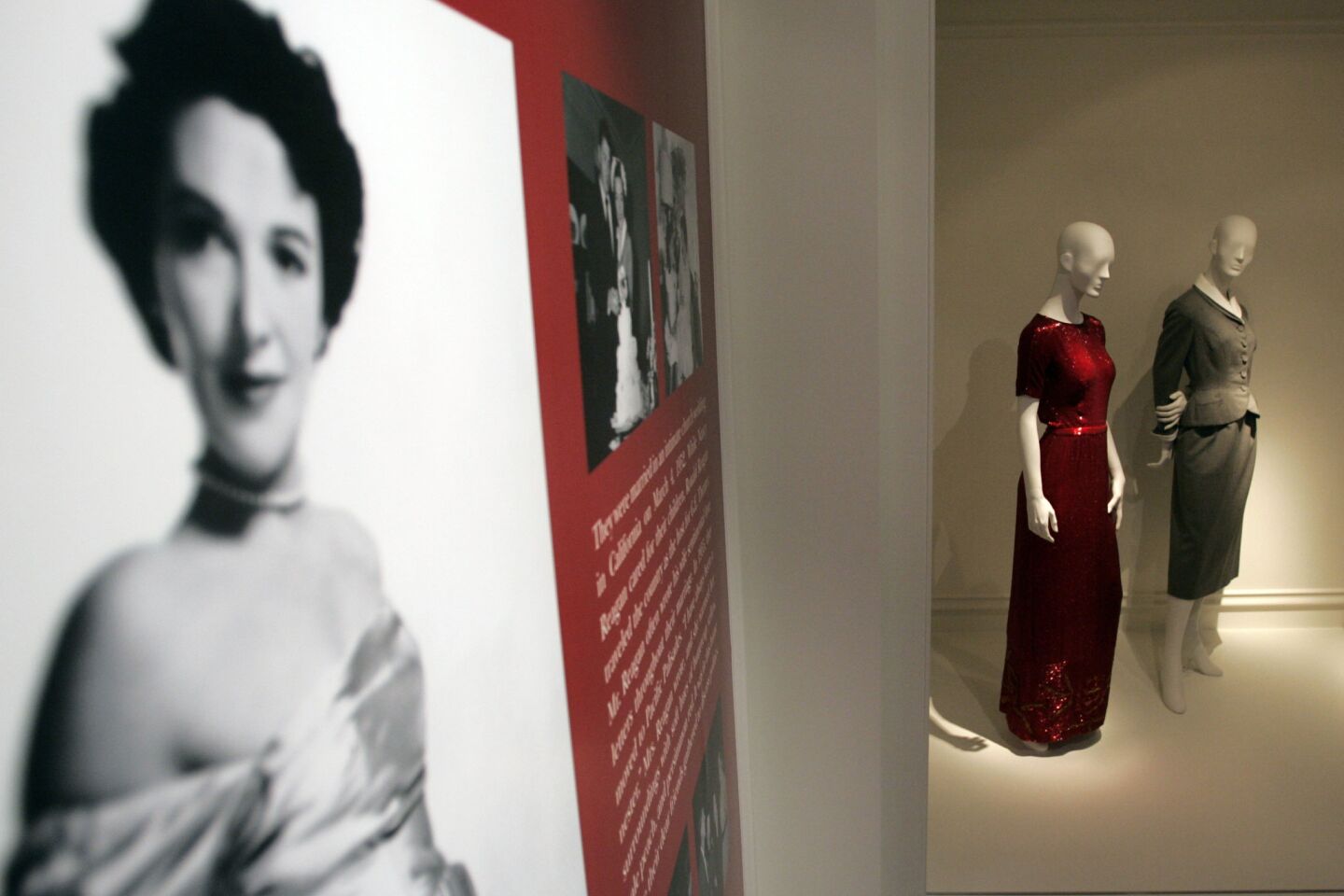 Former First Lady Nancy Reagan's collection of suits and gowns were on display in 2007 at the Ronald Reagan Presidential Library in Simi Valley. William Rush Jenkins designed the display.
(Stephen Osman / Los Angeles Times)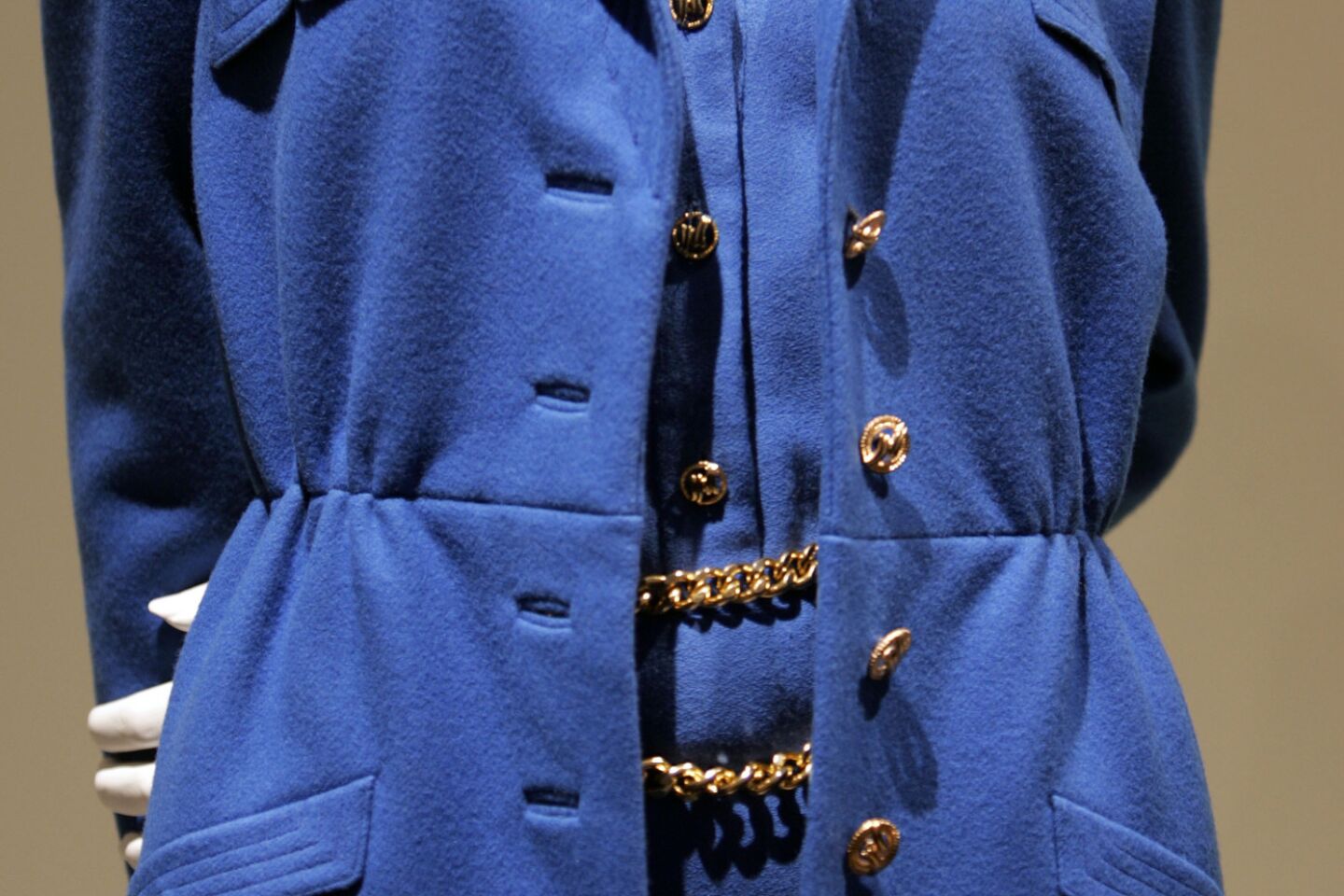 A blue outfit is in former First Lady Nancy Reagan's collection of suits and gowns on display at the Ronald Reagan Presidential Library in Simi Valley.
(Stephen Osman / Los Angeles Times)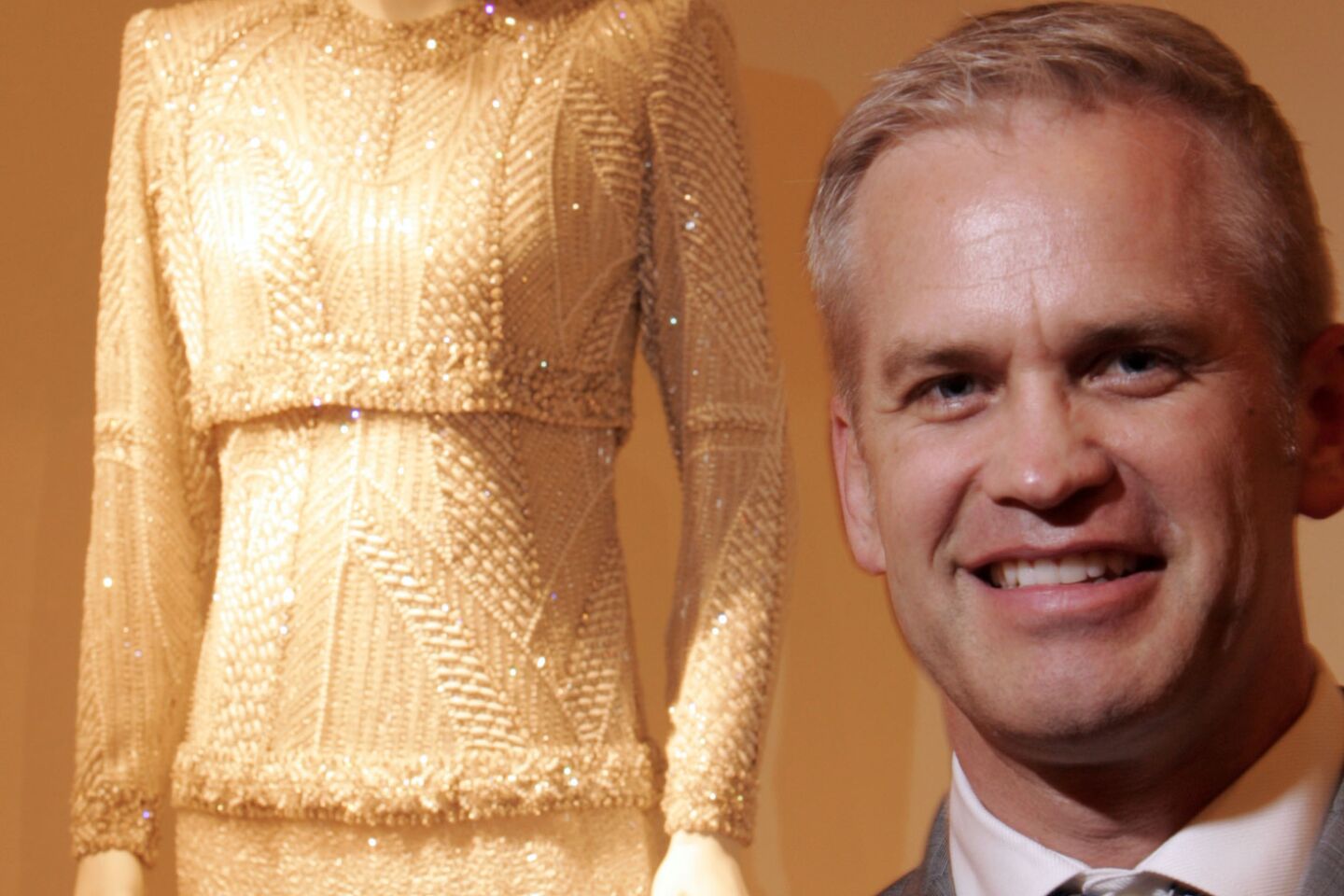 William Rush Jenkins designed a display of former First Lady Nancy Reagan's collection of suits and gowns. A James Galanos-designed dress that was worn at the second inaugural ball in 1984 is in the background.
(Stephen Osman / Los Angeles Times)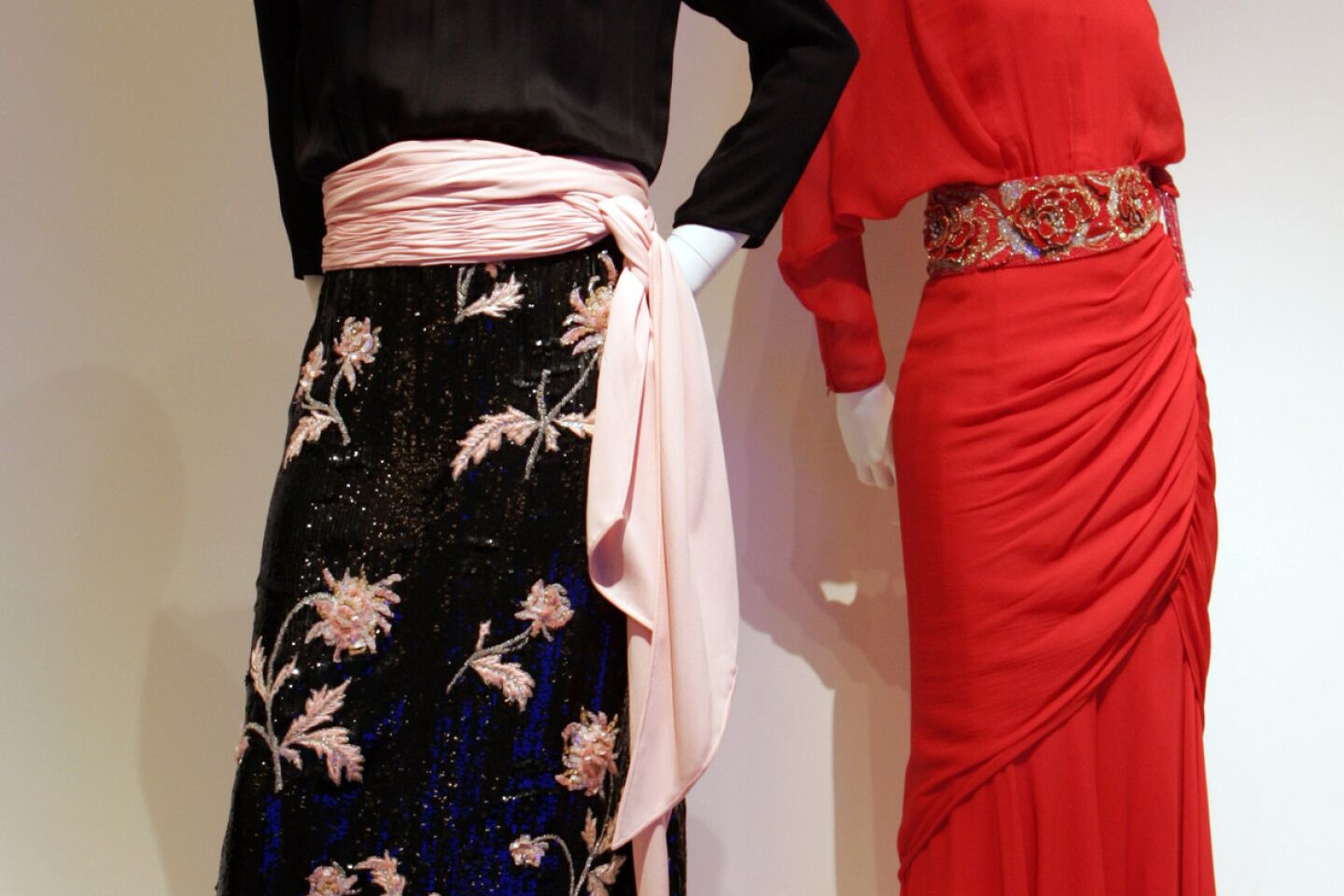 Two outfits worn by former First Lady Nancy Reagan were on display in 2007 at the Ronald Reagan Presidential Library in Simi Valley.
(Stephen Osman / Los Angeles Times)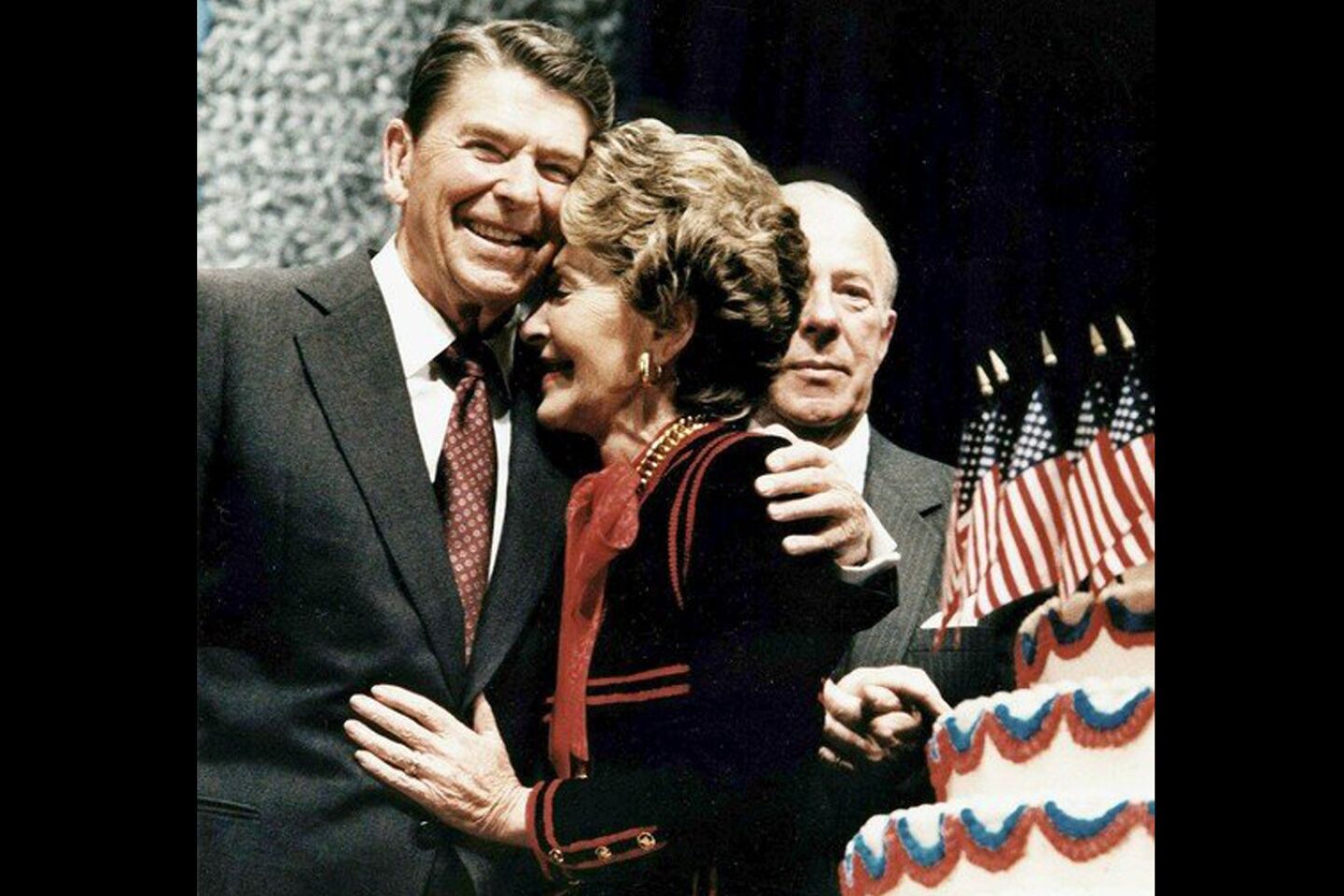 President Reagan embraces Nancy Reagan after she presents him with a cake in honor of his 75th birthday in 1986.
(Mike Sargent / AFP / Getty Images)
First Lady Nancy Reagan is accompanied by television personality Ed McMahon as Santa during a 1987 press tour of the White House Christmas décor.
(Ron Edmonds / Associated Press)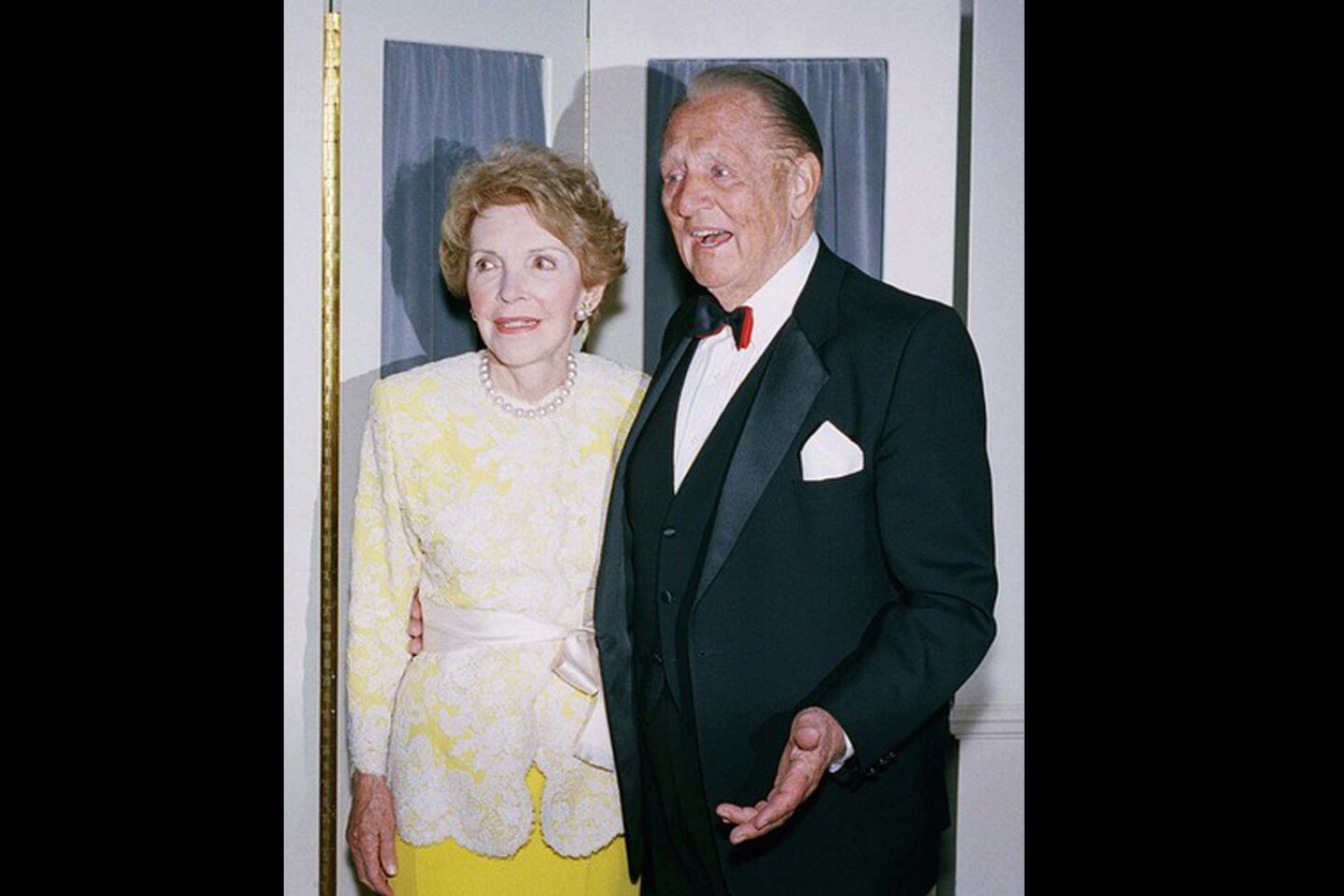 Nancy Reagan and veteran entertainer and humorist Art Linkletter enter the lounge at the Beverly Hilton Hotel in Beverly Hills in 1995.
(Wally Santana / Associated Press)
Former First Lady Nancy Reagan, left, and First Lady Laura Bush tour the red dress exhibit at the Ronald Reagan Presidential Library in Simi Valley in 2007.
(Stephen Osman / Los Angeles Times)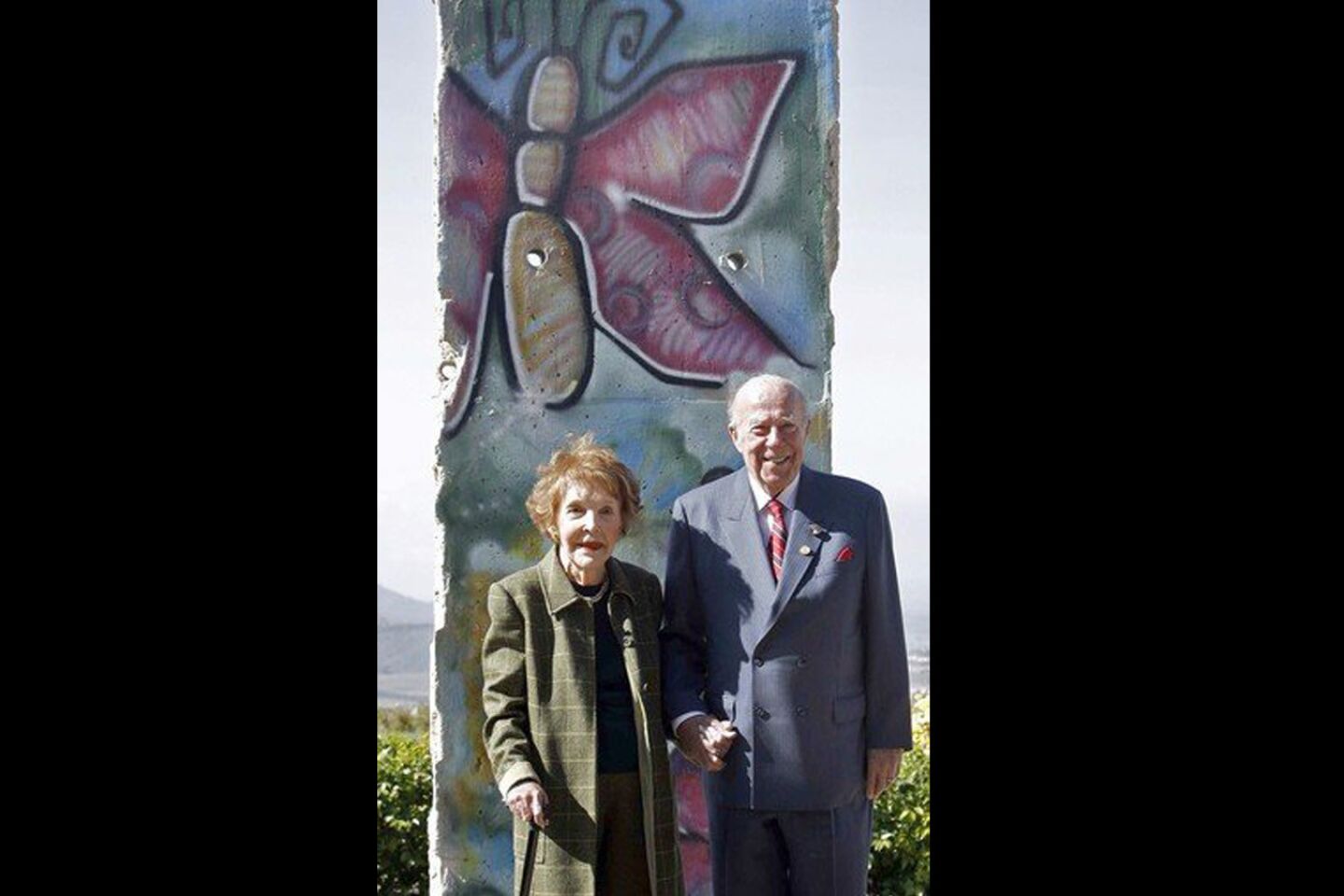 Former First Lady Nancy Reagan and former Secretary of State George Schultz stand in front of a section of the Berlin Wall in 2009 as part of a 20th anniversary commemoration of the Berlin Wall's fall.
(Lawrence K. Ho / Los Angeles Times)
Former First Lady Nancy Reagan leaves Mr. Chow's restaurant in Beverly Hills in 2002.
(David Klein/Getty Images)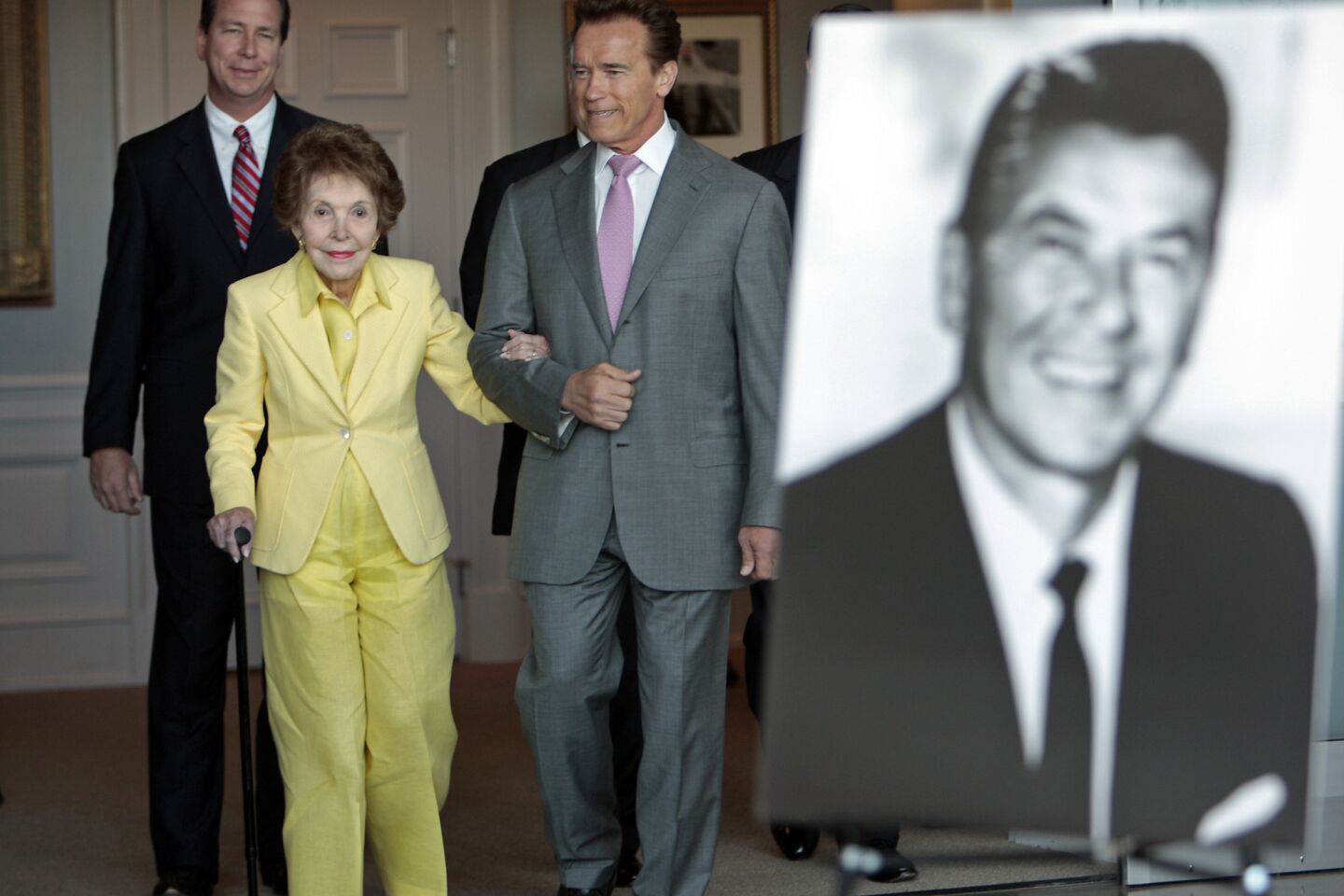 Former First Lady Nancy Reagan is accompanied by California Gov. Arnold Schwarzenegger, right, after a ceremonial bill-signing at the Ronald Reagan Presidential Library in July 2010.
(Al Seib / Los Angeles Times)
For the afternoon wedding of Prince Charles to Lady Diana in 1981, Reagan smartly eschewed her primary color palette of red, blue and green for a soft peach silk blouse and skirt by Galanos, with a matching shirt-coat and chiffon scarf. The British press declared her "elegantly turned out."
The American press, however, was not as flattering toward her penchant for high fashion. Its first tip-off? The white, one-shouldered Galanos adorned with diamante daisies that she wore with long gloves as first lady of California to the gubernatorial ball in 1967. Many of her gowns — adorned with intricate beadwork — would glitter like crystal chandeliers in the right light.
"It's important that a first lady be fashionable and glamorous, because she represents the country and its style," says Carolina Herrera, who designed an emerald-green velvet gown that Reagan wore to the opera in 1987. The first lady even name-checked the designer to the press by announcing, "This is Carolina Herrera."
Her glamour sometimes spurred more ire than awe. Reagan was widely criticized for her extravagance during the economic downturn, and she took her biggest drubbing for commissioning $200,000 worth of china for the White House in 1981. A year later, however, she shocked journalists and her husband alike when she paraded onstage during a Gridiron Dinner wearing a schizophrenic get-up that included a feather boa and yellow galoshes. The first lady belted out "Second Hand Clothes" to the tune of "Second Hand Rose."
In 1988, the Council of Fashion Designers of America awarded Reagan a Lifetime Achievement Award for her loyalty to U.S. designers and devotion to fashion.
PROTECTING THE PRESIDENT
Through the White House years, Nancy Reagan was always known as the President Reagan's great protector. She famously even used an astrologer for advice. During the low point of the Reagan presidency, after the Iran Contra affair, she is said to have engineered the firing of Chief of Staff Don Regan. A 1995 Times article recounted this period through the writing of former White House Press Secretary Marlin Fitzwater.
A tenet of longevity at the White House, Fitzwater writes, was "that to offend Nancy Reagan was suicidal," so staff members did their best to avoid the first lady. She blamed Regan for not preventing the Iran-Contra scandal that tarnished her husband's presidency.
When news stories began to appear reporting that the president wanted Regan to resign, Fitzwater "took most of them as mischief from somebody Regan had offended" and routinely denied them. The morning after one of the stories appeared, Nancy Reagan telephoned Fitzwater, and this exchange followed:
"Marlin, you know those stories about Don Regan?"
"Yes ma'am."
"Well, you should just stay out of them."
"Yes ma'am."
"Goodbye, Marlin."
Regan was crying, "his face was red, his eyes swollen," when he handed Fitzwater a 14-word statement: "I hereby resign as chief of staff to the President of the United States," Fitzwater writes.
ALZHEIMER'S FIGHT
Ronald Reagan suffered from Alzheimer's disease after he left the White House, and Nancy Reagan became a leading spokeswoman for Alzheimer's research while also caring for her husband as the disease progressed. From a 1997 Times article:
As Ronald and Nancy Reagan face the final chapter in one of the great love stories in American politics, the emotional burden of the former president's Alzheimer's disease has fallen heavily on his first lady's slender shoulders. For the first time in nearly 50 years, she is faced with going on without her leading man.
However well she bears up to the task, Nancy Reagan has been changed by it. Even some onetime critics concede that the "Dragon Lady" of the Reagan White House seems to have lost her fire. The obsessions of the past — haute couture, astrology, even Ronald Wilson Reagan's place in the history of the world — matter less. Friends, including a few prominent Democrats, and family — including the oft-estranged children — matter more.
The woman who once "borrowed" more than $1 million in designer suits, dresses and gowns might now be seen wearing the same dress twice. Although she still has someone else do the cooking, she swaps recipes with her girlfriends, thumps the melons at the market and chats up the new butcher. According to one of her closest pals, "Nancy Reagan is now very much the hausfrau!"
As her husband's condition worsens, the famous woman-behind-the-man finds herself cast in a challenging and unexpected supporting role. "Here is a woman who has made her husband's life her career," says Fred Ryan, a former presidential aide. "She has devoted herself to making Ronald Reagan's life perfect, [but] no matter what she does now, his life will never be perfect again."
ALSO
From the archives: As Ronald Reagan fades, Nancy takes on a new role
Nancy Reagan turned to astrology in White House to protect her husband
Nancy Reagan: Visitors pay their respects at the presidential library in Simi Valley
Live updates: Nation mourns Nancy Reagan, influential former first lady, who died at 94
The stories shaping California
Get up to speed with our Essential California newsletter, sent six days a week.
You may occasionally receive promotional content from the Los Angeles Times.