Medi-Cal director talks shortages and modernization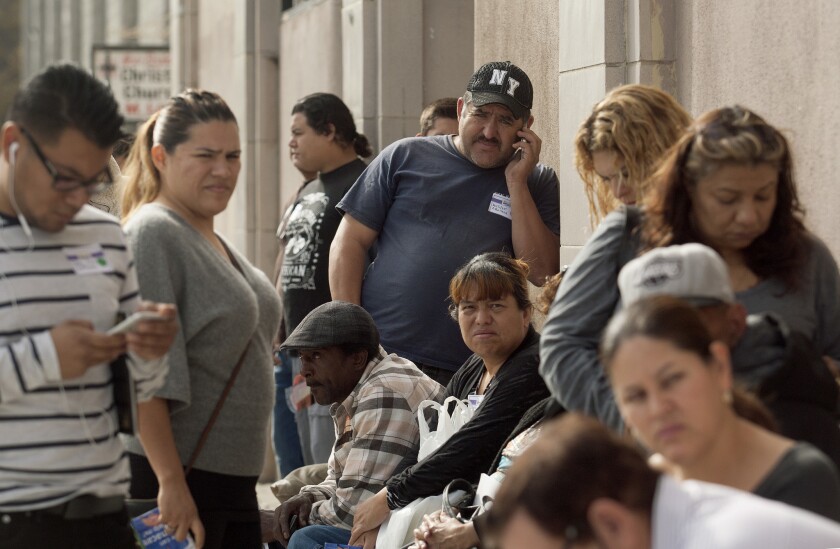 Since California's health insurance program for the poor was expanded under the Affordable Care Act last year, enrollment has exploded, with more than 3.5 million people signing up for the first time. Almost 1 in 3 Californians — a total of 12.2 million people — now receive coverage through Medi-Cal.
But the sudden growth has raised questions about how state officials will serve millions of new beneficiaries and continue paying for the program, which currently costs the state $18 billion a year. There are also other big changes afoot as Medi-Cal switches patients into managed care — a system in which plans coordinate patients' care to keep costs down — and tries to move beyond its reputation as a health program of last resort.
In February, Jennifer Kent became the director of the state's Department of Health Care Services, which oversees Medi-Cal. Over the last decade, Kent, 41, has worked in a variety of roles within state government, including as associate director of the agency she now leads.
She oversees the country's biggest Medicaid program, and a department that manages the spending of more than $90 billion annually with 3,700 employees. The Times recently caught up with her to find out how she and her agency are coping. The interview was edited for length and clarity:
Does it feel overwhelming running such a big program?
Well, it's probably good that I've been inoculated from my previous work at the department. I think it can be overwhelming if you let it. You have to come to this job with a lot of flexibility.
For some people who want a very structured environment, this is maybe not the job for them. I tend to find it interesting.
I run, I go swim in the mornings before I come to work, so I get a lot of good thinking out in the hours before I actually show up in the office.
What have been the biggest challenges?
The Affordable Care Act really put a lot of focus on managed care. That is the organized delivery system of choice across both California and the country. Right now we're kind of putting all the different pieces in place for the long haul.
Steering Medi-Cal is like steering an oil tanker. It's very careful, small corrections. It's not a speed boat. You don't take a sharp left and just zoom somewhere.
We've heard from Medi-Cal patients who say they can't find doctors who will accept the insurance because it pays them at a lower rate. What can be done about that?
If they're having problems finding a primary care doctor, that is the managed care plan's responsibility. That's why we paid them.
It's really the plan's responsibility to say, "We've got a doctor for you."
So you don't think there's a shortage of doctors taking new Medi-Cal patients?
I think it's complicated. I think you would hear from all of us — from a state provider and from a plan perspective — that there are certain types of physicians that are hard to find, and they don't grow on trees. It doesn't matter who you are and what kind of coverage you have, you may not have a neurosurgeon for 100 miles.
Family physicians are a hard-struggling brand of physicians, because there's not a lot of money in being a family physician. Physicians have to be in the business of staying afloat, just like everyone else.
Do you want to re-brand Medi-Cal?
There is certainly a need to de-stigmatize Medi-Cal.
By putting people into managed care, we are treating them in a way that's not different from the way the rest of us receive our care. If you're a Medi-Cal beneficiary walking around with an Anthem card or a Kaiser card or something, you are being seen by a plan that treats you and me.
To treat them the same in word and deed is one way to reduce the negative perception that Medi-Cal used to be just for the very, very poor. Now Medi-Cal is really working-poor and families, and so I think that's kind of a big shift, and I'm hoping that over time it is seen as that.
What are some of the ideas you're considering to modernize Medi-Cal?
Medi-Cal has always been — and I cringe — a paper-based program. I'm increasingly challenging some of our folks to think of ways of engaging beneficiaries to talk the way that everyone else does nowadays — on our smartphones.
How would that work?
These are the things I think about when I go running in the morning: Could you do personalized smartphone apps that show coverage with their plan? Could you push notices out to beneficiaries to remind them their annual [eligibility] redeterminations are due? If you have children, are your kids' vaccines coming due?
I'm trying to think of ways that we can communicate with beneficiaries that's both relevant from a technological sense, and that's proactive and approachable and friendly. We're trying to communicate with beneficiaries; why are we sending them a letter?
I have to think that there's a better way to do it and that was just one of my little mad-scientist ideas.
Do you think Medi-Cal sign-ups are going to keep rising?
I would like to think we are approaching a steady state in terms of enrollment and change in the program. It was such a dramatic increase month over month last year, we were all wondering when it would start to plateau.
My gut instinct is that we're going to hang in the low 12-millions for the next year, but gosh, who knows, man?
Follow @skarlamangla on Twitter for more California health news.
---
The perils of parenting through a pandemic
What's going on with school? What do kids need? Get 8 to 3, a newsletter dedicated to the questions that keep California families up at night.
You may occasionally receive promotional content from the Los Angeles Times.