Could a regional law enforcement task force put a dent in deadly street racing?
For decades, authorities have struggled to halt a street racing craze that has plagued Los Angeles County, sometimes with fatal results.
Attempted crackdowns were short-lived. Few officers focused exclusively on the problem. And law enforcement agencies often worked alone to deter would-be racers from venturing into their jurisdictions — a strategy that critics complain simply pushed the problem into neighboring cities.
Now, some police officials are calling for a more coordinated effort to break the racing scene.
After a spate of recent deaths linked to street racing, dozens of investigators from agencies across the area met last month to discuss the creation of a countywide task force aimed at curbing the speed contests. Another planning meeting is scheduled to take place Monday, officials said.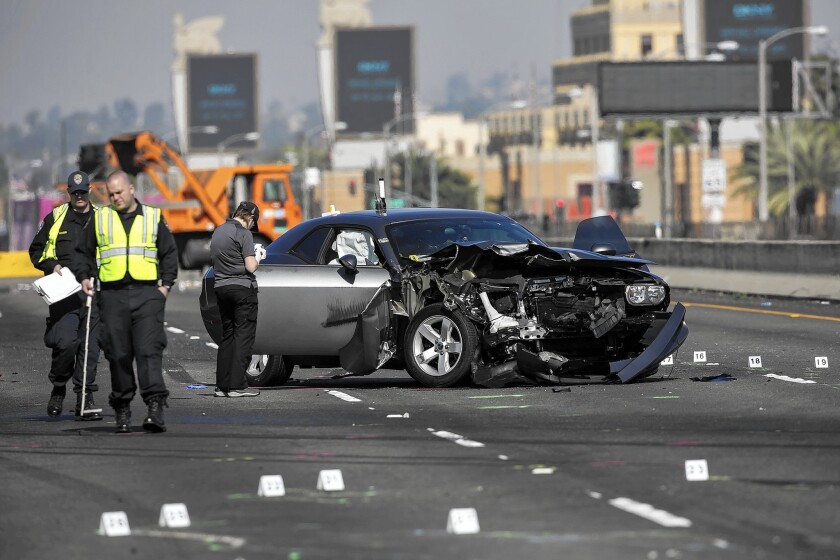 The first meeting, which had been planned for months, came just days after a fiery crash caused by suspected street racers on the 5 Freeway left three other motorists dead, including the son of a Los Angeles County sheriff's lieutenant.
Earlier this year, a 36-year-old music teacher was killed when a suspected street racer lost control of his vehicle during a race on a busy Hawthorne thoroughfare. And in January, a driver who killed two people during an illegal street race in Chatsworth last year was sentenced to 12 years in prison.
See more of our top stories on Facebook >>
Sgt. Jeremy Cross, who oversees street racing investigations for the Vernon Police Department, said pooling intelligence between the region's law enforcement agencies would quickly illustrate how pervasive and persistent the problem has become. Industrial havens such as Vernon are especially attractive to racers seeking empty roads and few witnesses at night and on weekends, he said.
------------
FOR THE RECORD
April 2, 2:47 p.m.: An earlier version of this article misidentifed the Vernon police sergeant who oversees street racing investigations as Jeffrey Cross. He is Sgt. Jeremy Cross.
------------
"What I've seen for years is that agencies don't necessarily know they have a street racing problem," said Cross, who has pushed for a regional task force.
Cross and others say it is about time departments adopted a long-term approach. The issue surfaces as a priority every few years only after a series of tragic accidents.
"Nobody really pays attention to it until something bad happens," said LAPD Sgt. Jesse Garcia, who until recently ran the department's Street Racing Team.
Garcia's unit, one of the few assigned to deal with street racing in the county, was part of a city pilot project that ended this year. A similar LAPD unit meant to deter racing in the San Fernando Valley was mothballed in 2015. Most other agencies in the county, including the Los Angeles County Sheriff's Department and California Highway Patrol, say they have not assigned resources to deal with street racing on a full-time basis.
The scope of the problem is difficult to quantify. A Los Angeles ordinance passed last year requires the LAPD to begin tracking such data in the future, but the department and most other agencies in the county do not keep records on the number of people hurt or killed in street races. Most police agencies do not collect data on the number of races, but the few officers who keep tabs on the county's racing scene say incidents are on the rise.
Garcia said racing contests have become more frequent and more aggressive in the county in recent years, fueled by the popularity of car clubs and racers' ability to coordinate via social media. Meet organizers use Instagram and Facebook to draw large numbers of competitors to Los Angeles County from outside the area.
Nobody really pays attention to it until something bad happens.
LAPD Sgt. Jesse Garcia
This year, he said, several car clubs from the Bay Area came down for contests that involved nearly 500 racers in various parts of the region, including the South Bay, Compton, Watts and unincorporated areas of South L.A.
Garcia said police need to end the practice of trying to force racers out of their cities and focus instead on tracking their movements, documenting their activities and sharing that information with other law enforcement agencies to help break up racing events and arrest drivers and spectators.
Meets can feature dozens of drivers competing in drag races or trying to pull off other speed stunts while hundreds of people look on. Larger crowds raise the likelihood that a spectator could get hurt if a driver loses control of a vehicle, said Garcia, who is also behind the push for a county task force.
Drivers used to scatter when they noticed lights and sirens. Now some at the back of the pack will block off the roadway so the majority of the racers can escape, Garcia said.
"If a police car is going through, they jump on it, throw stuff at it, they kick it," he said.
Responding to large races is especially daunting for smaller municipal departments. In the city of Bell, the entire force of 26 officers could find themselves drastically outnumbered at races that attract hundreds of people, Capt. Carlos Islas says. But devoting one of the department's few officers to a racing task force could harm the department's ability to respond to other crimes, he said.
"The task force they're trying to put together is a great idea, but it still remains to be seen if committing a body to them full time is going to be cost-effective," he said.
It is unclear when, or if, the countywide task force will be formally launched. Capt. Anne Young, who attended the last meeting and commands the LAPD's Central Traffic Division, said her department and several others are interested in taking part. In the meantime, the LAPD's traffic bureaus are trying to coordinate efforts to combat the racing scene in the city.
Capt. Chris Marks of the Sheriff's Department's Carson Station, an area popular with racers, said the recent deaths from speed contests underscore that more needs to be done to end the problem.
"These unfortunate and horrific incidents," he said, "bring attention to it, and cause everyone to stop and rethink the strategy and ask, 'Are we doing enough?'"
Twitter: @JamesQueallyLAT
ALSO
Father accused of fatally shooting son because he was gay
Critically injured Redlands hostage was wounded by police gunfire
Cab driver who was kidnapped by O.C. jail escapees didn't get a reward — so he plans to sue
---
The perils of parenting through a pandemic
What's going on with school? What do kids need? Get 8 to 3, a newsletter dedicated to the questions that keep California families up at night.
You may occasionally receive promotional content from the Los Angeles Times.