L.A. Unified board refuses to reappoint member of oversight panel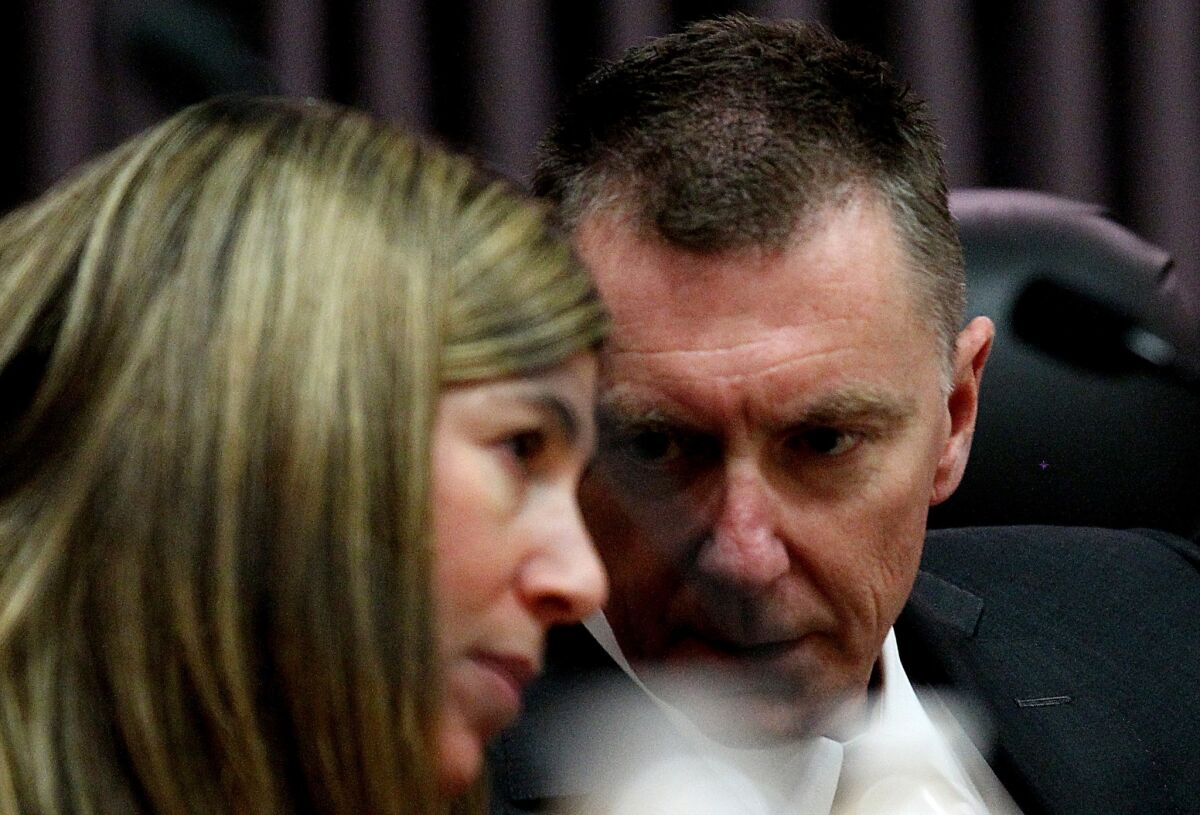 The Los Angeles Board of Education this week acted against a critic of its controversial iPad program by refusing to reappoint him to a key review panel, the latest of several actions that could limit scrutiny of the project.
On Tuesday, a board majority removed Stuart Magruder as a nominee for a second, two-year term on the Bond Oversight Committee, which analyzes and votes on spending from school-construction bonds. The L.A. Unified School District is using more than $1 billion from these bonds to pay for providing a computer to every student, teacher and school administrator.
Board member Tamar Galatzan said she opposed Magruder because he overstepped his role.
"He's an architect and ... has made many forays into telling the instructional people how to do instruction," Galatzan said at the Tuesday meeting. "I think it's inappropriate. I don't think that's what his expertise is."
Galatzan confirmed later that she was referring to some of Magruder's challenges of the iPad project.
Nearly a year go, the board approved an iPad contract that was expected to expand districtwide. But the fall rollout at 47 schools was plagued by difficulties, such as inadequate wireless Internet and inconsistent policies on who was responsible for the costly devices. Early on, students at three high schools deleted security filters so they could browse the Web freely. Officials also have come under fire for misstating costs and terms of the contract with Apple, which makes the iPad.
In an interview, Magruder, 47, defended his inquiries, saying officials needed to justify the huge expenditure.
"They claim there's good pedagogical support for having iPads everywhere for all grades but they haven't been able to provide any support for that," he said.
"It is also clear to me that the district was not really prepared to launch this initiative and have it add value to the classroom," said Magruder, who has two children attending district schools.
Eventually, the district responded to critics by slowing down the districtwide expansion and by trying out laptops as an alternative to iPads in high school.
Galatzan also accused Magruder of voting against any project that did not use architects. Magruder denied that.
The oversight committee grew out of attempts, in the 1990s, to pass school-construction bonds for relieving overcrowding and repairing dilapidated campuses. They also can be used for technology.
The first bond election failed. On the next try, officials added the oversight committee to enhance voter confidence. That bond passed, as have several since. The 15 committee members are unpaid, and their votes are not binding on the district.
Certain groups have had the right to name a member to the panel, including the county Federation of Labor. Another organization with a seat is the local branch of the American Institute of Architects, which chose Magruder two years ago.
Until this week, the school board has never rejected a nominee from a designated outside group, said Tom A. Rubin, the consultant for the bond panel.
During the meeting, Galatzan proposed approving only a second nominee, Barry Waite, whose nomination by a taxpayer-rights group also was before the board. Monica Garcia voted with Galatzan without comment. Galatzan and Garcia were the staunchest backers of the original iPad plan.
Joining them was board President Richard Vladovic.
"I'm going to go with my colleague, who seems to be very knowledgeable," Vladovic said of Galatzan.
Bennett Kayser also voted with them, but only to support Waite. He said later that he also would back Magruder. Steve Zimmer voted no, objecting to the exclusion of Magruder, and Monica Ratliff abstained. The seventh board seat is temporarily vacant.
In denying Magruder, the board acted improperly, said civil rights attorney Robert Garcia, who chaired the oversight body from 2000 to 2005. He said district officials had signed a legally binding agreement to ratify the selections of the outside groups.
Galatzan said she was not aware of the earlier agreement.
"If we couldn't vote no, why else would it be brought to us?" she said.
L.A. Unified general counsel David Holmquist insisted that the board retains the right to reject nominees.
Current oversight chairman Stephen English is out of the country, but sent word that he intended to resubmit Magruder's nomination, said committee consultant Rubin.
The architect's group also is standing behind Magruder.
L.A. schools Supt. John Deasy, who was frequently at odds with the panel over the iPads, said he is not taking sides.
District officials have taken other steps that critics said would limit public review of the technology project. In January, Vladovic announced the impending end of an internal technology committee headed by Ratliff. More recently, officials refused to release the findings of an internal investigation into the project.
The stories shaping California
Get up to speed with our Essential California newsletter, sent six days a week.
You may occasionally receive promotional content from the Los Angeles Times.