Attorneys for Afghan family detained by immigration officials in Los Angeles obtain restraining order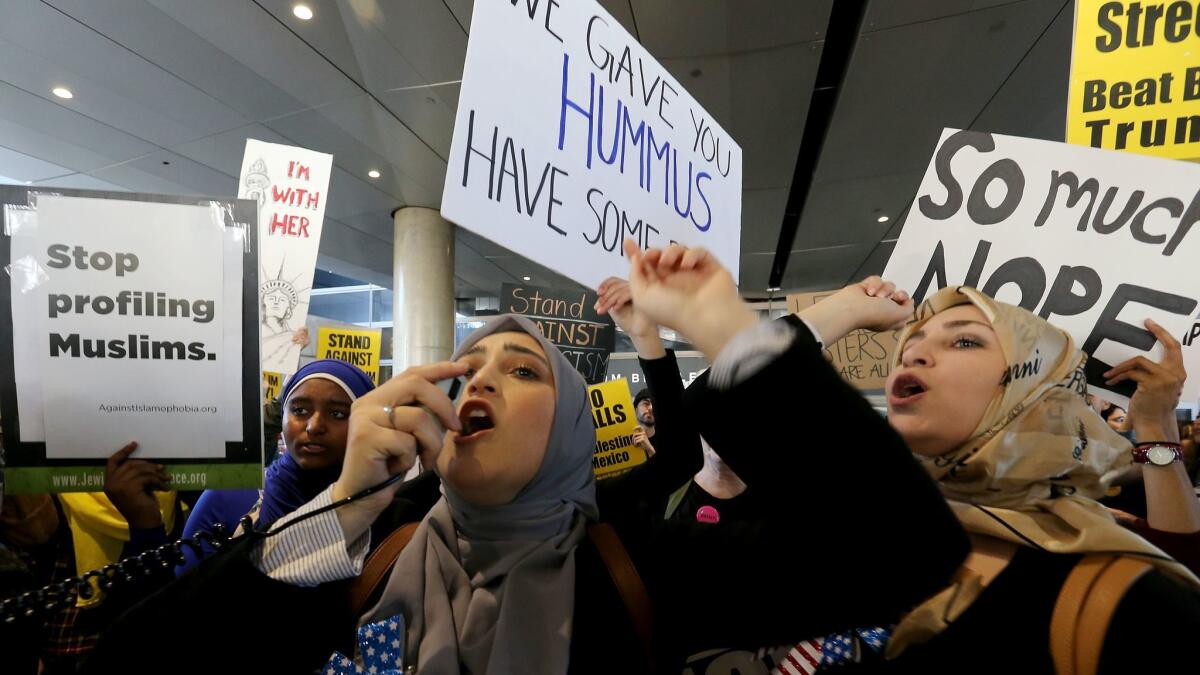 A federal judge has issued a temporary restraining order preventing immigration agents from transferring outside of Southern California an Afghan family that attorneys say had been granted special immigration visas but whose members were detained when they arrived in Los Angeles.
The order, issued Saturday evening, also says the government cannot bar the family members from access to their attorneys.
The father, mother and their three children — ages 7, 6 and 8 months — arrived at LAX on Thursday afternoon for a connecting flight to Seattle, where they planned to resettle, but were detained by U.S. Customs and Border Protection, according to Talia Inlender, a senior staff attorney with Public Counsel, a nonprofit organization that provides free legal services.
The family had been extensively vetted and approved for the visas because of the father's work with the U.S. government, according to a federal court petition filed Saturday seeking release of the family.
In a written statement, Carl Rusnok, a spokesman for U.S. Immigration and Customs Enforcement, said ICE would "fully comply with the March 4 judicial order and all other legal requirements."
In response to a question asking why the family was initially detained, Rusnok said that statement would be the only information provided at this time.
After being detained at LAX for two days, the father was taken to a detention center in Orange County and the mother and three children were taken to a similar facility in downtown Los Angeles.
On Saturday morning, a habeas corpus petition was filed in U.S. District Court on behalf of the family by Public Counsel and the firm Gibson Dunn.
Then, at a brief meeting with the mother, attorneys learned that she and her children were going to be transported to a family detention center in Texas, Inlender said.
Attorneys then filed an emergency motion for a restraining order in federal court to prevent the government from transferring the family out of state.
The names of the detainees have not been released because attorneys have not received approval to make them public and because it could put the family in harm's way.
U.S. District Judge Josephine Staton granted the temporary restraining order Saturday evening. It bars the government from transferring the family outside of the Central District of California, which includes much of Southern California.
It shocks the conscience. These are the people we should be putting out the welcome mat for.
— Talia Inlender, a senior staff attorney with Public Counsel
Inlender said the father had been employed by the U.S. government in Afghanistan and he and his family had received special immigration visas, or SIVs.
The process for obtaining those visas involves intensive vetting, including interviews, security checks, medical examinations and fingerprints — as well as a finding that the applicant has experienced a serious threat because of his or her work with the U.S. government, according to the petition.
"It shocks the conscience," Inlender said in a phone interview with The Times. "These are the people we should be putting out the welcome mat for. They're putting their own lives and families at risk, and instead of providing them that welcome mat we are detaining them."
The case comes on the heels of President Trump's controversial and hotly contested executive order temporarily restricting travelers from seven mostly Muslim nations — Iran, Iraq, Libya, Somalia, Sudan, Syria and Yemen — from entering the United States. The Jan. 27 order did not include Afghanistan.
The travel ban immediately sent airports into chaos, spurred nationwide protests and was challenged in court by multiple civil rights organizations and state attorneys general.
A federal judge in Seattle issued a stay on Trump's order, and a federal appeals court in San Francisco upheld the stay. Trump has said he plans to release a new executive order, possibly as early as Monday, that would thoroughly vet travelers while addressing safety concerns.
A hearing on the family's case is set for Monday afternoon.
For more Southern California news, follow @latvives on Twitter.
ALSO
Iranian man barred from entering U.S. lands at LAX; first to return after court order
Opinion: We're seeing the results of Trump's new border enforcement system. They aren't pretty
For volunteer interpreters at LAX, helping immigrants is personal: 'Somebody here could be my mother'
---
UPDATES:
1:30 p.m.: This article was updated with new information from ICE and attorneys in the case.
This story was originally posted at 12:05 a.m.
Sign up for Essential California for news, features and recommendations from the L.A. Times and beyond in your inbox six days a week.
You may occasionally receive promotional content from the Los Angeles Times.