Some inside Borderline bar survived Las Vegas mass shooting, friends say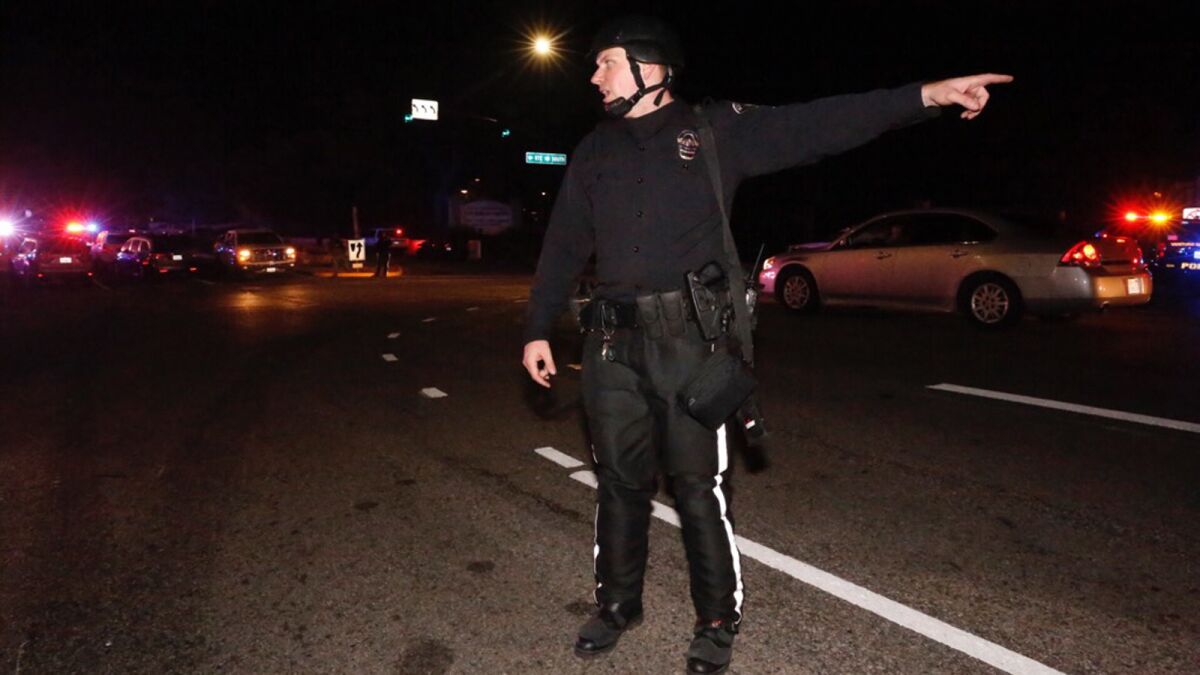 Friends and family anxiously converged at the Borderline Bar in Thousand Oaks early Thursday to learn the fate of the hundreds of people who were inside when a gunman opened fire.
Chandler Gunn, 23, of Newbury Park said his mom came to his room and told him about the shooting.
He rushed to the bar and called a friend who works there, who was also at the Route 91 Harvest music festival in Las Vegas last year when a gunman opened fire, killing 58 people and wounding hundreds. His friend told him that some type of tear gas was thrown into the bar. She saw smoke and heard gunshots and ran out the back toward nearby apartments.
He hasn't been able to contact her again but knows she's safe. He said Wednesday nights are college country nights at the bar, and open to people 18 and over for line dancing lessons.
"A lot of people in the Route 91 situation go here," he said. "There's people that live a whole lifetime without seeing this, and then there's people that have seen it twice."
People stood on the sidewalk making frantic phone calls. One young woman stood with her family on the phone trying to get details. Her family declined to speak.
LIVE UPDATES: Mass shooting at Thousand Oaks bar »
Savannah Stafseth was outside on the patio when the shooting started.
"It's college night, it was insanely crowded," Stafseth said. She heard people yelling, "Get down, get down!"
The gunfire was "rapid, really loud. Just one after another," she said.
"There are no words. Those are my people. It's just not fair. It's not fair," she said. "All these people after Route 91. It's not fair."
Josh Coaly, 27, stood on the sidewalk waiting to hear from his friend inside.
Coaly has been to the bar multiple times with his friends. His friend was also in the Vegas shooting.
He spoke with his friend, who said he is with his dad and is fine and helping friends.
"I just came to see if there's anything I can do," Coaly said. He asked him for the names of people inside so he can start calling the families.
Carl Edgar, 24, a Tarzana resident, said he had about 20 friends inside the bar, where he's a regular, but he wasn't there tonight.
He said the bar is popular on Wednesday nights with students from Moorpark College. He heard about the incident on Snapchat and immediately texted friends who were there.
"Call me," his friend replied.
When he did, she said she had escaped the bar and was hiding behind a gas station. He told her to stay calm. After midnight, another friend texted him that she was hiding in the back bathroom.
"As far as I know, all of my friends are OK, safe," he said. "There are a few people we can't get ahold of, but in these situations people usually turn off their phones to be safe so I'm not gonna get too worried. A lot of my friends survived Route 91. If they survived that, they'll survive this."
---
UPDATES:
2:25 a.m. This story was updated with additional witness accounts.
This story was originally published at 1:25 a.m.
The stories shaping California
Get up to speed with our Essential California newsletter, sent six days a week.
You may occasionally receive promotional content from the Los Angeles Times.