DACA brought 'Dreamers' out of the shadows. Now, some plan to only get louder
Bryan Peña's parents led a life in the margins.
They were immigrants living illegally in Lincoln Heights, having made the trek from Guatemala when their son was small enough to be carried on their backs. His father found work refinishing cars, and his mother cleaned homes. Both carefully guarded their past.
Peña, however, attended a social justice-themed high school, explored interests in basketball, film and cooking and recently began studying nursing at Cal State L.A.
The 18-year-old is forthright about his status as a so-called Dreamer, once even telling his own story to a crowd at an immigration rally.
Despite President Trump's removal of the shield that has protected 800,000 Dreamers from deportation, Peña refuses to suddenly slink into the shadows. Instead, he plans to get louder, more public, more emphatic about his right to stay.
"This is where I want to live," Peña said. "This is the only life I know."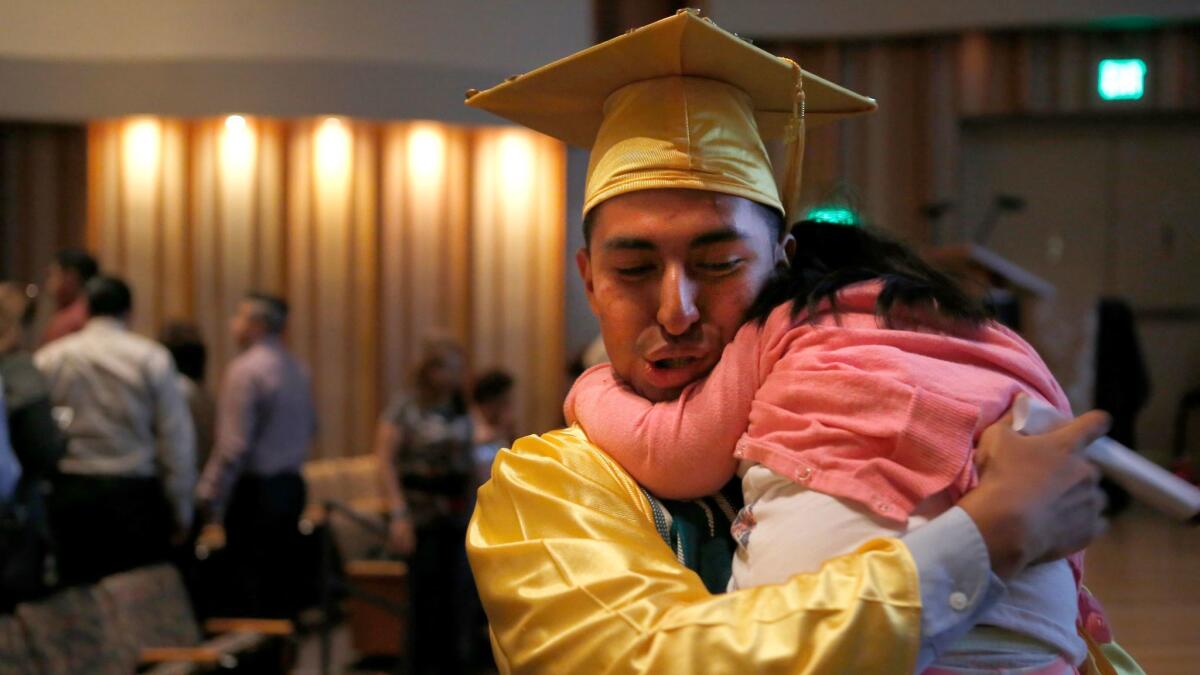 Once a vulnerable population of minors who arrived in the U.S. illegally, Dreamers soon had an edge over their parents. Able to blend into communities, they found it easy to assimilate in the only country they would think of as home.
They attended college, established careers, bought homes and felt protected by their status under the Deferred Action for Childhood Arrivals program, or DACA.
Now, the threat of deportation has roused them to rally, propelled by polar forces: They have everything to lose and could soon have nothing to lose.
"Folks got DACA and went on with their lives," said Roberto Gonzales, an assistant professor at Harvard University who has been studying undocumented youth over the last decade.
"They didn't have to be stressed out about their circumstances. So they put their heads down, went to school, got jobs and took care of their families."
Gonzales said student participation in the immigrant rights movement experienced a lull after many felt they were safe from deportation. Now he expects a revival of student activism — along with a mass mobilization of educators, elected officials, celebrities and corporations — to fight the repeal of DACA, which is set to phase out in March unless Congress takes legislative action.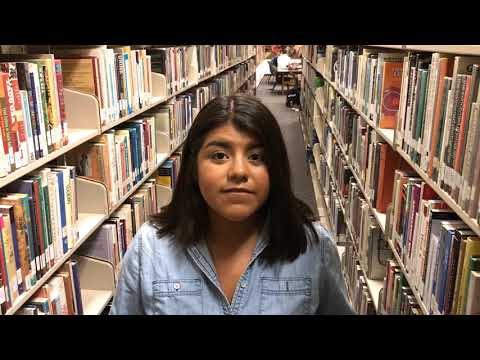 Luisa Lopez Alejandre, 18.
Luisa Lopez Alejandre, 18, has found herself among those joining the call.
For most of her life, the Santa Ana resident has felt no need to hit the streets in protest. Arriving illegally from Mexico at age 5, Alejandre received DACA status and never envisioned cleaning hotels off the books like her mother. Instead, she took on extra coursework in high school and set her sights on becoming a sociologist.
But after Trump was elected, Alejandre reassessed her future. She began attending immigrant rights rallies and delved into the movement.
On Tuesday, the day the DACA phaseout was announced, Alejandre found herself holding an American flag and a megaphone, addressing a gathering of hundreds.
"You are more than DACA … or an alien," she cried. "You are a human being."
Rocio Lopez, a product designer in Silicon Valley, has also found herself becoming more vocal. The 28-year-old recently began revealing her status as a Dreamer to co-workers and acquaintances and changed her Facebook photo to one supporting DACA.
Lopez works inside the kind of glass office buildings her parents once cleaned after they left Mexico and arrived in East Palo Alto. Nearly every aspect of her life has been shaped since then by DACA. The program gave her "peace of mind," allowing her to focus on her career and work for traditional companies that offered benefits.
She has been able to help support her parents and pay their medical bills.
"But now, every day I come into work, it's like I have a ticking bomb," Lopez said. "It's hard. I work with other product designers and everyone is rising, becoming senior product designer, eventually principal, and then director. And to know that is not a path for me is very depressing."
Although she is surrounded by many who espouse progressive views on immigration, Lopez said she still comes across those who are shocked to learn her status.
"The problem is people don't understand it's their neighbors, it's the people they went to school with," she said.
Organizers say activists these days bring with them a new dynamic. Afraid of what could happen to themselves and their families, they are also emboldened and determined to be heard.
"It's a combination of that fear, but also that fearlessness — of wanting to stand up, of not wanting to be pushed into the shadows, of wanting to have their human dignity recognized," said Maria Brenes, executive director of InnerCity Struggle, which promotes community organizing in East Los Angeles.
Anthony Ng, a policy advocate for Asian Americans Advancing Justice in L.A., predicts a distinct change in how people protest after news of the DACA repeal sinks in.
"The urgency for folks losing a livelihood, losing their homes, will create a ripple effect, making them more creative," he said. "A lot of people will want to fight more or speak out."
Ng himself arrived illegally from the Philippines at age 11 with his parents. After graduating from UC Irvine, he was among the first Asians to apply for DACA.
He and his sister benefit from the program, and his brother became a U.S. citizen more than eight years ago through marriage. His mother got her green card more than a year ago. The thought of being separated is frightening.
"I am ready to continue the fight," Ng said.
"DACA was a temporary solution, a Band-Aid. Everyone knew that too. That's why, when we keep pushing ahead for our rights, we need to include everyone undocumented. What good would it be for some members of the family to stay and have others go?"
Hours after the White House announced on Tuesday that DACA would be phased out, thousands flocked to Placita Olvera in downtown Los Angeles.
"We are the immigrants, mighty mighty immigrants," many chanted, thrusting up signs.
Among the multitude of poster boards, Zuleyma Chazari's stood out. In hot pink and in the shape of a butterfly, it "stands for love," she said.
The 21-year-old biology student at USC grew up in Gardena, having immigrated illegally with her mother more than a decade ago.
"I will knock on doors; I will go into people's houses," Chazari said about her determination to spread the word about defending DACA.
"We are not criminals…. We don't want any harm for the country; we want to make it better."
After about an hour, the crowd began to march, cheering at every honked horn, before stopping at City Hall.
Speeches were made, although they were hard to hear among attendees who cheered and began their own rousing cries.
Among the speakers was Sean Tan, 24, a public policy graduate student at UCLA.
Standing on the stairs, he grabbed the microphone and introduced himself.
"I'm Sean, I'm undocumented and I'm unafraid."
Tan and his family arrived from the Philippines on tourist visas when he was 11. They never left.
He received his DACA permit in 2012, and it is supposed to last until September of next year.
He plans to continue protesting, as well as working with community organizers to appeal to local and federal lawmakers for more protections.
"I think it's important to show up, especially now that the Trump administration and other forces are threatening our livelihood," he said.
He admitted that he was scared about the possibility of deportation but thinks the threat outweighs any fears.
"We didn't get DACA without starting a movement," he said.
Peña of Lincoln Heights was also at the rally. Gazing at the crowd that included many who were there to support friends without legal status, he saw hope.
"This is a sign … that we're welcome here," he said, pointing at signs with messages such as "Protect immigrant families!!!" and "Let my students dream."
California, he noted, seemed to offer a sense of security for those in favor of immigrant rights, unlike other states.
Soon Peña's old teacher Peta Lindsay showed up and handed him a bright yellow sign. It read: "#DefendDACA! Full rights of all," and "Immigrants Now!"
They began chanting the message together, standing side by side.
To read the article in Spanish, click here
Twitter: @sonali_kohli
Twitter: @thecindycarcamo
Twitter: @corinaknoll
Times staff writers Anna Phillips, Anh Do and Brian De Los Santos contributed to this report.
ALSO
Trump and Congress agreeing on a deal to replace DACA? Let's hope that dream becomes a reality
Who are the 'Dreamers' whose dreams have been deferred? You might be surprised
What's next for DACA and the nearly 800,000 people protected by it
Sign up for Essential California for news, features and recommendations from the L.A. Times and beyond in your inbox six days a week.
You may occasionally receive promotional content from the Los Angeles Times.