Lawsuit alleges hostile environment for Jews on San Francisco State campus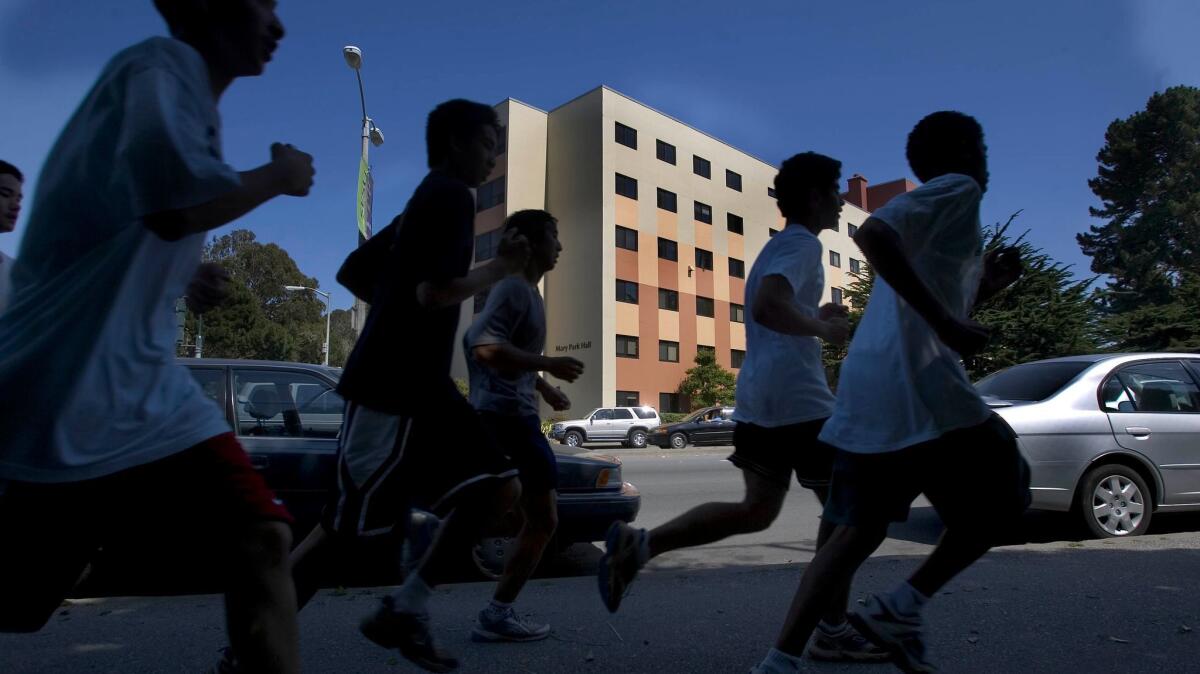 Students and Jewish community members filed a lawsuit Monday against San Francisco State University and Cal State's board of trustees, alleging that the San Francisco campus of the country's largest public university system has long cultivated a hostile environment in which Jewish students are "often afraid to wear Stars of David or yarmulkes on campus, and regularly text their friends to describe potential safety issues."
The lawsuit, filed in the U.S. District Court of the Northern District of California by attorneys from The Lawfare Project and the firm Winston & Strawn LLP, was prompted by a confrontation in April 2016, when the mayor of Jerusalem, Nir Barkat, was invited by SF Hillel to speak on campus.
According to the lawsuit, protesters used bullhorns to drown out the mayor's speech and yelled and chanted "Intifada," "Get the [expletive] off our campus," and "From the river to the sea, Palestine will be free," while university administrators allowed the disruption to continue and instructed campus police to "stand down."
"SFSU has not merely fostered and embraced anti-Jewish hostility — it has systematically supported these departments and student groups as they have doggedly organized their efforts to target, threaten, and intimidate Jewish students on campus and deprive them of their civil rights and their ability to feel safe and secure as they pursue their education," the lawsuit said.
The lawsuit's allegations were immediately countered by outside advocacy groups, who said they perpetuate the idea that opposing Israeli government policies amounts to anti-Semitism. The two should not be conflated, and the aims of the lawsuit are misleading, according to advocacy groups such as Palestine Legal and Jewish Voice for Peace.
"Despite this lawsuit's claims, this suit is not about protecting Jewish students from antisemitism, it is the latest in an ongoing effort to silence advocacy for Palestinian human rights on campuses," said Tallie Ben Daniel of the Jewish Voice for Peace.
The lawsuit contends that the way administrators handled the April confrontation is consistent with other incidents on campus over the years. It lists other alleged incidents including a 10-foot mural put up on the student union building in 1994 that featured yellow Stars of David intertwined with dollar signs, skulls and crossbones, and the words "African Blood."
After a 2002 peace rally, the lawsuit states, a group of students shouted "Hitler didn't finish the job," "Get out or we'll kill you," and "Go back to Russia" to the Jewish students who stayed behind to clean up and hold a prayer service.
Daniel Ojeda, the university's counsel, said in a statement Monday that San Francisco State "was not aware of the complaint and has not had an opportunity to review or respond to it."
"We have been working closely with the Jewish community, among other interest groups, to address concerns and improve the campus environment for all students," he said. "Those efforts have been very productive and will continue notwithstanding this lawsuit."
University officials issued a statement the next day disputing the allegations in the lawsuit.
"San Francisco State University is deeply committed to the elimination of anti-Semitism in our community and to fostering a safe and welcoming campus for our Jewish students," the statement said. "SF State remains committed to furthering free speech and defeating discrimination, including anti-Semitism. Rather than litigation, we welcome the plaintiffs, and any other organizations similarly committed to these ideals, to join us in pursuing that objective."
The lawsuit comes at a time when free speech has become a highly charged issue on college campuses across the nation, with many debating the line between hate speech and academic freedom.
Reports of anti-Semitic incidents on campuses across the country have increased in recent years. Assaults, vandalism, and harassment grew by 34% in 2016 and jumped 86 percent in the first quarter of 2017, according to a recent report by the Anti-Defamation League.
Follow @RosannaXia for more education news
---
UPDATES:
June 21, 1:50 p.m.: This post has been updated with additional comments from outside advocacy groups.
June 20, 6:46 p.m.: This post has been updated with an additional statement from San Francisco State.
This post was originally published on June 19 at 6:50 p.m.
Sign up for Essential California for news, features and recommendations from the L.A. Times and beyond in your inbox six days a week.
You may occasionally receive promotional content from the Los Angeles Times.