Irvine mother and daughter accused of operating a national prostitution ring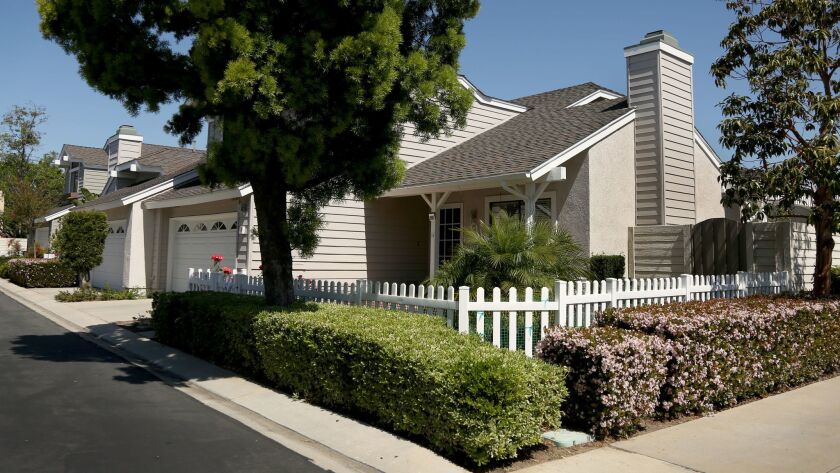 The women were forced into the sex trade and moved from one state to another. They were required to make $800 a day — working 12 to 14 hours while paying house fees, transportation costs and hotel and food expenses. Often times they were assaulted, raped and robbed by customers.
Investigators said that when they began to unravel the national prostitution ring in Minnesota last month, they traced the heart of the operation nearly 2,000 miles west, to a home in a quiet, well-landscaped neighborhood of Irvine.
Prosecutors said it was from this home that Hong "Gina" Jing and her daughter, 23-year-old Fangyao "Michelle" Wu, ran the sex trafficking enterprise with the help of two other people, including a woman from Chino Hills.
This week, Minnesota prosecutors charged the four with multiple counts of racketeering and sex trafficking.
Jing and Wu are being held at Women's Central Jail in Orange County on $100,000 bail each, according to arrest records. Sophia Wang Navas, 48, of Chino Hills was released Friday after posting bail. Minnesota prosecutors plan to extradite the three women to face the charges.
It seems to be the Uber of sex trafficking, frankly.
— Washington County Atty. Pete Orput
"The operational control, we believe, was centered in California. There were ads posted; dozens of phones were used to communicate and set up 'dates' for these females," said Washington County Atty. Pete Orput, whose agency led the investigation.
"These men would be given the address and just show up," he said. "It seems to be the Uber of sex trafficking, frankly."
Prosecutors said Jing and Navas were dubbed the "boss ladies" and allegedly used massage parlors, private residences and hotels for sex services in Minnesota, North Dakota and California. Jing had been arrested before, in June, for running a brothel in Irvine.
The victims were mostly Chinese and Korean nationals who didn't speak English, according to the complaint and prosecutors. Their passports sometimes were taken away, and they often were moved from one location to another to prevent them from developing ties or reaching out for help.
The complaint said that investigators were able to connect email and phone accounts to all four defendants, who posted thousands of advertisements for sexual services on Backpage.com in 29 states over the last two years. Investigators also were able to connect bank accounts to all suspects.
At least six women were found at several locations in Minnesota when investigators served search warrants. At least one investigator reported seeing hundreds of used condoms at one location.
County prosecutors said the case began to take shape late last month when authorities arrested Dongzhou "Mark" Jiang, 28, for prostituting a woman in Woodbury, Minn.
Detectives served search warrants at his home in Blaine, Minn., where they discovered $36,000 in cash that had been divided and placed in manila envelopes with the names of various women written on them. Detectives also seized several cellphones, photographic ledgers and bank deposit receipts that connected Jiang to Jing and Wu in Irvine and Navas in Chino Hills.
According to the complaint, Jiang spoke with authorities and described the victims' brutal working conditions. Sometimes, he said, the women had to pay off their debts with sex acts.
The complaint said that Jiang told detectives that "getting beat and raped is 'just part of the business; it is a high-income, high-risk' enterprise."
"These victims were especially vulnerable, as they were trapped in a foreign country where they barely spoke the language and sold for sex," said Ramsey County Atty. John Choi. "As someone who has been deeply involved in the fight against sex trafficking in Minnesota, I want to say that this is the most sophisticated human trafficking operation that I have ever seen."
At an Irvine home that authorities said was connected to the mother and daughter, a 72-year-old man answered the door. He said he has known Jing, whom he knows as Gina, and Wu, whom he knows as Michelle, for years. He declined to give his name.
"They're painting them as these evil people, and they're not," the man said. "I don't believe it. They wouldn't do anything like that."
He said the women had rented a room in his house this year but were not living there. He said Jing had been visiting this week when authorities arrested her and searched his house. He said he was working to bail the women out.
He described Jing as "a swell person" with a "soft heart" who was living in the United States on asylum. He said that she had put her daughter's name on a condo she owned nearby "because that's the Chinese way. Because her name is on the house, they assume she's involved."
He said the daughter was studying to be an eyebrow-tattoo artist. "Poor Michelle calls me every day from jail trying to get me to bail her out," he said.
As he spoke, his cellphone rang. He said it was Wu, calling from the Orange County jail. "I have good news," he told her. "You should get out in four to six hours. OK, hon, please keep a stiff lip."
christopher.goffard@latimes.com
Follow @latvives and @latchrisgoffard on Twitter.
ALSO
15 Freeway lanes to be closed for 55 hours on back-to-back weekends starting Friday
'Someone's getting shot right now ... oh well': L.A. deputy ignores call in video to ex-girlfriend
Supreme Court declines case over Glendale's controversial 'comfort women' statue
---
The stories shaping California
Get up to speed with our Essential California newsletter, sent six days a week.
You may occasionally receive promotional content from the Los Angeles Times.