Rancho Palos Verdes to continue peacock eviction program
Florida has its Burmese pythons, Louisiana has its beaver-like nutria, and Rancho Palos Verdes has its peacocks.
Each of the communities has struggled with a non-native — some would even say invasive — species. In Florida, the snakes have led to large declines in raccoons, rabbits and bobcats, while the nutria have ripped up ecologically sensitive swampland in Lousiana.
In the scenic Rancho Palos Verdes, the colorful peafowl have been blamed for scratching cars, leaving large droppings on driveways and awakening residents with their high-pitched screams. Nearly 50 birds were killed between 2012 and 2014 in the neighboring community of Rolling Hills Estates, some apparently by angry residents.
See more of our top stories on Facebook >>
Last year, the Rancho Palos Verdes City Council approved a plan to trap and relocate up to 150 birds in effort to reduce the population to 134, the number of birds recorded in 2000. In October 2014, there were 305, according to a city estimate. The city's trapping effort was successful, and the City Council has since voted to extend the program.
Indian blue peacocks were imported to the Palos Verdes Peninsula a century ago.
(Genaro Molina / Los Angeles Times)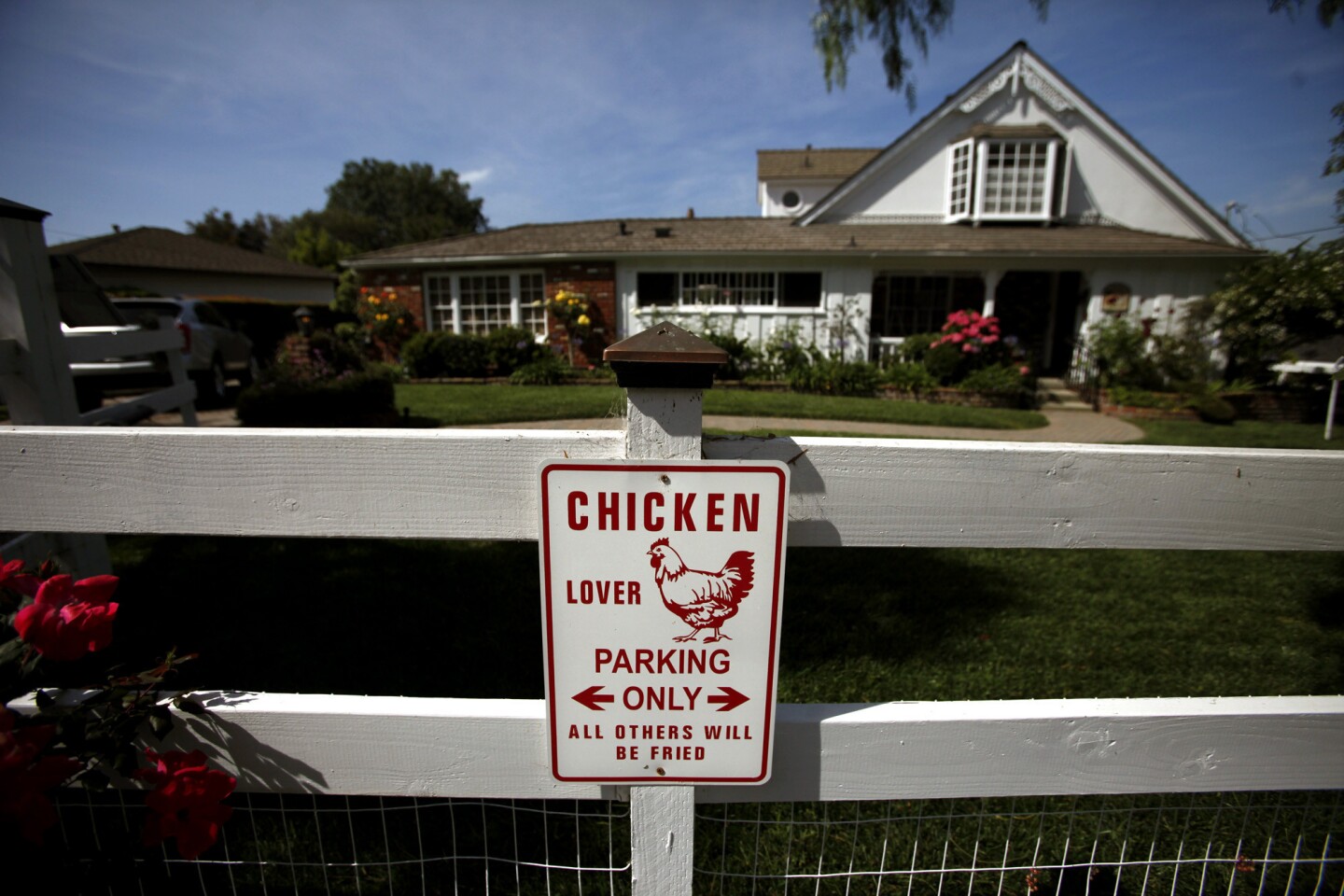 One front yard welcomes at least some fowl; the residents' stance on the neighborhood peacocks is not clear.
(Genaro Molina / Los Angeles Times)
A peacock crosses Dapplegray Lane, where many of the deaths have occurred -- and where trapping and removal of peacocks require a permit.
(Genaro Molina / Los Angeles Times)
"Someone or somebody is killing peacocks," says Sydne Michel, a 14-year resident.
(Genaro Molina / Los Angeles Times)
A peacock makes his presence known outside a home along Dapplegray Lane.
(Genaro Molina / Los Angeles Times)
Rolling Hills Estates residents weren't all thrilled with the peacocks, but most had learned to live with them -- until two years ago, when things started to get violent.
(Genaro Molina / Los Angeles Times)
Each peacock killed could bring an animal cruelty penalty of up to three years in prison or a $20,000 fine.
(Genaro Molina / Los Angeles Times)
"The population needs to be controlled," said Councilman Anthony M. Misetich.
The birds, which are trapped between September and February, are released on large private properties in Lancaster, Murrieta and other suburbs where the owners have agreed not to harm, sell or eat the birds.
Interested in the stories shaping California? Sign up for the free Essential California newsletter >>
Peacocks were introduced to the Palos Verdes Peninsula somewhere between 1916 and 1920, according to a 2010 Times article.
But some Rancho Palos Verdes residents and city officials want the city to increase the number of culled birds or lengthen the trapping season to prevent them from breeding.
"We're giving them an opportunity to replenish," said Mayor Ken Dyda. "We can be humane and trap them before breeding season."
And Anette Jaquette, who has lived in the city since 2000, said she thinks the program hasn't made a serious dent in the peafowl population.
"Heavens to Betsy, they have increased," she said.
Jaquette also advocated trapping peacocks before they could breed or relocating more of them, especially after her dogs became sick after eating the birds' droppings.
"I didn't move here to step in peafowl poop," she said.
ALSO
Jury finds 'Shield' actor Michael Jace guilty of second-degree murder of his wife
FBI agent's gun and credentials stolen from vehicle in San Francisco
Student pilot and flight instructor missing after plane disappears near Catalina Island
---
Life is stressful. Our weekly mental wellness newsletter can help.
You may occasionally receive promotional content from the Los Angeles Times.