Dozens of peacock killings in Rolling Hills Estates investigated
Indian blue peacocks were imported to the Palos Verdes Peninsula a century ago.
(Genaro Molina / Los Angeles Times)
One front yard welcomes at least some fowl; the residents' stance on the neighborhood peacocks is not clear.
(Genaro Molina / Los Angeles Times)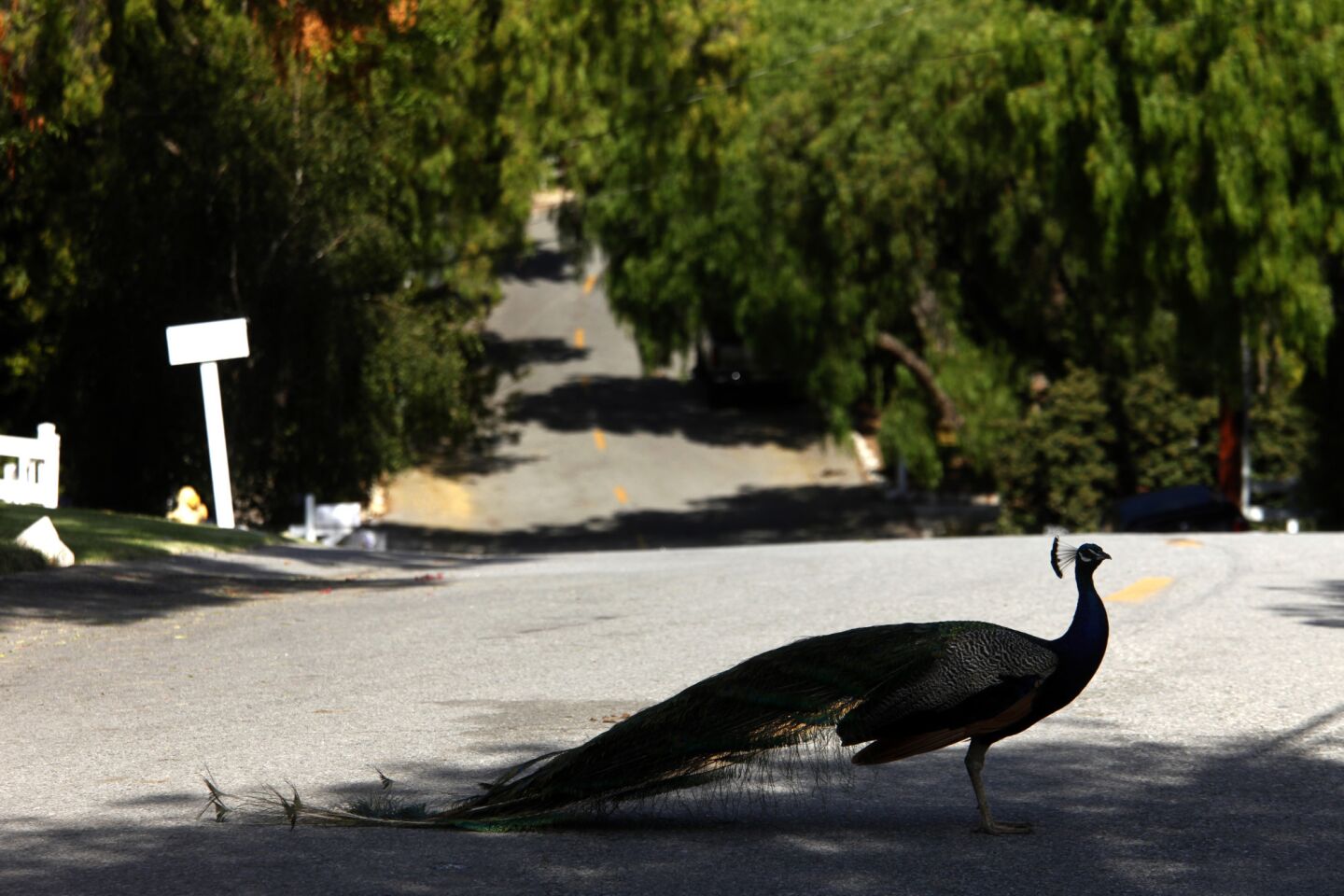 A peacock crosses Dapplegray Lane, where many of the deaths have occurred -- and where trapping and removal of peacocks require a permit.
(Genaro Molina / Los Angeles Times)
"Someone or somebody is killing peacocks," says Sydne Michel, a 14-year resident.
(Genaro Molina / Los Angeles Times)
A peacock makes his presence known outside a home along Dapplegray Lane.
(Genaro Molina / Los Angeles Times)
Rolling Hills Estates residents weren't all thrilled with the peacocks, but most had learned to live with them -- until two years ago, when things started to get violent.
(Genaro Molina / Los Angeles Times)
Each peacock killed could bring an animal cruelty penalty of up to three years in prison or a $20,000 fine.
(Genaro Molina / Los Angeles Times)
The residents of Rolling Hills Estates have always had a difficult relationship with its exotic Indian blue peafowl neighbors.
For some, the peacocks — which were imported to the Palos Verdes Peninsula a century ago — bring charm and a rustic feel to the upscale suburb. But other say that the peacocks are noisy and can be aggressive, and that their pecking has been known to scratch cars.
For decades, the city and surrounding peninsula communities have tried to keep the peace through regulations, education programs and behavior modification for the birds.
But over the last two years, the situation has turned violent.
During that time, 50 peacocks have been killed by arrows, bullets, pellets, poison or suspicious means, sparking outcry and an investigation involving multiple agencies.
Some peacocks were killed accidentally, but a "significant number" of the birds were killed intentionally, said Lt. Cesar Perea, an investigator with the Society for the Prevention of Cruelty to Animals Los Angeles.
Nearly 20 peacocks have been killed in the last seven months alone. There are no suspects, but authorities believe the culprits are people annoyed by birds or new residents who are not aware of the long history of peacocks in the area.
Three organizations are involved in the investigation — the Sheriff's Department, animal control services and the local SPCA. The penalty for the animal cruelty charge associated with killing each peafowl is up to three years in prison or a $20,000 fine.
Many of the killings have occurred along or near Dapplegray Lane, the only Rolling Hills neighborhood where peacocks may not be trapped or removed without a permit.
"This is animal cruelty," resident Linda Retz said. "It's frightening for the people who live here."
The biggest complaints about the birds are that they peck at reflections on cars and scratch paint when perched on top of the hoods. Their calls can be loud and sharp, and droppings are common nuisance.
It doesn't help, detractors contend, that residents feed the peacocks, discouraging the birds from leaving the area to forage for food.
Back in the 1990s, Rolling Hills Estates thought the key to solving the dispute involved training the peacocks to avoid annoying residents.
City officials flew out Dennis Fett, director and founder of the Peacock Information Center, from Iowa in 1992 for help. His advice at the time: Build feeding stations and roosting barns away from homes to modify the birds' behavior.
"My plan was not easy, it required work on their part," he said in an email. "The residents who both loved the peacocks and hated the peacocks had to do their part to make the plan work. Neither side did their part."
But Andy Clark, Rolling Hills Estates community services director, said Fett's plan probably wasn't followed because it didn't work.
In 2005, the city implemented an ordinance prohibiting anyone from shooting, taking, trapping or injuring any wild bird in the city. Officials also created a trap and removal program for peafowl, but the process requires homeowners to get a $55 permit. In that time, just 13 permits have been pulled, and of those, only one peacock has been trapped, Clark said.
City officials, meanwhile, advise residents to spray the birds with water or get a dog as a deterrent.
And for some residents like 94-year-old Louise Pierson, that should be enough before resorting to lethal measures.
"I know the birds can be kind of loud, but people that don't like them shouldn't live here," she said.
The stories shaping California
Get up to speed with our Essential California newsletter, sent six days a week.
You may occasionally receive promotional content from the Los Angeles Times.