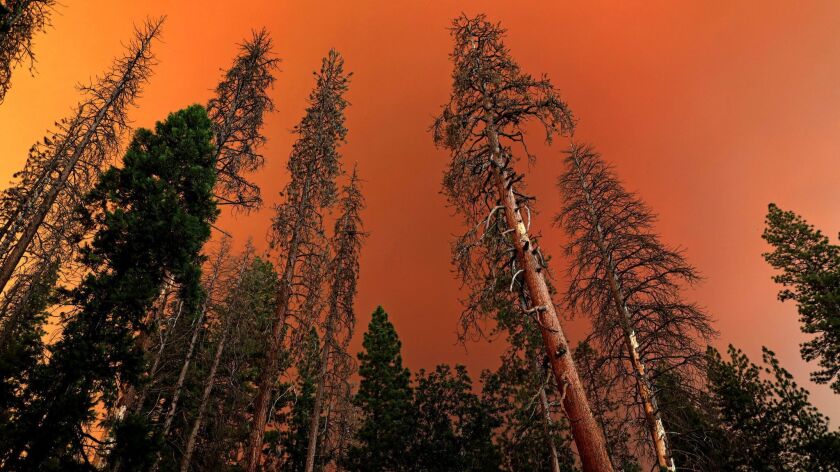 Winds kicked up in Northern California on Thursday night, bringing red flag conditions to areas where massive fires are already raging.
Temperatures will be slightly cooler over the weekend, but gusting winds remain the looming threat for the next few days, officials said. The winds could pose fire danger as far south as Kern County, where gusts are predicted to reach 40 mph, fire officials said.
This week, firefighters across the state battling blazes including the Carr fire in Shasta County and the Ferguson fire near Yosemite National Park used bulldozers and hand tools to widen containment lines and strengthen weak spots in preparation for winds that could shift direction and push the fires toward populated areas.
It's not just the largest fire commanding resources — there are 16 large wildfires burning throughout California, ranging from 35 to almost 132,000 acres. More than 14,000 firefighters from around the state and country are working to contain the conflagrations, which have scorched over 410,000 acres and displaced around 40,000 residents.
The Carr fire, the largest of those blazes, grew to 133,924 acres and was 39% contained as of Friday evening. The massive blaze has killed six people and destroyed 1,567 structures when it sped through the city of Redding and surrounding areas, becoming the sixth-most destructive and 13th-deadliest wildfire in recorded California history.
A red flag warning took effect in Shasta County on Thursday night, and officials expect strong winds from the west and north to continue through Saturday night, with gusts up to 30 mph, National Weather Service meteorologist Tom Dang said. Temperatures are expected to be slightly cooler over the weekend, possibly dipping into the 80s, but humidity will stay low and air quality will continue to suffer.
As a low-pressure system travels through the region, "winds will continue to develop and become stronger," said Scott McLean, deputy chief of the California Department of Forestry and Fire Protection. "It's an issue that we have to address and it's definitely a challenge."
Evacuation orders are still in place for thousands of residents in the Carr fire burn area. A Local Assistance Center has been set up at Shasta High School for evacuees who have lost their homes to receive services, including housing, mental health, cleanup and DMV help.
A red flag warning took effect at 11 a.m. Friday in Mendocino County, where two large fires have been burning since last week. While containment is increasing on the River fire, the Ranch fire grew quickly to the east and southeast to 115,250 acres. It was 28% contained Friday evening, while the River fire to the south was 42,200 acres and 50% contained.
The Ranch fire has moved into an area that previously burned in June during the Pawnee fire. Fire officials said that was a good sign.
On Thursday night, as winds threatened to push the fire south, officials ordered mandatory evacuations in Lake and western Colusa counties, as well as Mendocino National Forest campgrounds. The fire had not reached populated areas as of Friday morning, Cal Fire spokesman Mike Wilson said.
Mendocino County was expected to see temperatures in the 80s and 90s Friday and wind gusts up to 30 mph, Dang said. The winds will probably become even stronger Saturday, he said.
The Ferguson fire near Yosemite had burned 77,207 acres and was 41% contained as of Friday evening.
"Warmer and drier conditions persist in the area, resulting in increased fire behavior and spotting," an incident report on the fire said. Crews are continuing to work on containment lines to prevent the fire from continuing its spread southeast into the park, according to the report.
Reach Sonali Kohli at Sonali.Kohli@latimes.com or on Twitter @Sonali_Kohli.
---
UPDATES:
7:25 p.m.: This article was updated with new fire figures.
8:55 a.m.: This article was updated with statewide information about wildfires.
This article was originally published at 8:30 a.m.
---