L.A. budgets $430 million to help homeless, most of it long-term debt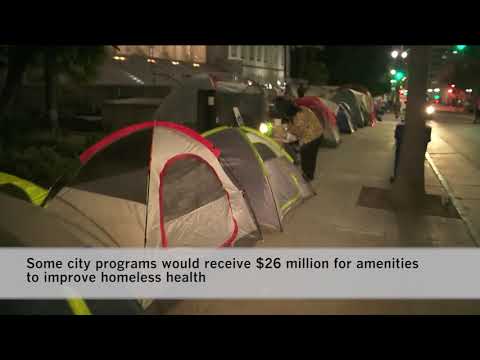 More than $238 million would pay for housing projects
In his fiscal 2018-19 budget, Mayor Eric Garcetti more than doubled the amount — $430 million — dedicated to easing the city's intractable homeless problem. Only about 20% of the proposed spending, however, would come from general fund money earmarked for direct services to homeless people.
That $80 million, also twice the amount available in the current budget, would go to programs run by the mayor's office, city departments and the Los Angeles Homeless Services Authority. The joint city-county agency funds shelters and outreach programs, conducts the annual homeless count and maintains homeless data systems.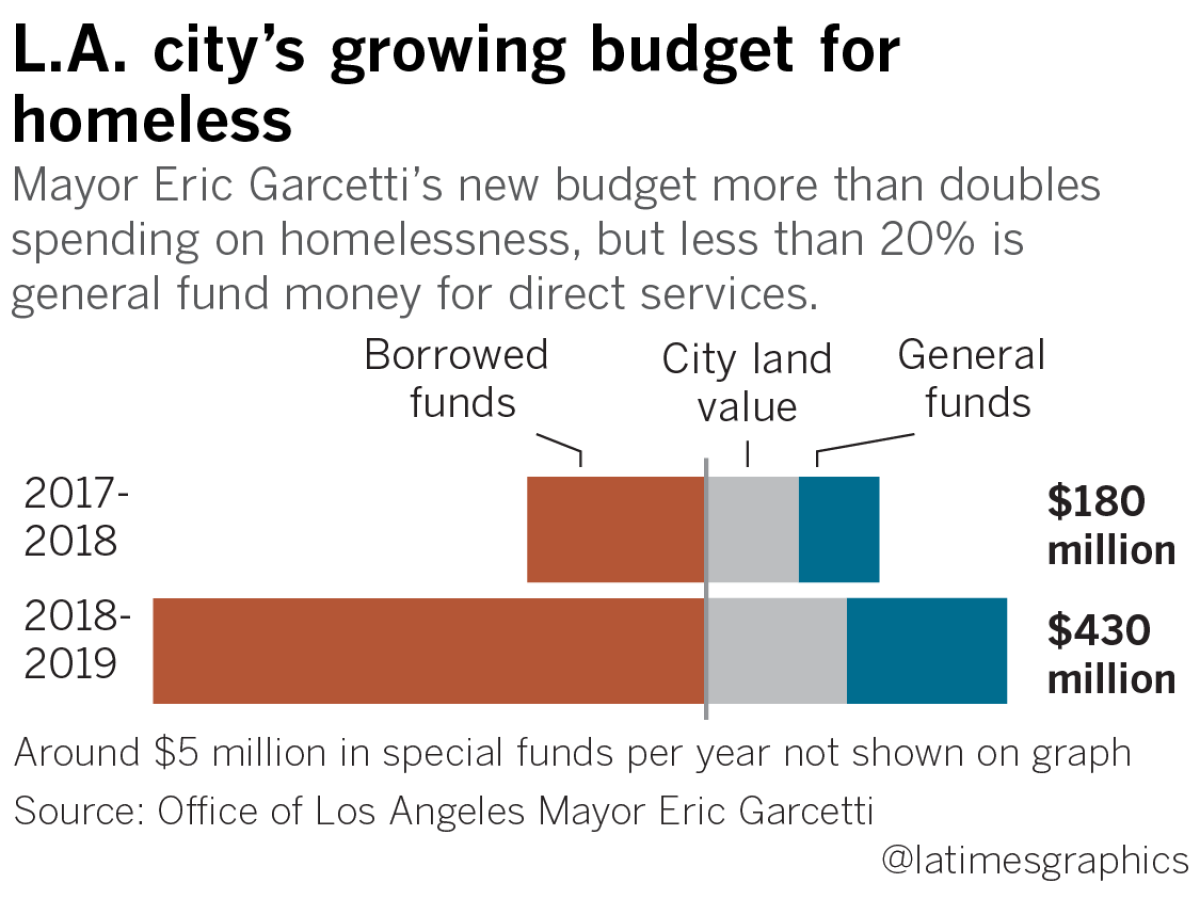 More than half the homeless spending in the new budget, which still must be approved by the City Council, is long-term debt authorized by Proposition HHH to pay for housing construction that probably will take two years or more to complete. Another big chunk is the value of city-owned land that is being offered to developers for those projects.
Here's a Times analysis of the homeless spending in the mayor's proposed budget, breaking down the funds by what they would do:
A Bridge Home
The centerpiece of Garcetti's program is a $20-million fund to open shelters across the city. The mayor wants 50 to 100 beds in each council district by January. Each district would receive $1.33 million and have six months to build a shelter or forfeit the money to another district.
The "A Bridge Home" proposal is modeled after a pilot currently in development downtown, where trailers are being installed to shelter 45 homeless people on a former parking lot. That project is slated to cost about $2 million, including the tab for six months' worth of services, a Garcetti spokeswoman said.
According to officials, the cost of additional shelters could be lower if their sites require less preparation. The city also is considering tent structures — which have been installed quickly and affordably elsewhere.
Alpha Project, a San Diego human services agency, put up a tent shelter for 325 people for about $1.2 million, chief executive officer Bob McElroy said. It's a semi-permanent, air-conditioned structure with no built-in utilities. Water comes from a fire hydrant. There are three shower trailers and 30 portable toilets, McElroy said.
Garcetti's spokeswoman said the city planned to link into water and sewer lines and would not use portable toilets.
At the other extreme, the city of Pomona is putting up a 202-bed shelter, also in a semi-pemanent tent, at a cost expected to exceed $9 million. That includes $1.9 million to buy the 4-acre parcel, environmental remediation and underground utilities.
So far, three Los Angeles council members have proposed sites for shelters; no cost estimates have been released.
Other shelters
Garcetti's budget proposal also sets aside $13 million in continued support for the shelter and crisis housing, rapid re-housing and safe-parking programs run by the city-county housing authority. The funds also would allow 800 winter shelter beds to remain available for an extra month, through March 2019. The city would spend an additional $5.4 million to expand and improve domestic violence shelters and to establish a pilot shelter for victims of human trafficking.
HHH housing
The largest chunk in the budget is the $238.5 million that would be borrowed to seed a second batch of housing projects approved for Proposition HHH funding. That's three times as much as the city put into the program in the current fiscal year. The 24 projects will provide 931 new and 321 rehabbed units of permanent supportive housing for homeless people, as well as 248 new units of affordable housing.
HHH facilities
The budget provides $36.4 million, also three times as much as in the current year, for 22 construction projects to open or refurbish facilities including 10 shelters, four transitional housing sites, two navigation centers, a hygiene center and a clinic
City land
To help speed up construction of new homeless housing and cut down on costs, Los Angeles is offering surplus city-owned land to developers. The 25 parcels in the current batch are valued at $70 million, up from $46 million for parcels made available in the current year.
Health and sanitation
A collection of city programs would receive a total of $26 million for street cleanups and amenities to improve homeless health — up $7 million from the current year. These include Operation Healthy Streets, which provides restroom and bathing facilities and temporary storage on skid row, and a $5.4-million expansion of Clean Streets Los Angeles for homeless encampment cleanups around the city. Other new services would include a fast-response paramedic unit for downtown and MacArthur Park, and extra restroom cleaning services in heavily used parks.
Outreach
The city's contribution to the homeless authority includes $5 million for outreach. That would help fund the 13 current two-person outreach teams and allow for an additional 15 teams for six months. The nine two-person HOPE teams that work with the Bureau of Sanitation and LAPD on cleanups also would be funded, along with four more. Separately, funding would be provided for seven HOPE teams under the Department of Public Works.
Operations
About $4.7 million would be contributed to the homeless authority for administration, planning, the annual count and maintaining the homeless information and placement data systems. The city would spend an additional $1.1 million on administrative costs.
Sign up for Essential California for news, features and recommendations from the L.A. Times and beyond in your inbox six days a week.
You may occasionally receive promotional content from the Los Angeles Times.