An L.A. councilman held an $800-per-person fundraiser. The next day, he announced he was stepping down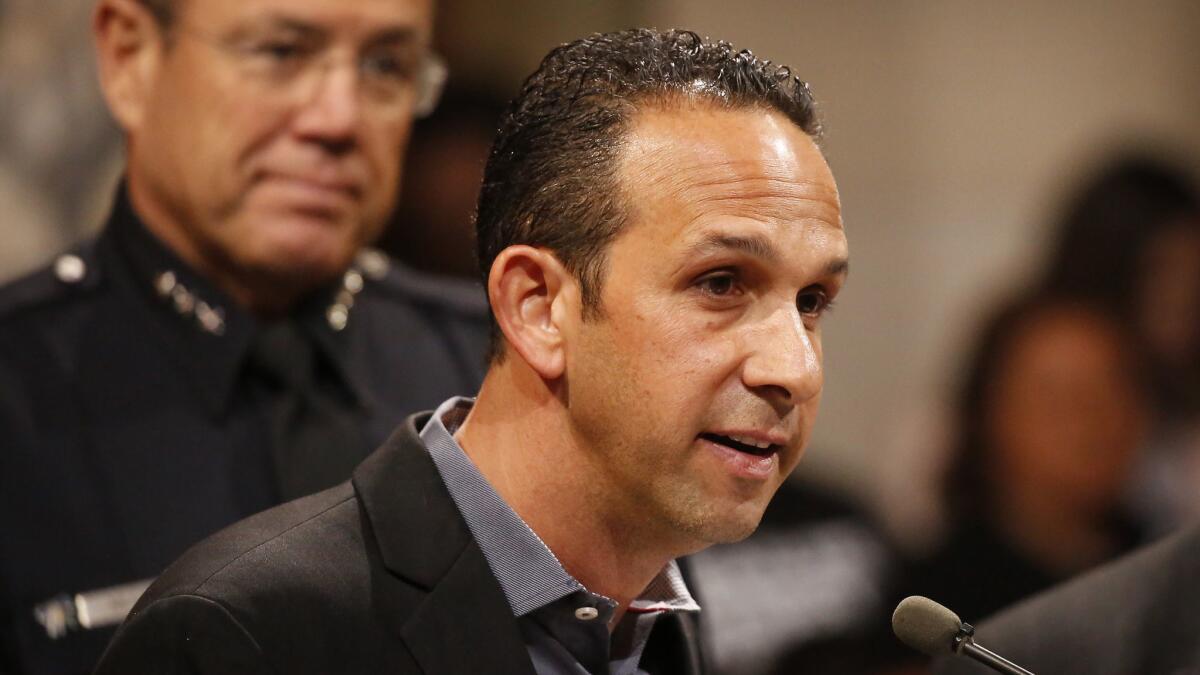 When Los Angeles City Councilman Mitchell Englander announced he would soon step down to join a sports and entertainment firm, the news stunned many in and around City Hall.
His decision was especially surprising to some who had shown up to a fundraiser advertised at $800 per person that Englander staged the night before.
Englander used the event to raise money for his officeholder account — a fund that city politicians use to pay for food, travel, office supplies or other expenses tied to their official duties.
The councilman from the northwest San Fernando Valley attended and spoke at the Wednesday night event, held at San Antonio Winery in Lincoln Heights. The next day, he revealed he would vacate his seat at the end of the year to join Oak View Group as its new executive vice president of government affairs.
Englander's handling of the episode — holding a fundraiser right before revealing his plan for stepping down — was considered brazen even among some City Hall veterans familiar with political fundraising.
Former City Councilwoman Ruth Galanter said it looked bad for Englander to be collecting donations on one day, then announcing his departure the next.
"It looks like he's squeezing the last drop out of donors that he can get, before he doesn't have that kind of access to them," she said.
Englander spokesman Colin Sweeney said the councilman had sent a letter to donors Friday offering refunds to anyone who requests them. The money raised from the event, which was planned before the councilman was offered his new job, will be used to pay for community events and office expenses incurred until the end of the year, Sweeney said.
Any leftover money will go to charity, he added.
The Times reached out to several people involved in fundraising for L.A. city politicians, most of whom would not discuss the event publicly. One person who received an invitation to the event was "troubled" by the timing.
The whole point of an officeholder account is that it's for "someone who's actually in office," said the person, who declined to be named because of occasional business before the council.
Los Angeles Police Protective League President Craig Lally, who attended the event, said he was shocked to find out the next day that Englander was leaving. His group, which represents rank-and-file police officers, made a donation. But Lally was not upset about the timing of the fundraiser.
"He was making a big decision," Lally said. "Maybe he didn't finalize it until the very last minute."
Lally added that it was "honorable" for Englander to offer to refund donations.
Council President Herb Wesson, who was listed on the invitation as the event's host, did not attend the fundraiser. His spokeswoman, Vanessa Rodriguez, said Englander had asked Wesson to use his name on the invitation several months ago.
Wesson learned of Englander's decision to step down on Thursday, the day after the fundraiser, Rodriguez said.
Sweeney did not respond to questions about how much money had been raised. Englander is not required to report the totals or the names of the donors until next year.
Council members can raise up to $104,000 per fiscal year in such accounts, with a maximum of $800 from each donor. Under city rules, that money cannot be used to back candidates or ballot measures.
In the past, Englander has used his officeholder account to pay for trips to Peru, where L.A. was officially awarded the 2028 Summer Olympic Games; Italy, where he was part of a Sister Cities of Los Angeles delegation; and Germany, to learn about "smart and connected cities."
The money has also helped foot the bill for staff retreats and meals, such as a $264.48 tab at Nick & Stef's Steakhouse, where Englander and his staff met with lobbyist Brad Rosenheim last year.
Englander has also used the account to make donations to the Los Angeles Fire Department Foundation, the Los Angeles Zoo and the San Fernando Police Advisory Council, according to city records.
Loyola Law School professor Jessica Levinson, former president of the Los Angeles City Ethics Commission, noted that Englander would still be in office for a few months before stepping down at the end of the year. Still, she said, holding a fundraiser right before announcing his departure was "a little bit of a bait-and-switch."
"He probably knew full well that he would not have gotten as many donations if he had announced his retirement two days before," she said.
In a letter to donors ahead of the event, Englander wrote that the money would help "provide vital resources for communicating with our residents about critical issues and how they are affected."
Galanter, who served four terms at City Hall, said she doesn't understand why, at this point, Englander needs more money to communicate with his district.
"All he has to communicate with them at this point is, 'It's been wonderful being your council member — sayonara!'" she said. "Unless he wants to send every constituent a box of chocolates."
Sign up for Essential California for news, features and recommendations from the L.A. Times and beyond in your inbox six days a week.
You may occasionally receive promotional content from the Los Angeles Times.