Joseph Gatto funeral services set as homicide probe continues
California Assemblyman Mike Gatto speaks to reporters near the Silver Lake home of his father, Joseph Gatto, who was found fatally shot there late Wednesday.
(Jae C. Hong / Associated Press)
Los Angeles City Councilman Tom LaBonge consoles Lauren Wayne, a friend of the Gatto family.
(Al Seib / Los Angeles Times)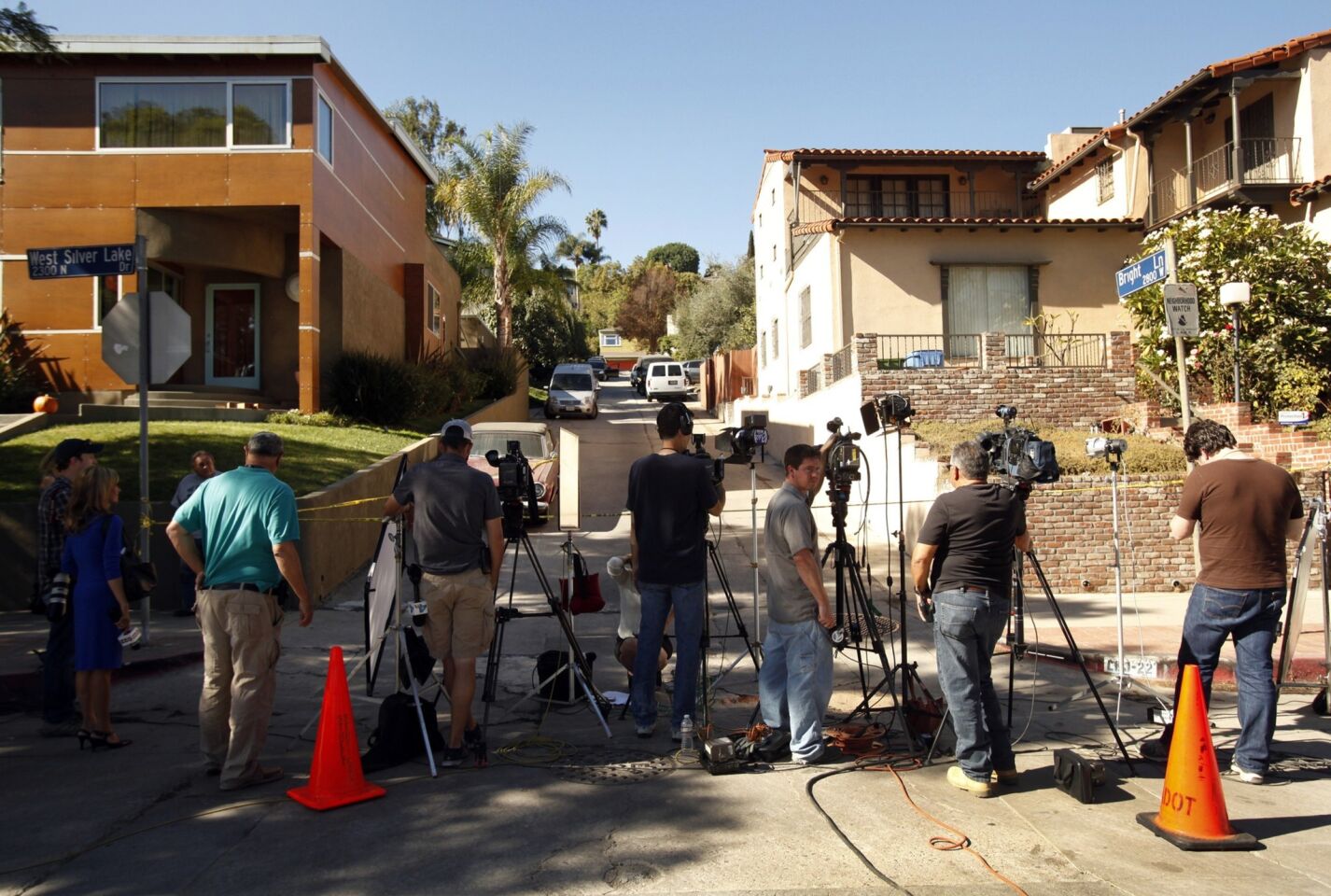 Members of the media gather at the place in Silver Lake where Joseph Gatto was killed. L.A. Mayor Eric Garcetti said the Police Department had started an "aggressive investigation" into his death.
(Al Seib / Los Angeles Times)
Investigators scour Bright Lane in Los Angeles' Silver Lake neighborhood for clues about the death of Joseph Gatto.
(Al Seib / Los Angeles Times)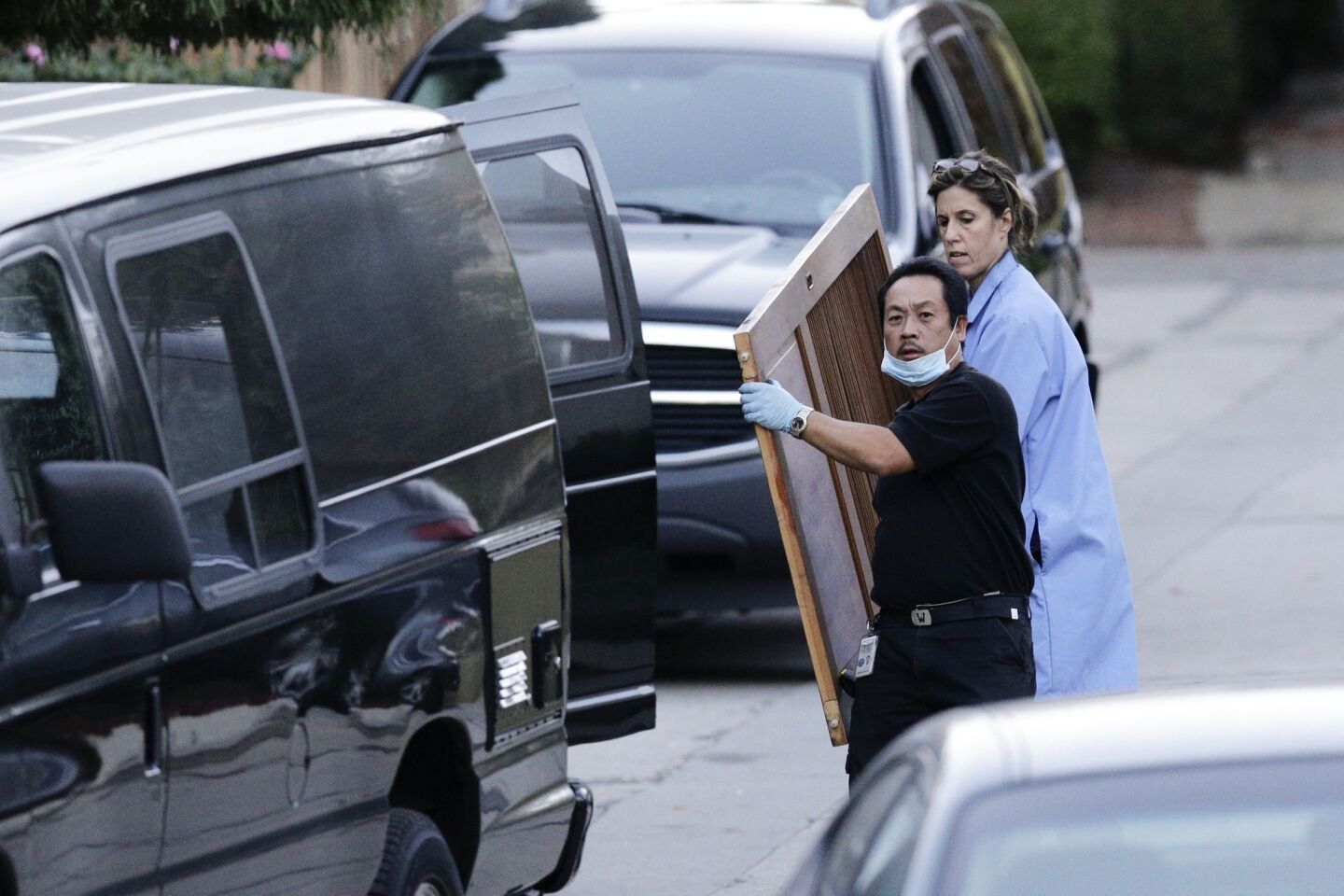 Crime lab personnel carry a door removed from Joseph Gatto's home in Silver Lake.
(Jae C. Hong / Associated Press)
A funeral mass for Joseph Gatto -- the retired teacher, artist and father of a state assemblyman found shot to death last week in his Silver Lake home -- has been scheduled for Nov. 25, his son's office announced Monday.
The public service is set for 10 a.m. at Our Mother of Good Counsel Catholic Church in Los Feliz, Assemblyman Mike Gatto's office said.
A private reception and graveside burial -- "strictly limited to family and close friends" -- will follow.
Los Angeles police are continuing their investigation into Joseph Gatto's death after his daughter discovered his body slumped over a desk Wednesday night. Coroner's officials said the 78-year-old died of a gunshot wound to the abdomen and classified his death as a homicide.
Authorities did not say when they believe Gatto was killed, and it is unclear when he was last seen. The homicide was a rarity for Silver Lake -- the first in the neighborhood since May 2012, according to the Times' Homicide Report.
LAPD Deputy Chief Kirk Albanese said detectives had "no information whatsoever" that the elder Gatto's death "has anything to do with his son's politics." Assemblyman Mike Gatto (D-Los Angeles) represents a district that includes Silver Lake, where the family has lived for years.
Albanese said police were investigating "a number of different avenues," including whether the slaying was linked to an aggravated assault and a vehicle break-in reported Tuesday night not far from Joseph Gatto's home.
The elder Gatto spent decades teaching art at schools across Los Angeles and was remembered by former students as a tough-love teacher whose honesty and guidance made him a valued mentor. He was described as a fixture in the community he had long called home, a loving father and grandfather proud of his children's accomplishments.
Speaking to reporters last week, one of his daughters, Marianna, head of the Italian American Museum of Los Angeles, said her father was "loved by all. He had no enemies."
"We are a very close-knit family," she said. "I just can't imagine life without him."
In lieu of flowers, the family asked that donations be made to one of three charities: the Historic Italian Hall Foundation, the Los Angeles Community Garden Council or the Tuition Magician (for the Joe Gatto Arts Scholarship).
ALSO:
LAPD fights zombies, car burglars in new video
Bel-Air man killed by LAPD was eccentric, not violent, neighbors say
Arab mascot: Coachella school district to keep name, discuss options
Twitter: @katemather | Google+
kate.mather@latimes.com
---
The stories shaping California
Get up to speed with our Essential California newsletter, sent six days a week.
You may occasionally receive promotional content from the Los Angeles Times.