Brush fire near Griffith Park prompts evacuation of observatory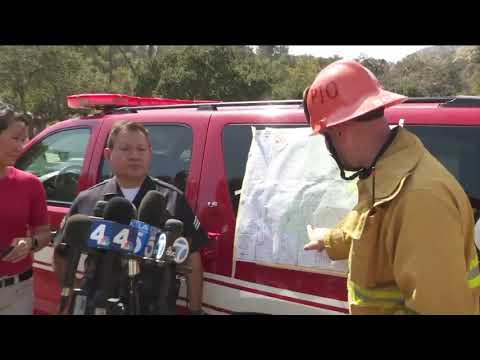 A brush fire broke out Tuesday afternoon at Griffith Park
A brush fire broke out Tuesday afternoon at Griffith Park, sending a plume of smoke climbing into the sky, sparking concerns about nearby structures and triggering an evacuation of Griffith Observatory.
The fire, which burned through 25 acres, was 80% contained by about 5 p.m., according to the Los Angeles Fire Department.
"It is just matter of mopping up now," said LAFD spokesman Peter Sanders. "We will be here all night."
The fire was reported just after 2 p.m. about a quarter-mile northwest of the observatory, the LAFD said. Authorities cleared the area because of the drifting smoke and to make way for fire crews.
No injuries were reported.
Liz Monroy, who lives in Inglewood, had brought her daughter Faith and some out-of-town friends to a show at the observatory. The group was learning how to make a rocket when the show was interrupted because of the fire.
Outside, Monroy could see billowing orange-gray smoke, rising "all the way up," she recalled, pointing to the sky. Though officials said she could stay, she decided to head down.
"It was just common sense," she said.
She said no one was allowed to go down the western road leading to the observatory, which meant she couldn't retrieve her car parked along the road leading to the observatory. She said she was told to come back for it Wednesday.
Beni Callasco, who was visiting the Monroys from Austin, Texas, described seeing burned trees as they prepared to leave the park. She and her friends took dozens of photos of the dramatic scene.
Callasco, 10, worried about some things she'd left in the car, like her dolphin stuffed animal and her hairbrush.
Hany Elnefary, who lives in Spain, arrived in Los Angeles Tuesday for vacation. He had been at the observatory for 30 minutes when officials started calling for evacuations, he said.
"It's too bad we didn't have time to see more," he said.
He said the smoke didn't seem too close, but the big plumes were making children cry. Authorities told him he couldn't pick up his rental car before 6 p.m.
Los Angeles County firefighters are helping in the effort.
The fire, whose cause is under investigation, was mostly topography-driven and burning amid light wind, authorities said.
"Low winds, high humidity and downhill burn give LAFD confidence in their ability to combat it," tweeted Mayor Eric Garcetti about 30 minutes after the blaze began.
In Hacienda Heights on Tuesday afternoon, Los Angeles County firefighters put out a roughly half-acre brush fire near the 16900 block of Kirk View Drive.
The Los Angeles region has cooled off after a scorching weekend heat wave that set new records in some parts of the area. Winds have died down and humidity has increased somewhat, said National Weather Service meteorologist Carol Smith.
Times staff writers Alene Tchekmedyian, Richard Winton and Javier Panzar contributed to this article.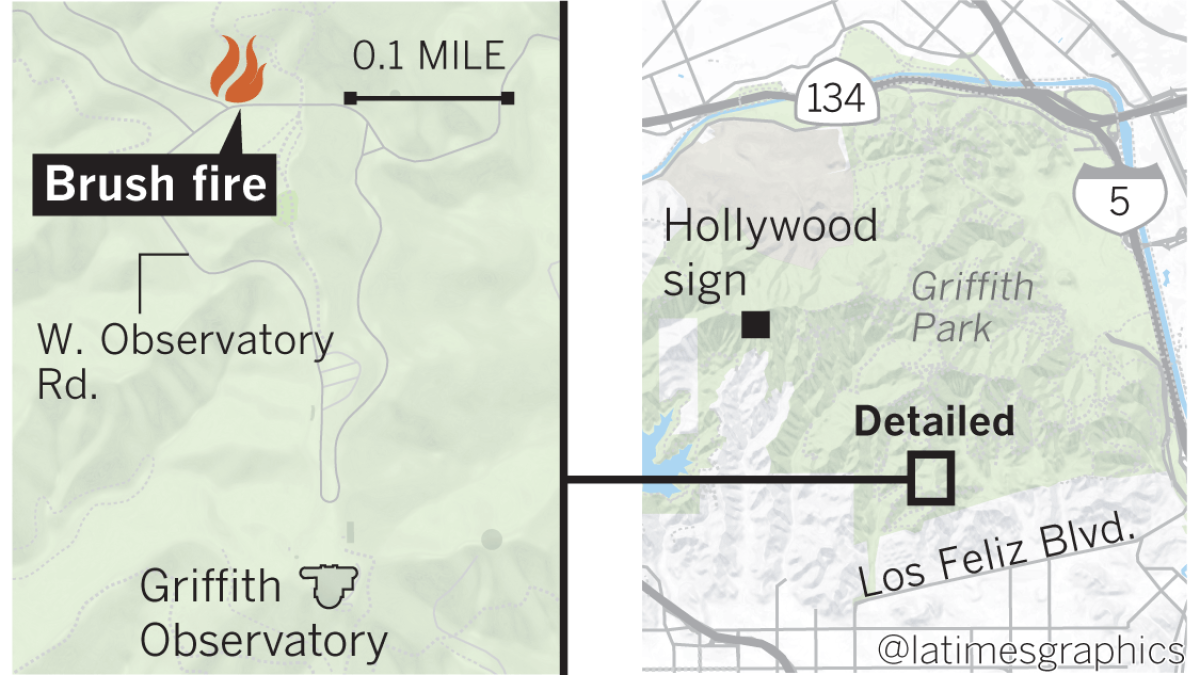 For breaking California news, follow @JosephSerna on Twitter.
Twitter: @LAcrimes
---
UPDATES:
5:05 p.m.: This article was updated with interviews with park visitors and a new acreage figure.
4:10 p.m.: This post was updated with information about the blaze.
3:20 p.m.: This post was updated with information about a fire in Hacienda Heights and from the National Weather Service.
2:50 p.m.: This post was updated with comments from Madison and Garcetti.
This article was originally published at 2:30 p.m.
Sign up for Essential California for news, features and recommendations from the L.A. Times and beyond in your inbox six days a week.
You may occasionally receive promotional content from the Los Angeles Times.